Your baby's first haircut is an exciting milestone; your little one is growing up! However, it is normal to experience some apprehension. Babies too are commonly a little nervous about getting a trim.
While some stylists may advertise that they cut all ages of hair, not all barbers are well suited to handle a baby's first haircut. You want to make sure that when it is time to visit the salon everyone involved knows what to expect.
To give you a head start, we have put together this helpful guide that will inform you of the when, how, and who regarding your baby's 1st haircut.
Your Child's First Haircut
Some little girls and boys have shoulder-length (or longer) hair when they are school-aged. Others are sporting mohawks by the time they are a toddler. When and how to cut your child's hair is a personal decision.
When Can I Give My Baby a Haircut?
My child didn't really have hair and also eyelashes until they were close to two. On the other hand, some babies come out with a full head of hair! When to get baby's first haircut varies from child to child and there truly isn't a specific time.
The parents' preferences can also play a role. Some moms and dads like their children's hair neat and trimmed while others are okay with letting them sport long locks. On average, most children will have their first haircut between six months and age two.
Typically, a baby boy's first haircut happens before a baby girl's first haircut, as most moms and dads are fine letting their girls' hair grow long. But, when to give baby first haircut depends on when the parents decide they are ready for their child's first haircut.
If you are thinking about your little one and how old for a first haircut they should be, consider the following. These signs may help you decide if your baby is ready for its first trim.
Their hair obscures their vision and is in their eyes
You can't maintain it or have a difficult time styling it
Uneven growth and odd lengths
Neverending bedhead
Or, if you just want your child to have their first trip to the baby barber! There isn't any right or wrong answer.
Getting Your Baby Ready For The Salon Experience
Before you head to the salon, there are a few ways in which you can prepare yourself and your gentle child for their first haircut.
Start by taking them to a sibling's appointment or even your appointment (as long as it is a short one). Having them watch someone else getting their haircut can help them understand that there is nothing to fear.
Then, you need to choose where to get baby's first haircut. Many generic hair salons can give a haircut for babies. However, there are child salons that specialize in making the experience fun. You being comfortable with the stylist and believing that they have the necessary patience is the most important thing.
Choose the perfect time for the haircut. Avoid nap time, snack time, or any other time your child is prone to be tired, hungry, or cranky.
Depending on how much hair your child has you may also want to research a few baby hair cut styles. Once you have decided on one be sure to save the picture on your phone to reference when you are at the salon.
On the day of the appointment, prepare by packing the essentials you may need. This can include your child's favorite comfort item, like a pacifier or lovey. You may also want to take toys or things that could distract your child while they are in the chair. For older children, you may want to let them watch a video on your phone.
Packing a change of clothes to make your little one more comfortable after the cut can be helpful. A treat is also a great idea to reward your child for a job well done!
Handling Baby During Haircut At Salon
Once you are at the salon, stay calm and upbeat. If the word "cut" is scary or intimidating for your baby, you can use trim or style instead. Start by reminding your child what is going to happen and then introducing them to the stylist.
A good stylist will have fun words for the tools she will be using. She may refer to the electric razor as "Mr.Tickle" to make it less scary. Usually, if you are relaxed your child will pick up on your cues and remain calm.
If they get anxious or bored during the haircut, now is the time to break out your items for distraction. Read them a book, let them watch a video, or even sit in your lap if it is allowed.
When it is all over, you can give them their treat! Don't forget to save that first lock of hair for your scrapbook.
DIY At Home: How To Cut Baby's Hair on Your Own
Sometimes giving your baby their first haircut at home can be much easier than making the trip to the salon. In most cases, you don't have to be an expert at cutting baby hair to give them a great haircut.
You may want to start by just trimming baby hair that has grown long instead of giving them a full-blown style. Be sure to do your research. Watch and read plenty of instructional material about how to cut children's hair at home before attempting it yourself.
Then, follow these tips:
Gather everything you will need like scissors (salon quality), a towel, a spray bottle, a comb, and a cape.
Make your child comfortable and give them something to distract them
Dampen their hair and comb it
Carefully and cautiously make your cuts. You can always take more off but you can't put cut hair back on.
Take breaks if need be!
When you are done be sure to save a lock from their first cut
Lovely Ideas & Inspirations for Baby's First Haircut
Are you looking for a few ideas for your baby's first haircut? We are loving these styles for inspiration on how to cut baby girl hair and how to cut a baby boy's hair!
For Your Baby Boy
The Classic Good Boy Cut: This cut is a classic; short on the sides and longer on top.
Buzz Cut: An all-over buzz looks awesome and is easy to maintain.
For Your Baby Girl
Bangs n' Bobs: You can't go wrong with a timeless bob and bangs.
Lil' Pixie: A feminine pixie is too cute!
Long & Layered: Long layers are a great way to keep the length while looking put together.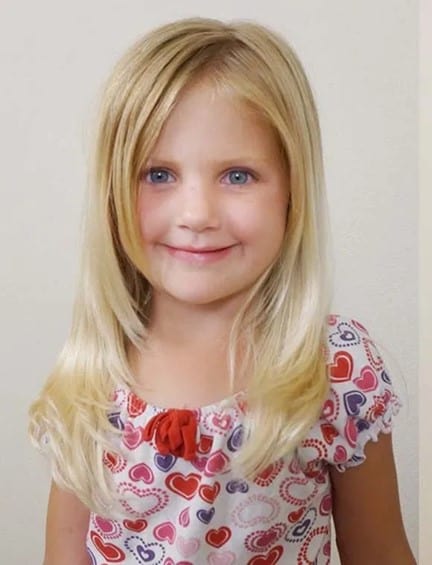 Avoid These Common Mistakes For Baby First Haircut!
Your little one's first haircut is a big milestone for everyone involved. Make the experience memorable in a positive way by avoiding these mistakes:
Don't be nervous, your child can pick up on your emotions
Don't use threats or force, this can make the experience scary and unpleasant (with your kid probably screaming from fear and discomfort)
Don't choose a style that requires lots of maintenance, these usually aren't kid-friendly and upkeep can be a pain
Don't forget to get your child's opinion if they are old enough!
Common FAQs
What happens if you cut a baby's hair before 1?
You can get your child's hair cut whenever you like. However, if your child is younger than one be prepared for them to be distracted, squirmy, and even a bit anxious. Take extra care comforting your child and keeping them safe while in the chair if you choose to cut their hair before their first birthday.
How can I make my baby's hair thicker?
A baby's hair goes through a lot of changes in its first few years of life. There isn't a tried and true way to make it thicker. However, some parents find that washing and combing their little one's hair regularly, giving a trim to remove dead ends, and applying coconut oil a few times a week helps stimulate thicker hair growth.
What products can I use in my baby's hair?
There are a variety of products specially designed for baby hair! Products that are free of irritants and harsh ingredients are best. Many parents opt for simple organic products for their child's locks. My personal favorite for my kiddos is Attitude Natural Care Baby Leaves Shampoo & Body Wash.
Happy Haircutting!
Hopefully, you feel more prepared for your child's first haircut! Remember, hair will grow back, so don't worry if the cut isn't perfect. Also, don't forget to save that precious lock from your baby's first haircut!
Hope this simple guide helps. Let us know if you have any questions in the comments, and happy haircutting!
—