When it comes to learning how to walk as one of many baby activities, baby walkers are your baby's best friend. With regards to choosing baby walkers, your baby's safety is undoubtedly your top priority.
To ensure that you are choosing the safest and most ideal baby walker possible, you need to consider the type of flooring you have at home. Smooth flooring would go well with all kinds of walkers, but carpeted floors would require a baby walker with big wheels for carpet.
In this article, we will explore all the best baby walker for carpet to help you determine which is the best one for your baby's needs.
The 8 Awesome Best Baby Walker for Carpet
What is a Baby Walker for Carpet and How it Differs from Regular Baby Walkers
All baby walkers are designed for the same goal—to train your child to walk. However, their designs may vary depending on the type of flooring they will be used on. Because of this, one of your most significant consideration should be the type of flooring you have at home: hardwood floors, smooth marble, carpeted floors, etc.
You may be interested in: 5 Best Play Mats for Hardwood Floors. What is Floor Padding for Babies
Regular baby walkers can be used on smooth flooring. With this type of flooring, lesser force is needed for the stroller to move around because there will be less friction between the wheels and the floor surface. However, they may not work as good as when used on carpeted floors. Because of the carpet's rough surface, your child needs to exert more force to move the walker.
To address this issue, the baby walker should either be lightweight or have big wheels. The bigger the size of the wheel, the larger its circumference is. As a result, it will be easier for your baby to move forward faster. On the other hand, a lightweight baby walker does not require too much effort to move around so your baby can move forward with minimal effort needed.
For better maneuverability, the best baby walker for carpet should have both features.
How to Choose the Best Baby Walker that Works on Carpet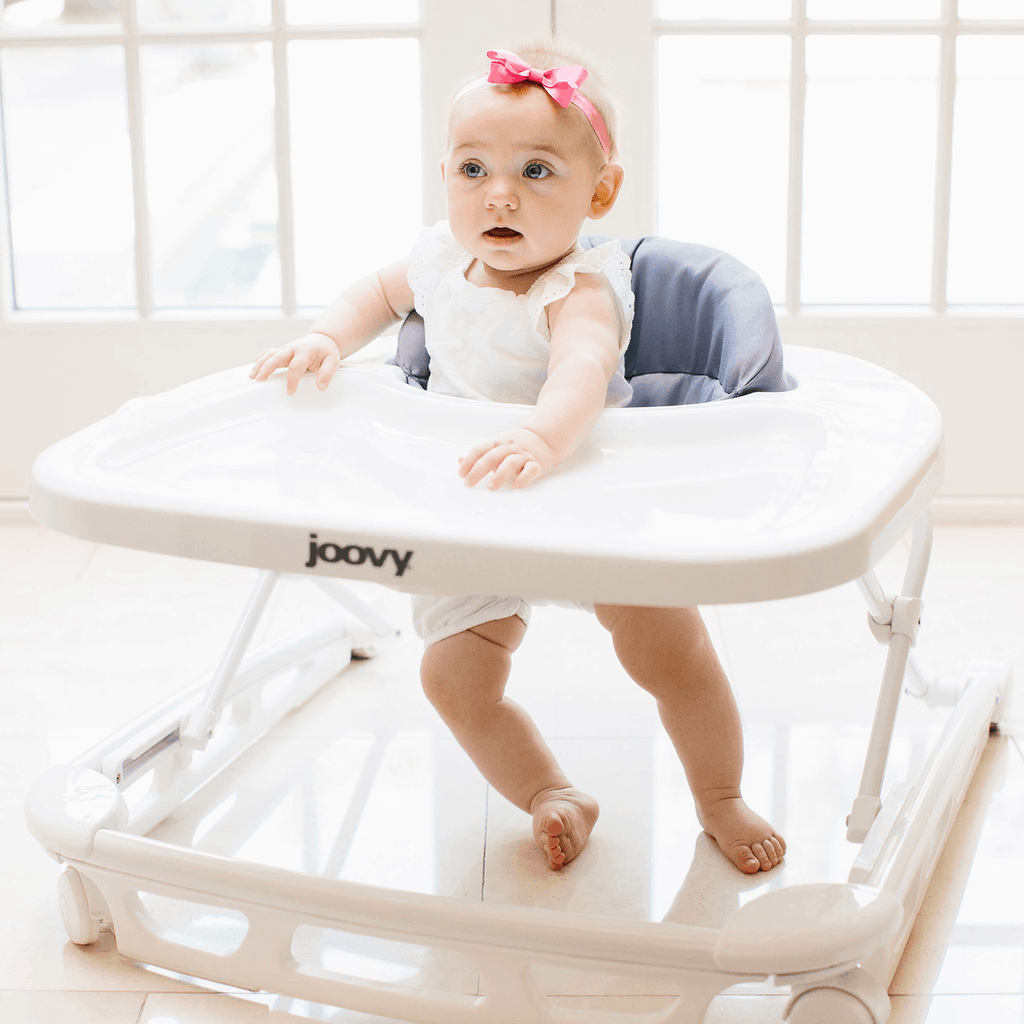 Aside from being lightweight and having big wheels, there are other factors that you need to keep in mind when choosing the best baby walker for carpet. Here they are:
Weight Capacity
This pertains to the maximum weight of the baby that the baby walker can carry. Different baby walkers will have varying weight capacity as this may depend on the durability of the material used and the design and size of the push toy walker.
Height Limit
Aside from the weight capacity, you should also take a look at the walker's height limit. If your baby's height is below the limit of the walker, his toes may not touch the floor when you put him on his walker. On the other hand, your baby will have his knees bent if his height goes beyond the walker's height limit.
Number of Height Positions/ Adjustability Feature
The key to address the height issues is to choose a best baby walker for carpet with an adjustable height so your child can still use the walker even as he grows old. The higher the number of height positions that a walker has, the longer your baby can use it.
Foldability
Like many other baby items, they may take up a big space due to their design or size – some best examples would be baby swings, baby play pens and baby play gyms. Hence, you would want to go for best baby swing that is good for small spaces or compact play pens if you are having space constraints to accommodate all these items.
This is also true for a baby walker. If you want to save space at home, go for a best baby walker for carpet that can be folded so you can stow it in a cabinet when it is not in use.
Comfort
Your baby will spend long hours in his walker, so you must make sure that it has a comfortable seat. For this purpose, you should choose a walker with a seat that is made of breathable material.
Number of Wheels
In addition to choosing baby walkers with big wheels, you should also consider the number of wheels that it has. The more wheels it has, the easier it will be for your baby to use the best baby walker for carpet.
Walkers with round base usually have 8 wheels while those with square base would have more.
Entertainment Features
To ensure that your baby will be entertained for hours, you may want to look for walkers with entertainment features such as musical keys, interactive designs, toy bar, and many more.
If you are looking for some entertaining toys for great outdoor fun, check out our article on 12 Awesome & Fun Outdoor Toys for One Year Old.
The Best Baby Walker Good on Carpet
Now, let's get down to business! We have compiled some of the best baby walkers for carpets below. To help you determine which is the best one for you, we also included their features, pros, and cons.
1. VTech Sit-to-Stand Learning Walker
Here's a sit-to-stand baby walker by Vtech that is also designed for learning! This learning baby walker features an interactive interface with spinning rollers, piano keys, shape sorters, and light-up buttons, all of which are designed to help babies develop their motor skills.
Additionally, it has a telephone handset and other mechanical elements that promote pretend play. As if that's not enough, the console can produce over 70 songs, sound effects, music, and phrases that promote sensory development.
Another fantastic feature is you can remove the activity panel so your child can also enjoy playing it even on the floor!
This best baby walker for carpet is recommended for children aged 9 months to 3 years old.
Pros:
It is one of the most affordable baby walkers in the market.
It has an adjustable resistance setting on the wheels, allowing you to control the walker's speed.
The walker is lightweight.
It has a small footprint.
It is one of the most engaging interactive baby walkers available today.
Cons:
The walker is recommended for children up to 3 years old, but since its height is not adjustable, it may not be recommended for tall children.
It is not foldable.
VTech Sit-to-Stand Learning Walker (Frustration Free Packaging) , Orange
Interactive learning baby Walker has a removable play panel; frustration free packaging means it comes in a plain brown box
Early learning center has 5 piano keys that play music and encourage creativity; wheels work on carpeted and hard floors
Features 2 colorful spinning rollers, 3 shape sorters, and 3 light-up buttons that develop motor skills
2. Fisher-Price Learn with Me Zebra Walker
Another push walker in the list is the Fisher-Price Learn with Me Zebra Walker, which also doubles as a learning tool for babies.
What caught our attention is its attention-grabbing big zebra user panel. In addition to the playful zebra, it is also designed with lots of eye-catching and bright colors.
The zebra control panel features lots of exciting toys your baby can play with. These include spin the rollerball, turn the page, flip the switch, peek-a-boo pal, turn dial, and light-up buttons.
The activities in the panel can help in teaching your child ABC's and 123's. With its design and the activities that it contains, this push walker can undoubtedly keep your child busy for hours!
Pros:
The walker comes with an ergonomic and stable handle so your baby will feel comfortable while he learns to walk.
It also has a sturdy 4-wheel base and large wheels to ensure your child's safety.
The surface of the product is smooth, so it is easy to clean.
The product is compact and highly portable.
It is also easy to set up.
Cons:
The paint of the walker is not of high quality.
The wheels come with no resistance.
Fisher-Price Learn with Me Zebra Walker, Multi
Musical infant walking toy with 2 ways to play as your baby grows: Sit & play and Stand & Walk
Hands-on activities for sitting babies plus light-up buttons to press for sing-along songs and phrases
Fun phrases, music and sounds help reach the alphabet, numbers and more
3. Hape Wonder Walker Push and Pull Toddler Walking Toy
The design of the Hape Wonder Walker is a lot different than other push walkers in the market. For one, the walker is made of sustainably sourced wood material (even its wheels!), and its design resembles that of a cart.
The wooden wheels of this walker are trimmed with rubber to add more friction and improve the walker's grip, making it a great baby walker for carpets. Aside from protecting your baby, it helps to preserve your floors as well.
But of course, it still has all the elements that make up a good push walker. Its activity panel may look different, but this best baby walker for carpet has movable knobs and gears along with colorful balls that will keep your child busy and entertained. It has 5 different activities that your child can choose from.
Pros:
This wooden walker is made of non-toxic paint finishes and child-safe materials.
The walker's storage base looks like a cart and provides enough room for your child's friend to come along for the ride.
It has a unique design.
The sturdy and roomy base keeps the walker balance and your baby safe.
It has activities that can improve fine motor skills and coordination.
Cons:
It is a bit pricey.
It requires assembly.
Sale
4. Joovy Spoon Walker
The Joovy Spoon Walker is the first seated walker entry in this list. The walker may seem too basic, but it has various features that can make learning how to walk fun for your baby.
The walker has an adjustable height position with a maximum height capacity of 33.5 inches and a weight capacity of 30 pounds. Adjusting the height is easy. You just need to turn and push the rectangular button and release the button once you reached your desired height.
It has a machine-washable padded seat to keep your baby comfortable. Its safety features include oversized wheels and non-slip stair pads. The walker comes with a spacious tray that can be used for feeding and playing.
Pros:
It has four different color options—charcoal, green, red, and blueberry.
The feeding and playing tray is dishwasher safe.
It is made of plastic material that is free of BPA, Phthalate, and PVC.
This can be folded flat for storage.
The product is JPMA certified and tested for safety.
Cons:
The process of putting the seat back after removal is quite complicated.
No toys included.
5. Bright Starts 3 Ways to Play Walker
If you want to share your love for cars with your little, you may want to check out this Bright Starts Walker. This walker is like a transformer in the sense that you can transform it in three different ways.
Three modes of play allow your baby to use it as a push walker, a seated walker with a car bumper design, and a traditional-looking seated walker. The baby walker does not come with an activity panel, but it does have a steering wheel that promotes imaginative play. The walker even produces lights and sounds like a real Ford Mustang car.
The baby walker can be adjusted to here different height positions so it can accommodate the needs of a growing baby.
Pros:
Two babies can use the walker at once with its seated walker and push walker modes.
It works both as a seated and push walker.
It offers 3 modes of use.
A detachable steering wheel that can be used for playing on the floor.
It has a unique design and concept.
Cons:
This is not recommended for short babies.
It is a bit difficult to assemble.
Sale
6. Disney Winnie The Pooh Music and Lights Walker
Here's a great walker for Winnie the Pooh fans! This eye-catching Disney Winnie The Pooh walker features bright green and blue colors. The seat of the walker is designed with the different characters in Winnie the Pooh.
This walker is more than just for appearance. It has a lot of functional features that your baby can benefit from. For one, the seat is machine washable and padded and can hold up to 30 pounds.
The base of the walker comes with grip strips and sturdy wheels, which make it an excellent option for all surfaces. The frame can be adjusted to three height positions, with the highest being 32 inches.
The best feature of this walker is its 2 swing-open tray that has Winnie the Pooh toys.
Pros:
The activity trays can play up to 12 songs.
The walker and its tray are both easy to clean.
Trays have the swing-open design so your baby can feel comfortable while sitting in the walker.
Its price is affordable.
It is foldable and highly compact.
Cons:
The tires have no safety locks.
Assembling this product is a big challenge.
7. Fisher-Price Laugh & Learn Smart Stages
The Fisher-Price Laugh & Learn Smart Stages push walker also doubles as a learning activity center. Its control panel features 7 hands-on activities, including flip page, light-up piano keys, spinner rollers, and many more.
Moreover, the walker can produce more than 75 songs, sounds, and phrases. It can also introduce different shapes, colors, letters, and numbers to your child.
Incorporated with Smart advanced technology, its content changes, and adapts to the age and learning stage of the baby. Additionally, the content comes in two languages—English and Spanish.
Pros:
It can be wiped clean.
It has an easy-grasp handle for the baby's comfort.
Baby can play it in two ways—stand and walk or sit and play.
It features a cute puppy design.
With its low price, it is the most affordable walker on the list.
Cons:
This is not foldable.
The height is not adjustable.
Sale
You may want to read: The Best Baby Push Walker for Hardwood Floor
8. Storkcraft 3-in-1 Activity Walker and Rocker
The final product in our list of best baby walker for carpet is a seated walker by Storkcraft which also doubles as a rocker. Moreover, the walker is also equipped with a jumping board, feeding, and toy tray. It also has a 360-degree swivel chair that allows your baby to reach all of the toys that can be found in the interactive toy tray.
The interactive toy tray comes with a lollipop teether, ice cream cone, cars, buttons, steering wheel, and buttons for sounds. The toy tray is removed to reveal a spacious feeding tray.
In addition to all of these interactive features, the walker has an adjustable height feature that allows the user to adjust its height to three different positions.
Pros:
It offers 3 functions in one machine.
The walker comes in four colors, including blue/gray, green, orange, and pink.
It offers highly interactive features.
To accommodate the needs of a growing baby, it has three adjustable height positions.
It is equipped with a 360-degree swivel chair.
Cons:
You cannot turn off the music until it is finished.
It is not foldable.
Sale
STORKCRAFT, 3in1 Activity Walker and Rocker with Jumping Board and Feeding Tray Interactive Walker with Toy Tray and Jumping Board for Toddlers and Infants, Green , 25.8x17.3x29.1 Inch (Pack of 1)
FUN & INTERACTIVE: The Storkcraft 3-in-1 Activity Walker with Jumping Board and Feeding Tray offers far more than your typical walker. An entertaining toy tray, jumping board, rocking feature, and even a feeding tray, are all combined to give your little one the ultimate interactive experience
STATIONARY JUMPER: Let your baby enjoy the fun rocking feature while the jumping board is in place. The 360-degree swivel will make it easy for your little one to reach all the different toys
INTERACTIVE TOY TRAY: The removable toy trays include an interactive steering wheel, ice cream cone, lollipop teether, plus cars & buttons with sounds
Which is the Best Baby Walker for Carpet?
For us, choosing the best baby walker for carpet would depend on your specific needs. It's not a one-size-fits-all kind of issue. But if you ask us, we have a few recommendations for you.
If you're looking for a push walker, the Vtech Sit-to-Stand Learning Walker is what we would recommend. While most of the push walkers in the list also have an activity center, what made the Vtech walker stand out is its two-speed settings, which is a fantastic safety feature.
On the other hand, we recommend the StorkCraft 3-in-1 Activity Walker and Rocker because of its many functions.
Hope this guide helps! And if you find this article useful, spread the word – share it with friends and family who may need an idea or two!
—
Last update on 2022-01-22 / Affiliate links / Images from Amazon Product Advertising API