Trusted for over 15 years, Dutch company Bugaboo has been making some of the most amazing strollers on the market, especially when it comes to models that offer adaptability.
Each and every product line is an iconic stroller that is highly versatile and made with high quality materials known to last.
In this article, we will be going through a Bugaboo Cameleon 3 review, which is one of their most popular models.
After combing through many Bugaboo Cameleon stroller reviews (plus from my own findings), it goes down to one common agreement when it comes to this Cameleon stroller: the Bugaboo Cameleon 3 stroller is an all-in-one versatile baby gear.
There are two particularly unique features worth noting on the Bugaboo Cameleon3. First is its ability to reverse both the nicely padded seat and handlebar. Your baby can ride both facing forward and facing you.
The other unique thing about this stroller is the combination of both big and small foam filled wheels with adjustable suspension. This allows you to push the stroller over rougher terrain, or just about any terrains with ease.
Pros:
Combination of large and small swivel wheels offer a smooth transition between terrains
Reversible handlebar and comfy seat with three recline positions for front or rear facing ride
Storage area keeps items secure with drawstring enclosure
Adjustable handlebar height
Lightweight and compact
Medium size stroller that is easy to fold
Cons:
Lower weight limit compared to most other strollers
Folded size takes up a bit of trunk space
Stroller and its replacement parts are pricey
Brake lever may be slightly tricky to undo
Limited flexibility in the leg room department
In case you are wondering about stroller alternatives similar to the Cameleon 3, these are our picks which we'd highlight later in the article:
Bugaboo Cameleon 3 Review: Buying Considerations
Safety
First and foremost, you need to ensure your little one's stroller is safe. Make sure it comes equipped with a reliable 5-point harness to keep your baby secure. [1] You also want to check the brake system. Most strollers are equipped with foot operated brakes, which are sufficient.
However, hand brakes are preferred for emergencies. They are much easier to reach since you can activate it in a fairly quick manner if the stroller starts to roll and you don't need to fumble around for a foot brake that is hard to see, especially when you are jogging with your baby or go on hiking trails.
Related: The Best Jogging Stroller Review
Maneuverability
With any stroller you are looking at, you will likely want it to be easy to maneuver. This means at least 2, if not all 4, of the foam filled wheels spin 360 degrees, making the stroller super easy to steer – even in small spaces or on public transport!
One thing to particularly take note of is the lockable front wheels. These front wheels are held in place in a non-conventional way and parents may adjust them to improve the riding comfort of your baby.
This means a nice smooth ride over various types of terrain, including rough terrain with cracks in the sidewalk – is no longer a dream! Simply switch to two wheel mode by flipping the handle and pull it behind you with one hand as you stroll away on the beach.
Quality
If you want a good stroller, you will probably be spending a decent amount of money. The cost of your stroller shouldn't just reflect the gadgets and features of a stroller; it should really speak to its quality, something that luxury strollers tend to have.
You want high quality materials that will stand the test of time. A sturdy seat frame, washable materials, and reliable wheels are all things to look for. After all, you may want to pass the stroller on to your next child.
You may be interested in: The Best Strollers for 2021 and Beyond!
Weight & Storage
The overall size and weight of the stroller itself should play a deciding factor in your purchase. You want it to be easy to use. [2] This means it should fold with ease, be light enough for you to lift into and out of your vehicle, and be compact enough to fit into your trunk space.
You will also want to consider storage space and accessibility on the stroller itself. Does it provide space big enough for diaper bag and other baby necessities?
After all, with a carry handle, you probably won't have to carry all your baby's things on your own while you are pushing them.
Comfort features
Overall, the stroller should be comfortable for both the pusher and the rider. Your child shouldn't get too hot when they're riding and they should be able to lie down when they are resting. A good sun canopy with multiple recline options is my personal top of the line consideration!
Having an adjustable handle bar, either in height or angle, is also a nice feature. This will allow the single stroller to be used comfortably at the desired angle by multiple users of varying heights.
The Cameleon 3 vs. Cameleon 3 Plus
If you do a quick web search for the Cameleon stroller, you may find that there is also the Cameleon 3 Plus stroller. What's the difference between the two?
Honestly, not much. With the plus, you may have a few more styling options in terms of color customization. The main difference is the redesigned bumper bar and storage basket, which is more like the baskets you see on most other strollers.
For the price difference, there's not much reason to get the Plus but you could opt for the Cameleon 3 Plus if you appreciate the improved styling and color options.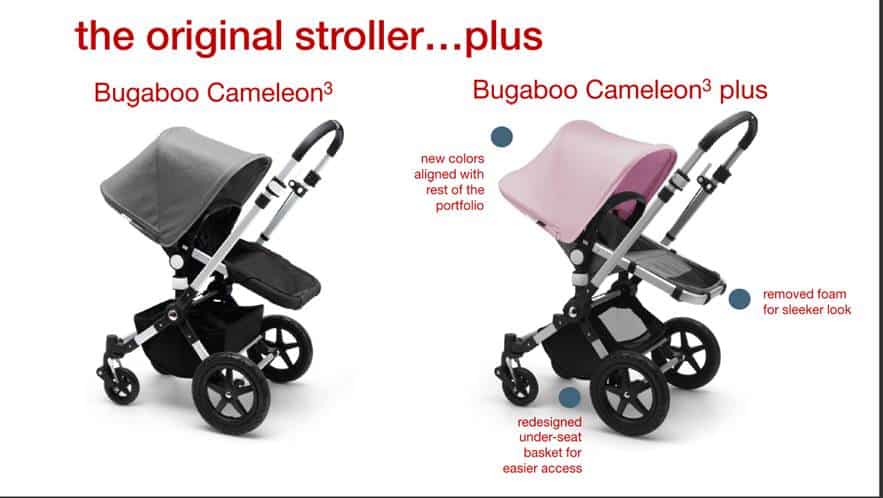 tHE Cameleon 3's Features & Benefits
Simple to Set Up, Easy to Use
The Bugaboo Cameleon 3 stroller is very simple to set up and use. Assembly is a breeze, and all of the adjustments are relatively simple to accomplish with no frustration.
Adjust the suspension height with ease. Reverse the handlebar or adjust its height with the flip of a switch. The Cameleon stroller is easily adaptable and very user friendly. It offers parents easy access to their babies.
Premium Quality that You Can Rely On
When it comes to the Cameleon, you can count on quality. This stroller has been trusted by parents for over 15 years. It is built to last with great quality materials – most of which are also machine washable!
Additional add-ons (sold separately) such as a cup holder, wheeled board or car seat adapter can make the stroller even more luxury!
Effortless Maneuverability
The Bugaboo Cameleon 3 maneuvers almost effortlessly over city streets and various types of terrain. With a combination of large and small swivel wheels, you can go straight from the sidewalk to the lawn with very little interruption.
The other nice thing about the ride of the Bugaboo Cameleon is the modifiable suspension. No more bumpy rides. You can adjust the suspension height of this stroller as your child grows, which will maintain a smooth ride, even as they get heavier.
You may be interested in: The 11 Reviewed Best All-Terrain Stroller Picks for Your Baby
Intuitive Foldability
The intuitive two-piece fold of the Bugaboo Cameleon stroller is something quite unique. It folds in two parts, making it nice and compact, able to fit into the trunk of most vehicles.
The only deal breaker about the foldability is that its folded size is chunkier than a handful of other similar strollers we've reviewed in the past.
Lightweight Yet Holds a Good Weight
At less than 22 pounds, the Cameleon 3 is extremely lightweight for a stroller of this design. This makes it much easier to push, even with your baby's weight added in, and makes it more portable since you can lift it into and out of your car easily.
The weight limit of the stroller is decent, but it definitely doesn't accommodate children as long as most other strollers. The maximum weight limit is 37.5 pounds, which will take most children well into their walking years. However, when compared to most other strollers, which typically have a 50-pound weight maximum, this one is slightly lacking.
Handlebar that Accommodates Every Parent
The telescopic handlebar on the Bugaboo Cameleon 3 is definitely an added bonus with this stroller. So many strollers are not made for tall parents. The height adjustable handle bar can easily be adjusted to fit parents of nearly all heights.
Secure Seat Harness
The seat harness is like any of your basic five point harnesses found on most strollers. The clip releases with the push of a button, with the crotch and shoulder straps effectively keeping your little one safe and secure.
Easy Hand Brake System
Unlike most other strollers that have a foot brake on the back, the Bugaboo Cameleon 3 offers an easy to use hand brake system. This allows you to lock the stroller in place no matter which way the handlebar is flipped.
I can't express how grateful I am with this feature when it comes to roaming with my baby in the city running errand. This lifesaver makes the process a bit easier and hassle-free!
Having a hand brake also increases the safety of the stroller. You can easily grab the locking mechanism rather than fumbling with your feet to try to activate the brake in an emergency.
Unique Drawstring Kind of Storage
There is a storage basket in the bottom of the Bugaboo Cameleon 3 stroller. It's not the biggest, but it is pretty deep. You should be able to bring the minimum of what you need for an outing with your little one.
There is, however, one unique and very nice feature of this basket: the drawstring closure. The entire top part of the basket closes up with the drawstring enclosure, so all of your things stay safe inside. You don't need to worry about them popping out when you go over a rough bump.
Additional Comfort and Great Features
The sun canopy on the Bugaboo Cameleon is also worth mentioning. The high-quality thick fabric blocks out all sunlight and provides good coverage to keep your baby safe and protected from the sun. It can also act as a rain cover to shield your baby from bad weathers during outings.
It also has a nice peekaboo window for you to keep an eye on your little one when they are riding in a front facing position.
The Cameleon stroller is also highly adaptable. Utilize the bassinet for your infant to keep them safe and cozy on their ride. I personally love how Bugaboo has re-designed their bumper bar – allowing me to place my baby in it effortlessly like a piece of cake!
You can also use the compatible adapters to attach your little one's car seat for an easier transition from car to stroller.
Alternatives To The Cameleon 3
For parents who are looking for alternative strollers that are similar to the Bugaboo Cameleon3, consider the following picks:
UPPAbaby VISTA V2 Stroller
The UPPAbaby VISTA V2 stroller is very similar in design to the Cameleon 3 at first glance. With the similar seat design, combination of large and small wheels, and the sleek design, this stroller has quite a lot to offer.
There are a couple of things that the VISTA V2 does better. The storage basket is bigger than the Cameleon 3, so you can easily fit everything you need for your outing. This stroller also has the ability to add on a second seat for either an infant or toddler.
On the down side, the VISTA V2 does not have the ability to reverse the handlebar like the Cameleon 3 does. It does have the ability to reverse the car seats' direction though.
Comparative features:
Bigger storage basket
Reversible seat
Sleek design similar to Cameleon 3
Converts to a double stroller with second car seats
Does not have reversible handlebar unlike the Cameleon 3 stroller
Baby Jogger City Select Stroller
Overall, the Baby Jogger City Select stroller is larger than the Bugaboo Cameleon 3. The seat frame bar is a little bulkier, though it is still fairly compact when folded.
Just like the Cameleon 3 stroller, this one is versatile. It comes with an included bassinet for infancy, a toddler seat for older babies, and can even convert into a travel system with your favorite car seat.
The handlebar on the Baby Jogger is telescopic, just like the Bugaboo Cameleon, and uses a combination of small and big wheels for a smoother ride, though the suspension isn't as good.
Comparative features:
Versatile in stroller configuration like Cameleon 3
Telescopic handlebar
More affordable
Bulkier than Cameleon 3
Decent suspension but not as good as Cameleon 3
Maxi-Cosi Zelia Max Travel System
This Zelia travel system stroller from Maxi-Cosi is a whole package of convenience. It comes with a matching compatible car seat so there is no need to bother with conversion kits and wondering if your current car seat will fit.
Just like the Bugaboo Cameleon stroller, the seat converts into a bassinet suited for infants who need to lie flat. The comfy seat is also reversible so your child can face front or look at you.
The Maxi-Cosi Zelia Max is a fraction of the price of the Bugaboo Cameleon, but you will sacrifice a couple of key features – like the reversible handlebar and adaptable suspension – if you opt for this stroller. However, you will still be making a solid purchase if you choose the Maxi-Cosi.
Comparative features:
Reversible seat
Cheaper
Comes with a matching car seat
Infant-friendly like the Cameleon 3
Does not have adjustable suspension nor reversible handlebar unlike Cameleon 3
Conclusion
If you are looking for a highly versatile and adaptable stroller that will last you for years through multiple children, the Bugaboo Cameleon 3 stroller provides good value for money.
You have so many riding options available with the Cameleon 3. The seat can be in a front or rear facing position. You can use it as a travel system or with the bassinet feature for your infant to lie down flat.
It also offers an extremely comfortable ride thanks to the combination of small and large wheels and the adjustable suspension.
If these are things you are looking for, be sure to check out the Bugaboo Cameleon 3 stroller or the Bugaboo Cameleon 3 Plus for more customization.
—
Last update on 2023-06-03 / Affiliate links / Images from Amazon Product Advertising API