Traveling either on private vehicles or public transports are one of the hassles faced by parents with triplets.
In this review, I will present to you the best stroller option to transport your small kids around without much difficulty!
So, let's read this Kidz Kargo Triple Buggies Review until the end, and you will see why this triple jogging stroller is the best stroller option for you and your little ones!
Here's a quick summary of the Kidz Kargo triple stroller:
Pros: Excellent wheels and brakes, smooth steering, robust frame, and lightweight
Cons: Tends to get wobbly, expensive, massive stroller to steer in tight alleys
Bottom line: A perfect, highly-portable stroller to transport triplets smoothly
Editors Rating: 4.5
Manufacturer: Kidz Kargo
Things to Consider Before Buying a Triple Buggy Stroller
When it comes to buying an umbrella stroller for your triplet, there are several important things to consider.
Economic value – Who says the cost of raising three small children is affordable? If there's a way to save money, then you should do so in the stroller department. Try to find a model that has been proven to give you more bang for your buck! But, just keep in mind, triplet stroller tends to be pricey.
Durability – Sometimes, an affordable stroller can give just what you need – quality and durability. Aluminum, tough linen, air-filled wheels, and hard plastic are indications that the stroller is built to last.
Ease of use – Nothing is more annoying than a hard-to-use stroller. You should choose the model that is quick to assemble, easy to release and fold, and smooth to push.
Comfort – A 5-point seat belt is vital for a triplet stroller. Plus, you should be able to adjust the length so that it can cater to the size of your babies as they grow. Having an excellent shock absorber are also ideal since it ensures a smooth ride.
Presenting to You – Kidz Kargo Triple Buggy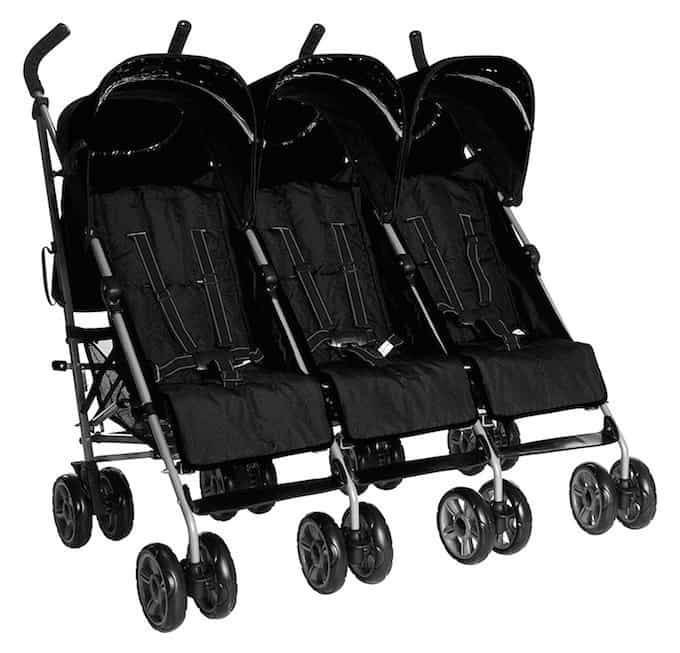 Kids Kargo Triple Buggies Pushchair is a side-by-side umbrella stroller that can fit three of your children simultaneously. This made-in-UK stroller model is the big sibling of another double stroller, Kids Kargo Duellette.
The Duellette features a tandem design and caters more towards to the needs of twin babies, but the triple pushchair is more for three big children, up to three years old.
If you purchase this model from the US, the sellers will ship it from the UK. However, some have reported that the same stroller is known with a different name in the United States, which is Obaby Mercury (USA).
The reason why I think you will love the Kidz Kargo Triple Stroller is due to its sturdy frame, excellent ease of use, and high portability. We even consider it as one of the best triple jogging strollers!
Unlike triple tandem stroller that can be quite big, long and heavy, this side-by-side model is quite light at just 37 lbs (about 17kg). If you are a soccer mom who is out and about with your three triplets, you will face no hassle to operate and use this stroller alone.
It is indeed ideal for urban moms who need a stroller to transport their kids around easily. But, the stroller is quite pricey at about £242.00 ($300++). If you have a tight budget, the price tag might make you cringe a little bit.
Pros:
Minimalistic design
Durable materials
Wheels brakes easy to manage
Comfortable 5-recline position
Adjustable harness with shoulder pads
Travel-friendly for urban and always-on-the-go moms
Cons:
The canopy is too short
The stroller tends to get wobbly after some time
Expensive price tag
Kidz kargo triple Buggies: Features and Benefits
In this section of Kidz Kargo Triple Buggies Review, we will look at the performance in the aspect of design, style, steering, comfort, assembly, warranty, and extra features that this triple stroller offers.
Design & Style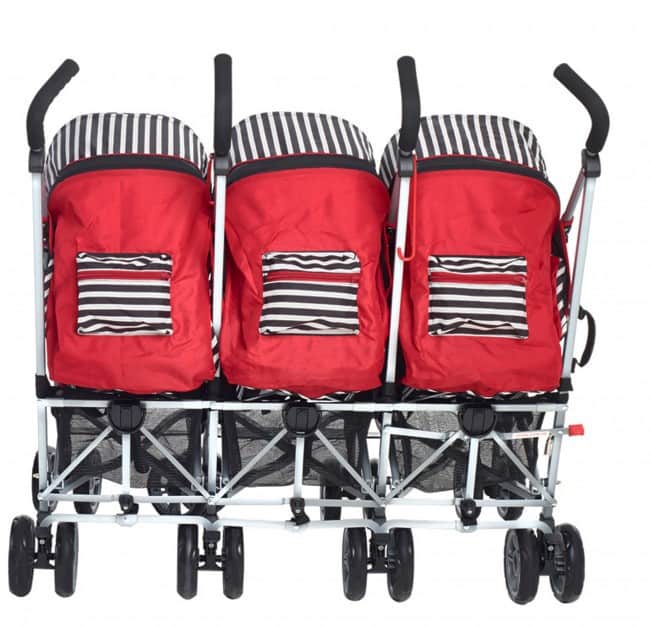 The Kidz Kargo triplet stroller features a black color theme with minimalistic design. I think it looks like any other umbrella strollers out there, except for the fact that it has three individual, side-by-side seating arrangements.
I love how the manufacturer makes each of the three seat to come with its sets of storage, recline positions, and detachable canopies. Since your child will be sitting next to each other, they can interact and play while you are doing your chores outdoor.
As for the style, besides the all-black color theme, there are also Fizzy Blue and Berry Red (my personal favorite!) for you to choose.
Wheels and Steering
Many parents have complimented how easy it use to use and push the stroller around. The hard plastic wheels might not be as smooth as rubber tires, but it can survive rough terrains with its fixed wheels.
There is also a set of swiveled wheels which allows you to cruise your way in tight alleys and walkways in the malls or while on the street!
I find the stroller is ideal for average height moms with its 140cm handle. Unfortunately, you can adjust the height, so if you are on a taller side, you might need to hunch down a little bit to push the stroller around.
Seat and Comfort
The Kidz Kargo Triple Umbrella Stroller comes with three different seats. They are of a similar size, and you can use it until your babies reach a weight of 15 kg or the age of three years old.
Meaning, you can use it for several years to come without having to shop for a new stroller anytime soon.
With its side-by-side design, rather than tandem, you will find the stroller to fit any average doorways. However, for some small shops, you might need to fold it before entering the property.
You should also know that the cushion of the stroller is soft and well-padded. It features polyester materials. Your child should be able to sit and sleep comfortably in this seat.
However, the 5-recline position does not include a full flat lay position. Hence, you might not want to place your newborns in this stroller. Plus, the seat is fixed as you cannot switch it from front to back facing.
Assembly and Warranty
When you purchase this durable Kidz Kargo Triple Buggy, you will receive the pushchair and rain cover.
The assembly process is quite straightforward, and you should be able to do it yourself, without any help from your spouse! Also, folding and releasing takes only seconds.
One main point that I also would like to highlight in this review is that this model does not come with any warranty.
However, from the online reviews, the stroller seems to function as expected without any issues. Maybe, this will give you some sorts of peace of mind when buying this model.
Extra Features
There is an option for you to purchase separate footmuffs with the stroller. The price is very reasonable at only £11.95 (about $15). It is a perfect accessory for your toddlers, especially in the winter.
Other extra features that you can enjoy with the pushchair are canopies, bottom basket, three pockets, and footrest (not adjustable).
Let's watch the demo tutorial video that shows all the features you can enjoy: YouTube Video.
Social Proof – Other Raved Reviews on Kidz Kargo Triple Umbrella Stroller
A Happy User from Gumtree.com
The user from Gumtree.com agrees with me when I say that the durability of the Kidz Kargo stroller is excellent.
The materials of the rain cover can withstand ripping and tearing. Plus, the user loves the reclinable seats and how each seat buckles are easy to operate and tightly secured.
Twinsandtripletsworld.com
This mom is also a happy camper as she complimented how compact the stroller is when folded. She said that the umbrella buggy is friendly for public transport and cat fit well inside a small car boot.
Also, she loves how swivel wheels. She can maneuver the stroller inside a mall easily. It makes a perfect companion when she goes out with her three children on a day out!
Kinderwagen-fuer-zwillinge.de
The next exclusive reviews come all the way from Denmark. The user in this blog complimented how friendly the stroller is for traveling purposes.
If you are about to go on a family holiday and is looking for the perfect stroller for your three little kids, then Kidz Kargo can make your trip a breezy one! It is stable and compact.
Alternatives – Similar Options for Your Triplets
Peg Perego Triplette SW Stroller
If you are looking for a well-performing stroller for your child, but in a tandem design, I recommend you consider the Peg Perego Triplette Pirouet Stroller. It is an improved model of the Peg Perego Triplette SW Stroller.
Just like the Kidz Kargo, each seat offers a separate storage and canopy. The cool thing about this model is that it is also compatible with infant car seats. So, it can cater to the needs of your newborn!
Foundations Quad Lx Stroller
Let say you're planning to expand your family and get another baby; you should choose Foundations Quad Lx Stroller as it can fit up to four children!
Even if you have three kids, you can use another empty seat for storage to place diaper bag or other baby stuff!
The stroller is broad and robust, and many have reported that the pushing and steering are excellent. No worries about storage because when folded, the stroller is still compact to fit in your car.
Foundations Quad Sport 4-Passenger Folding Stroller with Canopy, 5-Point Harness, Foot-Brake (Lime)
MULTI-CHILD STROLLER: 4-seat stroller comfortably accommodates 4 children in separate reclining seats making it great for trips to the playground during daycare or to the park, zoo, amusement parks, and other outdoor activities. Storage bucket under back seat for quick snacks, blankets and other infant necessities during excursions
TODDLER SAFETY: Each seat has a 5-point safety harness restraint system and on the back is a foot operated brake for rear wheels when stroller needs to stay in place
SUN PROTECTION: The oversized UV blocking canopy protects children while they ride in the stroller. Canopy folds to collapse when not needed
Joovy BigCaboose Triple Stroller
Joovy BigCaboose Triple Stroller is another ideal option for you to consider. It is a tandem stroller that accommodates two toddlers and one newborn.
At the back of the frame, you can install a car seat by using an adapter for your baby. Each place also comes with a comfortable cushion, two-panel canopy, snack tray, and footrest.
There is also a huge storage box at the bottom for you to toss baby items. Plus, the weight of the stroller is still bearable at only 48 lbs or 22kg.
Joovy Big Caboose Graphite Triple Stroller, Stand on Tandem, Black
Two front seats accommodate children 6+ months and up to 40 lbs, or from birth+ with included universal car seat adapters
Rear bench seat and standing platform accommodates a child from 2.5+ years and up to 45 lbs
Great for twins, twins + toddler, triplets, or three young children, max weight 125 lbs.
| | | | |
| --- | --- | --- | --- |
|   | Peg Perego | Foundations Quad | Joovy |
| Style | Tandem | Tandem and Side-by-side | Tandem |
| Weight | 30 pounds | 40 pounds | 48 pounds |
| Steering Performance | Excellent | Good | Excellent |
| Seating | 4-position recline with front and rear facing mode | Large seating space with reclinable positions | Slightly reclinable, not flat lay position |
| Amazon Rating | 3.2 | 3.3 | 3.8 |
| Our Rating | 4.0 | 4.2 | 4.4 |
|   | Buy Here | Buy Here | Buy Here |
Conclusion
For a busy mother who handles the home bills, kid's activities, and other outdoor tasks, Kidz Kargo Triple Buggies is an ideal stroller.
Commuting and storing the pushchair inside the car is quick and breezy. Plus, with the three seats, you can tag along all your three triplets with you when you are running errands in town.
Most importantly, the pushing and steering performance is excellent! It does not feel stiff or rigid when pushed around, either in shopping malls or on the road.
It can make your day out with the kids stress-free, so make sure you choose it as your family stroller. Click here to purchase it today!
—
Last update on 2021-10-20 / Affiliate links / Images from Amazon Product Advertising API