Sometimes babies' hair grows so fast that it starts to bother them, goes into their eyes, and makes them sweaty. You can cut it as early as eight months of age or earlier if you recognize the need.
With my daughter, we had to cut it once she turned one, and she loved it. It was a short bob hairstyle with bangs, and she couldn't stop staring into the mirror for the first couple of days.
As you can see, there is no right or wrong time for cutting the hair. If that moment has come, here is an inspiration for adorable toddler girl haircuts and also hairstyles!
You can be especially creative with baby girls too. Check the photos and pick the one that you believe it will suit your little princess the best!
23 Adorable Haircuts and Hairstyles for Toddler Girls
Let's see some of the most beautiful hairstyles for different face shapes, different lengths, and hair textures! We separate them into haircuts and hairstyles for short, medium and long hair respectively.
For Short Hair
#1 Boy Cut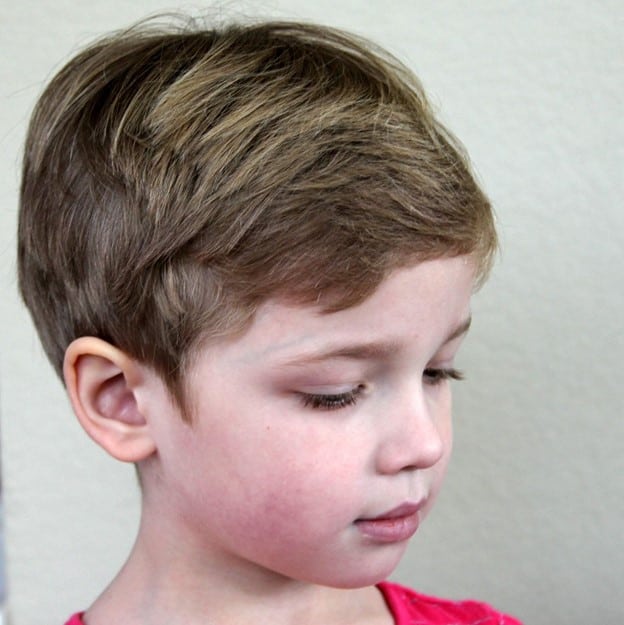 This cute toddler girl haircut is practical, modern, easy to style, and goes well with all types of toddler's hair and face shapes. A boy cut is also one of the easiest toddler girl haircuts!
If you don't want a classical boy cut hairstyle, you can leave more volume on top of the hair, and keep it short around the face.
#2 Side-Swept Bangs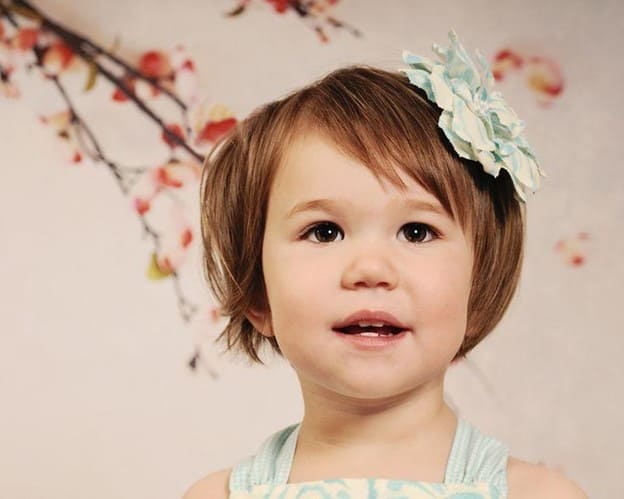 This is one of my favorite short toddler girl haircut ideas. If the girl's hair doesn't grow fast, you cut only side-swept bangs to spice things up. Leave the length as it is.
Adding clips or attractive accessories on the other side of the hair will make the hairstyle more authentic. This one is easy to style and works for little girls with fine hair, which is great if you can't decide for your baby's first haircut!
#3 Pretty Pigtails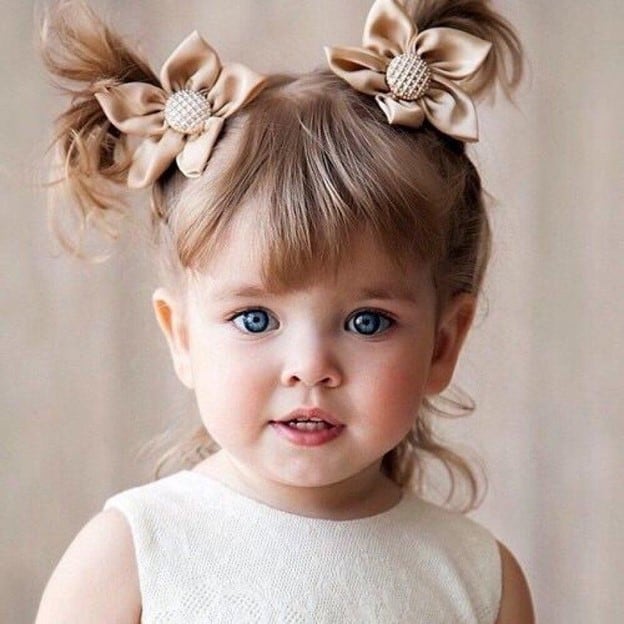 You can play with short hair, and make stunning hairstyles for your daughter. The most common short hairstyles for toddler girls – pigtails – got more attractive – by adding two interesting scrunchies with flowers. And if your child has pretty lashes, this look complements her whole features that you just can't help but snap a pic or two!
The bangs are optional, but definitely compliment the style even more! It is quick and easy to make and your daughter will be ready to play in no time!
#4 Asymmetrical Toddler Girl Hairstyles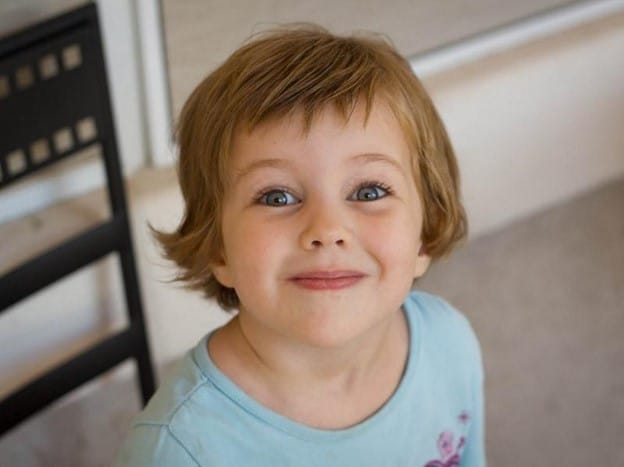 Short bangs with hair trimmed around the ears as a modern asymmetrical toddler girl haircut is getting more popular, especially for kids whose hair grows fast. The short asymmetrical bangs don't block the vision and still make a charming touch to the messy hairstyle.
Asymmetrical haircut goes nice with square face shapes because it softens the structure too. You can choose it for all hair types.
As your girl's hair grows, you can choose to cut it straight or leave it in an asymmetrical style.
#5 Short Bob
If your young girl has fine hair, you can try cutting it to the short bob hairstyle, and let it grow. Short bob haircuts are basic and go for all face shapes, especially with round and chubby faces.
Cut the hair straight around the head, and stop at the chin level.
Chin-length is enough to make an attractive hairstyle that is easy to maintain. It's also an essential girl toddler haircut every mom should know!
#6 Pixie Cut
This simple and classic pixie is one of the most practical toddler girl haircuts. It is short on the back, slightly longer on the sides, and includes longer bangs. There are different versions of pixie hairstyles, and short pixie cuts are the most suited for toddler girls.
The pixie cut is perfect for oval, round, and heart shapes of the face. A short hairstyle like this is best when done with straight hair.
Add a few colorful hair clips whenever you want to add something extra to the hairstyle. It also looks very fashionable, so it is great for older girls and girls with thick hair.
#7 A Short Ponytail? Yes, Please!
The short and frizzy hair on the neck can irritate your daughter, especially during the hot summer. Therefore, the easiest way to get your little princess more comfortable is to secure the messy hair in a short ponytail. Or, it could be just to complete their fashionista look!
You can leave the rest of the hair messy or secure it with bobby pins or hair clips. It pairs with all face shapes.
For Medium length toddler girl hair
#8 Layered Haircut with Asymmetric Bangs
Asymmetric bangs make a perfect 2-year-old haircut girl-approved! It looks cute and is easy to style, because the bangs aren't too long, nor too short. Layers make the hair look fuller and thicker.
This hairstyle is also great if your little princess likes to style its hair. Whatever the look your toddler chooses to have that day, it will appear lovely and as planned!
#9 Put the Hair away with a Clip!
The next one is a pretty basic hairstyle for toddler girl. It pairs well with curly hair because the stringy curls give the hair more depth and make it interesting.
You don't have to shorten the hair if it passes shoulder-length, just add a pretty clip to put the hair away from the eyes. It looks adorable and is easy to style. I find these alligator clips by JoCoDesigns to be perfect, since there are 10 clips in a pack, plus they are surprisingly durable.
#10 Medium Bob Cut with Parted Bangs
Bob is always a good idea even for 4-year-old girl haircuts. It is also great for girls with thick hair. The shoulder length doesn't make the hair heavy, and detail such as side-parting and curtain, side-parted bangs give the hair more texture.
As the bangs grow, your daughter can pin them with a hair clip or put them behind the ears for a fresh new hairstyle. This hairstyle works best with heart-shaped faces.
#11 Forehead Bangs
Does anything say childhood more than round, forehead bangs? Forehead bangs are one of the cutest eternal haircuts for baby girls! You can also play with colorful clips and rubber bands when the bangs overgrow or the baby just doesn't like them anymore.
Forehead bangs are great for medium-length haircuts and wavy hair because the hair frames the face completely.
#12 Pull-Through Braids
Pull-through braids are easier to make than Dutch braids, but they might require your daughter to sit still for long. However, it is worth it, because pull-through braids are charming and a great 3-year-old girl haircut and hairstyle idea for all length, especially medium-length. It might take you too much time to do this hairstyle on long hair, but you can try it, too.
If your daughter cannot sit still, you can always tell her a story or play a cartoon!
Watch the video: A quick tutorial on how to make pull-through braids
#13 Embrace the Bands
Don't try to be symmetrical when making so-called Bantu-knots. Just secure as many hair sections as you can with colorful bands, and you will get a cute hairstyle, suited for girls with medium, curly, and thick hair. The combination might be challenging, but Bantu knots work every time!
#14 Pineapple Bun
The messy pineapple bun is maybe the top used hairstyle for all occasions for both girls and women. It is easy to make, and you don't have to bother with symmetric, parting, and perfection. Just take all the hair and secure it at the top of the head.
The pineapple bun adds volume to thin hair, which might be a tip for you to apply when styling your long hair as well!
#15 Lovely Lob
This is an adorable toddler girl hair cut, with a cut between the chin and collarbone. A lob essentially stands for long bob haircuts, but the length can be different. It is perfect for wavy hair, and summer.
If you cut it in layers, it can make fine and thin hair look thicker and more textured. Flower hair accessories will complement this summer-style haircut for young girls wonderfully!
For Long Hair
#16 Zig-Zag Side Part
This is one of the best toddler girl haircuts for thin hair, as the zig-zag parting mimics the texture and gives more volume to the hair. Because the parting is on the side, her long hair won't come near the face, so your daughter won't have trouble playing with the hair down.
It is also one of the easiest styles to do – all you need is a comb with a pointy tip if you don't have the time to make a trip to the salon!
#17 Side Ponytail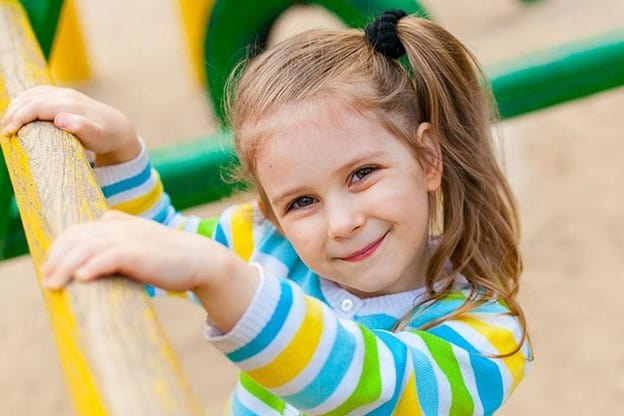 Ponytail is another essential girl toddler hairstyle every mom should know! If you feel like you put your daughter's hair into a ponytail way too often, why not try a side ponytail? It might be inappropriate for adults, but it is excellent for little girls.
The high version of the ponytail is great for playtime, but if you have a special occasion you can try a low ponytail with hairpins for decoration. This little girl hairstyle is great for straight hair.
#18 Keep Those Curls in Order
Long curly hair can be difficult to style for toddler girls, especially if you cannot have your daughter sit and wait until you finish styling her hair. That is when braids can help. Part the hair into two sides, braid each side, and add bandana if you feel like the parting wasn't symmetrical.
The beauty of this hairstyle for little girl with curly hair is that no one will notice because the curls at the ends of braids will be the stars of the show!
#19 Loose Fishtail Braids
If you are looking for interesting, yet easy-to-make hairstyles for toddler girls – fishtail braids might work for you. Fishtail braids are easy to make when you discover the pattern. Divide the hair into two parts, then divide each part into two parts again.
Next, take the last hair wisp from one side and put it to the hair bunch on the other side. Do the same for the opposite hair part, and repeat until you have no hair anymore. Complete the process on the other side!
Watch the video: Simple fishtail braid tutorial
#20 Bows and Bands
Don't hesitate to play with rubber bands and bows. You can make this hairstyle after some cute toddler girl haircuts with the help of three rubber bands and two bows. Take the bangs and secure them with a rubber band. Then, divide the hair into two identical sections and secure each section with a rubber band.
Tie cute bows with satin ribbons, and you are done! Faces with different shapes are suitable for this and similar girl haircuts. It works for everyday walks to the playground and for special occasions, too! For added sassiness, try replacing ribbons with this cute crystal pink glitter bow.
#21 Two Ponytails
Divide the hair with a comb with a pointy pin into two sections, secure each section with a band and it is all it takes for a quick style that lasts the whole day after a toddler girl hair cut (or without). It is a classical hairstyle for girls that never goes out of style.
This cute hairstyle can be done with thin or thick hair and looks adorable no matter the face shape.
#22 Side Buns
Whenever you don't know how to style thin, long straight hair, side buns are the solution. This cute toddler girl hairstyle is as practical as it is cute and easy to make. All it takes is just a couple of minutes, a comb, two bands, and a couple of hairpins to secure the buns on the head of your cute toddler.
Before you secure the side buns, make a middle part and secure two ponytails with bands above the ears. Then twist the hair and secure it with pins or an additional rubber band.
#23 Long Tapered Hair
Layers and gradual change of length is one of the toddler girl haircuts that is perfect for straight hair. The cut gives texture to the hair, makes it attractive and fashionable.
You can cut the hair to be straight in the back and leave hair on the front layered. Still, I prefer layers on both sides of the head with slightly shorter hair around the face.
Conclusion
Did you enjoy my list of best toddler girl haircuts and hairstyles for little princesses? Have you found the inspiration you needed?
Don't be shy, share photos of your cute toddler girl haircuts or hairstyles to @babyjourney0183 on Pinterest so we can all enjoy them! Also, if you have more ideas that prove to work best for your baby, tell us in the comments below.
In general, there is so much you can do with your daughter's hair. You can let it grow, cut it into practical and easy to maintain hairstyles (like a bob cut or a lob), or secure it with clips, scrunchies, pins, headbands, and other accessories, maybe even play with temporary colors.
As always, if you enjoyed the article, don't forget to like it and share it with your fellow toddler girl moms for their inspiration!
—