I remember trying to keep my baby amused in the stroller when I first started using it. She didn't want to stay more than five minutes in it!
So, I tried a lot of things to keep her entertained. At the same time, I was trying to get used to carrying all necessary items while not losing them along the way.
I found quite a few effective gadgets and today, I am here to help you do the same – find your best stroller accessories that are fun for babies and practical for new moms!
What are you waiting for? Read my list of absolute favorite accessories for stroller!
You may be interested in: Best Baby Strollers
#1 Quality Stroller Winter Covers Are a Necessity
I'll start with a stroller cover, as it is one of the most essential and universal stroller accessory items. A universal stroller rain cover protects not only your kid from the rain, but also keeps the wind and dust away to allow the baby to enjoy the view through a see-through window.
A Premium Stroller Rain Cover & Weather Shield by Stroller Buzz is a good choice. If you are looking for a rain cover for double stroller, consider checking out Ezkindheit as it has some excellent models for side-by-side strollers.
#2 Never Lose a Thing with a Stroller Organizer
How many things do you carry with you when you go out with your baby? Countless, don't you agree? Well, a stroller attachment for the organization will make a huge difference.
Instead of putting everything in the same section and losing small items, you can have a dedicated compartment for your keys, phone, water bottle, toys, snacks, and more!
Stroller organizers with diaper sections are as practical as stroller clips for diaper bag. Some models on the market even come with Velcro straps to fit most strollers, disregarding the brand! It is just a matter of personal preferences.
The Ethan & Emma Universal Baby Stroller Organizer is compact enough to be looped over your stroller handles just enough not to bother you while pushing the stroller – but large enough to store everything you need.
#3 Take Your Coffee Anywhere With You
Some stroller cup holders are built-in for baby bottles. You can purchase additional insulated cup holders (or a cell phone holder) for models without a built-in separately to match different stroller types, such as jogging stroller or umbrella stroller.
You can adjust them to hold a small coffee cup or a large bottle. It is great if you want to have your morning coffee while in the park with your baby.
Stokke Cup Holder is super practical as this accessory is adjustable and compatible with many stroller bar, handles, and even brand exclusive Stokke strollers. You can make it work with other models as well, if you choose to get an adapter. That way, it can even become a universal cup holder and one of the many umbrella stroller accessories.
#4 Hooks for a Hands-Free Experience
In my experience, babies require continuous parent's attention and both hands! So, it is nice to use hooks to help hold shopping bags, groceries, and even diaper bag so you can easily take the baby out from the stroller.
Once your baby overgrows the stroller, you can use stroller hooks in the car to organize their closet, hang their school backpacks, or even your grocery bags.
Skip Hop Universal Stroller Hook is one of the best in the market; it can hold a heavy load and has a three-hook design for all your bags, umbrella, toys, shopping bags, jackets, baby gears (a sippy cup and diaper bag included!), and more.
The Original Mommy Hook Stroller Accessory is another solid option favored by a lot of parents!
#5 Don't Forget the Toys for a Fun Ride!
I cannot imagine this list of baby stroller accessories without toys! Toys will keep the baby entertained and allow it to explore different textures.
Babies should be able to grasp and shake a toy when at the age of 4 months old. [1] The good news is that most stroller toys, such as the Skip Hop Farmstand Avocado Stroller Toy, easily attach, detach, clean, and play with your child!
Tiny Love Into the Forest Musical Stroller Toy is an excellent example of a comprehensive and developmental stroller toy that is machine-washable.
#6 Less Fuss & Maintenance With A Travel Stroller Bag
Even though most air companies don't require you to put your stroller in a stroller bag, a stroller travel bag can be useful.
It reduces the need for cleaning, and protects the stroller from dirt, debris, scratches, bumps, and other potential damage in the airplane cargo hold.
Find a stroller gate check bag that is airline certified, such as the J.L. Childress Gate Check Bag for Standard & Double Strollers. It fits most strollers – from single to double strollers, and is water-resistant and lightweight.
#7 A Stroller Fan to Keep The Baby Comfy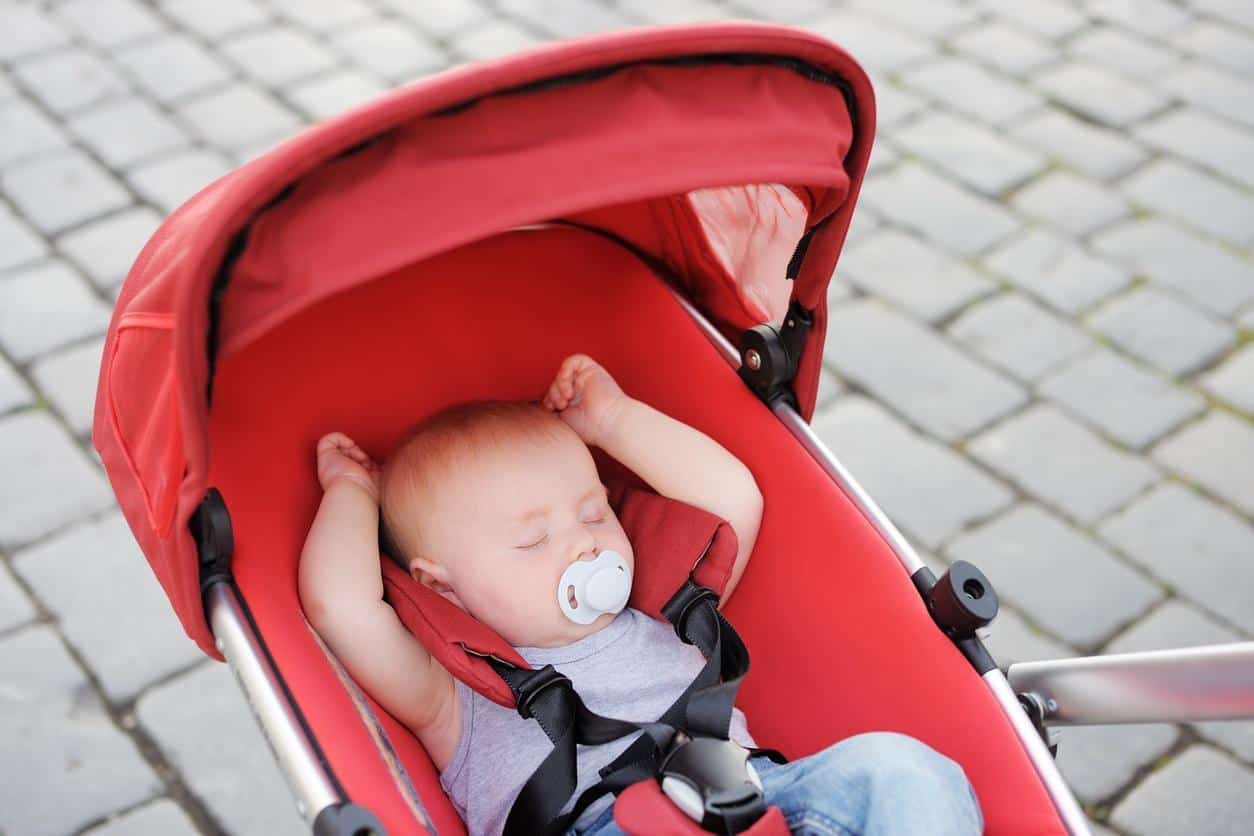 If you are planning to take your baby for a walk during late spring and summer, don't forget sunscreen, hats and a fan!
A compact and easy-to-secure stroller fan is a simple, yet effective way to keep the baby cool. It is one of the must-have accessories for strollers if you are going on a vacation.
The COMLIFE F170 Clip On Fan is easy to use and can be used on your stroller frame, in the car- wherever you need it. It is also compact so it won't take up much space in your suitcase. Oh, did I forget to mention rechargeable batter?
Further reading: Best Stroller Fans
#8 Snack Tray for A Quick Bite on the Go
Whether your baby requires frequent meals because of certain medical conditions or simply likes to munch something while riding, a snack tray is always a practical stroller accessory and solution.
Nowadays, you can find universal stroller trays that are easy to attach to different models.
UPPAbaby Snack Tray stands out among other stroller brand options there is in the market as one of the truly best Uppababy stroller accessories! It is compact yet offers enough space for your baby's favorite drinks and snacks.
No more hanging all your favorite baby gear and grocery bags on the stroller's handlebar! I also absolutely adore how easy it is to wash!
#9 Buggy Board for A Shared & Fun Ride
If one of your two children is too tired, or lazy to walk, a buggy board for double stroller makes the ride fun and easy.
Also, most parents find buggy boards convenient to push the stroller at adult's speed when they are in a hurry!
For me, a buggy board is a must-have stroller accessory (yes to Disney stroller accessories!) for a hyper and excited older toddler!
If you are looking for a practical and foldable stroller board for your older child, I recommend looking for a Baby Jogger accessory. Their strollers are top-notch, and the compatible equipment isn't far behind.
The Baby Jogger Glider Board is easy to secure on different strollers, durable and folds within seconds when not in use.
#10 Nest Insert for Tiny Babies
Nest insert helps tiny infants to be comfortably supported in strollers during the first few months.
If you plan to use a nest in the stroller and car seat, find one that is easy to clean, and comfortable, such as the Boppy Noggin Nest Head Support. You can install it with a 3 or 5-point harness system for extra safety.
#11 Bunting Bag Keeps your Baby Cozy
A bunting bag, or a footmuff or sleeping bag, is the best way to keep the baby warm during the winter. I love the Baby Swaddle Blanket Stroller Wrap because of the soft, cotton liner and excellent thickness – also because it is machine-washable!
A sleeping bag is a multi-purpose accessory, which you can use in the car or home. Bunting bags are a must for travel because you never know what the weather and heating will be like in your hotel!
Further reading: How to Keep Baby Cool in Stroller
#12 Noise Machine for a Deeper Sleep
A white noise machine supports uninterrupted sleep, but only if you follow the recommendations for sound levels (quieter than 50dB) approved by Charlotte Eye, Ear, Nose and Throat Associates (CEENTA). [2]
These so-called sleep machines can help infants fall asleep or stop crying. They are an excellent accessory to have around when you are outside with the baby.
Some compact and portable sound machines, such as Hatch Baby Rest, connect to your phone and run on batteries, which makes them great for parents who are always on the go.
#13 Repel the Mosquitoes with a Bug Net
Even if you use bug spray in nature, it doesn't mean that it will be 100% effective. A bug net for the stroller and a bug spray lower the risk of bug bites and ensure a comfortable ride.
I recommend finding one that works for your stroller seat and a cradle, such as the Enovoe Mosquito Net for Stroller.
Conclusion
Did you enjoy my list? Which accessory seems the most practical? I loved my stroller cup holder, and my daughter enjoyed many, many meals in her stroller with a snack tray!
If I missed anything, comment below or share your thoughts and stroller attachments recommendations with babyjourney0183 on Pinterest. Let's make stroller rides more fun and practical together!
—