There are a number of wonderfully best baby strollers on the market today. One of the most trusted brands is Bugaboo; a stroller manufacturer responsible for starting the innovative stroller revolution 20 years ago.
They are known for producing durable, intuitive, and comfortable strollers. These best Bugaboo strollers are made for children but designed with parents in mind. Both those riding and those pushing generally love Bugaboos.
That is why we didn't want to provide you with just one Bugaboo review, but a review of all of the top Bugaboo strollers. I personally love the Bugaboo Fox and believe it is the best overall out of all the models.
But other Bugaboo pushchairs shine too. This includes:
Read on to find your perfect Bugaboo baby stroller.
Who Is Bugaboo? The Company Behind Bugaboo Stroller
You may have heard the name, but perhaps you are wondering who is Bugaboo, what is a Bugaboo stroller?
Bugaboo is a Dutch company founded by Max Barenbrug and Eduard Zanen in 1994, with the mission of providing parents the freedom to move around freely with their kids.
Over the years, they have worked themselves up to become a high-end stroller line featuring functional yet aesthetically pleasing designs. Though they have varied their models and price points, their strollers are generally considered costly.
However, the strollers are long-lasting, extremely convenient, and very comfortable. They are designed with parents' needs and wants in mind, resulting in an easy-to-use stroller.
Bugaboo stroller reviews also tend to mention the helpfulness and impressiveness of Bugaboo customer services. Well, that is to be expected considering the price of the stroller.
Are Bugaboo strollers worth it?
Though these strollers are considered an investment, most parents believe they are worth it. Bugaboo strollers make traveling with your child effortless and enjoyable. They are long-lasting and can be used throughout the childhood of multiple children, making them one of the best strollers in the market.
Why are Bugaboo strollers so expensive?
It is no secret that the Bugaboo stroller price tag can be a shock. They really don't have any value strollers available. Part of the reason is its popularity and demand.
But it is their features, design, and high-quality materials that spurred their popularity. There is no such thing as a cheap Bugaboo stroller, likely due to the trend and their quality.
Also read: Bugaboo vs Uppababy
Bugaboo Review: How to Choose the Best Bugaboo Stroller
My personal favorite stroller, the Bugaboo Fox 2, after considering the features when choosing my best Bugaboo stroller.
Choosing the best Bugaboo pram is much like choosing any other stroller. You may be able to focus a bit less on convenience and comfort features though as these things come standard with Bugaboo.
A few things you should look out for include:
Stroller Configuration. If you search "stroller Bugaboo" you will quickly realize that they make single and double models. While single models can be easy to maneuver, has a lightweight frame, and is perfect for traveling, they may not be ideal for a growing family.

If you have multiples or plan on expanding your family, you may want to choose a double stroller model. Surprisingly, the Bugaboo double strollers are still lightweight and easy to use.
Lifestyle. Bugaboo makes a variety of strollers to suit different lifestyles and needs. Some models are lightweight travel stroller and fold down into very compact sizes for travel. Others prioritize comfort and convenience features for an everyday stroll in the form of a full-sized stroller.

Still, other models have been designed for all-terrain adventures with features like oversized tires. Consider which model would best suit your lifestyle.

Seat Weight Limit. Bugaboo stroller weight limits range from around 37 pounds to 50 pounds. If you plan to use your stroller for multiple children, or throughout toddlerhood, you should consider a stroller with a higher weight limit.
Budget. When it comes to strollers by Bugaboo, cheap is a relative term. Though there are some Bugaboo models that cost less than others. In general, all Bugaboo strollers are considered high-end and sport a price tag to match.
Special Design. Bugaboo does make a jogging stroller. If you are looking for a running stroller or jogging stroller that is perfect for jogging with your baby over all terrains, you will probably want to consider this model as opposed to the everyday use models.
Bugaboo Stroller ReviewS: Six Super Bugaboo Strollers!
# 1 Bugaboo Fox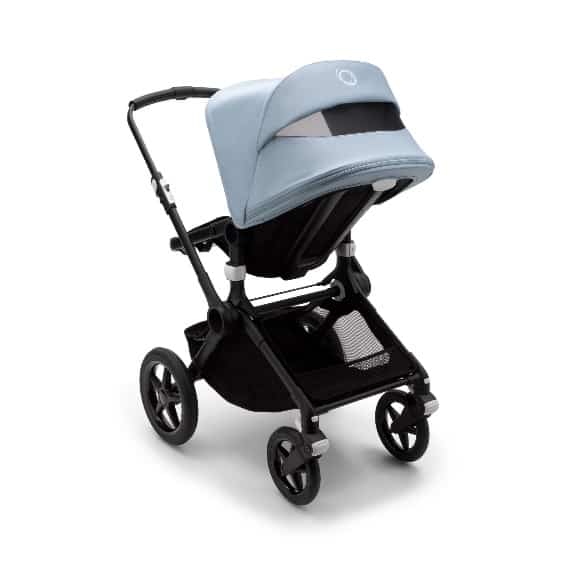 The first is the Bugaboo Fox, an all-around great stroller and our pick for best overall. The Fox was crafted to go anywhere, literally. It is made with a light frame and a unique fold. The latest version is the Fox 3, which is an upgrade of the Fox 2, sporting new colors, harness material and new mesh panels
It can be folded as a one-piece or as two for an extra compact form. The light frame and the fold make it effortless to carry up and down steps or even onto public transport. The advanced suspension and large puncture-proof wheels enable you to push it anywhere, even on sand or snow.
The seat is reclinable, reversible, and extremely comfortable. Until your child is ready for the plush child seat you can use the adapters to attach a bassinet or car seat.
Parents will enjoy how effortless it is to use the Bugaboo Fox stroller, along with the small thoughtful convenience features, like a height-adjustable handlebar. We have also gushed about this awesome stroller in our Fox 2 stroller review!
Pros:
Wheels and suspension designed for nearly any terrain
Lightweight chassis
One-piece fold or two-piece compact fold
Bassinet is included
Cons:
The bassinet is included (parents with older children may not need it)
Can be difficult to assemble
#2 Bugaboo Bee 6
Up next is the Bugaboo Bee 6. This is the latest version following the ever-popular Bee 5 stroller. It can be used from birth (with the bassinet or car seat adapters) through toddlerhood.
This is a great everyday stroller equipped with comforts to make the ride pleasant, especially for those living in a city. Larger puncture-proof tires with shock absorption and independent suspension, along with a light frame allow it to easily roll over bumpy sidewalks.
An ergonomic seat with a plethora of reclines can be adjusted to suit your child's age and preference. The high-performance fabrics are cool, comfortable, and stylish. When it is time to head pack up, the one-handed fold one-piece fold of the Bugaboo Bee 6 makes storing it a cinch even in an apartment.
For more details, consider reading our Bugaboo Bee 6 and Bugaboo Bee5 articles respectively. We also wrote a comparison between the Bee 6 and Bee 5 to help parents decide between the two models.
Pros:
Advanced suspension and larger wheels
Transitioning ergonomic seat with bassinet/car seat adapters
Self-standing fold
High-performance, breathable fabrics
Cons:
No child or parent tray
Not suitable for all terrains
#3 Bugaboo Lynx
If you are an urban parent, consider the Bugaboo Lynx, the most agile Bugaboo travel system. It is also their lightest stroller. But don't be fooled, it is very sturdy and can hold 50 pounds in the seat (or with the car seat/bassinet attached) and 22 pounds in the lower storage basket.
The stroller is designed to be nimble and a breeze to steer, even with one hand. This stroller is definitely designed with busy city streets and narrow sidewalks in mind.
Even though it is compact, Bugaboo Lynx is still very comfortable. An extra-large canopy keeps occupants cool. The seat is reversible and has three different reclines.
If you want to add extra features, there are multiple integrated attachment points. Even the car seat adapters are integrated. When it is time to pack it in, parents will delight in the various folding options and self-standing fold of this Lynx stroller.
Pros:
Only weighs 20.7 pounds
One-handed steering
Integrated feature attachments and car seat/bassinet adapters
Nimble design
Cons:
Suspension on only two wheels
Difficult to unlock and unfold
#4 Bugaboo Ant
Designed with travel in mind, the Bugaboo Ant is the most compact. It is suitable from birth, whether you attach the Bugaboo Cocoon or your car seat. The child seat is plush as well with its three-position recline and reversibility.
Though it makes a great everyday stroller, it is outfitted for travel. You can pull it along in trolley mode, fold it down to store in a locker, or park it in compact spaces.
The Bugaboo Ant can convert to a tandem stroller with the addition of a ride-along board. Though the wheels are compact and nimble, they are sturdy.
The wheels are also equipped with advanced suspension for a pleasantly smooth ride. The Ant can travel with you no matter where you go. For more details, you can give our Bugaboo Ant review a read through.
Pros:
Ultra-compact fold
Can convert to standing ride-along tandem
Adjustable and reversible seat
Pull-along trolley mode
Cons:
Small storage basket
Can only accommodate 48.5 pounds
#5 Bugaboo Cameleon 3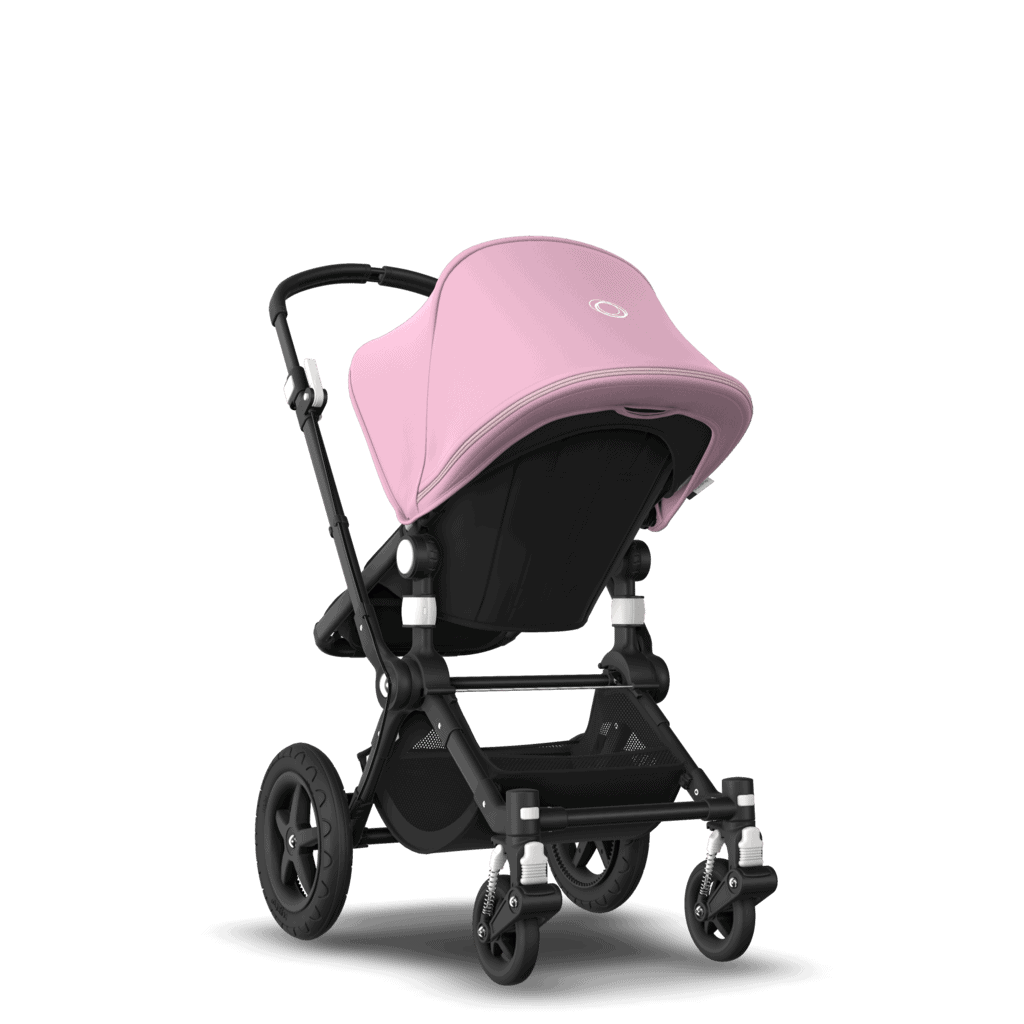 Next is the latest in the Bugaboo Cameleon stroller line, the Bugaboo Cameleon 3. It is the most versatile Bugaboo and is the original stroller produced by Bugaboo.
It is super easy to use and can adapt with the click of a button. The suspension of the wheels is completely adjustable. And, the different sized wheels can allow you to travel various terrains, simply reverse the handlebar to switch which wheels are in front when you push.
This stroller can easily last you from the day you bring your baby home through childhood. It is car seat compatible with adapters or you can use the bassinet. The seat is fully reclinable and has an expansive sun canopy.
The intuitive "feet" on the seat let it stand independently on the ground. This is a sturdy stroller and well thought out when it comes to making parents' lives easier, which we have mentioned as we previously reviewed the Cameleon3 stroller.
Pros:
Independently standing toddler seat
Reversible handlebar
Individually adjustable wheel suspension
Huge storage basket
Cons:
Heavy
The seat must be removed to fold
#6 Bugaboo Donkey 3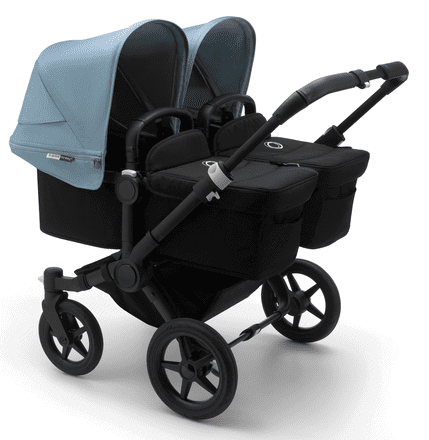 Finally, we have the Bugaboo Donkey 3. It is a convertible double stroller that is ideal for a growing family. It can be used in the Donkey Mono mode with one child seat, Donkey Duo with a child seat and infant option, or Donkey Twin with two child seats or two infant options.
In any mode, the stroller is completely customizable when it comes to which direction the seats face and the recline options.
As a single stroller, you can also choose to add extra storage with the side basket. Despite having room for two, the Bugaboo Donkey stroller is smaller than you think and fits through most standard doorways.
It is also lightweight and has a one-piece self-standing fold or a super-compact two-piece fold. The larger puncture proof wheels are suitable for streets, sand, or snow.
If you are planning on expanding, or have multiples, then the Donkey 3 is a lovely option.
Note: Bugaboo Donkey 5 is the latest version – you may pre-order the stroller here!
Pros:
Can use a combination of seats (single, two child seats, two infant seats, or a combination)
Wheel and suspension are suitable for snow and/or sand
Can attach extra storage with the side basket
Compact enough to fit through most doorways
Cons:
Small storage basket
Bulky with one-piece fold
Bugaboo Accessories for Your Best Bugaboo Stroller
While these Bugaboo strollers are awesome, you may still want or need a few accessories:-
Bugaboo bassinet
Bugaboo cup holder
Bugaboo ride-along wheeled board
Bugaboo transport bag
Bugaboo rain cover
Bugaboo snack tray
Depending on which stroller you choose, you might need an infant seating option such as the Bugaboo bassinet (compatible with your model) or the infant cocoon.
Either of these infant seats provide a comfortable and safe place for your baby to relax while you stroll. If you have older children who still want to hop on for a ride, the ride-along board is a wonderful option.
Most strollers aren't complete without a few comforts and conveniences, such as a cup holder or tray. Unfortunately, Bugaboo prams don't come with these typically standard accessories. However, they are easily accessible online, allowing you to customize your stroller.
Finally, there are some lifestyle specific accessories that can take your stroller to the next level. Such as the rain cover for the Donkey/Buffalo stroller, for when you are working out in inclement weather.
And for those who like to travel, the transport bag, makes it easy to take your Bugaboo stroller with you. They protect your gear from wear and tear and make it easier to manage on the go.
With a few select accessories, you can tailor your entire stroller experience.
Bugaboo Review: Which Bugaboo Is Best?
Bugaboo strollers are known for being intuitive and parent-friendly since their inception in the early 2000s. With each latest version, their popularity has continued to grow. But, if you are looking for the best overall Bugaboo stroller, it would have to be the Bugaboo Fox 2.
It is made to easily go anywhere you need with a nimble design, a lightweight frame, and all-terrain tires and suspension. Despite being compact yet sturdy, it remains very comfortable. It has everything you need in a stroller and more.
Which one of the above do you think is the best Bugaboo stroller? Leave your comments and thoughts below – we'd love to hear from you!
—
Last update on 2023-06-03 / Affiliate links / Images from Amazon Product Advertising API