What's the best way to celebrate and document your baby's growth?
You will get different answers from different people. However, monthly photo collage is something you will be recommended by many parents like me who love to record their little one's first-year milestones in a creative way.
A baby photoshoot is an easy and worthwhile way to cherish the beautiful memory of your little one growing up.
Here, I am going to share some creative and cool monthly baby photo ideas that you can use to document and celebrate the journey of your little one's first year in this world.
20 adorable Month by month baby picture ideas
#1 Scaling the Baby's Growth Using a Laundry Basket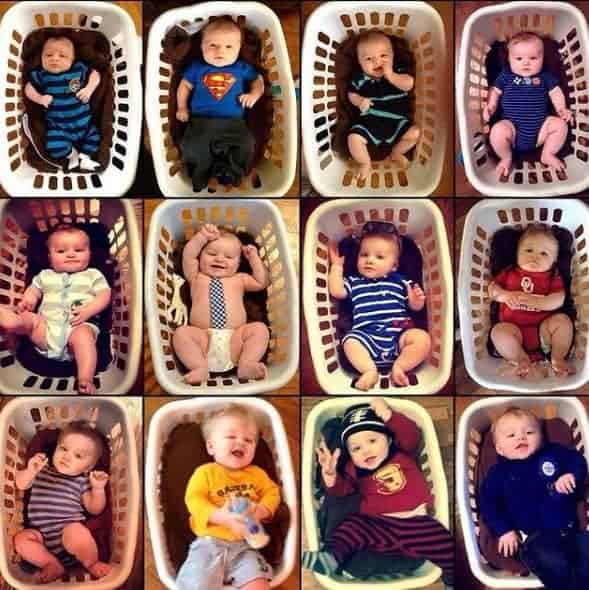 One of the simple yet creative month by month baby picture ideas is to use a laundry basket as a reference point. Put your baby in a laundry basket and click a picture. You will notice how the laundry basket gets shorter as your baby sprints from 1st to 12th month.
#2 Pizza Photoshoot – A Slice For a Month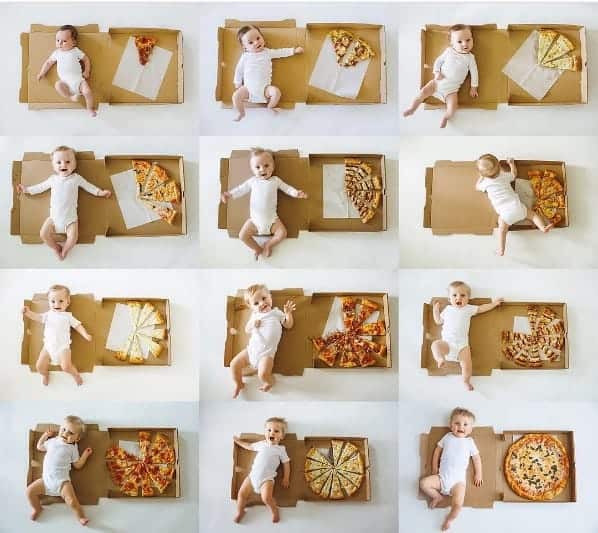 Pizza pies are normally used for teaching counting to preschooler. Why not use them to record your baby's milestones and then feast on them later? See how Dani Leigh has pulled off this monthly baby photo idea.
#3 A Milestone Rainbow For a Colorful Monthly Announcement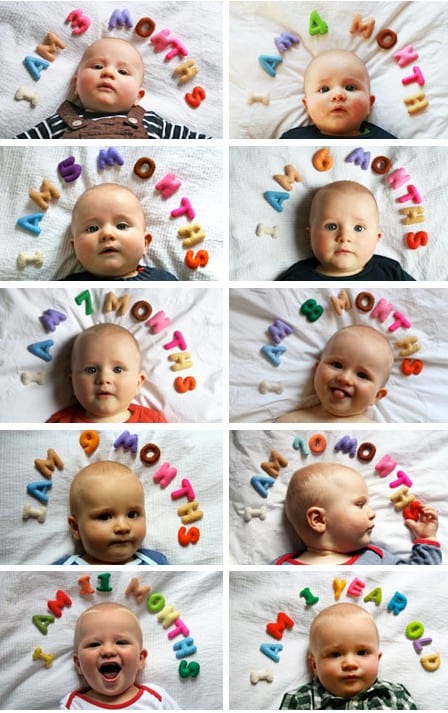 Put a rainbow on your little one's head every month and take a photo. You can use magnetic letters numbers to make that colorful monthly announcement.
#4 A Whiteboard Backdrop For A Monthly Milestone Roundup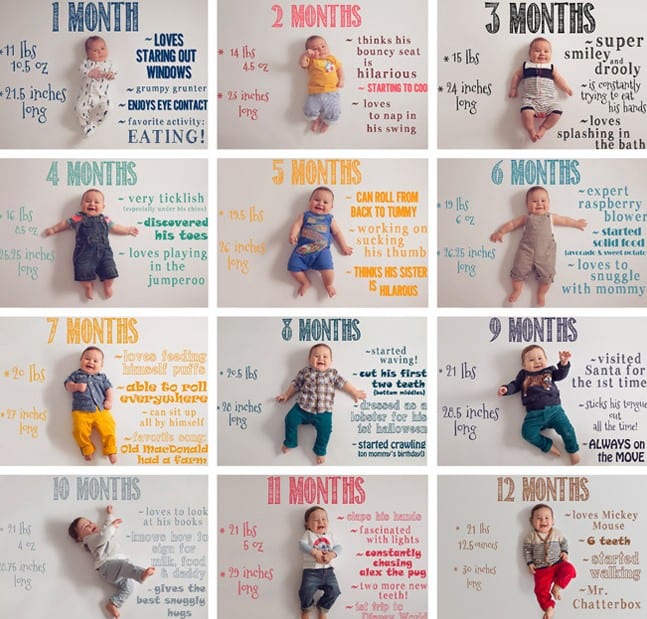 With a big whiteboard and color markers, you can set up a well-thought-out baby's milestone journey. Put the baby on the whiteboard and jot down the baby's growth progress (weight, teeth, etc.) on the board and take a picture every month. See how Tonya has done it for her baby boy.
#5 Hold The Baby High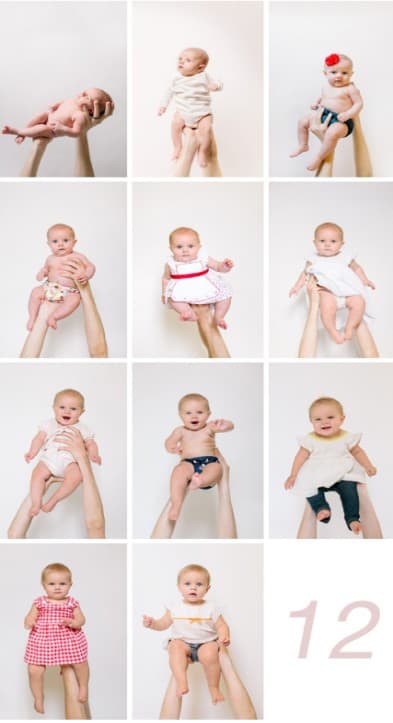 If you're busy parents like me, preparing probs might be too time-consuming for you. This time, you can recreate the pose of Lion King where Rafiki unveils Simba on the Pride Rock to the kingdom, no props, just a white wall will do. It is among the most easy-to-pull-off baby picture ideas at home. And if you cannot find a perfect white background or the ideal lighting, you can easily use a baby photo editor for post processing to enhance the colors or adjust small things.
#6 A Floral Milestone Celebration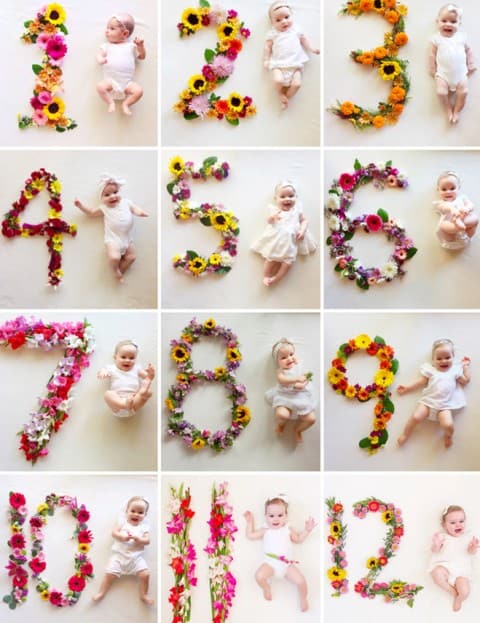 The combo of babies and flowers can never go wrong. This milestone photoshoot by Lauren that beautifully uses flowers to count the months is one of the cutest and most heartwarming monthly baby photo ideas .
#7 A Journey From Womb to The Other Side of The World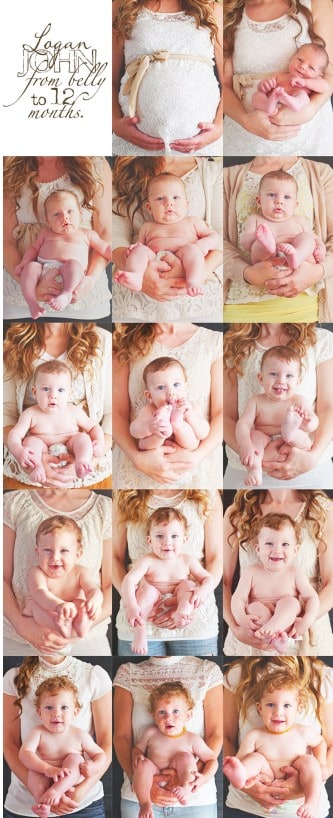 It's always awe-inspiring to see a child's growth from the mother's belly into a cute little 1-year tot. You can capture this journey by taking baby milestone pictures that include a day-one and pre-birth belly picture. See how Rosie has created a similar beautiful collage with her baby.
#8 Rocking It on The Horse
Prepare a big toy like a rocking horse that your baby can climb on, and take the photo of your baby's journey from just lying to be able to climb on it. The photo collage shown below encapsulates how your little one amazingly develops within the span of just 12 months and it is incredibly satisfying to see them!
#9 Tracking Baby's Milestone with Calendar Months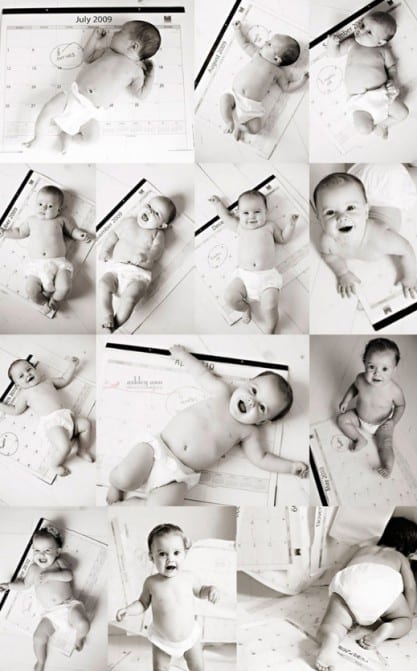 A desk pad calendar is the main prop you need to execute this baby milestone picture idea. Lay down the calendar on the floor, put the baby on it, and take a picture with the corresponding month showing in the backdrop.
#10 A Daddy Baby Photoshoot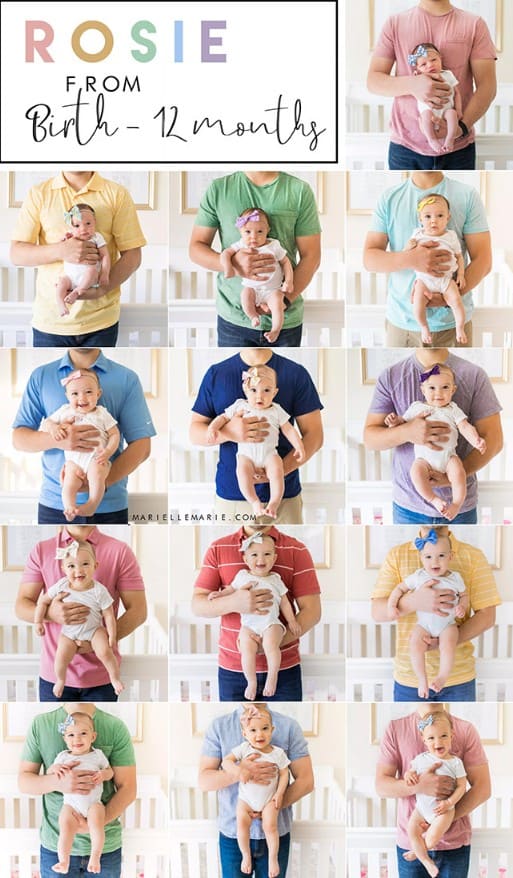 This one of the very doable baby picture ideas at home, especially for dads. All you need is a set of tee shirts in different colors and strike an identical pose every month in a different shirt. See how Marielle has made a similar milestone collage of her daughter and husband.
#11 Baby Bucket Milestone
Use a baby bucket as a prop and yardstick to document your little one's growth in their first year. Use a black and white filter and vignette effect like Tekoa Rose to give a dramatic effect to the monthly milestone pictures.
#12 One Year One Onesie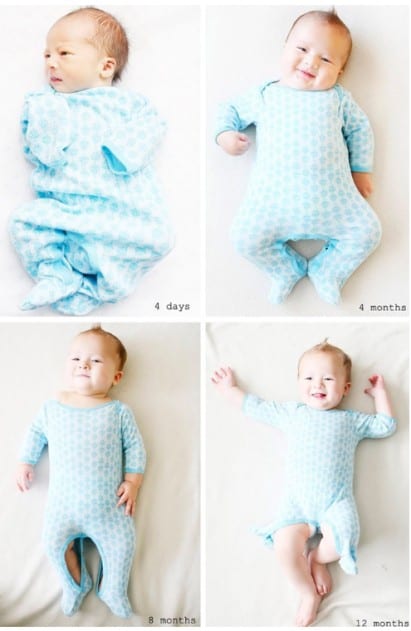 Among cost-effective and creative month by month baby picture ideas, this one tops the list. Take an onesie for a one-year-old and photograph how your newborn gradually fits into it in the next 12 months.
#13 One Year, 12 Onesies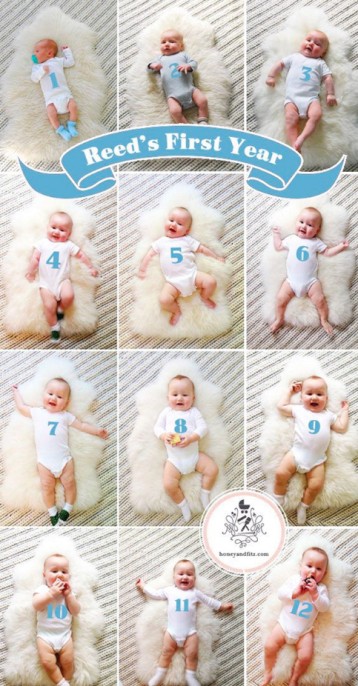 You can also give a twist to the onesie idea and use numbered onesies to record your baby's monthly milestones. This idea is incredibly adorable and practical, as your baby can wear these clothes in normal daily life too!
#14 A Photoshoot with the Best Buddy
Take a picture of your baby every month with the same toy. This milestone documenting will capture how your baby has started enjoying the company of their buddy and eventually outgrown them!
#15 A Candid Photoshoot
This photoshoot is among the effortless yet thoughtful monthly baby photo ideas. Capture the candid moments of your baby every month on the same day and make a 12-grid collage for the first birthday.
#16 A Photoshoot on a Couch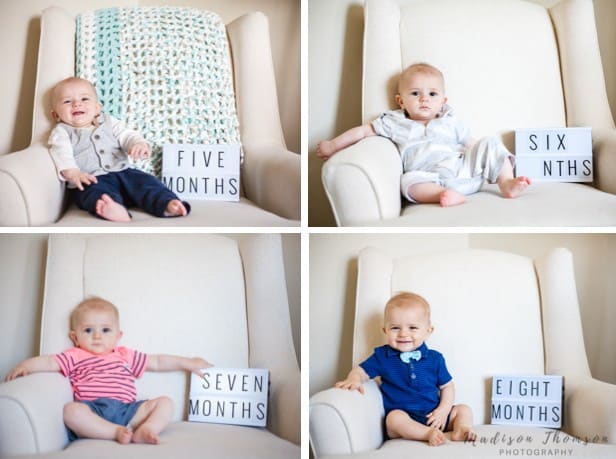 Use the same readily available sofa or chair in your house as the photo booth and capture your baby's journey to their first birthday. Also, put an announcement placard beside them to indicate the milestone month.
#17 A Colorful Milestone Party

Source: Ashley Ringger
Capture your baby every month in cute outfits and with numbers written through different props. The numbers could be from anything colorful in your house, even the maple leaves from the street make a pretty props isn't it? This photoshoot will not just capture all the colors but also the spectrum of cute expressions of your baby.
#18 A Balloon Party
Another simple yet cute idea to pull off for monthly baby pics, is to use numbered balloons to record the monthly milestone of your little one. Your baby would definitely love this as they can play with the balloon eventually!
#19 Mark Your Milestone with Donut
Celebrate every month of your little donut by taking their picture with the corresponding number of edible donuts. See how Corinna Hoffman has aced the donut milestone photoshoot. This adorable food photography idea could be replaced by a burger, a sandwich, an apple, or anything you like to eat!
#20 A Simple yet Sentimental Milestone Photoshoot
It is quite a thoughtful and heart-warming, yet easy to create monthly baby photo idea: the same blanket and dress for every month picture but with a spectrum of expressions. Kate has successfully captured all the colors of her baby's facial expression in this monthly milestone grid.
Conclusion
Sometimes we're just too busy to notice the growth of our babies and forget how far they've come, how far we've made it. Watching and documenting your baby growth could be one of the most satisfying process during your parenting journey.
Besides, it is actually easy to record your baby milestone, as most of these ideas for monthly baby pictures could be taken by almost none to only one props, and remember to take it from the same angle!
We really hope you like this listicle of monthly baby photo ideas. If you have found this piece helpful, don't forget to share it with fellow parents.
Also, if you try out any of these or any other baby picture ideas, don't forget to share it with @babyjourney0183 on Pinterest.
—