Baby's first birthday is an important anniversary for both parents and baby. Your baby is now a toddler, more fun and cuter each day. As the day approaches, you might find yourself wondering what to do for baby's first birthday, who to invite, what food to prepare, and what about cake?
There are more things to consider and prepare, and I am here to help you with some first birthday ideas.
I remember when my daughter turned one and how excited I was, and using my experience I will break the things down into the most important sections!
Location, Day & Time
When organizing your child's first birthday, the first thing to consider is the location. Do you want to throw an intimate party at your home or pick some kid-friendly location, such as a restaurant with a children's playground or a park?
If you live in a house with a large garden, it can be ideal for a fun celebration. You can also include some first birthday traditions, such as clown or children animators.
However, make sure there is additional space for older children or adults who want to take a break from the festive crowd.
Because first birthday celebrations are usually crowded with more friends and family than any other birthday, I recommend you to choose the weekend before or after the actual birthday date, if it falls on the weekday. Some parents decide to hold baby's baptism together with the first birthday celebration, so you can expect a flurry of activities throughout the day, including baby's baptism photoshoot!
Lastly, early parties are an excellent way how to celebrate 1st birthday. I recommend the time between 10 and 11 am. The baby will be well-rested, less nervous, and the party will be over until the nap time comes.
Who's Coming To Party?
If you want a small, intimate family event, you can invite grandparents, aunts, and uncles, and the closest friends. If it seems as too modest a 1st bday idea, you can expand it and invite friends with kids, neighbors and coworkers, etc.
I personally prefer a small group – it's much easier to manage my guest list and the party preparations.
Babies 1st Birthday Invitation
After you've rounded up your guest list, it's time to let them know there's going to be a party! Here are some easy first birthday ideas for invitation cards:
Ask Older Children to Help You: If you have older children you can have them decorate the cards and make unique memories for the youngest one.
Send Ready-Made Card: The easiest method is to buy invitation cards, fill in the most important details about the party, and send them out.
Make a Facebook Event or E-Card: If you want to be eco-conscious, you can send online invitations or create a Facebook event. That way, your friends will easily respond to the invitation, and you will know in advance who's coming.
What to Write on Invitation Cards?
Whether you are making your invitation cards or sending out pre-made cards, here's what you must include on them.
Date
Beginning and ending time of the party
Location
Theme (if any)
Also, you can include fun wordings on your cards, such as those I found on the Love and Lavender website. Here are my favorites:
Our little man is turning one, join us for a party that's sure to be fun
Roses are red, violets are blue. Our girl's turning one, we want to celebrate with you
Guess Whoooo's Turning 1, Our baby is Turning ONE! Please join us for an owl-some fun time!
Picking A Birthday Party Theme
Choosing a theme for a child's birthday is convenient because you will decide on plenty of things easier if you have a theme in mind.
Here are a few tips that can help you pick the baby's 1st birthday party ideas related to the theme.
#1 Consider the Nursery Decor
I believe using nursery decor as inspiration is one of the best ideas for 1st birthdays. It makes so much sense as the nursery is closely tied to your baby's first year.
#2 Use Favorite Cartoon or Book as Theme
This is one of the widely recommended ideas for baby's first birthday. The realization is simple, because you can easily find all props in local shops.
#3 Meaningful Metaphors
Incorporating metaphorical themes into birthdays makes the event more meaningful. Some of the popular theme idea include decors that center around maps, hot air balloons or planes to signify baby's life journey and progress to greater heights. Bees are also another cute yet easy theme, since you can play with the "bee" word.
#4 Baby's Trait As Theme
Is your baby a happy, cheerful person? Perhaps an animal lover? Or is your one-year-old the dramatic type? You can actually create a theme based off their name and disposition; after all, they're the star of the day!
Theme Sample Ideas
Here are some baby boy first birthday ideas:
Engage your little one's adventurous spirit with a pirate-themed celebration, complete with adorable pirate hats for the tiny buccaneers to wear as they embark on a day full of excitement and treasure hunts. Don't forget to include parents in the fun by providing matching pirate hats, allowing them to join their little ones on a swashbuckling adventure!
Check my favorite first birthday ideas for a girl:
Making A List of Activities
This is rather optional, depending on your guest invitation. If you invite a lot of parents with children of different ages, you could organize some games and activities to keep the kids entertained. Here are some baby's first birthday ideas for games:
Bubble Party
A bubble party is one of the best cheap 1st birthday ideas. You don't even have to rent a bubble machine, you can have older children blow bubbles, and the youngest ones will try to catch them.
Parade
If you have chosen a theme, why not spice things up and organize a parade? Send a memo to all guests with children and ask them to dress their kids up for an upcoming parade. It will be a fun event for kids of all ages, and the photos will be hilarious!
Time Capsule
Choose a pretty box and fill it with stuff from the first year of your baby's life. Then, ask the children to draw something to put in the box. Adults can write their memories with your baby on the card instead. Keep the box safe until your child is old enough to value the memories!
Now Onto Baby Birthday Party Food!
When planning a 1st birthday party for your child, the food is an important section. You have to decide among plenty of fun and healthy veggies finger food, pastries, colorful themed cookies, etc.
Pick the cake carefully. If you have chosen the theme, you can decorate the cake in the same manner.
You can get a vanilla smash cake for the baby and a chocolate cake for friends and family.
If you opt for a healthier version with less sugar for the baby, you can switch to fruit purees instead of butter, evaporated skim milk instead of heavy cream, marshmallow fluff instead of frosting, etc.
Other food options at the party could be healthy fruit and a veggie platter, crackers, and cheese, followed by a meal no children nor adults will deny – pizza or spaghetti and meatballs. Make sure you slice everything in kinder size, and you can even cut the veggies in attractive shapes to make the food more appealing to children.
Here are some first birthday food ideas: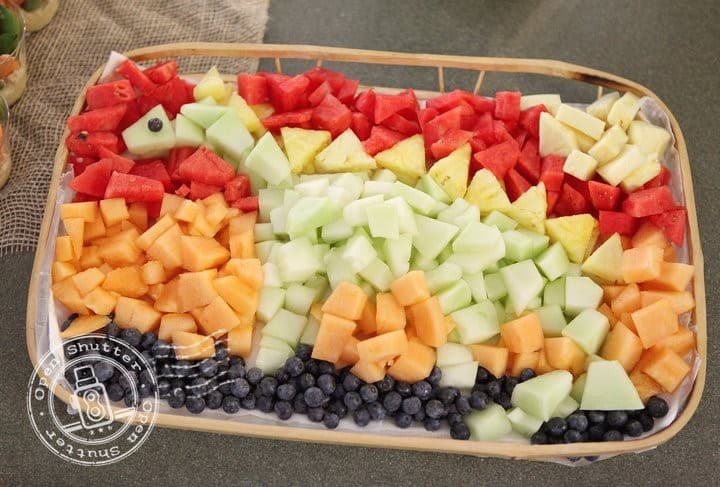 Baby's 1st Birthday Party Favor Ideas
Now, let's talk about some fun and exciting party favors for your guests. If you are too busy and you cannot make party favors yourself, you can find keychains or similar items to give out to all the guests and kids who attended the party.
Parents who have more time can make finger paint for the guests. It is a magnificent idea if you've hired a children's face painter to entertain kids at the party. Here is the base for the paints:
Sugar – 3 tablespoons
Salt – 1/2 teaspoon
Cornstarch – 1/2 cup
Water – 2 cups
Mix the ingredients and pour them into jars. Add five drops of food color into each jar, and mix it. Seal it and attach the thank you note! You can write children's names on the jar, or let each kid pick the color they like and want.
Also, if you own a polaroid camera, you can snap photos of your guests with baby and give them out as a wonderful memento!
Something for The Birthday Baby
Hold on – we've rattled on so much on the party details and guests, but what about the Birthday Baby? We haven't forgotten about them!
You can buy presents to give the baby, such as jewelry, a personalized book, or an educational toy like a puzzle.
Alternatively, I find this Montessori-inspired play kit subscription box by Lovevery to be the perfect gift if you are indecisive – your child will get new playthings every 2 to 3 months, how awesome! You can learn more about the play kits here.
Also, don't forget the smash cake! A smash cake, as the name suggests, is made to be smashed by the baby. It comes with a convenient smashable, customizable frosting!
Tips For a Smooth, Memorable First Birthday Celebrations
First birthdays are important milestones, and you definitely want your soon-to-be one baby's birthday celebration to be a blast. Here are several Do's and Don'ts you should have in mind when planning your baby's 1st birthday.
Do:
Invite your childless friends
Have fun during the party
Spend time with your child during the day
Keep track of people and items you've booked/bought/invited
Make lists for everything you need
Hire a professional photographer – the photos will last you a lifetime
Don't:
Plan a too long party – a few hours are ideal
Get too obsessed with every detail
Plan everything by yourself – let your family and friends help
Start too late
Forget to smile at the pictures!
Baby's First Birthday FAQs
If you feel overloaded with exciting or demanding ideas for 1st birthday online, you might have more questions, related to alternatives and aspects other than the theme, decor, games, etc. Try to find the answers below!
Is a first birthday a milestone?
The first birthday is such a lovely milestone, and you should make it memorable, no matter if you choose to throw a party or not.
How soon should you send out the birthday invitations?
I recommend sending them two or even three weeks before the actual birthday party. That way, all people will have to inform you if they are coming or not.
How long should a 1-year-old party be?
It should be short and sweet! Two hours are enough, but you can prolong the party with your closest family members.
Can my baby eat cake for their first birthday?
Many people recommend avoiding giving your children refined sugar until the age of two. However, a few bites of cake for their birthday are completely safe.
Keep the cake free of small decorating items, such as tiny figures, hard candies (M&Ms), and other items made from edible plastic or moldable fondant. Those can be choking hazards for toddlers.
What can I do for my baby's first birthday without a party?
You can organize a family picnic as a separate intimate event for the first birthday. If you don't know where to take baby for first birthday, I recommend the zoo. You can also go to the local lake or park and enjoy a lovely afternoon in nature with your closest family members.
Time to Celebrate!
There you have it – inspiration and baby's first birthday ideas you can try when the time's come! Enjoy this beautiful milestone with your loved ones.
Even though the baby won't remember its first birthday party, you will share your memories and tell stories years after!
I enjoyed writing this guide, so please let me know if you liked it in the comments! Do you have something to add on to our guide? How did you celebrate your child's first birthday?
If you enjoyed it, show some love – like and share the article so more people can find good inspiration for their 1st birthday milestones!
—