Are you having a hard time determining which are the right outdoor toys for one year old for your baby's play time and activities? Well, you'll be happy to know that you're in the right place.
Note: If you are in a hurry or just don't know what else to get for your little one, you could opt for our favorite pick, the Step2 Dino Dig Sand & Water Table!
Why Buy Outdoor Toys for One Year Old?
Did you know that when toddlers are exposed more time in the outdoors, their vision, bone, and cardiovascular health will improve? That is why many pediatricians encouraged parents to let their kids play outside, for it has positive impacts on their health. [1]
However, for this to happen, it's your job as a parent to provide the most appealing outdoor baby toys to them, so they will like to spend more time outdoors. Many toys for 1-year-old toddlers can provide fun playtime for hours and days under the sun.
So, without further ado, here are the best outdoor toys for 1 year old kids! We have also included every product's pros and cons, so you can really choose what you think is the best baby toy for your child.
Our friends over at Dad's Agree also have a great list of outdoors toys that your toddler will love, if you are looking for more ideas!
12 Awesome Outdoor Toys for Your 1-Year-Old!
Here's a summarised list of our top 5 best baby toy picks, in case you're in a hurry shopping for outside toys!
Step2 Dino Dig Sand & Water Table
Little Tikes 2 -in- 1 Snug 'n Secure Grow With Me Swing
Radio Flyer 4-in-1 Stroll 'N Trike
SplashEZ 3-in-1 Sprinkler for Kids
Little Tikes Hide and Seek Climber
Practical Learning
Sensory cause & effect storytelling, Imaginative play
Brain development from 4 methods of riding
Colorful and educational alphabets mat
Hide N Seek, Stimulates adventure spirit
Features
Easy to clean, suitable for older toddlers too
T-bar, Shoulder straps for safety
Headrest, Three-point-tackle, Glassholder plate
Peek-through windows, Swing sold separately
Step2 Dino Dig Sand & Water Table
Practical Learning
Sensory cause & effect storytelling, Imaginative play
Features
Easy to clean, suitable for older toddlers too
Little Tikes 2 -in- 1 Snug 'n Secure Grow With Me Swing
Features
T-bar, Shoulder straps for safety
Radio Flyer 4-in-1 Stroll 'N Trike
Practical Learning
Brain development from 4 methods of riding
Features
Headrest, Three-point-tackle, Glassholder plate
SplashEZ 3-in-1 Sprinkler for Kids
Practical Learning
Colorful and educational alphabets mat
Little Tikes Hide and Seek Climber
Practical Learning
Hide N Seek, Stimulates adventure spirit
Features
Peek-through windows, Swing sold separately
1. Step2 Dino Dig Sand & Water Table – Editor's Pick!
Is there any better combination than sand and water? This strong, very durable Step2 Dino Dig Sand & Water Table is digging and oozing with fun. Your kid can put sand and water on each side, but our favorite outdoor toy can also be filled with other stuff such as beans, marbles, or rice for a sensory adventure table. Plus, it is a lot easier to clean-up especially when played inside your home, so there is no need to worry.
You could also engage your kid in a storytelling session with the dinosaur toys or teach your child about cause and effect with tidal waves. The sand and water tables are low enough for year-old-babies, making it one of the awesome outdoor toys for one year old that can be used for many years to come!
Pros:
Non leak drain plug on one side for hassle-free cleaning
Boosts imaginative play
Elastic cords grip the lid tightly
Versatile in or outside water toys
Cons:
There are few reports of item defects
Step2 Dino Dig Sand & Water Table
This all-in-one kids' sensory table by Step2 features double-sided sand and outdoor water play with water toys for toddlers.
Two-sided water activity table features an adorable dinosaur theme, including a "volcano" and palm tree.
Use the double-sided rake and shovel to dig to the bottom to find the molded-in dino bones and footprints.
2. Little Tikes 2 -in- 1 Snug 'n Secure Grow With Me Swing
Swinging is one of the favorite pass times for many people. Why not let your kids experience the fun without the need for buying a pricey swing set or baby swing bouncers? As one of the popular best outdoor toys for toddlers, the Little Tikes 2-in-1 swing is super quick to install and can manage to hold up to 50 pounds.
You can set it up on your doorway, on a tree, or inside your house if it's raining. Anywhere you put it, we're sure it will be a hit to your little one as an enjoyable outdoor toy for one year old.
Pros:
T bar can be easily accessed and remove
Has shoulder straps to keep your little one safe
High-quality at a reasonable price
Cons:
Ropes could be more durable
SALE
Little Tikes Snug 'n Secure Blue Swing with Adjustable Straps, 2-in-1 for Baby and Toddlers Ages 9 Months - 4 Years
BABY SWING AND TODDLER SWING IN ONE Because Little Tikes know you may want your babies to grow fast, we are introducing this baby swing which can also be transformed into a toddler swing . This child swing can support up to 50 lbs
THE BEST SAFE SELLING SWING Have your baby's first swing comfortable and as safe as wrapping your arms around them with the adjustable stay-put straps and lock. This holds the little baby securely in place while they enjoy the cradle times
CONVERTIBLE SWING SEAT Since this swing with a baby seat can also accommodate toddlers, move the plastic T-bar to the bottom of the swing. The T-bar will be stored conveniently out of the way and can easily be adjusted back when needed
3. Radio Flyer 4-in-1 Stroll N Trike 
The Radio Flyer 4-in-1 Stroll 'N Trike is a definitive product for your kid's body growth and brain development. Providing 4 methods of riding, this extraordinary stroll 'n trike alters over from being a new-born child trike to a drivable trike.
Don't worry when your little one rides this toddler ride on toy trike as it has plenty of wellbeing features like the headrest for neck support, three-point tackle, and a shrouding glass holder plate for extra-safety assurance.
Pros:
It is a multi-functional product
Has great stability
Adjustable seat for comfort
Built to last
Cons:
No footrest for smaller toddlers that can't reach the pedals
Radio Flyer 4-in-1 Stroll 'N Trike, Red Tricycle for Toddlers Age 1-5, Toddler Bike
4 TRICYCLES IN 1: This tricycle grows with your child through different riding stages. Easily convert between 4 growing stages by removing the accessories.
AGES 1 YEAR TO 5 YEARS: The 4 stages include toddler trike (12 mos. – 18 mos.), steering trike (18 mos. – 24 mos.), learn-to-ride trike (2 – 3 yrs.), and classic trike (4 – 5 yrs.).
REMOVABLE ACCESSORIES: The removable accessories allow this tricycle to grow with your child. The accessories include an adjustable UV protection canopy, wrap around tray, headrest and seat belt, foot rest, and parent push handle.
4. SplashEZ 3-in-1 Sprinkler for Kids
Beat the heat of the sun and set up a waterpark in your backyard with the SplashEZ 3-in-1 Sprinkler for Kids. It's like a mini pool with sprinkles and spray that will surely excite your child. Add this to your collection of backyard toys for kids during hot summers!
The mat has a colorful design featuring the alphabet which will stimulate your infant's joy of learning even while enjoying some water activities. Just hook up your usual garden hose to the water intake valve to let the fun of playing with summer splashing toys for 1 year olds begin.
Pros:
Made of durable PVC that is BPA-free and phthalates free
Moveable and deflates for easy storage
Can be also used by adults and even pets 
Easy to maintain using just soap and water
Cons:
Product received may be faulty, need to check the item
SALE
SplashEZ 3-in-1 Splash Pad, Sprinkler for Kids and Baby Pool for Learning – Toddler Sprinkler Pool, 60'' Outside Water Toys – "from A to Z" Outdoor Play Mat for Babies & Toddlers
MAKE LEARNING A BLAST – Time for a splish-splashin' bash in SplashEZ's educational water splash pad! Created by loving parents, with the aim of making learning easy and fun. SplashEZ innovative pool has a learning mat for a base, so your little squirt soaks up some knowledge during play!
TAKE A DIP IN ONE COOL POOL – Get relief from the heat with the SplashEZ inflatable kiddy pool for children 12 months or older. Cherish the moments as your toddler outdoor toys under the refreshing fountain sprinklers! This summer toy creates oceans of adventures baby & toddler toys!
SPLASH SAFELY – Keep kids cool and safe with SplashEZ's parent-approved outdoor water toys for toddlers. Fun in the sun… and shade, this shallow wading pool and water sprinkler promises uncompromised quality and is BPA and phthalates free
5. Little Tikes Hide and Seek Climber
If you have an active one-year-old who is always looking to climb or play hide and seek, they'll have a wonderful time on this outdoor home backyard playset by Little Tikes. It features a jagged section that serves as a fun introduction to rock-climbing, and a safe, gentle slope for your little kid to slide to the ground.
Setup is simple and the construction doesn't need any maintenance from your part. Your little one can hide at the top and peek through the tiny windows, or venture through the small tunnel for some fun adventure. What a better way to present exercise into your toddler's life while they're just having some fun using unique outdoor toys, such as this outdoor slide!
Pros:
Freestanding, no need for additional equipment
Endless amount of fun for toddlers
Maintenance-free
Easy to put together
Cons:
Requires parental supervision
6. VTech Smart Shots Sports Center
What's better than a baby best activity mat or play gym than an interactive toy in the form of a mini sports center? This 2-in-1 toy delight VTech Smart Shots Sports Center is giving your toddler a hoop to shoot baskets and a soccer net to score goals. Cheer and be your kid's number one fan as he/she scores into the basket which is counted on its LED scoreboard.
It also produces cheering phrases and sounds to make your kid feel like a superstar. With its educational features, this one type of summer toys for 1 year olds not only helps in building and developing your kid's unpolished and fine motor skills but also teaches about numbers and shapes through pretend play.
Pros:
All materials are flexible and soft
It is physical as well as educational
The system is compact, portable, and lightweight
Cons:
Replacement basketball and soccer balls are expensive
VTech Smart Shots Sports Center (Frustration Free Packaging)
Multifunctional: Score goals with the 2-in-1 interactive sports center; shoot free throws into the toddler basketball goal or kick goals into the toddler soccer net
Interactive Scoreboard: The light up LED scoreboard counts baskets and goals up to 10 and plays encouraging animations, sounds and phrases; the purple side lever restarts the scoreboard count
50+ Ways to Engage: Introduce shapes, numbers and sounds; early learning center comes with 50+ songs, sounds and phrases; turn your toddler indoor soccer goal into a learning adventure
7. Little Tikes Lil' Rollin' Giraffe Ride-On
Another lovely toy on our outdoor toy list is the Little Tikes Lil Rollin Giraffe; it's a delightful first ride for your kiddo which features an adjustable seat to adapt your child's speedy growth. The huge giraffe ears serve as handles and are comfortable to grip. You also don't need to worry about its stability as the oversized back wheel supports the balance.
Not only that, but a wheel guard is also installed to keep your little ones safe. If your youngsters like animals, he/she will be thrilled at the appearance of this cute, adorable giraffe which can be used as outdoor toys well as inside your house.
Pros:
Lightweight and portable
Applicable for indoor or outdoor use
Customized stick-on decals
Has a robust and non-toxic coating
Cons:
The decals have a tendency to decline and come loose over time
8. UTEX 3 in 1 Pop Up Play Tent with Tunnel, Ball Pit
The UTEX 3 in 1 Pop-up Play Tent comes with a tent, a tunnel crawl, and a ball pit. It's suitable for outdoor or indoor use because of its perfect size and durability as best outdoor toys for toddlers. It is made with high-grade polyester that is waterproof and tear and wear-resistant.
It has an elastic steel lining, so your child can move freely when playing. It's easy to set up and folds quickly so you can bring it conveniently anywhere your kid needs to be entertained like in the parks, serving as great outdoor toys for them to play.
Pros:
Quick and easy installation and pack up
Colorful design
Tear and wear-resistant
Comes with a carry bag
Cons:
Some attachment of the tent comes apart easily
UTEX 3 in 1 Pop Up Play Tent with Tunnel, Ball Pit for Kids, Boys, Girls, Babies and Toddlers, Indoor/Outdoor Playhouse,Yellow
BUILT TO LAST, Made of highly colorful and high grade 190T polyester taffeta, highly resistant to wear and tear.
SUPER VALUE, The adventure play tent and tunnel set includes one square tent house,teepee house and a long tunnel
The play tent and ball pit set features mesh 'windows' provide ventilation and peek-a-boo opportunities, two small holes on the square tent and long tunnel to provide lots of play opportunities.
9. Fisher-Price Bubble Mower FFP
Fisher-Price has been known for manufacturing some of the most fun-filled and innovative children's toys for so many years now. One of its great outdoor toys for toddlers is the bubble mower that definitely follows with that tradition. Your kid will surely love spending hours in the outdoor with this bubble blowing and real-sounding lawn mower toy.
It is also very lightweight and easy to navigate around. Even driving it backwards will not be a problem for little ones. Your kid will relish mimicking you trimming your lawn in an enjoyable and safe way.
Pros:
Produce more bubbles
Has realistic sounds
Easy to move around
The bubble solution is included
Cons:
Complaints of leaking bubble reservoir
10. Anyshock Kids Tent, Kiddy Play Foldable Pop Up Police Car Tent
Your children will have a good time playing inside the Anyshock police tent with their friends. The tent is made of polyester fabric and secured together by insulated and galvanized metal wires. Its translucent mesh windows on the sides and on top give great ventilation. It's an incredible way to foster your kiddo to play more often with others to develop their social skills.
Aside from this, little ones will have fun with pretend play, making up fictional situations together. Such best outdoor toy for 1 year old is great for the development of your child's creative thinking and fine motor skills.
Pros:
Big space inside 
Folds easily
No need to assemble 
Cons:
Mesh parts are inclined to tearing
Anyshock Kids Tent, Pop up Tents for Kids Play Tents for Toddlers 1-3, Outdoors & Indoor Playhouse, Foldable Ball Pit, Quick Setup Pretend Play Toys Gift for Boys and Girls (Blue Police Car Tent)
THE WONDERFUL PLACE TO RELAX AND NAP FOR KIDS :Anyshock Car Play House Tent creats a kingdom in any corner of the house with this magical castle for kids. With good ventilation and enough room for 2-3 little princesses and princes to play,this extraordinary castle is very suitable for children's playing and resting , and put inside full ocean ball, let him have their own space.(Ball Not Include)
PROVIDE KIDS THEIR OWN PRIVATE SPACE: Everyone needs a little space just for themselves. Give your child a fun place to play. Our cute little play tent is the perfect home away from home while trailblazing the playroom frontier. Ideal for a bedroom, playroom or basement.
ENHANCES COORDINATION AND IMAGINATION: With its novel and delicate design along wIth the Ocean Balls ,it helps training the child's physical coordination and imagination.(Ball Not Include)
11. MAGIFIRE Wooden Toddler Puzzle
A great way to introduce your child to the astonishing kingdom of animals is through the MAGIFIRE Wooden Toddler Puzzle. It can be a great outdoor toy for learning at a picnic or a park. The puzzles are seamlessly sized for the tiny hands of your infant and are good in teaching colors, promoting hand-eye coordination, and encouraging patience.
As an engaging outdoor toy for one year old, Magifire Wooden Puzzles provide safe entertainment and bonding moments with your kiddo. Their unsophisticated nature is a comforting way to relax from the tech-heavy atmosphere.
Pros:
Easy to grip
Excellent for hand-eye coordination
6 different puzzles with bright, vibrant colors
Safe and eco-friendly
Cons:
Puzzle slots are too shallow, so the puzzles fall out easily
SALE
Playtime by Magifire Wooden Puzzles for Toddlers, Set of 6, Ladybug, Car, Bee, Teddy Bear, Butterfly, Turtle, STEM Toys, Toddler Toys Age 2-4
LEARN THROUGH PLAY: Our delightful set features 6 captivating creatures - Ladybug, Tortoise, Teddy Bear, Butterfly, Car, and Bee. These eye-catching, colorful wooden puzzles are perfect for educational playtime. Designed to aid concentration, they help wee ones begin their learning journey. Explore the world of puzzles with our specially crafted toddler wooden puzzles. Stimulate young minds, promote problem-solving skills, and enhance cognitive development.
DESIGNED FOR ENRICHMENT: Crafted specifically for toddlers, these wooden puzzles provide a perfect blend of entertainment and education. As little ones engage in piecing together the puzzles, they embark on a journey of learning, effortlessly identifying colors, distinguishing shapes, and honing their hand-eye coordination skills. These wooden puzzles become valuable tools for cognitive development, problem-solving and promoting essential skills in a joyful and tactile manner.
SIZED RIGHT FOR TODDLERS: This delightful set features four puzzles, each measuring 5.7" wide x 5.7" tall. Designed specifically for little ones, the puzzles boast vibrant colors and chunky pieces that are perfect for tiny hands to grasp and maneuver. Parents can rest easy knowing that every piece is meticulously crafted to be too large for children to swallow. These wooden puzzles are an excellent choice for fostering cognitive skills and providing endless fun for curious minds.
12. RenFox Kids Musical Mats
This amazing musical mat by RenFox is one of the most feature-rich mats available in the market today. In fact, your kid can choose from its 5 different modes, play, demo, playback, one-click annotation, and record mode with this toy among other outdoor toys for one year olds.
Similar to a baby padded play mat for hard floors except with musical features, this musical mat comes with 8 different instrumental sounds; guitar, piano, oboe, flute, violin, accordion, horn, and xylophone. Aside from that, it also has 9 black keys with matching music tones to complete the musical experience and helps develop the music potentials of your little ones.
Pros:
Has intelligent saving chip for energy saving
Offers 5 different modes
Produces 8 various instrumental sounds
Good size for outdoor play
Cons:
Doesn't brighten up or instruct where to press
SALE
RenFox Kids Musical Mat with 25 Music Sounds, Baby Musical Toys, Early Education Development Birthday Gift for 1 2 3 Year Girls Boy, Piano Keyboard Dance Floor Mat Touch Playmat for Child Toddlers
【𝟓 𝐄𝐚𝐬𝐲-𝐭𝐨-𝐩𝐥𝐚𝐲 𝐌𝐨𝐝𝐞𝐬】This development musical toy mat has 5 modes(demo,one-click annotation, play, playback and record).One Key one note, easy to play, children aged 1-3 can easily operate. Demo mode lets kids hear different musical sounds. The playback and record modes for kids to record their own music and playback it, keeps your child in fun modes for hours to explore and train themselves in music knowledge.
【𝐌𝐮𝐥𝐭𝐢-𝐒𝐞𝐧𝐬𝐨𝐫𝐲 𝐄𝐱𝐩𝐞𝐫𝐢𝐞𝐧𝐜𝐞】The Piano mat equips with 25 music sounds, including 8 instrument sounds, 7 melodies, and 10 music keys, Mat music sounds reward the baby's natural kicking and touching, adding a lot of fun for the baby.
【𝐆𝐫𝐞𝐚𝐭 𝐁𝐢𝐫𝐭𝐡𝐝𝐚𝐲 𝐆𝐢𝐟𝐭】By touching and stepping on the kids piano game pad, improves kid's hand-feet coordination at an early age, promoting musical intelligence, vision training, and sense of touching, and hearing. Enable the kids to develop their brain power, memory, confidence, patience, social skills, and creativity! This music mat is an ideal present for 1, 2, 3, 4 and 5-year-old boys and girls, birthdays, festivals,or holiday.
Buying Guide
The right selection of toys for your year-old-baby can transform a somewhat normal or dull day for them into one that is exciting and filled with laughter, while promoting learning at the same time.
Criteria for choosing outside toys is somewhat different from indoor playing toys. Look for the following criteria as you shop for outdoor gifts for kids:
Practical learning– Practical learning is a crucial part that should be incorporated in kids' playtime. Outside toys for kids shouldn't just be fun- they should teach your year-old-baby new skills as they play with it too!
Safety- Make sure to always follow manufacturer's age recommendation and supervise your little ones as outdoor playtime won't be as careful compared to playing indoors. Not only this, but using a free baby age calculator would be a definite plus in knowing your little one's age accurately and deciding the play for him/her accordingly.
Durability– Look for a toy that can withstand the sun- and rain outdoors so you won't have to worry about seasonal weather changes at all! Plastic for example, is a better choice of outdoor toy material compared to wood.
Play type– The more, the merrier! Include a variety of different types of toys to keep those busy little hands occupied and learn new skills, for example, steering wheel toys for toddlers.
Final Thoughts
The toys included on our list can be really enjoyed by 1-year-old kids, and they will certainly get a lot of use out of them until they literally grow bigger than their toys.
But personally, I love the Step2 Dino Dig Sand & Water Table because of its flexibility as you can actually expand on your child's imagination and promote learning with the playset. The possibilities are endless, thus you're allowing your child to practice its creativity.
Hopefully, you'll find your favorite outdoor toys for your little ones too since nearly all of the best outdoor toys for 1 year olds here encourage both physical activity and creative play which are extremely needed for your child's development.
Leave a comment and share this article if you like it!
—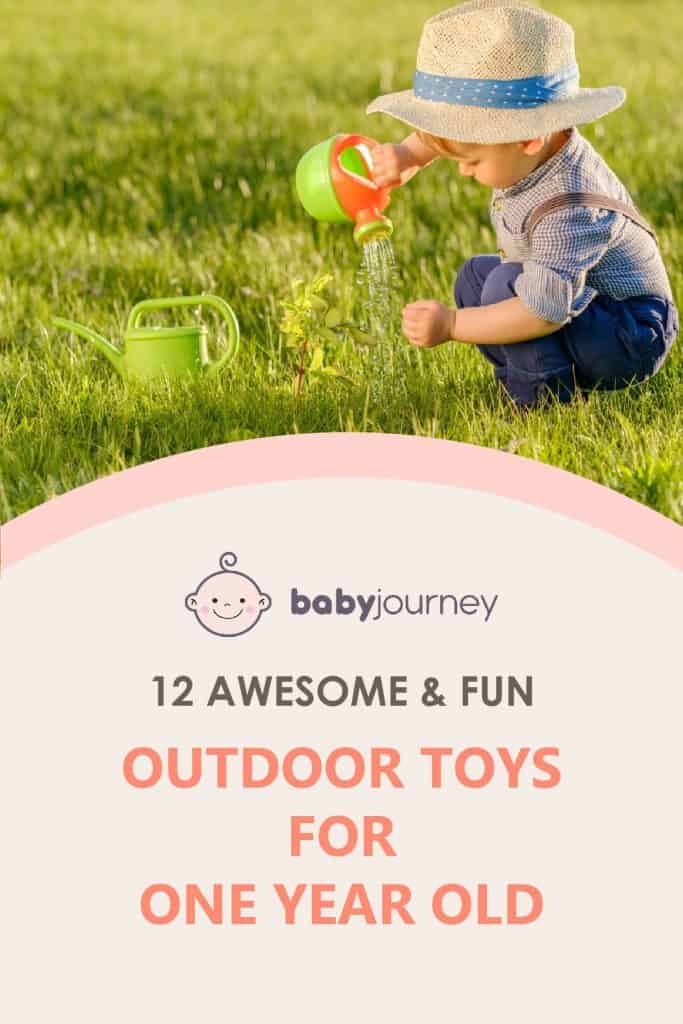 Last update on 2023-06-16 / Affiliate links / Images from Amazon Product Advertising API