As hard as we try, our homes often fall short of the safety standards necessary for a baby, and if you have hardwood floors, you have additional hazards.
Not only are trips and falls from skipping or hopping on hardwood floors a recipe for disaster, but crawling and playing on these floors can be very uncomfortable for little ones.
Your best solution is to purchase the best play mats for hardwood floors specifically made with your little one's safety in mind. Floor mats can prevent accidents from happening during skip/hop sesh and also designate a special play area for your little one.
How Do You Know if a Play Mat Is Right for You?
What Do I Mean by Play Mat?
Different from an area rug, a floor mat is usually padded and kid-friendly, meaning it's padded for extra safety, doesn't slip and is made from non-toxic materials, serving as a good floor padding for babies and even older kids.
Who Should Use a Play Mat?
If you have low-pile carpet, hardwood, or tile flooring in your home, you will want to get a good play mat to give a little extra cushion and prevent unwanted injuries. Or you may consider it as a baby shower gift for others who have been looking for the best play mat for hardwood floors as babies' floor padding in their homes.
When is the Appropriate Age for a Play Mat?
Similar to play gyms, play mats are usually ideal for young babies and children who aren't quite steady on their feet yet (or may only be sitting or crawling), but they can really be a useful play spot for children of any age.
Where is a Play Mat or Floor Padding for Babies Suitable to Use?
It is best to designate a specific play area in your home with the best flooring for kids, which should be away from sharp furniture and household obstacles as floor mat, and you should place the play mat in whatever area you decide that should be, even though your floor mat padding tiles may seem harmless for kids.
Why is a Play Mat Important to Have?
Not only does the padding on a play mat prevent injury in case your child should fall but it also provides extra cushion for babies who are lying down, sitting, skipping and hopping or even crawling.
Best Play Mats for Hardwood Floors
Our Top Pick
Comfort Design Premium Play Mat
Baby Mushroom Baby Bello Organic Play Mat
ProSource Kids Foam Puzzle Play Mat
Size
6.9 x 4.6 ft (large); 6 x 4.1 ft (medium)
​Portable
Interlocking w/ zippered bag
1. Quality Pick – Comfort Design Premium Play Mat
If you are looking for a top of the line play mat, you will want to consider one from Comfort Design. This large 6.5-foot by 4.5-foot foam mat could easily pass for an area rug in your home thanks to the 5 beautiful designs and excellent quality.
It is made with ½-inch thick non-toxic TPU foam, so there is no need to worry about your baby's health and safety. This cushy rug is also free from all toxic materials such as phthalates lead, plastics, and chemicals.
It is very easy to clean. You can run the vacuum over it (quickly so it doesn't burn) or you can sweep off any debris before wiping it with a wet towel. It is also easy to keep clean since it is waterproof and doesn't trap pet hair of dust.
If you do want to use this beautiful mat as an area rug, you can feel free to do so since furniture placed on top of it will not leave any permanent indents.
This play mat may still be a be slippery without anything weighing it down, so if you are planning on using it in an open area, be sure to place some non-slip fabric underneath.
Pros:
Large 6.5' x 4.5' size
Plenty of cushion at ½" thick
Made with all non-toxic materials
Can pass for an area rug with beautiful designs
Easy to clean and keep clean
Cons:
May still slip without non-skid fabric
Bulky and difficult to roll up, making it not suitable for travel
Premium Stylish Foam Floor Mat | Cushy-Soft & Thick | Waterproof, Easy-to-Clean, Hypoallergenic, Non-Toxic, Reversible, Portable | Baby Play Mat, Yoga Mat, Exercise Mat - Large Black Linen
MORE PRACTICAL THAN INTERLOCKING PUZZLE MATS AND RUGS Our large one-piece 6.5 ft x 4.5 ft x 0.5 in. premium floor mats are designed to look like gorgeous area rugs, but they're softer, easier to clean, won't shed, and won't accumulate stains or buildup to protect your flooring. They also won't trap pet hair and dust, which helps keep your home free of common allergens. And unlike interlocking mats, they won't come apart during active play.
HALF INCH THICK, SQUISHY SOFT FOAM With a waffle-like surface texture, our mats insulate children from hard floors and little bumps. These are also a perfect alternative to exercise mats. Please note that in order to make sure our mats are non-toxic, PVC-free, and EVA-free, they will not be firm and will not have a rubbery surface as PVC mats do.
HIGH QUALITY, ODORLESS, AND DURABLE Great as a replacement for area rugs or as an extra cushion on top of your existing rug. Our premium foam mats are NOT like the typical puzzle mat material. They are similar to memory foam with a durable outer layer that is made to last – even durable enough for most pets! We tested many, including the cheaper materials, but we wanted to create a mat that is safe, comfortable and one that will support your child's growth.
2. Roll-Up Pick – Baby Care Play Mat
When it comes to foam mats that are easy to roll up, the Baby Care play mat is my top pick as one solid, if not the best options.
There are 15 designs of foam mats to choose from, all of which are reversible. Some are more elegant designs that can pass for an area rug; others are more child-friendly: colorful, interactive, and educational.
There are two sizes to choose from for this foam mat. The large size runs about 7 feet by 4.5 feet, and the medium size is 6 feet by 4 feet. Both are roughly ½" thick and made from eco-friendly PVC foam.
This foam mat is also easy to keep clean, being made with waterproof materials and easy to wipe down with a damp cloth.
Be aware that these floor mats are not pet-friendly. Claws and teeth can easily tear them up easily.
Pros:
Two sizes to choose from
Check15 reversible designs
Rolls up easily for travel and storage
Easy to clean
Cons:
Not pet-friendly
Some designs may not be aesthetically pleasing in a living room
3. Interlocking Pick – SoftTiles Foam Play Mat
Interlocking play mats are a classic choice, but there is nothing classic about this one from SoftTiles, which makes it to this list of my curated 5 favorite play mats for hardwood floors.
Most interlocking mats are very colorful, but the SoftTiles interlocking mat provides a more updated and modern look with the monochromatic color scheme.
Another difference from classic interlocking mats is the size. This floor mat comes with 9 interlocking 2-foot squares, covering a 6.5 by 6.5-foot area. You can even purchase multiple sets and connect them to cover more area if needed.
It is made with EVA foam and is free from toxic chemicals. At 5/8" thick, you can be sure this mat is comfortable and safe for your little one to have some tummy time rolling on the ground.
There are also sloped edges in floor mats which prevent tripping to keep babies safe as well, especially during fun and exciting tummy time. It is not recommended that you place furniture on top of this mat, as it will leave permanent indents and possibly tear or otherwise damage the pieces.
Pros:
Modern monochromatic color scheme
Covers a large area
Can connect multiple sets for a larger play mats
Super thick and comfortable
Cons:
Large tiles make it difficult to travel with
Furniture on top will leave permanent indents
SoftTiles Kids Foam Play Mat - Safari Animals Theme- Nontoxic Puzzle Play Mats for Children's Playrooms or Baby Nursery- Large Floor Tiles for Crawling- Size 6.5 x 6.5 ft (Black, Gray, White)
DESIGNER: Black, Gray, and White Safari Animals foam play mat give playrooms a modern and distinctive look. The Monkey, Giraffe, and Elephant interlocking mats are perfect for creating animal themed nursery and playrooms.
SOFT: Fun children's flooring make hardwood floors, tile, and concrete basements into soft playrooms. Create safe cushioned floors for crawling babies and toddlers learning to walk.
SAFE: SoftTiles are created for kids and the baby play mats have no small pieces! SoftTiles are Non Toxic Foam Mats tested to EN-71 Safety Standards and do not contain formamides, BPA, phthalates. We have been selling foam mats since 1994- children have grown up on SoftTiles!
4. Organic Pick – Baby Mushroom Baby Bello Organic Play Mat
Non-toxic mats are all well and good, but if you want to be absolutely certain of your child's health, organic is the way to go. The Baby Bello by Baby Mushroom is one of the best organic play mats on the market.
It is made in the USA and has a machine washable cover that is made from 100% non-dyed cotton. Non-dyed does mean that you don't have any color options, but it's a fair trade if you want something organic.
It is a bit small in size being only a 4.6-foot square, but it is super thick at 1.25". The mat itself is made from plant-based foam, free from toxic materials, and has a waterproof layer for added protection under the cover especially during tummy time . It is easy to wipe clean with a damp cloth if needed.
One of the best parts about this floor mat is that it is made for travel. It rolls up easily and fastens closed to make it easy to carry and able to throw into the trunk of the car to go to grandma's house.
The biggest downside, however, is the price. This mat will definitely cost you a pretty penny if organic is what you are looking for, but it is without a doubt one of the top-rated options you can, and should consider while buying a floor mat for this purpose.
Pros:
Rolls up effortlessly for travel and easy storage
100% organic materials: cotton cover and plant-based foam
1.25" thick making it super soft and cushion
Easy to clean with removable machine washable cover and a waterproof layer on the mat
Cons:
Very expensive
Covers a small space
No color variations to choose from
Baby Mushroom Baby Bello Organic Play Mat for Babies, Toddlers and Kids, Ivory
Clean, Safe Play Space - A Beautiful, Neutral Mat for Newborns, Babies, Toddlers and Kids with Carrying Case Included for Easy Transport
Organic & Eco-Friendly - Made from Plant-Based Materials, Just Wait Until You Feel It
Large and Oh So Soft - Measures 55" Square and 1.25" Thick, Perfect for Tummy Time and Crawling
5. Bargain Pick – ProSource Kids Foam Puzzle Play Mat
When you think "classic play mat," you likely think of multi-colored interlocking squares. There are several brands that sell these at a low price point, one of which that is absolutely of great value for your money is this one from ProSource.
This great, if not the best baby affordable mat is great for playrooms and nurseries that need a little more cushion. The mat comes with 36 interlocking tiles with borders and creates a 6 by 6-foot square.
The tiles are made from non-toxic EVA foam that is slip-proof and water-resistant. It is a bit on the thin side, however, at only 3/8".
There is no hassle when it comes to traveling with this mat. The tiles pull apart easily (which means your child may be able to do the same); it comes with a zippered bag that can be used for easy storage or travel plus machine washable!
Just like with any interlocking mat, you can multiple sets and create a bigger play area if you need to, or you can only use a few if you need a smaller area.
Pros:
Very inexpensive
Made from non-toxic, non-slip, and water-resistant foam
Breaks down and fits into a zippered bag for storage and travel
Covers a large surface area
Cons:
Your child may be able to pull the tiles apart easily
Only 3/8" thick
Not the prettiest mat to keep in the living room
SALE
ProsourceFit Puzzle Solid Foam Play Mat for Kids - 36 tiles with edges
PROTECTIVE FLOORING – Durable, high density foam provides a gentle surface and protection for your child in areas with hard floors
EASY ASSEMBLY – Interlocking puzzle pieces are quick and simple to assemble, easy to pull apart for storage and painless to clean
36 SQ. FEET – 36 interlocking 12"x12" puzzle pieces with 24 border pieces, covers a 6'x6' area when combined; or just use a few tiles to cover a small area
Features that Make for the Perfect Play Mat
Non-Toxic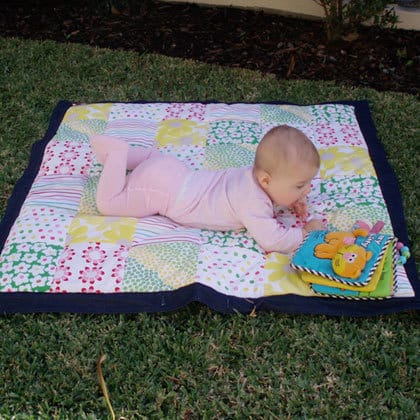 Babies put their mouths on everything, and you can expect them to do the same with the play mat. Because of this, it is of utmost importance that you pay attention to the materials your play mat is made of when selecting the one product for your baby.
Non-toxic play mats usually mean there are no flame-retardants, as they are made with non-toxic foam, latex-free, BPA-free, have no formaldehyde, PVC, EVA, is odor-free, and non-flammable.
However, some variations of EVA and PVC are more baby-friendly, but be sure you know exactly what the mat is made of.
Non-Skid
One of the main problems with area rugs is that they can slide around easily, even with a non-skid pad underneath. The last thing you want is to have your toddler take a bad tumble after slipping on a loose rug or play mat.
Thankfully, most play mat are made with some sort of foam that naturally sticks to the floor mats and prevents slipping.
Don't be fooled though; just because something seems like it's non-skid doesn't mean that it actually is. Be sure to read the product description and reviews very carefully to choose what's best for your hardwood floors.
Thickness
Another problem with area rugs is the fact that they're so thin. There is very little cushion to protect feet, knees, and heads from the hard floor underneath.
Many play mats come with plenty of padding to keep little ones protected from falls. Ideally, something that is at least ½" thick is best- as babies and even older kids love to play as like their own space on an ultra soft mat.
Maintenance
Babies are messy. Whether it's spit-up, diaper blowouts, or snack crumbs, you are bound to have quite a few messes on your hand throughout the lifespan of your play mat.
You will want to find something that is easy to clean and doesn't stain. This means it should have a removable cover that can be machine washed, or it should be made with a water-resistant surface that wipes down with a damp cloth.
Versatility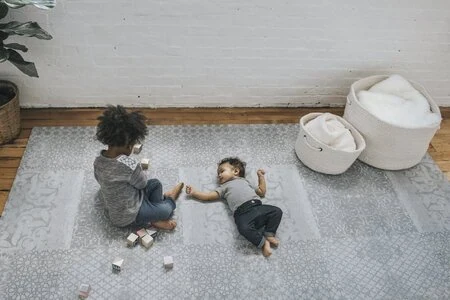 Let's face it, just because we have a child doesn't mean we want our house to start looking like a colorful circus, and a lot of play mats feature bright colors that completely clash with most interior decorating designs.
If you have a designated playroom for your little one or you are looking for a specific new one for the nursery, such as a double sided mat with multiple styling options, the mat's color scheme and design aren't that big of a deal.
However, if you are looking for a play mat for your living room, you may want to look at some of the higher end mats and play gyms. There are several that have beautiful designs that could pass as an area rug if someone were to only take a quick glance.
Cost
Price is always a big influencer when it comes to making a purchase. We want to make sure we aren't spending more than we need to on something and that we are going to get our money's worth out of the product.
With your play mat, you are going to want to look at quality and lifespan as well as design to determine what price you are willing to pay. Believe it or not, play mat prices can vary drastically depending on the style and quality you are looking at.
Size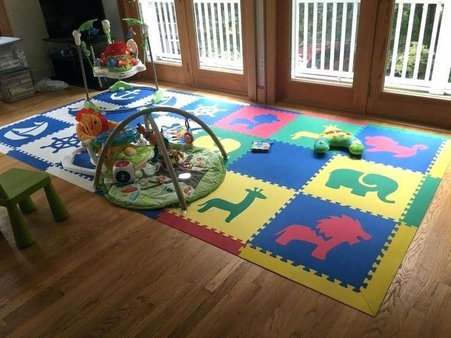 You will also need to determine how big of an area you need to cover, as play mats can vary in size quite a bit.
For interlocking puzzle mats, this isn't as big of a deal since you can easily add another set to it later if you find you need more area covered.
However, there are also play mats that are solid pieces, and you may find that the size isn't quite what you need if you don't measure your space and do your research first prior to getting your hands on a hardwood play mat for your baby.
Portability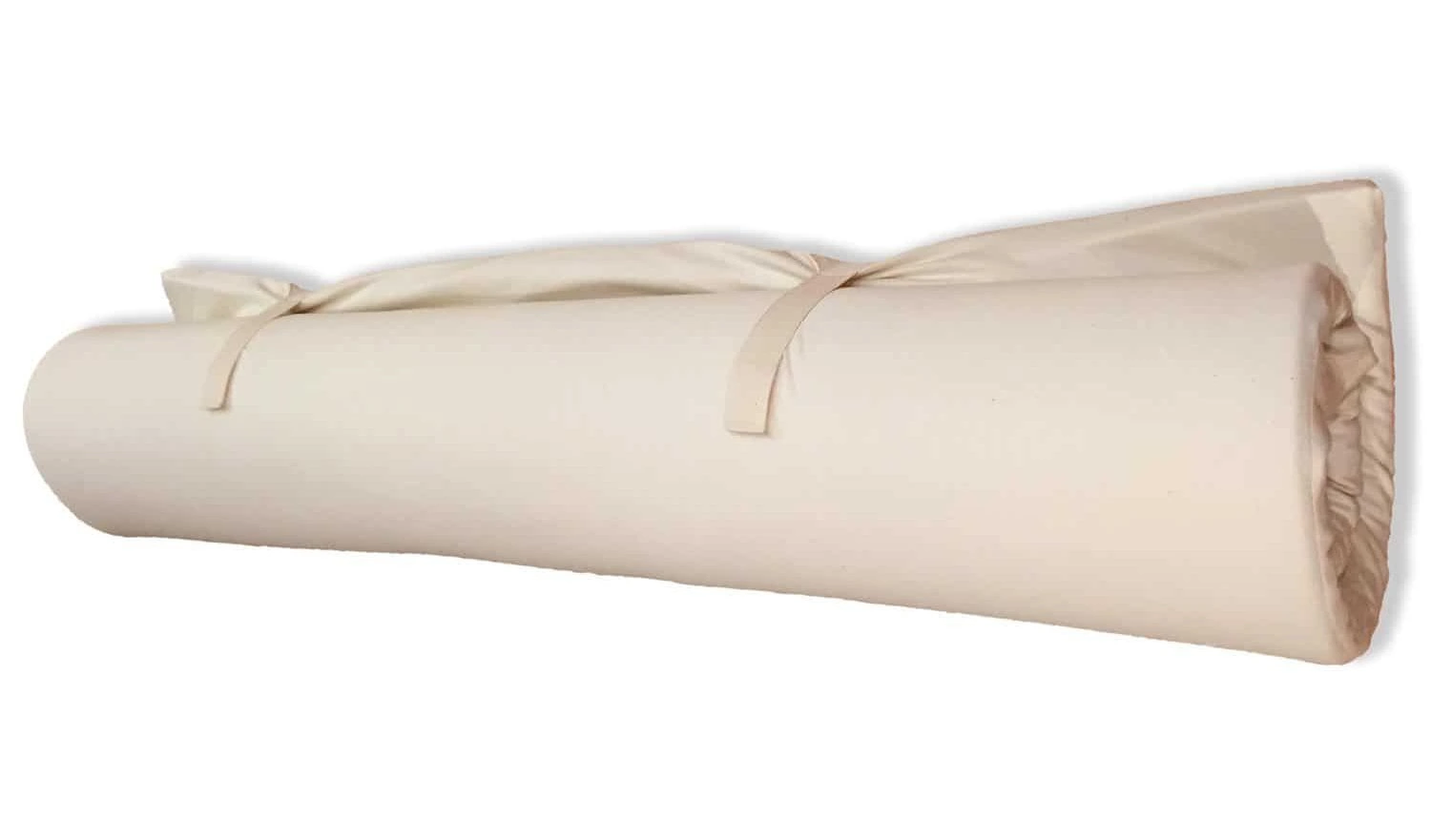 Sometimes you may need to take your play mat on the go. Whether it's at grandparents' house or just on vacation, you want to know if the play mat you've chosen can easily be taken along.
Interlocking puzzle mats are usually pretty portable. They break down easily and typically come with a bag or pouch to store them in when they aren't needed. You can use this same bag to take them in the car with you to your destination.
Solid mats are kind of hit or miss when it comes to portability. Some are easy enough to roll up and may even come with a travel bag to take them along. Others are thicker and not meant to roll up, being more suited to use at home only.
Conclusion
There is no clear winner for this category as it all depends on your play mat needs and preference, but if I had to pick one best baby's favorite out of the list, the Comfort Design mat would be my top pick.
You can ensure that your child will be safe thanks to the non-toxic foam and plushness of this mat. The designs are beautiful and the mat covers a large surface area so you can use it in place of a regular area rug if need be. There is also no need to worry about the mat being ruined by stains, dust, hair, or furniture indents.
What do you think? Do you have a play mat you like that wasn't on my list of? Let us know and share with others in the comment section!
—
Last update on 2023-06-16 / Affiliate links / Images from Amazon Product Advertising API