​Pacifiers can be a lifesaver for most parents who need just a little quiet and help to put their baby to sleep.
However, babies and pacifiers don't always agree. You may need to try something new and look for the best pacifiers for babies who spit them out.
Why Do Babies Spit Pacifiers Out?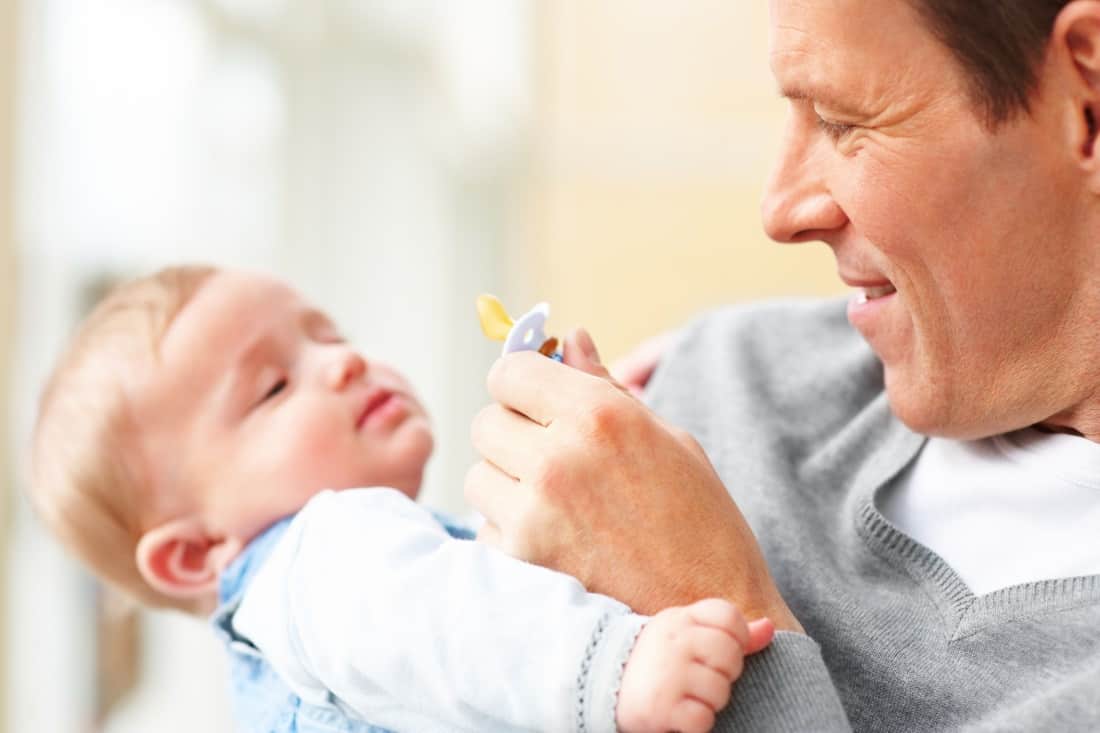 There are actually a few reasons why your baby may be spitting out your pacifier and understanding these reasons can help you figure out what type of pacifier to look for – if you even need one at all.
If you start using a pacifier shortly after birth, the first problem may just be that your baby is still uncoordinated.
Some babies are naturals when it comes to latching – whether it's the breast, bottle, or pacifier – but other babies just seem to have trouble for some reason.
A pacifier's shape can also make a difference in your baby's ability to keep it in their mouth.
While asymmetrical shapes can be troublesome if they are inserted upside down, the raised lip often helps babies to hold it in their mouths easier.
Tongue thrust can be a real problem during the first few months after birth. It is a completely natural reflex that triggers when something touches a baby's mouth.
However, when they are unable to control it, that tongue movement can often push a pacifier right out of a baby's mouth over and over again.
Choosing the correct size is not only important for oral development but also for your baby's ability and desire to keep a pacifier in their mouth.
They may be irritated if the nipple is too small since they can get the right suction to pacify them; on the other hand, a nipple that is too big may just not fit.
Finally, it may just be that your baby doesn't like the pacifier. It could be that it feels too different from a breast (if they are breastfed) or they may just be able to self-soothe and don't need the pacifier.
The Problem with Spitting Pacifiers Out
Many babies need to be pacified whether it is on a breast, bottle, or pacifier, and they can quickly become frustrated if they keep spitting their pacifier out.
Both you and your baby end up losing sleep at night when pacifier falls out of their mouth and you can't find it in their crib.
Spitting pacifiers out on a regular basis is also a hassle if you don't keep a hundred of them in your house.
As soon as they touch the ground, they need to be sanitized again and your baby is not likely to wait patiently while you boil it and allow it cool completely before giving it back to them.
How to Choose the Best Pacifier
Correct Size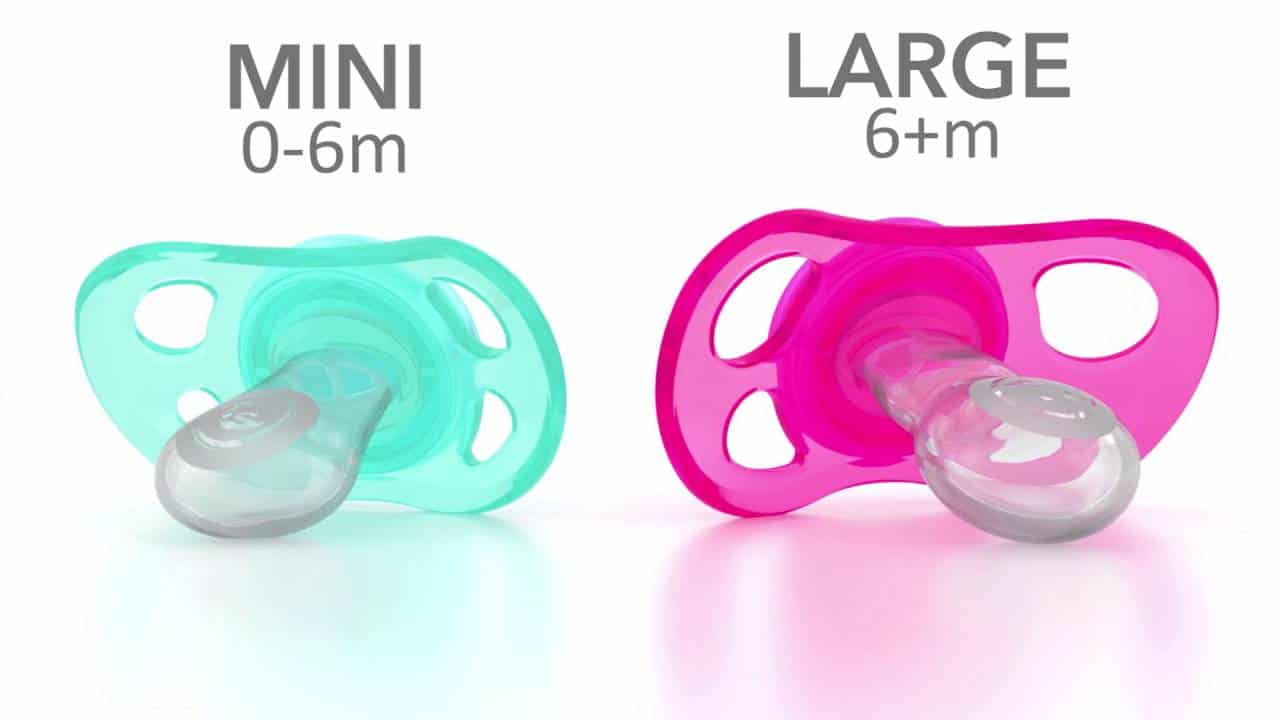 Pacifier nipple sizes are based on a baby's age, getting larger to support proper oral development and palatal shape. Check the packaging for sizing information before making your purchase.
Shape & Feel
Some babies like an asymmetric nipple shape while others prefer something symmetric. You are likely going to have to try several different types before you find the shape and texture your baby likes.
Strap Options
If your little one is notorious for spitting their pacifier out, a good strap is a must to keep the pacifier from falling to the ground every time.
Make sure it has a strong clip that can't be pulled off or undone easily.
Cleaning Method
It is inevitable that your baby's pacifier will get dirty…a lot! And every time they do, they will need to be sanitized.
Most can just be boiled, but some have special instructions that may be a bit more of a hassle. Be sure to read the directions for sanitation to maintain the integrity of your pacifiers.
Top-Rated Pacifiers for Babies who spit them Out
Title
Dr. Brown's 4 Piece Glow in The Dark Stage 1 Pacifier for Web, Blue, 0-6 Month
MAM Original Start Newborn Baby Pacifier, Best Pacifier for Breastfed Babies, Sterilizer Case, 0-3 Months, Boy, 2 Count (Pack of 1)
The First Years Gumdrop Newborn Pacifiers
RaZbaby Keep-it-Kleen Pacifier - Percy Puppy
Best Feature
Liked by breastfed babies
Size(s)
Stage 1: 0-6 mo, Stage 2: 6-12 mo
0+ mo, 0-6 mo, 6+ mo, 16+ mo
Strap Options
Unique button clip system
Can loop through the side
Sanitation
Microwave in carrying case
Dr. Brown's PreVent Contour Glow in the Dark – Best for Nighttime
Dr. Brown's 4 Piece Glow in The Dark Stage 1 Pacifier for Web, Blue, 0-6 Month
ORTHODONTIC PACIFIER. Designed by a pediatric dentist, this newborn pacifier has a 100% silicone bulb that features a patented suction-free air channel and thin bulb stem that reduce pressure inside baby's mouth, helping prevent dental issues such as posterior crossbite.
GLOW-IN-THE-DARK SHIELD. The glow-in-the-dark pacifier is easy to locate at night – just expose to light to utilize the glow-in-the-dark feature!
BABY PACIFIER 0-6 MONTHS, 6-18 MONTHS. PreVent Pacifiers have a size for every age, ranging from 0m-18m.
This popular bottle nipple brand has also created a line of pacifiers that are specifically designed to help prevent dental issues.
They have several options to choose from, but these, in particular, are great for babies who spit them out at night since they glow in the dark.
There are 2 sizes/stages to choose from – 0-6 months, 6-12 months – ensuring that you can find the right fit for your little one.
The nipple design itself is very unique. The soft suction-release bulb swells as your baby sucks creating low-pressure comfort. This is possible due to a small slit that allows air flow.
While this is a great feature, it can also create some possible issues when sanitizing since water can become trapped inside and cause mildew growth.
The stem is very thin so that it is minimally invasive in your baby's mouth. Some parents like this feature, but several do feel that this makes the nipple too flimsy and small for their babies' mouths.
It is easy to "recharge" these pacifiers each day to ensure they keep glowing at night. Just allow them to sit in the light for a few hours and they will be ready to go again.
PROS
Glow to make it easy to find them at night
checkEasy to "recharge"
Promotes proper oral development
CONS:
Slit in nipple traps water when sanitizing
Small shield and nipple
NUK Orthodontic – Best for Tongue Thrust
No products found.
NUK created these specially designed orthodontic pacifiers about 60 years ago to help promote healthy oral development while allowing natural tongue exercise.Due to its unique nipple shape, even the most uncoordinated baby with an overactive tongue thrust can keep them in their mouths.
The asymmetrical nipple contours to your baby's palate perfectly without creating too much pressure.On the underside of the nipple, rather than there being a flat surface, there is a scoop cavity that allows for plenty of tongue movement without pushing it out of the mouth.
There are very few things to complain about with these pacifiers. However, no product is without its downside.With the nipple being asymmetric, it is possible for them to be inserted upside down which may irritate your baby or interfere with their oral health if done on a regular basis.
There is also a problem with water getting inside the nipple when sanitizing, particularly when the pacifiers are completely submerged in water.
PROS
Scoop cavity allows tongue movement
checkOrthodontic shape
Comfortable for baby
CONS:
Water can get trapped inside
Asymmetric shape may result in incorrect insertion
MAM Original Start Newborn Baby Pacifier, Best Pacifier for Breastfed Babies, Sterilizer Case, 0-3 Months, Boy, 2 Count (Pack of 1)
SYMMETRICAL SHAPE: No "right side up" silicone pacifier for babies are fuss-free and won't need to be adjusted to sit properly in baby's mouth and fits perfectly under nose for easy breathing.
NATURAL FEEL SILICONE NIPPLE: The BPA-free silicone pacifiers for baby is a signature MAM pacifier design, with silky SkinSoft material and a breast-like nipple shape to fit baby's palate.
SELF - STERILIZING CASE: Add water and pop into the microwave to sterilize MAM silicone pacifiers 0-6 months in just 3 minutes and store in case for at home and travel to protect the pacifiers.
MAM is all about comfort and convenience with their pacifiers. They are a great choice for babies who spit pacifiers out frequently not only because 94% of babies accept them but also due to their unique carrying case and strap system that makes them great for use outside of the house.
You can always have two pacifiers on you, keeping a backup nearby if and when your baby decides to spit it out.
Keep one in the carrying case, which doubles as a sanitizer for on the go use as long as you have access to a microwave. Just 3 minutes and you're good to go again.
Be careful to follow the sanitizing directions. You may compromise the integrity of the pacifiers or carrying case if it is not done properly.
The other pacifier can remain strapped to your baby's outfit with MAM's unique strap.
The soft ring "snaps" onto the pacifier button to maintain a tight hold while the adjustable slide lock keeps it firmly attached to your baby's clothes.
Unfortunately, the strap and ring are sold separately from the pacifiers (unless you purchase a special gift set).
While they are very affordable, it can be a pain to have to purchase both, and other straps don't work very well with these.
PROS
Accepted by 94% of babies
checkUnique carrying case/microwave sanitizer
Strap system keeps pacifier attached firmly
Symmetric shape
CONS:
Some babies may not like the shape
Small shield and nipple
No handle or ring attached
The First Years GumDrop – Best for Breastfeeding
The First Years Gumdrop Newborn Pacifiers
GUMDROP PACIFIERS: These latex-free silicone pacifiers are trusted by hospitals worldwide
UNIQUE CONTOUR SHAPE: Lightweight pacifiers are designed to fit baby's face without hiding nose
NEWBORN PACIFIERS: Available in bright colors and work with most pacifier attachers
Most hospitals give out the soothie pacifiers due to their safe design and breast-like shape, but they aren't compatible with some babies due to their bulky design.
The GumDrop pacifier takes the general design of the soothie and makes it easier for little mouths to hold onto.
This one-piece silicone pacifier has a slightly different shield shape with a cutout area for your baby's nose rather than the traditional round shield that covered your baby's face before.
There is also the addition of an attached loop so that this pacifier can be used with most straps.
Everything else about this pacifier is relatively the same, with a symmetrical nipple that is ideal for breastfed babies.
It can still be a little awkward for small mouths, but overall this design is much better for young babies.
The biggest downside to this pacifier is the fact that it's only sized for babies 0-3 months old.
You will need to find another pacifier for your little one once they are past this age range or once they start getting teeth.
PROS
Contoured shape to keep nose clear
checkSymmetric nipple
Accepted by most breastfed babies
Attached loop for pacifier strap
CONS:
Can be a bit awkward to keep in the mouth
Only for 0-3 months
Attracts a lot of dust
RaZbaby Keep-it-Kleen – Best for Dropping
The RaZbaby Keep-it-Kleen is probably one of the most innovative designs for a pacifier.
Obviously, they knew that babies spit out and drop their pacifiers frequently and created this pacifier to fix that problem.
With an integrated self-closing case, you don't have to worry about your little one dropping their pacifier.
As soon as the pacifier hits something, the case snaps shut to keep the nipple from getting dirty.
Other than that, it's a pretty standard pacifier with a symmetric silicone nipple.
It can be a bit tricky to clean due to the attached shields, but there should be little for you to clean if anything due to this special feature.
Unfortunately, there are a few annoyances to consider before purchasing this pacifier. It is expensive and you only get one in a package.
There is also only one size available which claims to be for 0-36 months, so it's bound not to fit at some age.
It can also be difficult for your little one to reinsert on their own since the shields need to be opened first.
PROS
Self-closing shields
checkSoft, comfortable silicone
Contours to baby's face shape
CONS:
Expensive
Can be difficult for baby to reinsert on their own
Only one size for all babies
Conclusion
While each of these pacifiers is highly recommended for different reasons, we would have to say that the best overall is the NUK Orthodontic.
The asymmetric shape makes it easier for babies to keep in their mouths and the unique scoop cavity allows for lots of tongue movement. Both of these things will likely help your baby to stop spitting it out.
Questions or comments? Be sure to reach to us below.
Last update on 2023-06-16 / Affiliate links / Images from Amazon Product Advertising API