Oftentimes, you may be required to bring your precious baby along with you when running errands and you have no one else to help you watch over him or her. This is where a convenient travel system makes bringing your baby along a much bearable task, and today we are going to talk about one part of the baby travel system, which is the car seat.
Car seats are a necessity when you are transporting your little one, but they are also expensive especially if you end up needing to upgrade from a car seat carrier when your child gets bigger. A reliable and affordable convertible car seat – like the Evenflo SureRide DLX – is what you may need. We will cover all you need to know about this baby gear in our Evenflo Sureride DLX review.
Presenting the In-depth Evenflo SureRide DLX REVIEW
Presenting the in-depth Evenflo SureRide DLX review: A convertible car seat that is perfect for your baby. (Source: Evenflo)
Evenflo is known for their excellent baby products, particularly their car seats. The SureRide DLX convertible car seat is not only highly rated for safety but it is also low on cost, making it a great choice for the parent who is looking to save money, which you will see from our in-depth Evenflo Sureride DLX review.
Convertible car seats are ideal as they typically last longer than car seats with carriers. As long as the minimum weight allowance supports infants, you can use most convertible car seats right up until the time your child is ready to change to a belted booster seat.
The SureRide DLX supports your little one from infancy to a maximum of 65 pounds. You can install it both rear and front facing to comply with AAP car seat regulations according to age and weight.
It's a pretty simple car seat without a lot of bells and whistles like fancy LATCH system installation or cushy padding. But it does the trick, keeping your child safe while saving you money.
PROS
Affordable
Check 3 layers of energy absorbing foam protection
Easy to remove cover to clean
Can be installed rear and from facing
Fold down cup holder
CONS:
LATCH straps are difficult to tighten
No extra padding or cushion
Only one recline position for rear facing installation
No adjustable head rest
Harness needs be rethreaded as child grows
the Evenflo SureRide DLX REVIEW: FEATURES & BENEFITS OF CHOOSING THIS CONVERTIBLE CAR SEAT
Weight Limit
The SureRide DLX supports children 5-65 pounds (Source: Ideal Baby)
You can use the Evenflo SureRide DLX car seat right from birth as it supports a minimum of 5 pounds and can be used rear facing up to 40 pounds. With a small infant insert, your baby's head will be supported and comfortable.
Once your child has outgrown the weight and height recommendation for a rear facing seat, you can change it to forward facing. This is safe for children from 22 to 65 pounds.
Car Seat Size
The Evenflo SureRide DLX is lightweight and roomy for big children (Source: MyBetaNYC)
When you are looking for a car seat, you need to make sure it is going to fit in your car. The Evenflo SureRide DLX is a bit big, but it does fit in most vehicles.
One of the best things about a larger car seat is that it will support your child as they grow without having to worry about them feeling cramped. However, for smaller cars, you may want to get a convertible car seat that suits small cars instead.
Where the SureRide DLX is big on size it makes up for in its lightweight design, weighing only 9.8 pounds. Being lightweight means it will be easier to switch between cars if needed.
Safety Features
A five-point harness and triple layer protection keeps your child safe (Source: Ideal Baby)
Car seats first and foremost should be safe. The whole point is to protect your child when you are on the road and in the event of an accident.
The Evenflo SureRide DLX has three layers of energy-absorbing foam protection, which provides advanced protection and reduces side impact crash forces up to 50%.
As with most car seats, the SureRide DLX is also equipped with a five-point harness, the standard for infant and child safety.
Installation
For additional comfort, the Alpha Omega Elite has rotating armrests. Your toddler or child can comfortably rest their elbows on. Since they are rotatable, they don't always feel cramped in a tight space.
The Evenflo SureRide DLX installs via seat belt or LATCH system (Source: Tachkit)
As mentioned before in this Evenflo Sureride DLX review, the SureRide DLX can be installed both rear and front facing, depending on your child's height and weight.
In terms of ease of use, installation is relatively easy. The car seat is fitted with straps and hooks for the LATCH system. The straps are pretty standard – with no fancy installation features – so this also means that it can be a little bit difficult to tighten down when installing.
Don't rush through installation. Be sure to take your time to make sure the seat is level and the straps are tight so that your child stays safe.
You also have the option for seat belt installation which is easier, but it is not as reliable as the LATCH method.
Harness Adjustment
Tighten and loosen the harness on the SureRide DLX with the button and strap on the front (Source:Wallseat.co)
The harness adjustment is also pretty standard. A button on the front of the car seat loosens the belt so you can get your child out easily.
To tighten it, simply pull on the strap in front to adjust it to the correct strap positions.
As your child grows, you will need to rethread the harness through the car seat to adjust the height according to your child's needs. There is no headrest on this car seat that adjusts with the harness.
Cleaning Method
Just remove the entire cover on the Evenflo SureRide DLX to clean it (Source: Car Seat Blog)
Car seats always seem to be covered with crumbs and stains from snack time on the road. This can make it a pain if the cover is not able to be cleaned easily.
However, the cover on the SureRide DLX comes off quick easily and is even machine washable to make it easy to clean. You can even tumble dry on low.
The harness can easily be wiped with mild soap and water if you find stains or sticky messes on it. Just be sure to let it air dry when you're done.
Bonus Features
The Evenflo SureRide DLX is a pretty standard car seat, but it does have a few nice features worth noting
As your child gets older, you will be thankful for the fold down cupholder that comes with the Evenflo SureRide DLX. It will help keep drinks and snacks close at hand so you don't have to go digging for them while you are driving.
The materials used for the seat cover are ventilated, so they will keep your child cooler in the summer when the sun is coming through the windows.
Alternative Car Seat Options Compared to the Evenflo SureRide DLX REVIEW
While this Evenflo Sureride DLX review covers about the car seat model itself, let's take a look at how this model fare as compared to other alternative brands in the market.
1
Safety 1st Guide 65
The Safety 1stGuide 65 convertible car seat (Source: Safety 1st)
The Safety 1stGuide 65 is similar to the Evenflo SureRide in both price and most features. It still supports from 5-65 pounds, has ultimate side impact protection with EPP energy absorbing foam, and removable cup holder.
However, the Safety 1stGuide 65 is slightly smaller; in fact, the company prides itself on the fact that this car seat can fit three across in most cars.
The car seat itself is a little bit heavier at 15 pounds, but if you are just keeping it in one vehicle, this shouldn't be an issue.
PROS
Narrow enough to seat 3 across
checkAffordable
EPP energy absorbing foam protection
CONS:
Slightly heavier
Hard to tighten LATCH straps
You may also be interested in: Safety 1st Grow and Go Convertible Car Seat – An In-Depth Review
2
Cosco Mighty Fit 65 DX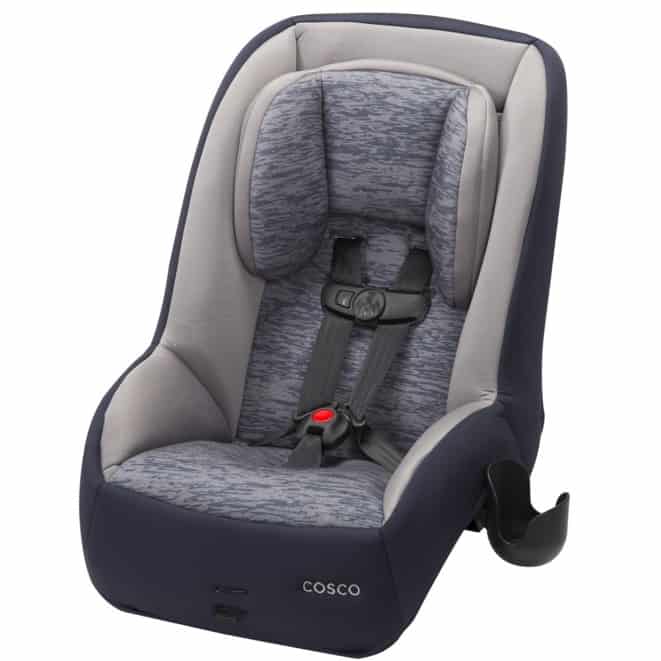 The Cosco Might Fit 65 DX convertible car seat (Source: CoscoKids)
For something even lower on the price scale, we recommend the Cosco Mighty Fit 65 DX. This car seat is designed to be just the right size so that your child fits but you still have leg room when it is installed rear facing.
The fabrics are comfortable and cushy as well as machine washable and dryer safe. With its narrow frame, you should also be able to fit three across in most cars.
Cosco Mighty Fit 65 DX is considerably heavier than the Evenflo SureRide DLX – 23 pounds compared to 9.8. And just like the other low priced car seats in this Evenflo Sureride DLX review, this one can be difficult to get really tight when installing with the lower anchors.
PROS
One of the lowest priced convertible car seats
checkFabrics are machine washable and dryer safe
Able to fit three across
CONS:
Very heavy at 23 pounds
Difficult to get tight fit with LATCH installation
3
Britax Allegiance
The Britax Allegiance convertible car seat (Source: Britax)
Britax is known for their high end car seats and strollers, but they are also a bit more expensive than the car seats we've looked at in this Evenflo Sureride DLX review. However, you definitely get what you pay for when you step up to this next level.
The LATCH system of Britax Allegiance is much easier to use with the push of a button and built in lock-offs. No need to rethread the harness as it adjusts easily with the headrest. And the cover can be removed for cleaning without even needing to remove the harness.
Britax is also known for having some of the safest car seats thanks to the steel frame and impact absorbing base secured by lower anchors. Keep in mind that these features do make this car seat very heavy.
PROS
LATCH installation with push buttons and lock-offs
checkNo rethread harness
Superior safety features
CONS:
Much more expensive
Too heavy for travel
CONVERTIBLE CAR SEATS VS OTHER TYPE OF BABY CAR SEATS
Just when you thought baby car seats are just a seat with lower anchors that allows you to tuck your baby safely in the car while you drive around on your errands, you may be surprised there are actually a few types of car seats that are different from the convertible seat as listed in this Evenflo Sureride DLX review.
Why Convertible Car Seats?
Convertible car seats are usually useful and sometimes more preferred than other types as your baby can utilize the car seat from birth until he/she is too big for it. In terms of cost, having such a car seat allows you to save on changing car seats just to accommodate your little one.
Such car seat type allows you to sit your baby in two different positions – either forward-facing or rear-facing. This will depend on the weight of your child since rear-facing is usually advised for infants up to 3 years of age, and when they are 3 years or older, you can then put your child facing forward in the seat.
Alternative Car Seat Types
Infant Car Seats
Like the name suggest, an infant car seat is made with infants in mind. This type of car seat suits babies from birth until they are about 2 years of age or up to the weight allowed for the seat. An infant car seat differs from convertible seat in terms of the position you can put your baby in, which is only designed for rear-facing only. Usually, this car seat can last about 6 up to 24 months, but this largely depends on how fast your baby outgrows the seat versus the seat size. When your baby hits the height and weight limit allowed for the seat, you will have to change to another car seat design that suits your growing toddler.
Booster Car Seats
Booster car seats have a minimum weight set to be suitable for your child, which varies between the range of 30 to 40 pounds. Your baby can use this car seat until he/she outgrows the car seat usage. Booster seats can either have their own safety harness or you can also use existing car seat belt to secure your child. However, this car seat allows for forward-facing position only.
All-in-One Car Seats
Also known as 3-in-1 seats due to its multiple usage, all-in-one car seats are almost like convertible car seats, except with an extra booster seat feature. This type of car seat is good since you only need to get one to least you from your baby's infancy up to when he/she is old enough to do without car seats and can just use a seatbelt. However, they can be rather expensive.
Conclusion
We have discussed in this Evenflo Sureride DLX review on the important aspects of baby convertible vehicle seat and the features plus benefits for this model. We have also outlined the pros and cons of this model to make it easier for you when considering the many options of convertible car seats out there.
We have also made comparison between other brands of convertible car seats but here's our take: The Evenflo SureRide DLX is one of the best convertible car seats you can get at its price point.
It is affordable for just about any budget and lasts much longer than those vehicle seat carriers. With its light weight, it is easy to travel with, whether that means frequent airline travel or simply switching it between vehicles on a regular basis.
If you're looking for a safe, reliable car seat that won't break the bank and gives a sure ride, the Evenflo SureRide DLX may be the one for you.
Do you like this Evenflo Sureride DLX review? If yes, share it to your friends and family!
Last update on 2022-10-04 / Affiliate links / Images from Amazon Product Advertising API