Are you looking to plan a Christmas baby shower?
The Christmas season is delightful on its own, but if you add a baby shower to the equation, you've just got the most memorable holidays ever.
That said, how can you incorporate a Christmas theme into the baby shower? Keep reading to find out!
Here is a list of Christmas baby showers ideas – from decor and music to food, and more!
You may be interested in: What to Write in Baby Shower Book
20 Christmas Baby Shower Ideas
December baby shower themes are the most beautiful time of the year!
Keep reading to find more ideas about baby shower ornaments for the season and everything you'll need for the ultimate Christmas baby shower!
#1 Pastel Christmas Decorations
Whether you are carrying a baby girl or boy (or both), baby shower pastel decorations are always trendy! Christmas lights for your winter wonderland can help you create light shows for the party!
Read also: Best Baby Projectors for Light Show Projects
Apart from baby shower lights, consider providing napkins, table centerpieces, plates, and cups in pastel shades of blush pink, blue mixed with white, and champagne for a charming atmosphere.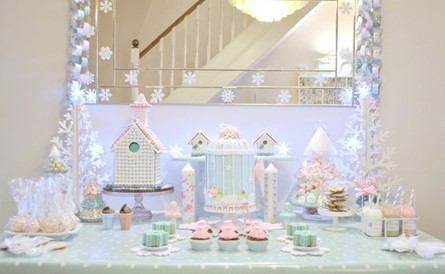 #2 Christmas Baby Shower Invitations
What's a baby shower without Christmas baby shower invites? You can order a bundle of holiday baby shower invitations and input the details about the party by hand.
The alternative is to design and print the invites yourself! There are great tools online, such as Canva, that can be customized with your own choice of Christmas ornaments!
#3 Christmas Snowflake Confetti
The budget-friendly way to ensure cute table decor for a Christmas-themed baby shower is snowflake confetti!
You can simply sprinkle them on top of the table or fill the ballon with them to improve the festive atmosphere! Konsait Christmas confetti offers great value for the money and is reusable!
#4 Banner
If you are looking for banners and other general Christmas baby shower decorations, Etsy has a lot to offer!
You can find customized banners or classical Santa Baby banners there. Some attractive banners feature word games such as the "Merry Little Baby Shower" which won't stay unnoticed!
#5 Centerpiece
There are great DIY baby shower centerpieces ideas on Pinterest. Most are super accessible and you can buy them from your local home improvement store or even grocery store!
A baby shower fruit centerpiece is an excellent idea for both girl and boy baby showers. You can use citrus fruits, or mix apples with cinnamon to ensure festive scents.
On the other hand, if you have no time for crafts, you can find lovely baby shower centerpieces girl or boy-themed online at great prices.
#6 Christmas Baby Shower Food
Don't underestimate the power of carefully chosen food for a Christmas baby shower.
Serve mulled wine, hot chocolate eggnog, and prepare delicious Christmas finger food such as cranberry brie bites, cheese meatball slider, stuffed jalapenos, etc.
Make sure to decorate them in the Christmas spirit!
#7 Party Printables Games
If you want to host an exciting baby shower, get some Christmas baby shower party printable games as part of your baby shower checklist!
You can keep guests engaged and create a fun atmosphere. There are so many free printables online, all you have to do is pick one!
I like the one with guessing the price, where all guests guess how much each item of necessary baby items costs!
#8 Activities
Apart from printable games and baby shower gifts unboxing, you have to decide what other activities you want to include. If you don't have an idea at all, why not consider these?
Gathering and writing advice or wishes on a card.
Getting a bunch of white onesies and letting the guests decorate and sign them. I recommend these from Gerber.
#9 Themed Photo Props
Don't forget themed props for photos!
Ditch the common photo props with mustaches and crowns.
For a holiday baby shower, pick some Christmas-themed props. Get Santa's beard, interesting holiday goggles, and Santa's hat to create delightful Christmas photos from your baby shower!
#10 "Baby It's Cold Outside" Wall Art
Apart from Christmas trees, lights, and snowflakes, I believe everyone knows and agrees that the inscription "Baby It's Cold Outside" is a traditional holiday decor suitable for December baby showers!
You can customize the wall art or order a designer's piece which you will hold on to for years to come. Bring the wall out every holiday season and remember your memorable festive baby shower!
#11 Winter Themed Baby Shower Favors
Baby shower favors are a nice way to express gratitude for your friends participating in your baby shower.
For the holiday baby shower, pick something winter-related! Those can be apple and cinnamon chopsticks, personalized mulled wine cups, warm socks or Christmas tree ornaments!
#12 Location Ideas
Have you thought about an outdoor baby shower? Don't forget to check the weather forecast first!
An outdoor baby shower is also a more pandemic-friendly option to host a gathering. Additionally, it means you can use snowflakes as one of your natural outdoor baby shower decorations!
That said, if you are more inclined to stick to the indoor warm and cozy atmosphere, you can rent a space, or host a baby shower in your home.
#13 Cake
Cakes are an inevitable part of every baby shower!
Pick one with green and red frosting if you picked Christmas as your baby shower theme.
There are some beautiful edible cake toppers and figurines to decorate the cake. If you are a fan of Rudolph, the rednosed reindeer, you'll love the JeVenis Cake topper set!
#14 Outfits
Why not include a festive outfit for the baby shower?
You can also make a dress code of all things red and green similar to traditional holiday colors.
If it is snowing in your area, your guests can wear white clothes and blend with the environment! It is up to you to be creative and come up with Christmas outfits.
If you don't feel very inspired, simply get a handful of Santa Claus hats or elf hats for your guests to wear on a baby shower!
Joyin makes an interesting set of Santa hats with jingle bells necklaces!
#15 Music
Make the most out of the Christmas baby shower theme with an appropriate song playlist! Include Wham, Mariah Carey, Michael Bublé, Frank Sinatra and other all-time favorite Christmas stars! You can check out this nicely compiled Spotify playlist by The Felicio Family perfect for the occasion.
However, if you want something different and you're looking for rustic baby shower ideas with retro decor and great accompanying music, here are some more artists to consider:
Cody Johnson
Dan + Shay
Brett Eldredge
Luke Brian
#16 Games
Organize a Christmas baby shower carol competition to engage all the guests in the Christmas spirit!
There are so many Christmas baby shower games you can play on the venue, including guessing the Christmas song, what is your Elf name, What is in the baby stocking, etc.
If you are competitive in nature, just start a monopoly game with your guests! You can find Christmas monopoly which is a beautiful way to wake up the playful spirit!
#17 Diaper Cake or a Diaper Tree
You'll probably get a lot of practical gifts – to name a few, baby strollers and diapers!
If you are throwing a baby shower during holidays, why not make an authentic baby shower Christmas tree from diapers?
You might need more diapers than you first anticipated, but it will definitely be worth it! The diaper tree can serve as a centerpiece as well!
#18 Put Gifts Under the Tree
This one's old-school – simply practice one of the most loveable holiday traditions – unboxing gifts under the Christmas tree!
Politely ask your friends to send their gifts in advance and put them under the tree instead of displaying them on a gift table!
Once everybody arrives at the party, start opening presents!
#19 Frosty, The Snowman
Frosty, the Snowman is a loveable guest on Christmas baby showers! Include Frosty cookies for Christmas baby shower food and make everyone smile!
#20 Elegant Christmas Baby Shower
If you prefer a fancy Christmas baby shower, use stars and a gold-white color scheme as decorations for a baby shower.
Keep everything minimalistic and sprinkle a bit of fake snow or fake crystals to make everything shiny!
Final Words
Which idea seems most attractive to you?
I like the diaper Christmas tree as it is both practical and fits the Christmas theme so well! I hope you found the article useful!
If you need more baby shower decorations ideas, Pinterest is a great place to continue your hunt! Follow us at babyjourney0183!