There are many reasons why you need the best stroller to take your baby out and about. When you're on the go, you want a stroller that is safe, easy to use, and has lots of great extra features! A stylish stroller that is as fashionable as it is functional doesn't hurt either!
Whether you are looking for a single stroller, a nice selection of luxury strollers, or a stroller that grows with baby, we have found a host of perfectly best strollers that will keep both you and your little one happy while you're out exploring.
What Are the Types of Strollers?
There are surprisingly more stroller types than most people think. Here are the most common options of strollers on the market.
Jogging Stroller
Jogging strollers are designed for running, but they are also adept at handling rough terrain and being very maneuverable. These 3 wheel baby strollers are agile and lightweight. Most don't feature a ton of extras to keep them sporty and sleek.
Double Stroller
Double strollers are undoubtedly the best baby stroller choice for parents with more than a child. Whether you have multiples or siblings these strollers are made to easily accommodate more than one child.
They do this with things like two child seats, two infant car seat adapters, a standing board, and even a rumble seat. Double strollers can come as jogging strollers, umbrella strollers, convertible strollers, or travel systems.
All-in-one Stroller
An all-in-one stroller sometimes referred to as 3 in one strollers,  is a stroller system that comes with everything new parents need. It often includes an adapter that lets you connect the included infant car seat to the stroller, letting you use it as a baby carriage.
Most also have an attached child seat so they can be used as a toddler stroller, but some are just a frame that comes with a car seat and seat base.
Convertible Stroller
A convertible stroller grows with your baby. It converts from an infant stroller to a child stroller effortlessly. Sometimes they include stroller bassinets to facilitate this, other times they have car seat adapters.
All convertible strollers have a child seat to allow toddlers to ride. Some may also provide a standing board or second seat to allow for multiple riders.
Travel System
This is another name for an all-in-one stroller. It includes everything you need to travel! This means the set comes with a stroller (including a child seat), an infant car seat, and a car seat base. In most cases, the car seat seamlessly attaches to the stroller to be a convenient travel system. 
Umbrella/Lightweight Stroller
The lightest and most portable, umbrella strollers are designed to be compact and easy to transport. They commonly don't accept an infant car seat. They are designed for older babies and make a great stroller for a toddler. Some have a basket and a small canopy, but that is about all the features you can expect.
The Best Baby STroller For Your Bundle: Fifteen Top Strollers
We know there's a wide plethora of choices when it comes to baby strollers on the market- which is why we've categorised our 5 best picks according to each stroller category for you to know which is the absolute best!
Best Overall
Baby Jogger City Mini GT2 Stroller
Best Jogging
Thule Urban Glide 2
Best Double
Bugaboo Donkey 3
Best Luxury
Cybex ePriam Stroller
Best All-in-one
Graco Modes Click Connect Stroller
Wheel Type
Foam filled rubber wheels
Storage
Lower basket with zip top cover
Lower basket & side buggy basket
Lower basket, parent tray, child tray
Fold
One-piece, self-standing fold
One-hand, self-standing fold
One-hand, self-standing fold
Adapters
Accepts car seat, bassinet, child seat, rider board
Must purchase adapter for use with infant seat
Must purchase adapter for use with infant seat
Best Overall
Baby Jogger City Mini GT2 Stroller
Adapters
Accepts car seat, bassinet, child seat, rider board
Best Jogging
Storage
Lower basket with zip top cover
Adapters
Must purchase adapter for use with infant seat
Best Double
Storage
Lower basket & side buggy basket
Fold
One-piece, self-standing fold
Adapters
Must purchase adapter for use with infant seat
Best Luxury
Wheel Type
Foam filled rubber wheels
Fold
One-hand, self-standing fold
Best All-in-one
Graco Modes Click Connect Stroller
Storage
Lower basket, parent tray, child tray
Fold
One-hand, self-standing fold
#1 Baby Jogger City Mini GT2 Stroller
First, we have the Baby Jogger City Mini GT2 Stroller. This petite-sized stroller is agile, light, and comfortable. It can hold an astonishing 65 pounds. But even your tiniest child will be kept safe and snug thanks to its car seat and bassinet adapters.
As our top pick, this stroller has a one-handed fold and at 21 pounds it is easy to carry and unfold to store. You will love its forever air rubber tires for their maneuverability. Your child will appreciate the smooth ride.
Pros:
Included infant car seat and bassinet adapters
Adjustable handlebar
Hand operating parking brake
The child seat has adjustable calf-support
Near flat seat recline
Cons:
Storage basket is small
No self-standing fold
SALE
Baby Jogger City Mini GT2 All-Terrain Stroller, Jet
Forever air rubber tires with all-wheel suspension provide a comfortable stroll on any terrain
Adjustable handlebar and hand-operated parking brake provide comfortable steering and control, all within arm's reach
Customize your ride for 4 different modes of use with accessories like the infant car seat, pram, glider board, parent console, child tray, and more (sold separately)
#2 UPPABaby Vista V2
The UPPABaby Vista V2 is a model from one of the most established brands, UPPABaby. It is ideal for a newborn with either the bassinet attachment or the car seat attachment. It also works well for an older child thanks to the spacious child seat. When your family expands, additional seating configurations can be added. Making it a tandem or even a triple stroller.
Its child seat can face forward or backward. A high back and a deep footrest allow it to accommodate even taller children. This expandable and comfortable stroller is a great family option.
Pros:
Can expand from single to triple or double strollers
Zip-out sun visor on canopy
Spring action all-wheel suspension
Self-standing and easy to fold
Extra-large storage basket
Cons:
High price point
Bassinet included (which parents of older children may not need)
UPPAbaby VISTA V2 Stroller - HAZEL (olive/silver/saddle leather)
The VISTA's intuitive design allows for multiple configurations, making transporting a second and third child a breeze — all while strolling like a single.
Includes Bassinet and full size forward or parent-facing toddler seat with one-handed, multi-position recline. Performance travel system compatible with MESA Infant Car seat - direct attachment, no adapters necessary.
Dimensions: Unfolded 36″ L x 25.7″ W x 39.5″ H | Folded with seat attached: 17.3″ L x 25.7″ W x 33.3″ H | Folded without seat attached: 13″ L x 25.7″ W x 32″ H
#3 Graco Modes Click Connect Stroller
The Graco Modes Click Connect Stroller is one of the most versatile strollers out there.
It has an astonishing ten different riding options and three different modes. It converts from an infant car seat carrier to an infant stroller, and finally to a child's stroller.
It is a great option with a huge lower basket, a deep canopy, and a parent console complete with glass holders keep the whole family happy!
Pros:
Ten seat positions and three different modes
Reclining four-position seat
Adjustable three-position leg rest
Removable child's tray with holders
Cons:
Bulky 
Wheels might be prone to squeaking
Graco Modes Click Connect Stroller, Grayson
Accepts all Graco infant car seats (sold separately) with a secure one-step attachment to create your own travel system
3 Strollers in 1 with 10 riding options from infant to toddler: 1. Infant Car Seat Carrier 2. Infant Stroller 3. Toddler Stroller
Reversible stroller seat allows baby to face you or the world and the 4 position reclining seat converts into an infant carriage for on-the-go comfort
#4 Bugaboo Donkey 3
The Bugaboo Donkey 3 is an amazing option; it's our pick as the best double stroller. When it comes to stroller reviews it is no surprise that this versatile stroller scores near the top.
As a single, you can use the frame with the child seat, bassinet, or car seat. It is easily one of, if not the best double stroller option for newborn babies. You can even attach a side luggage compartment for extra ample storage space when the diaper bag takes up all the room.
Remove the side compartment and the stroller can convert to a double stroller with an additional car seat, bassinet, or child seat. Even with two kids riding along, this stroller is still narrow, lightweight, and agile. It is designed for urban on-the-go parents looking for enjoyable rides for their kids.
Related: Bugaboo Donkey 3 review
Pros:
Can be used as single or double
Can attach side storage basket
All-terrain wheels can be used in sand or snow
Narrow side by side that fits through a standard doorway
Foam-filled tires won't deflate
Cons:
Expensive
Bulky when folded
#5 Chicco Bravo Trio Travel System
The Chicco Bravo Trio Travel System starts with a high-quality frame and great adapters. These adapters allow you to effortlessly connect a child seat or car seat. Unlike other models, this stroller includes some comfort features, including a child tray and parent tray, both with cup holders.
Riders will also love the multi-position recline, padded seat, and large canopy. Adults will appreciate the one-handed folding mechanism that doubles as a carrying handle.
Pros:
Complete travel system
Includes parent and child tray with cup holders
Self-standing fold
One-handed folding mechanism can be used as a carrying handle
Height-adjustable handle
Cons:
Child seat cannot face backward
The wheels make clicking sounds when strolling
#6 Babyzen YOYO2 Stroller
The Babyzen YOYO2 Stroller is one of the best lightweight models. It weighs an astonishing 13.6 pounds but can hold up to 40 pounds. This is light enough to easily carry and stow on an airplane as one of the best travel strollers that does great for travel and family trips.
Despite its light weight it still has a comfortable child seat. Complete with features like multi-position recline, cushions, and a sunshade. The lower storage basket is accessible from both sides. Everything collapses nicely into a compact form that is easy to travel with. Easily our best travel stroller pick that is great for travels!
Pros:
Weighs just over 13lbs
One-handed drive
Padded shoulder carry strap
Washable fabrics
Includes zippered pouch behind seat storage
Cons:
Not compatible with infant car seat
Small wheels
YoYo² Bundle Black w Grey
EASY TO USE - BABYZEN YOYO2 is one of the most lightweight, compact, full-feature strollers available. Designed for every situation, every day, you can steer with one hand, carry it on your shoulder & store essentials in the zippered back pocket.
TAKE IT EVERYWHERE - It's never been easier to meet up with friends, catch a cab, or hop onto the subway. The YOYO2 not only folds & unfolds with one hand, it's so compact that you can store it in the overhead bin of a plane.
GROWS WITH YOUR CHILD - Now you only need one stroller! Our all-in-one frame accommodates your growing child, from newborn to toddler (up to 48.5 lbs), with a comfortable seat cushion, a reclining backrest & a secure 5-point harness.
#7 UPPAbaby MINU Stroller
If you are looking for a luxury umbrella stroller, check out the UPPAbaby MINU Stroller. Only 14 pounds but suitable for babies 3 months up to 50 pounds. It folds in an instant and once folded it can stand on its own. Not only does it have a deep canopy, but the canopy also includes a peek-a-boo window and mesh ventilation.
The lower basket can hold more weight than the stroller weighs with a capacity of 20 pounds. The ultimate in on-the-go comfort and convenience.
Pros:
Self-standing fold
Canopy with peek-a-boo window and ventilation
Multi-position recline seat
Storage basket with 20lb weight limit
Accommodates car seat or bassinet with adapters
Cons:
High price point
Handlebar may be short for taller parents
#8 Doona+ Car Seat Stroller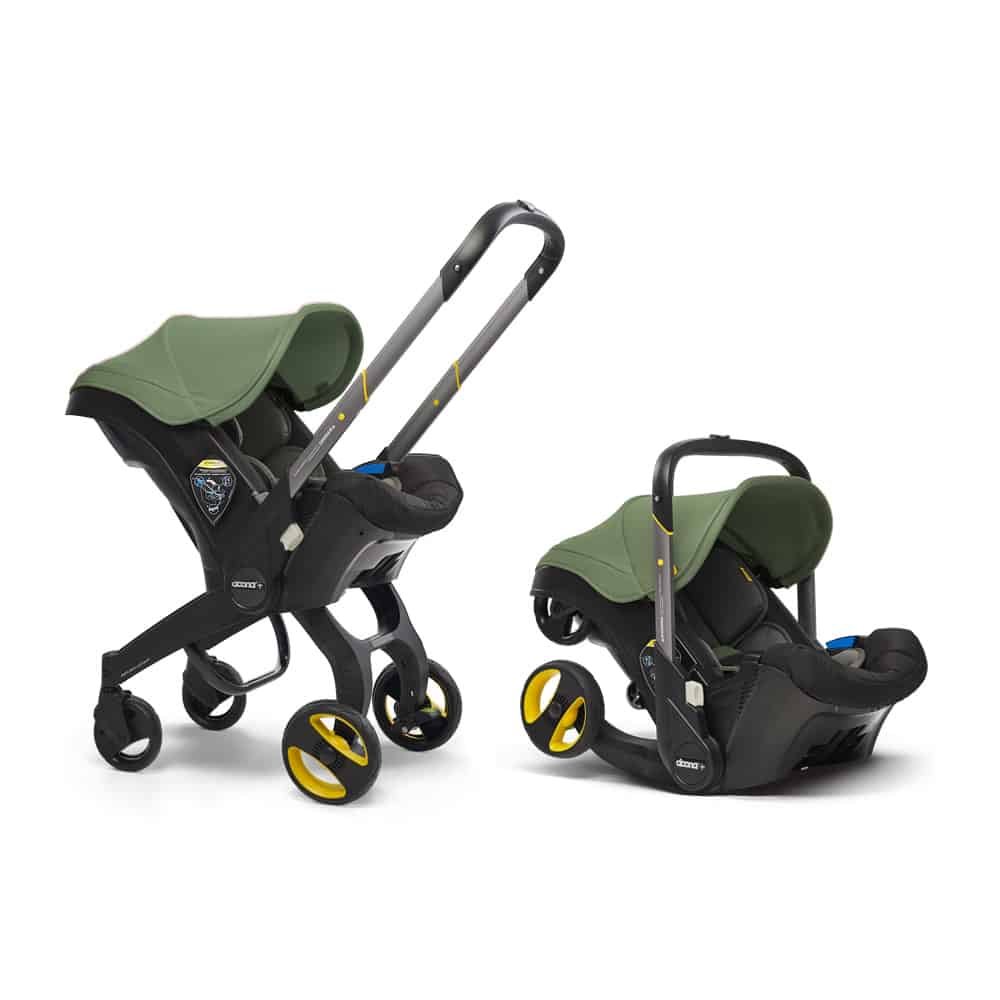 The Doona+ Car Seat Stroller offers parents unsurpassed convenience, especially as a car luxury stroller. There are not separate pieces that need to be attached to this model.
The car seat and stroller are one single unit that seamlessly attaches to the seat base. The stroller's body and stroller's wheels effortlessly untuck when needed and it is easy to fold and unfold away when it is time to go in the car.
A telescoping handle and a shady canopy round out the offerings.
Pros:
Stroller wheels are attached to the seat and fold in and out
No need to remove the baby from the seat when transitioning to stroller mode
Narrow enough to fit through an airplane aisle
Breathable stretch knit canopy
Cons:
No storage on the stroller (no basket, console, or tray)
Canopy is shallow
#9 Thule Urban Glide 2
If you want the best jogging stroller, check out the Thule Urban Glide 2. This sleek stroller is made to tackle all terrains at any speed. Its padded seat is comfortable and cozy. The five-point harness and included ventilation keep your child safe and secure.
Large 16-inch wheels and the ultimate in suspension provide a calm ride. A huge lower basket with a zip to cover ensures your belongings won't bounce out.
Pros:
One-handed compact fold
Locking front swivel wheel
Adjustable ergonomic handlebar
Twisting handbrake
Zip-top lower storage
Cons:
Seat is shallow
No parent-organizer or glass holders
#10 Cybex ePriam Stroller
Wanting to splurge on luxury strollers? Check out the Cybex ePriam Stroller, a top model, and our best luxury stroller pick in the luxury travel system stroller category.
It is an electronic stroller that includes uphill and downhill assist as well as uneven surface assist. This makes navigating even the toughest terrains a breeze. A super comfortable child seat that reclines and includes an adjustable footrest keeps your child cozy and content.
Parents will appreciate the ample storage basket with magnetic closures to keep all your baby gear safe. When it comes to one-hand fold strollers, this model has one of the smoothest breakdowns- making it easy to fold and unfold and stash it into the overhead bin on airplanes.
Pros:
Automatically adjusts to terrain with electronic assist
Side opening leather bumper bar
Includes rain cover, car seat adapters, and cup holder
One-handed compact fold
Cons:
Big price tag & costly
Infant seats sold separately
Cybex ePriam Stroller
Smart Uphill Assist, integrated sensors in the handle bar detect pushing pressure and adjust the support accordingly, providing less strain for the parent
Smart Downhill Assist, integrated sensors in the handle bar detect the pulling pressure on the handle and adjust the support accordingly, providing less strain for the parent
The Smart Uneven Surface Assist makes smart adjustments to ensure a calm ride when traveling over surfaces such as cobblestone, sand, snow or gravel
#11 BOB Gear Revolution Flex 3.0
The BOB Gear Revolution Flex 3.0 is excellent as a single or a double stroller. It is made for running and the design and features prove it. A light frame with an adjustable handlebar is accompanied by a sleek child seat. Six storage pockets, a cargo basket, and a handlebar cell phone holder provide enough room for all your necessities.
You can attach a car seat but the no-rethread harness makes it easy to adjust the child seat. The seat can sit fully upright or lay completely flat to accommodate all ages and stages.
Pros:
Ultra-padded compression seat
Seat includes infinite recline and can sit fully upright
Accommodates car seat
Air-filled tires
Canopy includes magnetic peek-a-boo window
Cons:
Car seat adapter not included
Expensive
BOB Gear Revolution Flex 3.0 Jogging Stroller, Graphite Black
Smooth ride: Suspension system & air filled tires provide an ultra-smooth ride over any terrain
Perfect fit: Adjustable handlebar creates the perfect fit for parents of all heights; No-rethread harness design for easy height adjustments
Extra space: 6 storage pockets & extra-large cargo basket provide plenty of room for your gear; Includes a cell phone pocket at the handlebar
#12 Nuna MIXX Next + Pipa RX Caviar Travel System
The Nuna MIXX Next + Pipa RX Caviar Travel System is a wonderful new baby stroller and child stroller alike, making it one of our favorite top strollers. It pairs easily with the infant car seat, or you can lay the child seat flat to make it a stroller with a bassinet.
The Nuna stroller offers a super smooth ride and is quite agile. One cool feature is the unique stroller folding mechanism that includes a self-guiding magnetic buckle and compact fold-away axel. You don't have to change the seat position to fold it, it becomes very compact and can even stand on its own.
Pros:
Includes infant adapters for car seat
Child seat reclines flat to convert to bassinet
One-piece compact fold
One of the best small baby strollers as it includes a removable two-piece insert
Cons:
Pricey luxury stroller with a big price tag
No parent tray or child's tray
Nuna MIXX Next + Pipa RX Caviar Travel System
MagneTech Secure Snap™, the self-guiding magnetic buckle that automatically locks into place
Four modes — PIPA™ series infant car seat, bassinet, seat parent facing or world facing
Ring adapter is included for an easy on/off one-click travel system
Rear-facing-wheel Free Flex suspension™ and front-wheel progressive suspension technology
Compact fold-away axle™ for a more compact fold
#13 Delta Children City Street LX Side by Side Stroller
A stroller for two that fits your budget is possible with the Delta Children City Street LX Side by Side Stroller. A slim and lightweight side-by-side, it has all you need to keep your children comfortable on the go- all in one affordable price.
Individual canopies protect each reclining seat. Behind each seat is a hanging storage bag, perfect for each child's belongings. Shock-absorbing wheels allow your little bundles of joy to nap while you stroll.
Pros:
Narrow frame fits through standard doors
Two hanging storage pouches
Multi-position recline
Weighs less than 20lbs
Compact fold
Cons:
No lower leg support
No lower storage basket(s)
#14 Summer 3Dlite Convenience Stroller
The Summer 3Dlite Convenience Stroller makes an excellent travel stroller because of its lightweight and compact fold. It is chock full of features though, such as a four-position reclinable seat, a canopy with sun visor, and a lower storage basket.
Your little one can enjoy the ride until they are 50 pounds. Impressive for a stroller that only weighs 13 pounds. When you're ready to hop onto a plane or train the stroller folds down, auto-locks closed, and even has a carry strap.
Pros:
Only weighs 13 pounds
Anti-shock front wheels
Locking rear-facing-wheels
Includes carry strap
Auto-locks when folded
Cons:
Crotch harness buckle is shallow
Difficult to keep standing upright in storage
SALE
#15 BOB Gear Rambler Jogging Stroller
Want a jogger that feels like fancier high-end strollers? Check out the BOB Gear Rambler Jogging Stroller. Its air-infused tires and integrated suspension offer a super calm ride. The expansive canopy covers a plush reclining seat that is quite comfortable.
Surprisingly, it works with a variety of infant car seats, though joggers aren't usually the most sought-after strollers for babies younger than six months. However, the no-rethread harness and high maximum weight capacity will accommodate your child until they weigh a whopping 75 pounds!
Pros:
Long-term lifespan
Huge lower cargo basket
Fully padded seat
Flip-flop friendly braking system
Cons:
Two-step fold
Seat is shallow
SALE
BOB Gear Rambler Jogging Stroller, Black
Smooth ride: Suspension system provides an ultra-smooth ride; Compact, air-filled tires save on trunk space
Perfect Fit: No-rethread harness design for easy height adjustments as your child grows
Extra space: Large lowboy cargo basket for spacious storage underneath the stroller seat
How To Choose the Best Baby Stroller
We can give you a list of top strollers, but it is still very helpful to know what to look for when buying a baby stroller. There are many different designs, features, weight limits, and more.
Wondering how to choose a stroller? Here are a few criteria.
Stroller Safety & Durability
First and foremost is safety and durability. You want a stroller that will keep your child safe. Also, you want it to hold up for their childhood and possibly the childhood of a sibling.
Look for strollers that use high-grade materials. This will ensure a long lifespan and that they don't break while in use. Other safety features include braking systems, a harness or restraint, and a canopy to protect their delicate skin.
All strollers in this list come with 5-point safety harnesses which can more effectively offer protection compared to 3-point harnesses. [1]
Stroller Configuration
If you have more than a child, you will likely be shopping for a double stroller. This is where the stroller seat configuration comes into play.
There are two options, in-line or side-by-side. In-line strollers (also known as tandem strollers) place one seat behind the other. They are more agile and narrow. However, one child usually has a compromised view while the other child is out of your sight.
Side-by-side strollers place the seats next to each other. They can be wide and bulky, but they provide each child the same view and keep both within your sight and reach. Which type of stroller is best for you depends on your preferences.
Travel System Compatibility
Travel system compatibility is a must if you are looking for the best infant stroller. This will allow you to simply attach your infant seat to the stroller and be off.
You won't have to wake your sleeping baby to move them from the car seat to the stroller seat. Additionally, you won't have to carry around a heavy car seat, just pop it onto the stroller.
Some strollers come with adapters pre-attached and others require you to purchase adapters. Some aren't travel system compatible at all.
Maneuverability
The best everyday stroller likely got this title because of its maneuverability. You want a stroller that is nimble, easy to push, and can effortlessly navigate busy sidewalks.
Make sure you check the user reviews regarding parents' actual experiences with operating the stroller to assess its maneuverability. [2]
Height and Weight Limits
Not all strollers, even the best, are created equal. They may look the same size but one may be able to accommodate much less weight.
Be sure to carefully read the height and weight limits to ensure that you can use it with an infant, and continue to use it well into their toddlerhood.
As a rule of thumb, always remember to carefully adhere to the stroller's or manufacturer's guideline. [3] Doing so doesn't only make sure that your child's size is appropriate but also offer you a peace of mind.
Stroller Weight
Generally, you don't want a heavy stroller. They can be a pain to push, store, and travel with.
However, umbrella strollers which are the most lightweight, may not have a lot of comfort and convenience features.
It is a give and take between these features and the weight of the stroller.
Foldability & Storage
How easily you can collapse and store your stroller is another important consideration. A few have a single-handed easy to fold mechanism.
This can make it easy to travel in busy areas like Disney World or Disneyland (this is an important consideration when choosing your best stroller for Disney). Other features like self-standing fold can make them a breeze to store.
Seat Recline
Almost every stroller features a seat recline, a fact your child will appreciate. However, some can lie flat while others cannot.
Alternatively, some can sit completely upright while others can't. Be sure to review the stroller's optional recline angles as you shop for a product for your baby.
Comfort & Convenience Features
You can choose as many or as few comfort and convenience features as you want. These are things like parent and child trays, canopies, storage pockets, lower leg support, and cup holders.
Keep in mind, while they do make the stroll more enjoyable, they can also add bulk and weight.
Frequently Asked Questions
Choosing the best baby stroller can trigger a lot of mind-boggling questions. Here are some popular frequently asked questions regarding strollers:
What strollers are best for newborns?
When it comes to newborns, you will likely want a travel system compatible stroller. You will not want to wake your sleeping baby by moving them from a car seat to a stroller.
Similarly, you will not want to lug a heavy car seat around all the time. Choose a stroller with adapters that allows you to seamlessly attach the car seat and has a child seat for future use.
What age can my baby go in stroller without car seat?
The stroller that you choose should have a specific lower weight, height, and age limits. Check your stroller for these numbers.
In general, most strollers that use a child seat accommodate babies as young as six months. Some stroller child seats convert to infant cradles, modes, or a bassinet. These may have a lower age limit minimum.
Related: When Can Baby Sit in Stroller
When should I buy a stroller?
Many parents add a stroller to their baby registry. It is an item you can use (and will want) from day one! As they can be expensive, asking your friends and family to help out is appreciated too.
How much should you spend on a baby stroller?
You should spend what your budget allows. You certainly don't have to spend a fortune, but nicer models last longer and are more comfortable.
If you invest in a high-quality stroller it can last you through your little one's childhood and even the childhood of a sibling. Doing so provides better worth to the price tag and your investment plus promote sharing between siblings. [4]
Which is better, stroller, or pram?
Many parents prefer to buy a stroller. This is because strollers are so versatile.
A pram usually uses a bassinet or a seat that lies flat. A stroller may have this capability but also has a child seat or an upright seat.
Your baby will only use a bassinet feature for a short while. For most of their stroller riding years, they will want to sit upright.
Therefore, strollers provide more value in terms of effectiveness and benefits. [5] They have a much longer lifespan and are a better investment. However, if you want another stroller alternative, you can check out stroller wagons.
See The World with the Best Baby Stroller
If you're searching for the best baby strollers, know that there are many contenders. However, we can only pick one winner and our favorite is the Baby Jogger City Mini GT2 Stroller.
It is compact, lightweight, and very easy to maneuverable. Thoughtful features like an adjustable handlebar make parents happy. It is also incredibly versatile, accommodating a car seat, a bassinet, a child seat, and even a rider board.
This is the best pick not only for your baby but for their siblings too!
—
Last update on 2023-06-16 / Affiliate links / Images from Amazon Product Advertising API