Baby Bottle Basics
Perusing the baby aisles you will notice that you have many different choices, from onesies to pacifiers, there is a plethora of brands, styles, and sizes. It should come as no surprise then that there are numerous different options for baby bottles.
Picking the right bottle can be intimidating. Babies can be highly opinionated, choose the wrong bottle and you will have a hungry baby refusing to eat. This guide aims to help you choose the correct baby bottle type and amount so no one has to shed a tear.
Each bottle typically has specific benefits and is designed to suit a particular preference that you or your little one may have. Once you have selected the perfect bottle or bottles, the next logical question would be, how many baby bottles do I need, how many baby bottles should I buy?
Whether you are breastfeeding, pumping, or formula feeding you will likely need a bottle. Having the correct amount of bottles on hand will make life much easier.
OVERVIEW OF 8 BEST BABY BOTTLES YOU CAN GET FOR YOUR BABY
How Many Baby Bottles Should I Buy? And What Kind?
The amount of bottles required depends on how often you plan on using bottles. Even if you are breastfeeding you will probably occasionally want a bottle for times when you cannot be with your baby. This may be when you return to work or just head out for a date.
Pumping moms and formula feeding parents will definitely rely on bottles . They may need more bottles than those who exclusively nurse. Bottle preparation will also play a role in answering "how many baby bottles should I buy" question; will you need plenty to prepare for the week or only two or three for rare occasions?
How Many Bottles Do YOU Need for a Newborn?
So how many baby bottles should I buy for a newborn? Starting out, your baby will eat every two hours or less. Therefore, if you are primarily using a bottle you will want at least twelve. How many baby bottles do I need if breastfeeding though? If you exclusively breastfeed, it can be helpful to have at least four bottles on hand. You should also get a bottle warmer to warm the breastmilk while at it.
What To Look For in a Baby Bottle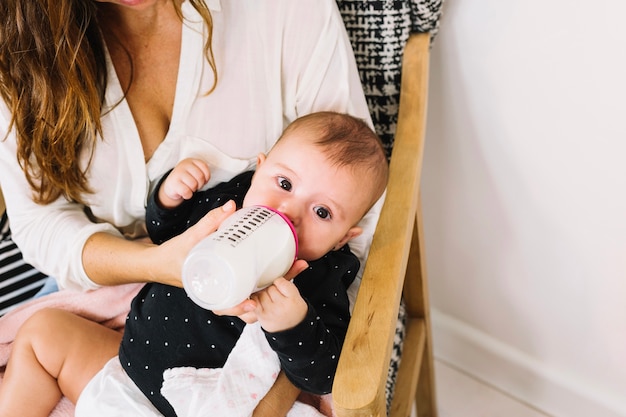 Regardless if you need to or twenty when you finally know how many baby bottles should I buy, you will want to make sure the bottle type and size is perfect for your little one's baby feeding time. What features should you consider when hunting for a bottle that's just right? Read on.
Composition. The American Academy of Pediatrics recommends choosing plastic alternatives when possible for items that come into contact with your children's food. However, plastic bottles are certainly the most prevalent and are likely okay for babies as long as you handle and clean them properly.
The most common alternative to plastic bottles is glass bottles. Other options include stainless steel and silicone. Keep in mind, these other materials may be harder to find and more expensive. Additionally, these bottles may be heavier (glass and stainless steel) and break easily (glass).
Size. The baby bottle measurements should correlate to your baby's age. Younger infants are usually fine with four-ounce bottles. As their size, appetite, and nutritional needs increase they may require a larger six to eight-ounce bottle. Bottles can be as large as twelve ounces. Babycenter has a great baby bottle size guide and they recommend switching to a larger bottle at around four months, which also helps you gauge how many baby bottles do I need.
Venting and Shape. Apart from knowing how many baby bottles should I buy, knowing the venting and shape is important too. Bottles come in different shapes and designs to suit different needs. They can be tall and narrow or wide and short. Additionally, they may be angled so that the baby can grasp it more easily or for ergonomic purposes.
Another factor in design is how to reduce air intake. Venting systems can come in the form of straws, inner bags, or perforations in the nipple or base. Venting systems are added in the hopes that the baby bottles will reduce gas, colic, spit-ups, and discomfort.
Nipples. Like pacifiers, there are many nipple shapes. Some are orthodontic while others are closer to nature and mimic the feel of the mother. It may take some trial and error to determine the correct feel and design.
Unlike pacifiers, bottle nipples have different flows. The flow is the speed at which the milk flows from the bottle. Younger infants will need a slower flow with teats that are designed for preemies, while older ones prefer a fast flow. However, a stream of milk should never flow from the bottle but instead should drip steadily.
Some bottle brands have various stages of nipples while others accept a variety of nipples from different manufacturers. This can be important because even the slow flow bottle for your newborn may be too fast. If this is the case you will want to purchase a preemie nipple that works with your baby bottle.
Price. Finally, consider the average price of baby bottles. Specially designed bottles made for specific issues can be more costly. However, cheaper bottles may not be suitable for long term use. The cost can affect how many bottles you purchase, therefore if you hope to buy a great number of bottles it would be wise to know how much is a baby bottle and make sure they're affordable.
Finding the best bottle can be a journey, just like knowing how many baby bottles should I buy. To begin, perhaps buy one of a few different bottles. When you have found the bottle type your baby prefers, purchase the appropriate number so you can always be prepared!
Great Baby Bottles to Get You Started
You already know that the selection of baby bottles is abundant, thankfully we have rounded up eight great bottles to make your choice a little easier after knowing how many baby bottles should I buy!
1. Tommee Tippee Closer to Nature Fiesta Baby Feeding Bottles
These colorful Tommee Tippee Closer to Nature Fiesta bottles are designed to feel like mom. The nipple resembles a natural shape and flexes to feel comfortable and create a secure latch. The venting valve in the nipple reduces gas and colic. These nine-ounce bottles with transitional nipples of varying stages will keep baby fed and happy (and also make you happy, since you know how many baby bottles should I buy with this pack of bottles).
Pros:
BPA free
Bottle nipple shield flexes for a natural feel
Features three-way hold so that babies or caregivers can choose the optimal holding position
Cons:
The slow nipple may be too fast flowing for newborns
Bottles may occasionally leak
Tommee Tippee Closer To Nature Baby Bottles, Fiesta Collection Slow Flow Breast-Like Nipple With Anti-Colic Valve (9oz, 6 Count)
The original breast-like bottle: Shaped like a breast because babies prefer it that way, our award-winning Closer to Nature baby bottle could just be the best thing for baby, since you!
Breast-like: Our soft silicone, breast-like nipple feels closer to skin and flexes like mom for a comfortable feed and supports in the transition from breastfeeding to bottle feeding
Anti-colic: Sensitive Closer to Nature nipple with anti-colic valve reduces excessive air flow, so little ones ingest more milk and less air, preventing symptoms of colic
2. NUK Simply Natural Baby Bottle
NUK Simply Natural Baby Bottles are natural in many ways. They are BPA free so harmful chemicals will not transfer to your baby or their food. The bottle nipples are designed to resemble a mother as they have multiple holes. NUK Simply Natural bottles grow with your baby as they come either five-ounce or nine-ounce.
Pros:
Bottle plastic is sturdy and odor and stain resistant
Wide base nipple makes the transition to and from breastfeeding easy
The wide base is easy for little ones to hold
Cons:
Caps can be difficult to remove
Flat nipple shape may be hard to clean
No products found.
3. Comotomo Baby Bottle
These silicone Comotomo Baby Bottles are ultra-safe, 100% hygienic, and will not leach dangerous chemicals. The ultra-wide neck makes cleaning and breeze; additionally, they are microwave, sterilizer, and dishwasher safe. The nipple shape mimics that of a breast to reduce bottle rejection.
Pros:
Dual vents help to reduce air intake and protect against colic
The body of the bottle is soft and squishable so it is easy for babies to grasp
Silicone resists odors
Comes in two sizes, five-ounce or eight-ounce
Cons:
Air vents may occasionally leak
The lid may come loose during feeding
A little on the pricey side
SALE
Comotomo Baby Bottle, Green, 8 oz (2 Count)
Seamless Transition- Designed to mimic breastfeeding, helping babies easily transition from breast to bottle (and back)!
Designed to Latch - Truly wide mound with breast-like design.
Easy to Clean - Wide neck design making it the easiest baby bottle you'll wash. Ever.
4. Lansinoh Breastfeeding Bottles
From the makers of the popular breastfeeding ointment comes Lansinoh Breastfeeding Bottles. The nipple features a wave design so that breastfeeding babies will not experience nipple confusion when having to take a bottle. Furthermore, it is made out of safe and soft silicone that encourages proper tongue movement when sucking. These bottles are perfect for breastfeeding moms.
Pros:
Wide nipple and unique venting system are easy to clean
Nipple shape makes it simple for baby to latch
Breastfed babies are less apt to reject this bottle because of the cone-like nipple shape
Cons:
The vent may cause bubbles within the milk
Nipples may crack after multiple uses
Bottle body is not very sturdy and may crack if dropped or thrown
SALE
5. Philips Avent Natural Baby Bottle
Natural is a common theme among baby bottles and Philips Avent aims to stand out with this Phillips Avent Natural Baby Bottle. Their naturally shaped nipple also includes a flexible spiral texture and comfort petals to encourage natural sucking motions. The body of the bottle is designed to be easily held from any position. Each of the stages of nipples has a natural flow rate to mimic breastfeeding for an all-around natural experience.
Pros:
Wide base and nipple are easy to clean
Bottle pressurizes as baby drinks to prevent air intake and gas
Features cute designs
Cons:
Bottle pressurization may cause it to leak
Some little ones may reject swirl texture on the nipple
6. MAM Easy Start Anti-Colic Bottle
The MAM Easy Start Anti-Colic Bottles have a unique vented base that has a few different functions. It reduces foam and bubbles while also regulating pressure; this prevents gas and colic in the baby. The base and nipple are removable for easy cleaning. Better yet, the nipple can be placed in the base and covered with the bottle body and sanitized.
Pros:
The nipple is sturdy and likely won't collapse while the baby is sucking
Shorter nipper less likely to trigger the gag reflex
Features cute designs
Cons:
Some babies may refuse small nipple
Removable bottom means that if it is not attached correctly the bottle leaks
7. Playtex Baby Ventaire Anti Colic Baby Bottle
If your baby is particularly gassy or fussy, an anti-colic bottle may assist in soothing them. The bottles have a unique ergonomic shape that promotes upright feeding to reduce air and bubbles being swallowed. Air is filtered through the bottle's vented base so the milk has fewer bubbles as well. Playtex Baby Ventaire Anti-Colic bottles are a great option if you want to avoid feeding issues.
Pros:
BPA Free
Natural latch nipple increases the acceptance rate
Doesn't have numerous parts to be cleaned
Cons:
The bottle may leak if filled too full
Seams may collect and hold water if used in a bottle warmer
SALE
8. Evenflo Feeding Classic Clear Plastic Standard Neck Bottles
These simple no-fuss Evenflo Feeding Classic Clear Plastic Standard Neck Bottles are designed to do one job, make feeding your baby easy. They have a nipple, a collar, and a bottle for easy assembly and cleaning. Their larger size and minimal venting are ideal for older babies who are established eaters.
Pros:
Affordable
No tiny parts to clean
Large bottle size with clearly marked ounce indications
Cons:
Bottles may leak if the collar is put on too tightly
Nipples may wear down after a while
Not ideal for long term use
Evenflo Feeding Classic Clear Plastic Standard Neck Bottles for Baby, Infant and Newborn - Teal/Green/Blue, 8 Ounce (Pack of 12)
PREVENTS NIPPLE COLLAPSE - Evenflo Feeding's Patented Micro Air Vents help prevent nipple collapse, and promote a more comfortable feeding experience for baby.
EASY TO HOLD - Evenflo Feeding's classic and iconic shape now has a fun, ergonomic twist! These uniquely shaped Classic baby bottles are incredibly easy to hold while feeding, ensuring both you and your little one are comfortable.
EASY TO CLEAN - Designed with only 3 pieces, the Classic Baby Bottles can be easily assembled and disassembled for a quick, thorough cleaning between feedings. And because there are only a few parts, there is nothing extra to worry about misplacing. These bottles are also dishwasher safe (top rack only), making your busy life a little easier.
You have choices aplenty when it comes to bottles. Listed are just a few great options. It may take some trial and error, but with so many possibilities you are sure to find one that makes feeding time a breeze and make how many baby bottles should I buy dilemma disappear instead!
Baby Bottles Galore – Which One to Choose?
There are enough bottle choices to make your head spin. But the right baby bottle really comes down to what issues you want to avoid during feeding, which also answers how many baby bottles should I buy. Once you have settled on your key consideration, you can narrow down your choices.
Aside from your main focus also keep in mind the bottle price, size, composition, venting, shape, and nipple type. Many of these characteristics will need to suit your baby's preference; therefore a few trial runs may be necessary.
If your key consideration is breastfeeding, you may prefer the Philips Avent Natural Baby Bottle. The nipple features a swirl design and comfort petals to encourage natural sucking and reduce nipple confusion. This bottle makes switching from nursing to bottles and back again a breeze and help you figure out how many baby bottles should I buy better.
Colic is another prominent consideration among parents. If you want the best bottle for gassy baby to reduce gas and fussiness you might want to choose the Playtex Baby Ventaire Anti Colic Baby Bottle. This bottle's unique shape promotes proper feeding positions to reduce air intake. The venting system minimizes bubbles and gas. This results in a happier and less gassy little one.
In the end, a fed and happy baby is what is most important. Take time to explore all of the baby bottle options in order to settle on the perfect one. Then, you can purchase as many as you need to keep your bundle of joy full and content!
Last update on 2023-06-16 / Affiliate links / Images from Amazon Product Advertising API