We had recently planned for a holiday tour to South East Asia. For this, I knew that I would need a highly compact solution that can accommodate a baby of even 50 lbs and fit nicely even in a crowded place where people can end up leaning involuntarily on the stroller.
Further, my height of 6'1″ always forced me to hunch over the stroller and make uncomfortable efforts to kick the rear wheels frequently. I had to address all these issues, as I was putting myself at the risk of hurting my spine as well as exposing my 18 months old to an immediate harm.
During my search, I found that the GB Pockit stroller addresses all these issues without compromising safety and comfort. As the name suggests, it converts into the smallest stroller upon folding yet remains sturdy with a weight of even 55 lbs. At the same time, it is comfortable to push even for a tall person like me.
Let's find out what makes the Pockit one of the best baby strollers around.
An Overview of GB Pockit Stroller
Pockit Stroller is the third generation of Pockit. It continues to retain the claim of being the world's most compact stroller, which quickly folds into a shape of a handbag so that parents can carry and place it almost anywhere, even in an overhead compartment.
With ultra-compact fold, one-hand push, and recline mechanism; this stroller a great choice for those parents who crave to explore different places with their small ones. It is also an ideal option for parents running several errands. With an instant ability to shift from pushing to carrying, this stroller is perfect for visiting nearby stores and cafes and traveling by bus, train, and plane.
Like with the earlier models such as Qbit from GB, the Pockit is a bit larger, and this version comes with even more appealing features. Unlike its predecessor, this one comes with the reclining ability and bigger wheels if you wish to go on an adventurous tour without making much effort for comfort and safety.
It also can now work with car seat adapters (sold separately) due to which it is compatible with any Cybex or GB infant car seat. This is essential for traveling in a car. The seat itself is handy for six months to 55 lbs although the stroller is reliable right from birth, provided it is used with an infant car seat. The stroller is also now available in six different colors.
Pros:
Compact and light enough to fit even inside a bag
Very light and spacious for even a 50 lbs 18-month old in it
Comfortable and removable fabric seat (useful for washing)
Higher weight capacity at a fraction of storage space consumption
Decent storage
No assembly
Smooth ride
No frequent effortful kicking
Cons:
Wheels only for flat surfaces
No accessories such as child trays or cups
Small and non-detachable canopy
No adjustable handlebars
Pockit Lightweight Stroller
WORLD'S SMALLEST FOLDING STROLLER - With its innovative two-step folding design, the Pockit is the 2014 Guiness World Records most compact stroller folding down to 11.8 inches x 7 inches x 13.8 inches and a weight of 9.5 pounds
SMALL BUT STRONG - Built using high quality, durable materials, the Pockit can hold a child from 6 months up to 55 pounds as well as 11 pounds of gear in its convenient storage basket
PERFECT FOR DAY TRIPS OR EXTENDED TRAVEL - For families with a passion for local or overseas travel and exploring, Pockit is the quintessential choice as it stows away easily in any plane or train overhead bin, or just stowing away in the car
Features & Benefits
The GB Pockit stroller is not only known for its most compact fold to fit anywhere while traveling. It has some more goodies for both parents and toddlers. So, let's explore them.
1. Practical Convenience regarding Movability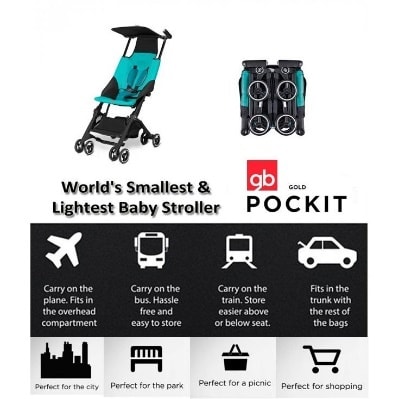 You can fold the stroller in just two steps to make it a self-standing carrier taking much less storage space. The folded version is as light as feather and features a handbag shape.
With only weighing 9.5lbs, the folded version is easy to keep it in front of your seat in a bus or set it aside while dining at a restaurant. It can even easily fit in a big tote bag. This makes the stroller ideal for those on the move, as it has a practical way to be aside or even carry over the shoulder when not in use.
2. One-hand Steering on Small Yet Sturdy Wheels
You can push the stroller with the baby inside by using only one hand. This gives you the benefit of leaving the other hand free to do some other work. At the same time, the stroller takes care of your baby through its lockable 360-degree swiveling wheels in the front.
There is also a one-touch foot brake at the rear. With these wheels that ensure consistent stability, you can safely stroll on flat surfaces, sidewalks, and rough hiking trails.
However, do not expect a smooth ride on a very bumpy surface, as the wheels are small although bigger than its original version.
Consider our Best Double Jogging Stroller list if you are jogger with 2 lovely babies.
3. 5-point Padded Harness
There is an adjustable harness featuring crotch padding and a release buckle in the center. You can easily adjust the harness' height for loosening or tightening it. This ensures that your baby is secured inside.
There are also protective pads so that the baby feels comfortable while you are out for a long ride.
4. Small Canopy and Useful Handle Bars
The Pockit stroller also features the smallest canopy. It provides protection from the heat when the sun is behind or directly above the stroller.
Enclosed in soft foam, the bars appear more outward and forward than normal usual. They are covered with beautiful soft foam. While they are not adjustable, they are at 39″ from the ground. This is an average placement for the handle bars that are non-adjustable.
If your height is 6' and above, you may feel that the handle bar is slightly low. However, you can easily push from the side with one hand. Between two handles, a crossbar exists to assist you to push. However, it is essential to close the canopy for using the crossbar.
5. Spacious Seat
The seat is very spacious to fit a toddler or an old baby comfortably. Even a tall child can fit inside due to a non-obstructing canopy. The seat comes with a small strap recline, which takes care of the baby's head and facilitates comfortable napping.
The seat can accommodate a kid weighing up to 55 pounds. It is securely reclined due to which the child feels comfortable while sleeping. The seat's padding material is cozy, which further contributes to sound sleep and comfortable sitting.
6. Decent Basket
The basket's size is genuinely commendable considering the ultra-compactness and light weight of the stroller. It can easily accommodate up to 11 lbs, which is more than the weight of the stroller.
This is useful for storing a couple of important on-to-go accessories such as a medium-sized diaper bag, milk bottle, and napkins. You can access the basket from the rear, which adds to the overall convenience.
7. Travel System Capability
It is surprising to see the smallest stroller accepting a car seat. However, it is a great feature for those who do not wish to remove their sleeping infant from the car seat once the destination arrives. This is because the system is detachable from the car seat.
8. Durable Design
The stroller is made using strong materials that tend to last for long. Even the seat's fabric is removable and washable.
Alternative Options for GB Pockit Stroller
Summer Infant 3D Lite Convenience
With a stylish and light aluminum frame, this one is a lightweight traveling stroller. However, at 15.4 pounds, it weighs more than the Pockit and takes three steps to fold. Just like this model, the 3D Lite Stroller features 5-point harness, lockable rear wheels, and multi-position recline for accommodating babies right from their birth until they weigh 50 pounds.
The seat reclines almost flat, which provides comfort to sleeping toddlers and small babies. It also becomes easier to change their diapers. The canopy is removable but small due to which it is not a choice for staying out in the sun for long. However, it does come with a flip out visor to protect the little one from the harmful rays of the sun. The handle bars are at a good height for allowing a tall user to push comfortably.
The stroller also features front wheels that are resistant to shocks, which is helpful if you suddenly need to stop it for preventing a mishap on the road. There are a big basket and a rear basket for storing different things.
Read Full Review on Summer Infant 3dLite Convenience Stroller
SALE
BabyZen YOYO
Frankly speaking, BabyZen was the first brand to introduce a super compact stroller to be used as a carry-on. Even today, it is popular among the traveling parents. However, its outrageous price and no traveling system convertibility are pushing it back in the preference list of most parents.
Weighing 13 lbs, the YOYO has all traveling features of a GB Pockit stroller. However, it has some extra features for which the price is still unjustifiable. The spacious seat has good side barriers, while the canopy has a peekaboo window and a pop-out visor.
It is also easy to maneuver in crowded places with a just one-hand push. However, the plus point here is that the non-swiveling wheels can tackle some tough terrain due to the soft drive mechanism. This mechanism eliminates the need to lock the wheels. The stroller can ride smoothly on cobblestone streets and even on broken lanes.
Babyzen YOYO+ Stroller - Black
Includes reversible backrest, carrying strap, rain cover, under seat storage basket, travel bag
Airline certified size of a carry-on bag
Folds/unfolds & drives with one handed ease
Comparison Between GB Pockit Stroller with its Alternatives
Preview
Title
Pockit Lightweight Stroller
Summer 3Dlite Convenience Stroller, Black – Lightweight Stroller with Aluminum Frame, Large Seat Area, Mesh Siding, 4 Position Recline, Extra Large Storage Basket – Infant Stroller for Travel
Babyzen YOYO+ Stroller - Black
Folding Steps
2-steps folding with both hands
3-steps folding with both hands
2-steps folding with both hands
One-hand Steering
Yes but not beyond 35 lbs
Preview
Title
Pockit Lightweight Stroller
Folding Steps
2-steps folding with both hands
Preview
Title
Summer 3Dlite Convenience Stroller, Black – Lightweight Stroller with Aluminum Frame, Large Seat Area, Mesh Siding, 4 Position Recline, Extra Large Storage Basket – Infant Stroller for Travel
Folding Steps
3-steps folding with both hands
One-hand Steering
Yes but not beyond 35 lbs
Preview
Title
Babyzen YOYO+ Stroller - Black
Folding Steps
2-steps folding with both hands
Conclusion
I high recommend the GB Pockit stroller for both home moms and hard-working parents who are on the go for most of the time and cannot leave their little ones alone. The stroller is also handy for grandparents who like to roam with the toddlers at any time.
Initially, you might find it a bit time consuming to fold the stroller. Well, this needs some practice for only a couple of days.
I agree that the Pockit stroller is not a super strong model, but it is super compact as well as super light. Right now, no other stroller seems to be as compact as this one, which can fit below a seat, into a computer bag, and in an overhead compartment. It also gives relief to tall users who now need not hunch for pushing the stroller due to a decent height of the handle.
Click here to learn more about GB Pockit Stroller.
—
Last update on 2023-06-03 / Affiliate links / Images from Amazon Product Advertising API