Safety, Convenience, and Peace of Mind
Though baby monitors have changed a great deal over the years, keeping a close eye on your little one is still essential. Many mothers-to-be spend hours combing baby monitor reviews searching for the best baby monitor.
There are so many things to consider, but above all you want your baby to be safe when they are out of your direct view. The old audio-only baby monitors pale in comparison to the modern models. But now there are so many more options, Wi-Fi, Bluetooth baby monitors, night vision, and more. What once was a simple choice due to a lack of features can now be quite complicated.
But don't fret! We have taken all of these factors under consideration and compiled a complete guide on the best baby monitor choices.
10 Best Baby Monitor Picks
Baby Monitors, A Parent's Best Friend
Baby monitors should not be overlooked when preparing a nursery for your little one. A monitor is a vital component of your baby gear arsenal. They can help make your nursery safer and provide you with unsurpassed peace of mind, especially since infants may have risks of sudden infant death syndrome (SIDS) while toddlers may get a little creative as they grow older and try to escape bedtime.
When you are ready to transition your infant to their own room, a baby monitor can keep them in view while they are snoozing. This can help you get a better night's sleep. When you hear them fussing you can easily check in on them, deciphering from the video and audio if they are hungry, needing a diaper change, or just self-soothing back to sleep. This can save you frequent trips down the hall in the middle of the night!
Baby monitors can be useful during the day too. Not only for nap time but also if you use one to monitor your child in a safe play space, such as a pack and play or playpen. If you have to step out of the room to take a call or start a load of laundry just take the monitor with you.
The variety of situations in which you may want to use your baby monitor means you will want to consider its features and options. Do you want a high definition camera? One with night vision? Possibly even a baby camera monitor that works with your phone via Bluetooth. We will look at all these criteria in the next section.
How to Choose a Monitor
In order to determine the best baby video monitor for you, consider the following factors. Think about what features are most important to you, along with the likely situations in which you plan to use the monitor.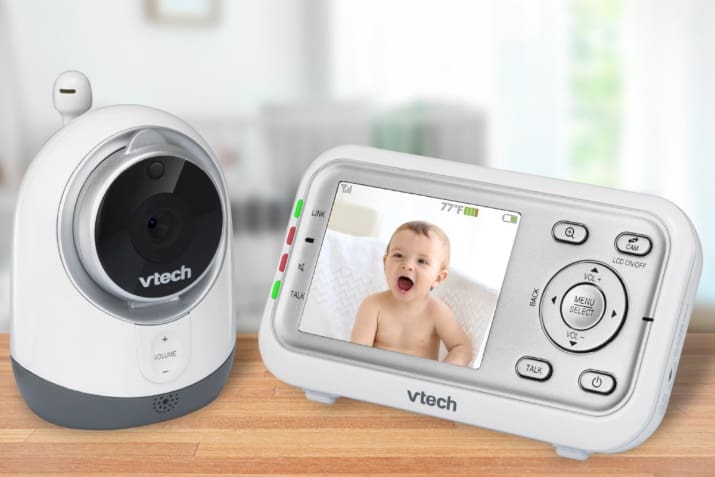 Audio or Audio-Visual. Today, most parents choose an audio-visual monitor over a solely audio monitor. They like the peace of mind that an audio-visual monitor provides them. Additionally, if they do hear their baby fussing they can view them on the video monitor before rushing into their room.
Digital or Analog. Digital monitors are different from analog in that they are encrypted, this means that those nearby can't accidentally (or purposefully) pick up on the sounds of your nursery and home. Aside from being more secure, digital monitors have less static. However, they are often more expensive.
Night Vision. Many parents will get the most use out of their best baby monitor at night. Therefore, it can be important to have a night vision feature. Some night vision cameras are clearer than others.
Wi-Fi or Bluetooth. Instead of using radio frequencies, video-audio baby monitors can use your existing wireless network or even Bluetooth to connect the camera to the monitor. They can even work with your cell phone, sending alerts and the video feed directly to your device.
Motion Detector. A few infant monitors come with a feature that detects movement and turns on the camera. This may be important to some parents but it can also be a huge draw on the battery.
Microphone. Hearing your little one is important, but do you want them to be able to hear you too? Look for the best baby monitor with a microphone to communicate with your baby without having to enter the room.
Musical. Just as some baby monitors have a microphone option, they can also play music to soothe your little one, often coming with a handful of lullabies.
Sound Activation. An alternative to movement detection is sound activation. When your baby fusses the camera monitor will automatically activate; alerting you to the issue and saving battery when your baby is peaceful.
Light Up Sound Indicator. A light-up sound indicator can let you know the level of your little one's cries without having to actually hear them. This can be very helpful for night time monitoring when you don't want to wake your partner.
Multiple Monitors. Most cameras come with one monitor. However, some provide multiple monitors or at least give you the option to pair with other monitors. This can allow you to have a monitor in different rooms of your house instead of always carrying the same one around.
Top Ten Baby Monitors
#1 VTech DM221 Audio Baby Monitor
Looking for the best audio baby monitor? Consider the VTech DM221 Audio Baby Monitor, a simple audio-only monitor. This model can be ideal for parents of older children who only want to be alerted to when their child is fussing or keep an ear on play activities.
This budget-friendly option has a bevy of features. Crystal-clear sound transmission, a color noise level indicator, and a 2-way intercom to name a few. You can go hands-free with the convenient belt clip. Thanks to its rechargeable batteries you won't be tied down by a cord. This is a great option for simple tracking!
Pros:
Clear audio transmission
1000 feet outdoor range and 160 feet indoor range
Baby's monitor includes a night light
Volume adjustment options
Cons:
Sometimes loses connection
Even the loudest volume setting can be quiet
VTech DM221 Audio Baby Monitor with up to 1,000 ft of Range, Vibrating Sound-Alert, Talk Back Intercom & Night Light Loop, White/Silver
CLEAR AUDIO AND LONG RANGE - DECT 6.0 technology provides clear audio transmission, eliminating annoying background noise while allowing you to move from room to room. Up to 1,000 feet of range lets you stay connected to your baby from another room
5-LEVEL SOUND INDICATOR AND 2-WAY TALK-BACK INTERCOM - LEDs on the parent unit indicate the level of sound in your baby's room so you can visually monitor the noise level. The built-in intercom on the parent unit lets you talk to your baby from any room.DO NOT use cleaning spray or liquid cleaners
NIGHT LIGHT ON THE BABY UNIT - A soothing light on the baby unit gently illuminates a dark nursery. Both the parent unit(s) and baby unit allow you to turn on or off the nighlight on the baby unit
#2 Philips Avent Dect Audio Baby Monitor SCD720/86
Next up is the Philips Avent Dect Audio Baby Monitor SCD720/86. This is an audio-only monitor, with a very impressive long-range, extending up to 1000 feet. The secure DECT tech keeps others from listening in while providing excellent audio quality.
A nightlight, two-way intercom, and lullaby feature keep your little one feeling calm and settled. That is a lot of features that many simple audio-only devices do not have. The LED screen can show you a variety of information, including your baby's room temperature.
At night, the screen has a dimmed mode to help everyone sleep more peacefully. With a press of a button it can light up for easy viewing. This is one best baby monitor for parents with an infant or older children.
Pros:
Good long-range monitor
Eco-mode saves battery life
Rarely drops connection
The base includes a back-up battery
Cons:
Short battery life
Plug ports can be confusing
#3 Sense-U Baby Monitor
When it comes to newborns, parents will often want a baby monitor with camera functionality. But the Sense-U Baby Monitor goes beyond letting you see your little one. It detects movement, temperature, and breathing. The waistband clip keeps parents constantly informed. It can track their breathing and alert you with an audible alarm if it senses a weak breathing pattern.
All parents have heard, back is best. This monitor will notify you if your little one rolls to their stomach while sleeping. Finally, it helps you keep their temperature in check by notifying you when your baby's temp exceeds or falls below your presets. This sensor can pair with your phone to give you a well-rounded look at your baby's sleep experience.
Pros:
Easy to use, good for newborns
Connects via Bluetooth
50-foot range
The sensor is small and comfortable
Cons:
Can issue false alarms
Phone firewalls can impair the connection
SALE
Sense-U Smart Baby Abdominal Movement Monitor - Tracks Baby's Abdominal Movement, Temperature, Rollover with Instant Audio Alerts on Smartphones (Green)
KNOW YOUR BABY IS OKAY ON YOUR SMARTPHONE DIRECTLY: The Sense-U Smart Baby Monitor is worn on your baby's diaper/sleepwear and tracks baby's abdominal movement, feeling temperature, rollover and sleeping position, and notifies you when your child may need you, directly from your smartphone.
TRACKS BABY'S ABDOMINAL MOVEMENT WITH REAL-TIME NOTIFICATION: Unlike other smart baby monitors or cameras, the Sense-U Smart Baby Monitor can track your baby's abdominal movement during sleep, and alert you after 15 seconds of slow abdominal movement, directly from your smartphone.
GET NOTIFIED WHEN YOUR BABY ROLLS OVER TO SLEEP ON STOMACH: The Sense-U Smart Baby Monitor tracks your baby's sleeping position, and notifies you when your baby rolls over to sleep on their stomach.
#4 Owlet Smart Sock 2 Baby Monitor
The Owlet Smart Sock 2 Baby Monitor is one of the best baby monitors to get, especially when it comes to tracking the baby's movement and breathing.
Made for parents to conveniently monitor their baby, the Owlet comes with comfortable, washable smart socks that you can wear on your baby's foot. The sock connects up to 100 ft away from a base station and alerts you to their heart rate and oxygen levels via the handy app on your phone.
You will be notified through sounds and lights from the base station plus notifications on the app when levels go too high or too low from the presets. If you are looking for a simple hassle-free baby monitoring device with an app to track your little one's sleep activities, this is the one for you.
Pros:
Reliable movement & breathing monitoring via smart sock technology
Secure and encrypted
Includes 3 washable socks
Two way talk on camera
Cons:
Occasionally will issue a false alarm
Pricey
Related: Owlet vs Snuza Baby Monitor: Which of These 2 Is Best?
No products found.
#5 Nanit Plus
The Nanit Plus is one of the best wifi baby monitor and camera systems that relays all essential information directly to your phone. You can watch your little one with the day or night vision camera. Clear audio lets you hear their every cry, fuss, and giggle. The motion alert will let you know if they are sleeping peacefully or moving around. If you are looking for a baby monitor with screen and app, this is it!
The intuitive app tracks their sleep patterns and gives you a comprehensive view. This way you will be able to identify any issues and quickly resolve them. This system even pairs with their breathing wear, letting you track your baby's breathing and heart rate.
Unlike other cameras, this one doesn't have to be mounted far away on the wall. The functional camera stand is ideal for any nursery setup.
Pros:
Great for monitoring infants in a fixed space
Tracks sleep patterns and habits
Can be wall-mounted, make use of the wall leaning stand, or the freestanding tripod
Monitors temperature and humidity of the room
Cons:
Poor image quality
Uses a lot of bandwidth
Also read: 10 Best Baby WiFi Monitor
#6 eufy Video Baby Monitor
Next up is the eufy Video Baby Monitor. One of the top rated video baby monitors, this model specializes in HD, crystal clear monitoring. The large screen and specialized camera lens allow you to view your baby in detail or widescreen. The wide-angle lens means you can view the entire nursery without having to pan.
Set an ambient noise level and let the monitor alert you if your baby exceeds that level. You can then use the two-way audio to comfort them before making a trip to their room. The long battery life and the 460-foot range keeps you in the know all the time.
Pros:
Big 5" display
Can display more than one camera feed at once
Sharp picture
Long battery life
Cons:
Monitor operating is clunky
Sometimes night vision activation lags
#7 Infant Optics DXR-8 Video Baby Monitor
The Infant Optics DXR-8 Video Baby Monitor is a great video monitor for parents who want total control over their view. The interchangeable lenses include a normal view, a wide-angle, and an optical zoom. The picture is clear, reliable, and crisp, so it's no surprise this best baby monitor makes it into our list.
Lightweight, rechargeable, and simple to use, it is easy to take this one of the best digital baby monitors with you around the house. The essential information you need is sent over the internet in a secure and encrypted format, keeping only you in the know and no one else.
Read the full review for Infant Optics DXR-8 Video Baby Monitor.
Pros:
Great picture quality
Comes with USB charger and backup battery
Includes an additional optical zoom lens
Easy to operate
Cons:
Signal occasionally drops
Doesn't hold a long charge
Infant Optics DXR-8 - Non Wifi Video Baby Monitor with Camera and Audio - Interchangeable Lenses, Night Vision, Two-Way Talk, Remote Temperature Sensor, LED Sound Bar and More
2022 AWARD WINNER: Awarded "Best Baby Monitor Overall, 2022" by NBC News. The DXR-8 video baby monitor offers clear and reliable sound/video, long battery life, exceptional signal range and user-friendly controls — the dependable choice to help keep your baby safe and provide you with peace of mind.
INTERCHANGEABLE LENSES: Conveniently switch between different lenses to choose the perfect viewing angle. Use a zoom lens to get a closer look at your baby and a wide-angle lens (sold separately) to capture a broader view of the room. Keep a trustful eye on your children while they sleep or play using this kids' room camera.
OPERATES WITHOUT WIFI: Unlike wifi baby monitors for smartphones, there is no loading time to open apps, offering instant playback with lag-free video. With a dedicated monitor unit, no phones are necessary to view your baby, enabling parents to efficiently manage day-to-day tasks on their phone screen without compromising their baby's safety.
#8 Babysense V43_2US Baby Monitor
The Babysense V43_2US Baby Monitor makes use of its large screen to give you a split view, which is excellent for twins or siblings. You can easily watch and hear both your cameras simultaneously. The nearly silent pan and tilt let you closely watch your baby, even as they move about the room or their crib.
Parents will also love the two-way audio, lullaby mode, and adjustable night light. These cameras provide you with a detailed picture, quality audio, and a host of other features that keep both parents and babies secure and content. For example, you can receive notifications for high or low temperature readings, out of range alerts, and low battery indications.
This excellent system will ensure that you don't miss a thing, even if you have two little ones to keep an eye on – another best baby monitor to consider getting!
Pros:
960 ft range
Plays white noise or lullabies
Long battery life
Split-screen function good for monitoring twins
Cons:
Grainy at max zoom
Will play lullaby through parent monitor too
Babysense Baby Monitor, 4.3" Split Screen, Video Baby Monitor with Two Cameras and Audio, Remote PTZ, 960ft Range (Open Space), Adjustable Night Light, Two-Way Audio, Zoom, Night Vision, Lullabies
HAVE A SENSE OF CALMNESS knowing your little angel is safe & sound with the 4.3" high quality SPLIT SCREEN DISPLAY and two PAN TILT ZOOM cameras. We remastered the classic baby monitor design and the latest 2.4GHz FHSS Technology for super-stable, HACK-FREE connection and supremely-detailed digital vision & sound.
CALM, COMFORT & SING TO YOUR BABY with your own voice using the most advanced 2-way talk back communication technology. And when the baby can't sleep or needs to be calm, you can make use of the built-in lullabies with white noise sounds. It's a perfect match.
WATCH YOUR BABY EVEN FROM OUTSIDE YOUR HOUSE as the baby monitor has ULTRA-LONG RANGE of up to 960 feet open space. When you get too far you'll get notified by the out-of-range warning.
#9 HelloBaby HB65 Baby Monitor
Moving on to the HelloBaby HB65 Baby Monitor, an affordable system that can expand to pair with up to four cameras. Say hello to keeping the whole family within your view, especially if you have active toddlers in the house!
These small cameras are extremely functional. They can rotate nearly 360 degrees and tilt up and down 120 degrees, allowing you to track your children as they move about their room. In day mode or using night vision, the picture will be perfectly clear on your 3.2" LCD screen. The display lets you play lullabies, talk with your child, and view the room temperature.
An LED sound indicator lets you know how loud your child is crying without having to turn up the volume and disturb others. The audio-only mode is an ideal way to save battery. Add cameras as your family grows with this awesome system.
Pros:
Easy to set up
Expandable to 4 cameras
Wide pan and tilt range, great for monitoring toddlers
Compact and great for traveling
Cons:
Image occasionally freezes
Weak fit with charging cord
SALE
HelloBaby Baby Monitor with Remote Pan-Tilt-Zoom Camera and 3.2'' LCD Screen, Infrared Night Vision (Black)
Large LCD Display & Safe Wireless Technology: This video baby monitor come with a 3.2" LCD display. Application of frequency hopping and digital encryption technology ensures secure and reliable connection.
REMOTE PAN TILT and ZOOM &3.2" LCD DISPLAY: Remote control camera rotate 355° in horizontal and 120° vertical ensuring you always have a clear view of your baby from any angle.
SMART FEATURES:The crystal clear two-way audio feature allows conversation both ends as clear as if you were in the same room with your little one. Room temperature monitor and alert, night vision, lullaby, sound level LED indicator, audio only mode.
#10 ANMEATE SM24 Video Baby Monitor
Finally, we have the ANMEATE SM24 Video Baby Monitor. This camera may be small and lightweight, but it doesn't skimp on features. It provides excellent picture quality both in daytime mode and using night vision, allowing you to see your precious little one in real-time and the petite monitor.
The camera includes an option to play lullabies and a two-way talk feature, letting you try to soothe your infant from afar. The monitor can be placed into eco-mode, alerting you when your baby fusses, while otherwise saving battery in standby. Parents will appreciate the monitor's alarm option. You can set a notification to go off when it is time to feed your baby or change their diaper.
This monitor doesn't use Wi-Fi or an app, so your connection is secure and unable to be hacked by those wanting to listen in. The ultimate in privacy and safety.
Pros:
960ft range
Awesome night vision & picture quality
8-hour battery life in eco mode
Alarm/timer setting
Cons:
Annoying beeps when the connection is lost
Buttons on monitor difficult to push
SALE
The Best Baby Monitor for Worry-Free Monitoring
As you can see, there are many top baby monitors. But which one is the best? It can depend on a few things like if you want audio-only, have access to Wi-Fi, or need a split-screen for twins.
If you are searching for a great camera and monitor that ticks most of the boxes, check out the Infant Optics DXR-8 Video Baby Monitor. This system provides you with clear audio and a detailed picture, especially if you use the interchangeable lenses. The monitor is easy to use, has great battery life, and has most of the basic function's parents need when watching their baby.
Of course, if you want one with an app or a breathing tracking sensor, the list has other great options too. In the end, the best baby monitor for you is the one that keeps your baby safe and gives you the most peace of mind.
—
Last update on 2023-06-16 / Affiliate links / Images from Amazon Product Advertising API