Sometimes, monitoring your baby by audio or visual only when they are sleeping just isn't enough. Whether your little one has an existing health condition, is born premature, or simply moves too much in their sleep for your comfort (posing a sudden infant death syndrome, SIDS risk), a wearable monitor can ease your worrying over cases of sudden and unexplained death in infants.
Two of the best wearable monitors on the market right now are the Owlet Smart Sock 2 and the Snuza Hero SE monitor. Here, we will go in-depth on Owlet vs Snuza baby monitors so you can determine if one of them is the right choice for you.

Update: Owlet has released an improved version for its Smart Sock baby monitor – the Owlet Smart Sock 3. It has all of the features present in Smart Sock 2, but with some bonus perks like wireless charging and better sock design. You may want to consider the Smart 3 if you plan to get the Owlet baby monitor.
OWLET VS SNUZA COMPARISON
Table could not be displayed.
What are the Perks of a Wearable Baby Monitor?
As we already briefly mentioned, wearable baby monitors typically monitor more than just abdominal movement and sound; there are special features that monitor breathing and/or certain vitals like oxygen saturation and heart rate levels.
These additional features can help give you peace of mind if you are worried about your baby's sleeping or health conditions. With sudden infant death syndrome being unpredictable and scary, these monitors can also help to deter potential cases by alerting you earlier to warning signs.
Wearable monitors stay close to your baby, which gives you more accurate readings than video monitors that rely on a camera kept at a distance.
A Word of Caution
Keep in mind that wearable baby monitors should NOT take the place of good parenting.
These monitors may include great features that are convenient for many parents to read on a screen or hear at the first sign of danger.
However, these devices always have the potential for malfunction or false alarms. They should not be relied upon solely when it comes to your baby's safety and sleeping conditions.
How to Choose the Right Wearable Monitor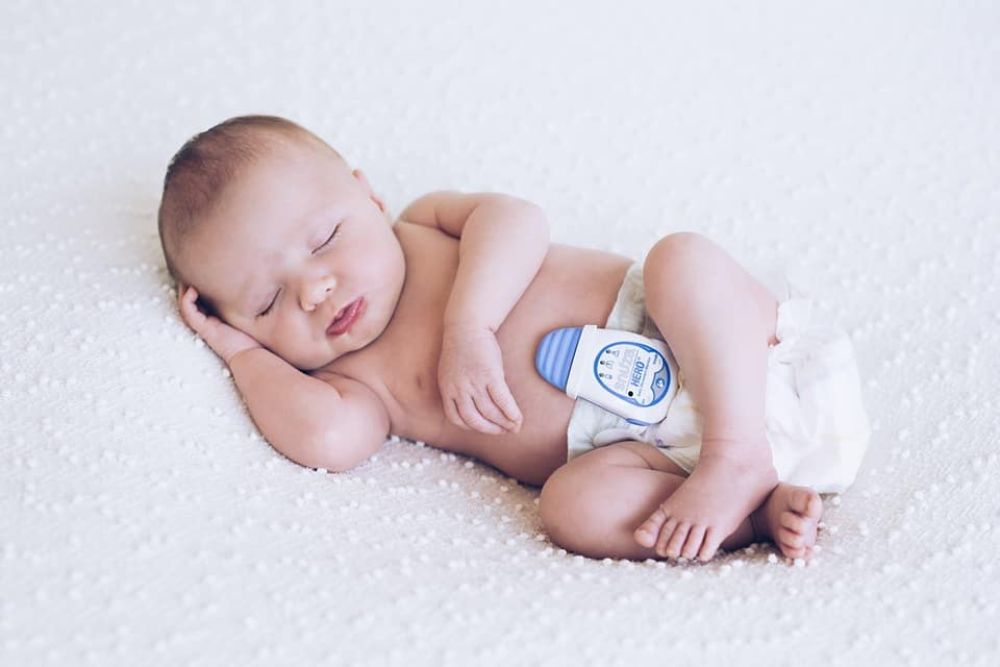 Safety Features
Baby monitors have progressed far beyond simply listening to your baby at night. There are several other features they include that give you peace of mind knowing your baby is safe and healthy, even more so when you are monitoring twin babies.
Wearable monitors are especially convenient since they alert parents to some of their babies' vital signs.
Some track heart rate and oxygen level, sending alarms to parents if they drop below a level that is considered safe. Others may just track breathing rate, working to rouse the baby if breathing becomes infrequent or shallow.
Be sure to check all of the details of your monitor's tracking features to be sure that you have access everything you want to see, such as when deciding between Owlet Smart Sock 2 versus Snuza Hero SE baby monitor.
Connection Options
With a baby monitor, there always needs to be a connection to the parents for alerts and reassurance when your baby is resting.
Some smart baby monitors are able to connect to you wherever you are via a smartphone app. This can be very convenient if you are leaving your baby with a nanny or at daycare and want to check in while you are at work.
Other monitors only allow more local connections, either by a receiving unit kept in the parents' room or simply by making noise from the baby's unit.
Battery Options
Rechargeable batteries are typically preferred, but they have their pros and cons. There is always a chance that the battery will stop charging after an extended period of time whereas traditional batteries are easier to replace.
On the other hand, replaceable batteries can add up in cost and cause quite an inconvenience if you happen to be out. A rechargeable battery can simply be plugged in and ready to go when you need it.
Neither choice is wrong; you just need to consider which is better for you, so that you don't have to keep thinking about your monitor's battery life.
Age Range
Some wearable monitors come with a glove or sock that houses the monitor and keeps it close to the baby. This can be very convenient so that you don't have to worry too much about the monitor disconnecting from your baby, such as the devices as covered in this Owlet vs Snuza baby monitor review.
However, these wearable devices usually only come in one size, so you will need to check the age range to ensure they will work for you baby as long as you may need them to.
Monitor Range
In addition to your connection options, you will need to consider your monitor's range.
Monitors that connect via wifi to your smartphone app typically don't have a maximum range. You can monitor your baby's vitals from anywhere as long as your internet connection is strong.
Those that use parent units, however, can be a be trickier. There can be interference in the house if the units are too far away from each other. It can also be more of a problem if there is no parent monitor, when parents simply have to rely on sounds and alarms coming directly from the baby's unit. A long-range monitor usually will resolve the issue.
These are important things to consider when deciding on your baby's wearable monitor as covered in this Owlet vs Snuza review.
Owlet vs Snuza Hero SE Baby Monitor
Table could not be displayed.
Owlet Smart Sock 2 Smart Baby Monitor
The Owlet Sock monitor is one of the most popular wearable options available on the market right now, with a sock and base in the package. It is a great choice for parents of babies with underlying medical conditions or even those who may have been born premature.
This monitor doesn't track abdominal movement and breathing like most other monitors; it has a sensor that monitors your baby's heart rate and oxygen levels, alerting you on the color-coded home base or on your smartphone device via the Owlet baby monitor app.
You don't need to worry about monitor range with this device. The home base receives notifications through your wireless internet connection, and your phone can receive messages through wifi or your data plan.
The sensor itself is rechargeable and comes with extra socks (3 socks total) that house it and keep it close to your baby's foot without falling off.
One of the downsides of this monitor, however, is with the Owlet sock itself. It can be difficult to position it just right to gather readings from your baby, which may sometimes trigger false alarms.
It is also important to be aware of professional recommendations for your baby's oxygen level and monitor it yourself if you have existing concerns for your child as the sensor is set to a lower standard.
Pros:
Easier to wear with less bulk
Notifications come straight to smartphone
Monitors heart rate and oxygen saturation levels
Also comes with home base with color notifications
Comes with extra washable socks
Cons:
Very expensive
Only works over a 2G wifi network
Battery may stop charging after a few months
Settings for oxygen alarms are lower than recommended
Difficult to position sock correctly in order to gather readings
No products found.
Snuza Hero (SE) Premium Baby Movement Monitor
If you are looking for a simple wearable monitor that works as a SIDS deterrent device, the Snuza Hero (SE) may be a good choice. It's not the fanciest of monitors, but it is affordable and easy to use.
The monitor works by simply clipping it to the front of your baby's diaper. The sensor on the monitor tracks your baby's breathing patterns this way and alert you if anything is concerning.
Any time your baby's breathing slows or stops for a period of 15 seconds, the Snuza will vibrate in an attempt to rouse your baby and get them breathing again. If it is 20 second or more with no response, the monitor will start beeping to alert you to check on your baby.
There is one big downside to this monitor: because there is no parent unit or home base, the only way to receive alerts is to be within earshot of your baby. Even if you are close by, it can be hard to hear if your baby rolls over onto their stomach and muffles the device.
Pros:
A fraction of the price of the Owlet
Rouses your baby if breathing slows down for 15 seconds
Alarm sounds after 20 seconds of no breathing
Also works if baby is a tummy sleeper
Easily portable with no wires
Cons:
Batteries are not rechargeable
Only option to attach is via baby's diaper
Uncomfortable if baby moves in their sleep
Very large on a baby's small body
Hard to hear alarm if baby is on belly or you are in another room
No products found.
Conclusion
When it comes to the comparison of the Owlet Smart Sock 2 and the Snuza Hero (SE) monitors, there is no clear winner. Both have their strengths in different areas as covered in this Owlet vs Snuza baby monitor review.
The Owlet is a smart choice for parents you want to monitor their baby's vitals real time more closely, especially if there are underlying medical conditions or if the baby has been born premature. It is also a great option for parents you want to track your baby on the go or simply have a bit more freedom to step away while your baby is resting. However, it can be rather pricey.
The Snuza is a good choice for healthy babies whose parents simply want to have peace of mind about their baby's breathing. It can be a great SIDS deterrent (even though it does not prevent SIDS) so you are alerted quickly if your baby stops breathing. It is a portable device that is great for travel, but you have to be close to the base station to be alerted to any event.
So which baby monitor is the best between the two for you? Do you prefer the Owlet Baby Monitor Smart Sock 2 or the Snuza Hero SE? Let us know your thoughts!
Last update on 2023-06-16 / Affiliate links / Images from Amazon Product Advertising API