If you have three small kids, it can be quite challenging to handle them while shopping in the malls. All you need is a single stroller that can fit them nicely and comfortably.
Most importantly, you need a stroller that is not difficult to push and steer. If you are looking for these criteria, you are at the right place as in this Foundations The Trio Sports Triple Tandem Stroller Review; I will present to you a perfect stroller for your triplets!
Pros: Slim, lightweight, easy to steer, and compact when folded
Cons: No flat-lay recline position, limited storage, pricey
Bottom line: Excellent triple stroller ideal to be used indoors and outdoors for mom with many small kids
Editors Rating: 4.3 out of 5
Manufacturer: Foundations
Things to Consider Before Buying a Triple Stroller
When browsing for the perfect stroller for your little ones, there are several important things to consider.
How to Choose the Best Stroller?
If you need some tips on how to make the best purchase decision, check out the tips below.
Size – Make sure the size of the stroller fits well with your ability to carry and handle it. The bigger the stroller, the harder to steer.
Price – Triple stroller is more expensive than the single stroller. The price usually falls in the range of $200 to $500. Choose the one that fits your budget.
Lifestyle – Pick between tandem and side-by-side stroller wisely. It should fit well into your lifestyle (e.g., outdoor vs. indoor use).
Features – Some of the must-have features include rubber wheels, excellent suspension and brakes, storage, large sun visor, adjustable handle, and 5-point harness strap.
Introducing – Foundations The Trio Sports Triple Tandem Stroller
Foundations Trio Triple Tandem Stroller is a long and slim three-passenger stroller that can cater to your need of transiting and carrying your precious little kids, up to three children at a time!
It is the little brother of another similar stroller by the same manufacturer which is Foundations Regette LX3. The sports version is smaller, lighter, shorter, and broader in size.
While the LX3 focuses on the outdoor usage, the Foundations Triple Stroller is designed to be used for both.
Meaning, you can rely on this stroller to transport your triplets while shopping in the shopping mall and while jogging or running in the park. It is the reason why I included it in the Best Triple Jogging Stroller list.
However, the storage is a bit limited as there is no separate pocket at the back of the seat. If you need to bring lots of baby items, then the stroller might not be ideal for you (unless you purchase a separate pouch bag!)
At 34 pounds, I can say that the weight is lighter than most other triple strollers out there. And, the color options are beautiful and vibrant which are green, red, orange, and blue.
Pros:
Slim and lightweight
Compact when folded
Full handle makes it easy to steer
Individual hood for your kids' comfort
Comfortable recline seat up to 45 degrees
Cons:
Not compatible with car seat
Expensive at more than $400
Limited storage
Foundations The Trio Sports Triple Tandem Stroller Review: Features and Benefits
There are many reasons why you should consider Foundations Trio Triple Tandem Stroller. Let's look at the features below and the benefits that you can enjoy if you are to select this model for you three little kids.
Design and Durability
One of the main features of the trio sports stroller that I love is how durable and sturdy the frame is. You can feel how robust the chassis it and it does not go wobbly at all.
The frame features a striking neon green colored metal and linens. When I look at the vibrant color, I think it adds a security element to the stroller.
It makes you and your three small kids very visible on the road or when you are crossing the street!
Also, the stroller can stand the test of time with the thick nylon fabric, big rubberized wheels, and durable tubing metal. You can expect to use the stroller for many years, and it makes the $400 you spent a well-spent investment
Ease of Use
You will also love the ease of use of this tandem triple stroller. When you receive the stroller out of the box, it takes you only minutes to assemble it. There are many moms out there who can attest to this.
Plus, the stroller collapses and pops easily. Once folded, it should be able to fit any big sedan and SUV. Just keep in mind that the model might be too big to fit in the boot of small cars.
Steering Performance
Instead of umbrella handle, the stroller features a full and round handle. It is foamed and ergonomic, which can help you to push and control the stroller tremendously.
The ease of steering is helped further by the excellent rubberized tires that feel smooth when pushed.
You can glide it on both pebbled as well as smooth surfaces without it feels too stiff. It is all thanks to the well-engineered suspension system.
The LX3 model offers a hand and foot brake, but for this model, there is only a foot brake. You can access it quickly at the back of the stroller and secure the pushchair in its position superbly.
Comfort and Security
With the 5-point harness, you can also ensure that your triplets sit securely in their chairs. I love how the straps are adjustable to three different lengths.
It allows you to use the stroller as the kids get bigger and older. You just need to adjust the strap length, so your toddlers do not feel too strained in their seats.
The Trio Sports model also comes with reclinable chairs – up to 45 degrees! With this extra room, your kids can still move around a little bit to stretch and get comfortable.
Extra Features
Also, there are several extra features that I think you will appreciate. The canopy is on every chair. The size is enough to protect your babies from the sun ray.
Plus, you will find a storage box below the seats. You can toss in extra diapers, toys, drink bottles, and books in the basket.
There is also a footrest, but it is only for the front seat. The other two at the back are missing this extra feature.
Also, there is a removable front handlebar. You can hang any toys or milk bottles here. When folding the stroller, you can remove it so that it can entirely collapse.
Social Proof
I was interested to see what other moms have got to say about the Foundations Triple Stroller, so I scoured the internet to read more reviews.
A Review from My Baby Blog
One happy user from My Baby Blog mentions that the tandem stroller from Foundations is slim and you can navigate it through many gates.
However, he also stated that the recline position of the seat does not go all the way down into a flat-lay position. So, make sure you consider this limit.
Review from Mommy Stroller
Here is another review that can give you some idea about the performance of the Trio Sports Stroller is from Mommy Stroller.
A user from Mommy Stroller commented that the folded stroller is compact and can fit the trunk of an SUV. Plus, it comes with smooth maneuvering, thanks to the unique handlebar!
Reviews from Taking Three
Ample of storage, rubberized wheels, and secured 5-point harness are some of the features loved by another user from Taking Three as they provide comfort and security for the children.
She said that the expensive price tag seems worth it when these top features are integrated well into the stroller.
Alternatives – Other Options to Consider
Besides the model I recommend above, you can also put the following top triple buggies into consideration.
Joovy Big Caboose Tandem Stroller
Joovy Big Caboose Stand-On Triple Stroller is ideal for you if you are looking to install a car seat onto the stroller. There are two full-sized seats for your toddlers that can be adjusted into two recline positions.
One of the features that I find amazing is that besides than installing an infant car seat, you can also choose to have your bigger child to stand on the rear platform. I bet your big kid will love to stand on this stroller!
Peg Perego Triplette SW Stroller Seats, Atmosphere
Steering wheel handlebar effortlessly steers the front wheels
Travel System compatible-three stroller seats or three Primo Viaggio car seats (sold separately) attach directly to the frame
Seats have fully reclining four-position backrests and two-position footrests
Peg Perego Triplette SW Stroller
If you have a big toddler and twins, then Peg Perego Triplette SW Stroller is another model that you can consider.
It is a complete travel system where you can install one or two Primo Viaggio car seats onto the frame. It is also famous for its large storage box, adjustable footrest, and the chairs can be turned front or rear-facing!
Read Full Review of Peg Perego Triplette SW Stroller
Peg Perego Triplette SW Stroller Seats, Atmosphere
Steering wheel handlebar effortlessly steers the front wheels
Travel System compatible-three stroller seats or three Primo Viaggio car seats (sold separately) attach directly to the frame
Seats have fully reclining four-position backrests and two-position footrests
Foundations Quad LX 4-Passenger Stroller
There are many reasons for you to love the big brother of Trio Sports stroller, which is Foundations Quad Stroller. It boasts a heavy-duty frame that can stably transport your four kids!
The wheels are big and come with a backup parking brake. If your kids are tall, then you will appreciate the extra headroom. The big canopy will also protect your babies from the sun and the rain.
Comparison between Foundations The Trio Sports Triple Tandem Stroller with its Alternatives
| | | | |
| --- | --- | --- | --- |
| | Joovy Big Caboose | Peg Perego Stroller | Foundations Quad Stroller |
| Capacity | 3 toddlers | 3 toddlers | 4 toddlers |
| Type | Tandem | Tandem | Tandem + Side-by-Side |
| Manoeuvrity | Excellent | Great | Excellent |
| Weight limit | 45 pounds | 30 pounds | 50 pounds |
| Amazon rating | 3.3 | 3.2 | 3.3 |
| Our rating | 4.2 | 4.0 | 4.3 |
| | | | |
Conclusion
I understand how challenging it is to travel with small kids, especially when you are alone during the outing!
To make the daily trips with your babies a fun one, I recommend you to consider the reliable and easy-to-manage Foundations The Trio Sports Triple Tandem Stroller.
It is comfortable, spacious, and glides smoothly. The weight is bearable, and the handle makes it easy to turn and steer.
The price might look expensive, but it can be an economical purchase since you can use it for many years as your children grow up.
—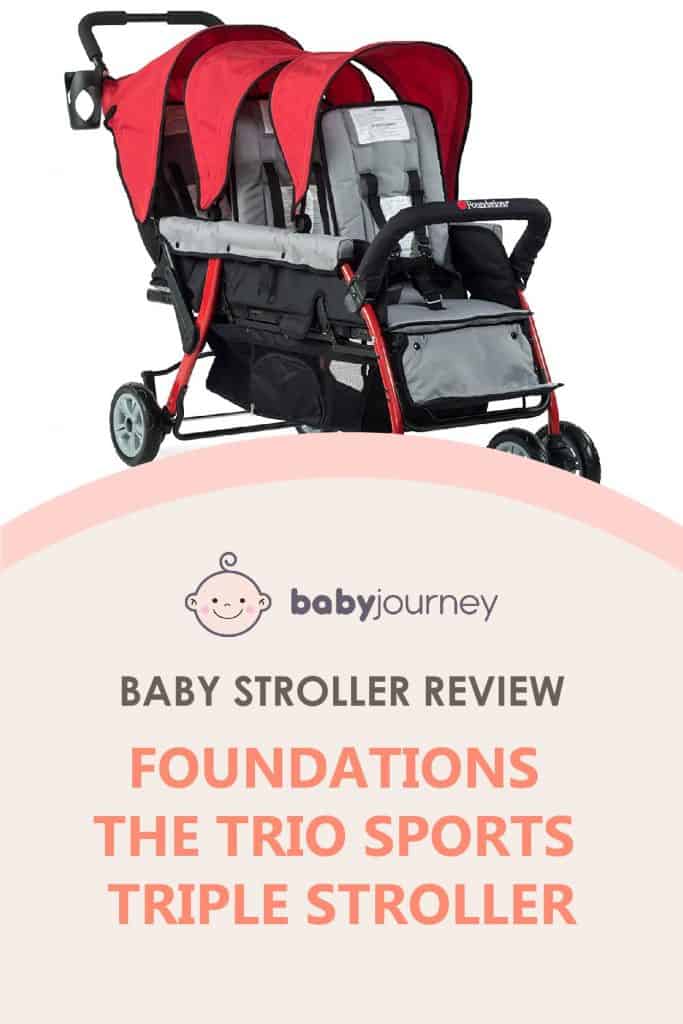 Last update on 2022-11-26 / Affiliate links / Images from Amazon Product Advertising API