Giving the little ones a reliable and highly secured car seat is crucial to ensure they stay safe as much as possible during a car crash. In this Evenflo Maestro Reviews, I will share with you details about the Evenflo Maestro Booster Seat – it is one of the best booster seats for you to consider.
It comes with excellent safety, high-quality materials, and easy to carry and install. I know how annoying it can be to move a big and heavy car seat. Evenflo Maestro Wesley eases the process of transiting your kids from one car to another!
Pros: Stylish, built-in 5-point harness, belt guide path feature, supports Latch system
Cons: Difficult to tighten during installation, no backless seat
Bottom line: Expensive-looking car seat that has excellent safety performance and built to last for many years.
Editors Rating: 4.4 stars
Manufacturer:Evenflo
Things to Consider Before Buying A Car Seat For Your Kid
Before we look at the features and performance of the Maestro booster seat, let me share with you some tips on how to pick a car seat. With it, you can make an informed decision and not regret your purchase later.
Choose the right type of car seat – There are three types of car seats which are infant car seat, convertible car seat, and booster car seat. Each one caters to different weights and has its unique purpose.
Safety standard – You should also check the labeling and see if it meets any of the government safety standards.
Weight and size – Depending on the type and size of your car, you should also pick a car seat that can fit nicely in the back seat.
Type of installation – Car seats usually come with the Latch system. Some also use tether and seat belt. You can read the manual to know which method the car seat uses.
Features – If you would like to keep your kid entertained in his car seat, try to select the one that comes with cup holders, comfortable cushion, and adjustable harness straps. I bet he'll remain happy and secured for a long time.
In this Evenflow Maestro Reviews, I am focusing on the booster type which aims towards bigger kids.
Now, let us look at the features of Evenflo Maestro Harnessed Booster Car Seat.
Introducing – Evenflo Maestro Booster Car Seat, Wesley
Evenflo Maestro Booster Car Seat is a top-notch car seat that can protect your child excellently. It comes with a 5-point harness strap that is also adjustable to several positions.
The great thing about this model is that it also supports seat belt positioning. Meaning, once your son or daughter outgrows the harness and becomes too big for it, you can use the regular car seat belt with this car seat.
The booster seat that I am featuring here has a Wesley design. There are also Evenflo Maestro Booster Car Seat Thunder, Taylor, and Easley.
The Maestro Booster is a sibling of another similar model from Evenflo, which is Evenflo Spectrum 2-in-1 Booster Car Seat.
The difference between the two models is in its ability of Spectrum to remove the high back altogether to become a backless booster, which is ideal for 5-year-old kids and older.
Evenflow Maestro is suitable for you if you wish to use it for many years. It can support a child up to 110lbs. Size wise, it is quite slim at 19 inches.
However, if you have a compact car, this booster seat might be too big. So, make sure you check your back seat before purchasing this model.
| | |
| --- | --- |
| Pros | Cons |
| The frame is solid and feels sturdy | Easy to clip but difficult to tighten |
| Supports both LATCH and tether systems | Does not support backless booster |
| Sturdy stitched linen, not easily torn | Difficult to release and removed after installed |
| Meets federal crash test standard | |
| Supports 4-position shoulder harness | |
| Tight when properly installed | |
Features and Benefits
In this review, I have divided the performance of this model into five different categories. After reading the section below, you will see that, at about $60, this booster car seat is truly impressive.
Style & Design
When I first laid eyes on the car seat, I was impressed. It does not look like a childish car seat at all. In fact, it reminds me of a sports car seat!
The Wesley model features a black, silver and red color combinations. While it boasts a masculine look, I still think that is suitable enough for little girls.
There are also several other styles including Evenflo Maestro Thunder. It has a blue shade on top of the seat and a solid black for the cushion. It is also my favorite style.
Weight and Age Limit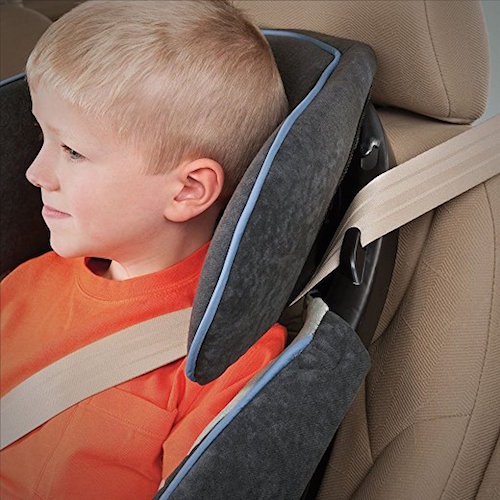 Another element of Evenflo Maestro Harness Booster Seat that I love is its longevity aspect. The tall back seat and spacious cushion ensure that your kid can continue using it as he grows up.
The combination of harness strap and regular seat belt means that you can use it for your 3-year-old kid and up to 9 or 10 years old.
You can use the built-in harness if your son is between 22 to 50 lbs. Once he gets heavier than that, you can switch to the belt-positioning booster.
The manufacturer has designed the headrest to come together with a belt path (image above). You can position the belt to your child correctly and ensures a proper fit!
Quality and Safety
At about 14 pounds, I am surprised to see how stable and robust the car seat is. It does not feel fragile and flimsy at all.
The shell features a hard plastic, and the cushion boasts a thick and soft fabric. The pad is also washing-machine friendly. As you touch the car seat, you can know that it is built to stand the test of time!
The foam used in the seat has an energy-absorbing feature that can absorb shocks when you drive on road bumps or sudden, emergency brakes.
Most importantly, you can have a peace of mind knowing that the model meets all federal standards.
Plus, if you read online, there are so many success stories where these mothers shared how their kids went unscarred after a car crash – thank God for that!
[tcb-script type="text/javascript"]amzn_assoc_tracking_id = "trafficbro-20";amzn_assoc_ad_mode = "manual";amzn_assoc_ad_type = "smart";amzn_assoc_marketplace = "amazon";amzn_assoc_region = "US";amzn_assoc_design = "enhanced_links";amzn_assoc_asins = "B00ISS2L1W";amzn_assoc_placement = "adunit";amzn_assoc_linkid = "bf60f114c2fe1bd18cdcc5d9261e6255″;[/tcb-script][tcb-script src="//z-na.amazon-adsystem.com/widgets/onejs?MarketPlace=US"][/tcb-script]
Ease of Installation
Evenflo Maestro Performance Harness Booster also has easy installation. It supports Latch and Tether system.
All you should do is to clip the latch and pull the strap to tighten it. However, some users have complained the clipping is easy, but to tighten it? It requires lots of energy.
One of the best tips that I found is that you need to use your knee to insert force when pulling the strap. The good news is that once tightened; the seat does not budge an inch!
It means that the seat can genuinely hold your kid securely during a crash impact. It feels extra safe and secure!
Check out this YouTube video if you would like to know how to install and use the booster car seat.
Extra Features
As mentioned earlier, it is nice to have extra features on a car seat. It helps to make your kid happy and comfortable while sitting in the chair.
One of the features that I love is the removable dual cup holders. As you drive the car, your son can enjoy his drinks. Are you worried about water spilling and leaving stains on your seat?
Worry no more as the cup holder comes with a stretchable strap. It holds the cup or bottle tightly!
Another feature that I think you will appreciate is the belt path on the headrest. It adjusts the seat belt to a proper positioning. With it, the belt will lie firmly on your kid's chest, not on the arm or neck.
Also, the lap belt will also rest low and flat on his thighs, rather than on his belly.
Social Proof – See What Other Happy Users Have Got to Say About This Model
Lucie's List Blog
Source: Lucielist.com
For moms, a lightweight car seat is almost a must. We don't have much energy to carry our kid and the car seat at the same time, unless if it weighs less than 15 pounds. It is also the opinion of a mom, Lucie.
She said that Evenflow Maestro is an excellent choice for you if you wish to have a super lightweight harness-to-booster car seat for your kids.
Mommy Stroller Blog
Source: Mommystroller.com
Here is another user that believes in the quality and top performance of Evenflo Maestro Wesley. She recommends this high back booster as it offers supreme comfort to your children.
The high back seat, adjustable harness positions for both shoulder and crotch gives enough space for your son to move around while remain secured in his chair at the same time.
Momtrotter Blog
Source: Momtrotter.com
Karen is an active mom who loves to go out and about with his son. One of the best car seats for travel, according to her, is Evenflo Maestro booster seat! It is lightweight and perfect for her son.
We agree with her as we also included it as one of the best travel car seats.
However, she said that it is not ideal for little kids under two years old as it is only available in a front-facing mode, without the rear-facing.
[tcb-script type="text/javascript"]amzn_assoc_tracking_id = "trafficbro-20";amzn_assoc_ad_mode = "manual";amzn_assoc_ad_type = "smart";amzn_assoc_marketplace = "amazon";amzn_assoc_region = "US";amzn_assoc_design = "enhanced_links";amzn_assoc_asins = "B00ISS2L1W";amzn_assoc_placement = "adunit";amzn_assoc_linkid = "bf60f114c2fe1bd18cdcc5d9261e6255″;[/tcb-script][tcb-script src="//z-na.amazon-adsystem.com/widgets/onejs?MarketPlace=US"][/tcb-script]
Other Great Booster Car Seat Alternatives
Evenflo Big Kid LX Booster
Evenflo Big Kid LX Booster is the closest option to the Maestro model. Why do I suggest this model, even though it is the same brand? Well, it is because it features the backless seat, which is not available in the Evenflo Maestro.
With the removable back, you can still use the seat as your kid reaches the age of 10 to 11 years old, depending on his weight and body size.
Another thing that I love is the dual activity light. It is an extra feature that is suitable for your kids who love to read or do some colorings in the evening while in the car. With the price of about $50, it is extremely affordable and reliable.
[tcb-script type="text/javascript"]amzn_assoc_tracking_id = "trafficbro-20";amzn_assoc_ad_mode = "manual";amzn_assoc_ad_type = "smart";amzn_assoc_marketplace = "amazon";amzn_assoc_region = "US";amzn_assoc_design = "enhanced_links";amzn_assoc_asins = "B00IPN5Z1S";amzn_assoc_placement = "adunit";amzn_assoc_linkid = "41fb995266aa256a3c954bee2618de52″;[/tcb-script][tcb-script src="//z-na.amazon-adsystem.com/widgets/onejs?MarketPlace=US"][/tcb-script]
Graco Highback Turbobooster Car Seat
Graco Highback Turbobooster Car Seat is the cheapest booster car seat in this review. If you think anything about $50 is still expensive, then Graco is the perfect option for you. At slightly above $35, this model is affordable for you who are on a tight budget.
It can support up to 100 pounds of weight and has met US safety standards. The cool thing about the Graco booster car seat is that you can also remove the back and use it for your ten years old son or daughter.
To cater for bigger kids, I understand why the seat is a bit bulky and wide. Surprisingly enough, the weight is excellent at just 9 lbs. Like Maestro, the foam on this car seat can also absorb energy to lower the impact during accidents.
Just keep in mind that Latch installation system is not available for this product. So, you will need to use the seatbelt and tether to secure it to your back seat.
Chicco KidFit 2-in-1 Belt-Positioning Booster Car Seat
Chicco KidFit 2-in-1 Belt-Positioning Booster Car Seat is also an ideal choice that looks quite luxurious and stylish, and it is the most expensive option in this Evenflo Maestro Review (about $100). It has all the bells and whistles you could ever hope to have in the best booster car seat.
The cushion is thick and boasts a high-quality and well-made fabric. The width is also average at 19 inches. At 10 pounds, I think the car seat is ideal for moms as it is not too heavy to carry and install alone.
You can also remove the backseat as your child grows up. You can adjust the height of the seat up to 10 different positions! It is an economical purchase, thanks to this feature and the 110 pounds of weight support.
There is also a 2-position of backrest feature to keep the comfort of your kid at a high level. It mimics the setting of a regular vehicle seat. On both sides, you can put water bottles in the cup holder.
[tcb-script type="text/javascript"]amzn_assoc_tracking_id = "trafficbro-20";amzn_assoc_ad_mode = "manual";amzn_assoc_ad_type = "smart";amzn_assoc_marketplace = "amazon";amzn_assoc_region = "US";amzn_assoc_design = "enhanced_links";amzn_assoc_asins = "B01JZD2STI";amzn_assoc_placement = "adunit";amzn_assoc_linkid = "3a98a20627c336a8b98496a9229789e4″;[/tcb-script][tcb-script src="//z-na.amazon-adsystem.com/widgets/onejs?MarketPlace=US"][/tcb-script]
| | | | |
| --- | --- | --- | --- |
| | Evenflo Big Kid LX | Graco Highback | Chicco KidFit |
| Backless option | Yes | Yes | Yes |
| Recline seat | No | No | Yes |
| Installation system | No | No | Yes |
| Maximum weight | 110lbs | 100lbs | 110lbs |
| Extra features highlight | Activity lights, adjustable height, dual cup holders | Adjustable headrest, child self-buckle, built-in cup holders | Ten height positions, reclinable seat, cup holder |
| Amazon rating | 4.4 stars | 4.4 stars | 4.7 stars |
| Our rating | 4.5 stars | 4.2 stars | 4.5 stars |
Conclusion
Stylish, safe, and affordable are the three main advantages of the Evenflo Maestro Booster Car Seat.
Your job of transiting your little kid from the car to any place you go will become a smooth and pleasant chore. Most importantly, you can use it for as long as needed, thanks to the high weight support and back seat.
I also love how the Latch system that is available for this product ensure that our children are strapped safely in his seat. It will not wobble around or move an inch in the case of car crashes.
There are so many success stories out there that can give us some peace of mind, knowing how reliable this booster car seat is in protecting our loved ones.
I recommend you to buy it here and test this model yourself. It is not that expensive but looks stylish and opulent enough to your liking!
Consider reading also Evenflo Advanced Chase LX Review & Evenflo Tribute LX Car Seat Review
—