Chicco is a well-known brand in the baby industry, and one of their travel systems, the Chicco Viaro is quite a popular favorite among parents. That model piqued my interest, hence I decided to do some sleuthing to find out what the hype is about.
Are you interested in the Chicco Viaro Travel System too? Then before you buy, check out our Chicco Viaro travel system review!
Let's hop onto the stuff.
The Chicco Viaro Travel System
This lightweight travel system has everything you need to travel with your infant or young child. It includes a nimble Chicco stroller with a car seat. In fact, it includes the top-rated Chicco KeyFit 30 Infant Car Seat. You can effortlessly attach the infant seat to the stroller. Once your child grows out of the seat you can use the stroller by itself.
No matter how your child rides they will be kept comfy, cozy, and secure. Chicco strives to keep children safe, comfortable, and happy. Though they are known for producing a variety of baby products, it is less known that the Italian company has been doing so for over sixty years.
Related: Best Chicco Strollers
The Chicco stroller and infant seat travel system can be found at Walmart & PishPoshBaby, where it receives rave reviews. It is travel-friendly with its sleek design, but also has a plethora of child and parent features that prioritize comfort and convenience.
If you are looking for a user-friendly travel system that will last you from infant through toddlerhood, then consider the Chicco Viaro stroller travel system.
Includes popular Chicco KeyFit 30 Infant seat
Agile and light three-wheel design
The stroller can be used through toddlerhood
User-friendly design for parents
Included comfort features for children
The stroller doesn't lock when folded
No peek-a-boo window in the canopy
Car seat straps can be difficult to tighten
Chicco Viaro Quick-Fold Travel System, Includes Infant Car Seat and Base, Stroller and Car Seat Combo, Baby Travel Gear, Techna/Black/Silver
TRAVEL-FRIENDLY -- With an aluminum frame and sleek 3-wheel design, this lightweight stroller with included infant car seat makes the Viaro an ideal baby travel system.
CAR SEAT AND BASE INCLUDED – Top-rated KeyFit 30 Infant Car Seat with SuperCinch Force-Multiplying LATCH Tightener makes this car seat easy to install accurately, every time. Secure, click-in attachment to stroller for fuss-free transitions.
ONE-HAND FOLD – A pull-strap and button tucked under the seat easily activate the compact and free-standing fold for easier maneuverability and storage.
Common Questions Before Buying the Chicco Viaro Travel System
The Viaro is a Chicco infant car seat travel system, so it includes everything you need to transport your baby. It comes with an infant car seat, a base, and a stroller. The seat uses click connect to effortlessly attach to both the base when installed in your vehicle or the stroller.
Travel systems are wonderful for parents with newborns up to around thirty pounds. If your child has outgrown an infant seat, you may not have much use for a travel system. Instead, you should consider purchasing just a stroller.
Other common questions include:
Can you jog with Chicco Viaro?
While the Chicco Viaro stroller is light and has a three-wheel design, it isn't a jogging stroller. It lacks many safety features common with jogging strollers, like robust suspension and a hand brake.
How do you clean a Chicco Viaro stroller?
Thankfully, cleaning up is simple! The fabrics can be hand washed in cold water. The plastic and metal parts can be wiped down with a damp cloth if necessary.
Is the Chicco Viaro travel system better than Chicco Bravo?
This comes down to personal preference. Both models accept an infant seat. The Viaro is the sportier of the two, as it is a Chicco 3-wheel stroller and it is lighter. The Bravo has a four-wheel design and comes with more comfort and convenience features. Such as its ability to completely disassemble and the fact that it has a height-adjustable handlebar.
When it comes to the Chicco Viaro vs Bravo, the Viaro is the cheaper of the two. Another model, the Chicco Cortina CX is equally affordable like the Viaro, but unfortunately it is no longer available.
Chicco Viaro Features & Benefits
No Chicco Viaro reviewwould be complete without a breakdown of the features and benefits. Let's take a closer look at all of the offerings of the Viaro travel system.
Folding Convenience
The Viaro has a great one-handed fold. This makes it simple for parents to quickly and efficiently collapse the stroller when it is time to head out.
Once you pull the release, conveniently tucked under the child seat, the stroller folds neatly in half. It then stays folded standing upright. This enables you to hold your child or car seat in one hand and break down the stroller with the other.
You can then use the same strap as a carrying handle. The lightweight frame makes taking it with you a breeze. If you want to place it in your trunk, it is easy to do so as well.
However, the stroller folds in half, and the back wheels are still quite bulky. Unfortunately, it is often noted in Chicco Viaro stroller reviews that these wide wheels can be a pain if you are tight on trunk space. Another nemesis to compact spaces includes the strollers snack tray, which protrudes out when the stroller is folded. Nevertheless, folding the stroller is really easy.
Unfolding your stroller is equally as easy, simply pull up on the handle. You only need one hand for either operation!
Stroller Wheels
The Viaro Chicco infant stroller is three-wheeled. This makes it very agile and great to use as an everyday stroller. If you have to navigate busy city streets or crowded sidewalks you will love how nimble this stroller is.
The wheels are made of hard foam. They won't crack like plastic and they don't have to be filled like rubber tires, overall they are pretty sturdy. The front-wheel swivels for increased maneuverability and it also has suspension. This provides a smooth ride for your child over moderate terrain.
The wheels are of average size, this helps to keep the travel system light and compact. However, they aren't oversized and the rear wheels don't possess suspension. Therefore, this stroller isn't great over very difficult terrains such as sand or rocks. It also doesn't have shock suspension so it isn't recommended to use it as a jogging stroller.
The rear wheels have toe-tap brakes. This is excellent for stopping your stroller to park without having to let go of the handlebar. On the whole, this stroller is perfect for everyday use on most terrains you will encounter while out and about.
Weight Range
The nice part about this travel system is that it can be used from birth through childhood. Its weight range extends from newborn up to toddlers of fifty pounds.
When your baby is small, you can click the car seat right onto the stroller. When your child is old enough to sit on their own and has good neck support, you can place them directly in the stroller.
Chicco lists the stroller minimum weight limit as 30 pounds, though parents may find that it accommodates their child before this weight. Once in the stroller, you can continue using it until your child weighs fifty pounds.
Storage Basket
The Chicco lightweight travel system has a surprisingly big storage basket for its sleek design. You can fit nearly everything you need into the basket, including bulky diaper bags.
Another great characteristic is that the basket is accessible from either the front or the back. This makes grabbing your necessities easy, even if you are packed on a tight bus or your stroller is backed up to a wall. When the stroller is folded, the basket nicely collapses keeping the form compact.
Car Seat Compatibility
The Viaro travel system comes with the Chicco KeyFit 30 Infant car seat, a highly praised car seat for its safety, and extended rear-facing weight limit.
This infant seat has a click-in attachment that enables you to quickly pop on and off the seat. Getting your child in and out of the car and onto the stroller is a cinch!
Aside from the KeyFit 30, the Viaro stroller will also accept all Chicco infant car seats that possess the secure click-in attachment, which is quite a selection.
Travel System Weight
The Viaro travel system is lightweight, that is one of the reasons why parents sometimes choose it over the Chicco Bravo. The Viaro stroller weighs 18 pounds. The car seat weighs 9.6 pounds without the base. Together they are just over 27 pounds, which isn't considered heavy for a travel system.
Seating
The included car seat, the Chicco KeyFit 30, is safe. It certainly is no-frills but it keeps your child comfortable enough. It has wonderful features like a ReclineSure spring-assisted leveling foot, it also has RideRight bubble level indicators and other installation features that make achieving a secure install a breeze.
Here's a video on the Chicco KetFit 30:
It uses easy to wipe clean fabrics, but they aren't the softest. The seat does include plush support pillows that make it accommodating to children weighing 4 pounds and up to 30 pounds when the pillows are removed. This seat may not have a ton of comfort features, but it is very user-friendly and high rated for safety.
The Viaro stroller seat accommodates children from 30 pounds to 50 pounds. It has a multi-position backrest that allows kids to recline for a nap or sit up and view their surroundings. It has enough padding to keep kids cozy, without being too plush. The lower leg support, though not adjustable, is comfy.
The stroller seat also has a secure harness, a removable two-cup holder snack tray, and a deep canopy. Though neither the car seat nor the stroller seat has an excess of comfort features, they are plenty cozy enough for most children and are very safe.
Safety Harness
The Viaro stroller has an adjustable five-point safety harness. It includes padded harness covers so as not to irritate your child's neck or shoulders. This harness will keep your child quite safe, but many older children prefer a three-point lap harness as they grow older.
The KeyFit 30 car seat also has a five-point harness. The one-pull tightener makes it easy to fit the harness to your child. There are six different harness slots to accommodate your growing child. However, you must manually adjust the height as this harness is not a no-rethread. All in all, both harnesses will keep your child securely positioned in their seat.
Canopy
The canopy of the stroller is pretty deep, though it doesn't have a flip-out visor for extra protection. When you use it with the car seat canopy, you can achieve full coverage.
One common complaint about the canopy is that there is no peek-a-boo window. This means when you are pushing the stroller you cannot check in on your child, you must walk around to the front to view them. This isn't very convenient.
Handlebar
The handlebar of the Viaro stroller is not adjustable. It is at a decent level for parents of average height or those of shorter stature, but it may be uncomfortable for those who are taller.
The padded handle is comfortable to hold onto though. It also includes a parent tray with two cup holders, which is great!
Chicco Viaro Travel System Review Summary
Chicco Viaro Quick-Fold Travel System, Includes Infant Car Seat and Base, Stroller and Car Seat Combo, Baby Travel Gear, Techna/Black/Silver
Car Seat Min/Max Weight Limits
Stroller Min/Max Weight Limits
Car Seat Weight
9.6lbs (without base); Base is 7lbs
Car Seat Installation
LATCH with SureCinch or Seatbelt
Chicco travel system colors
Chicco Viaro Quick-Fold Travel System, Includes Infant Car Seat and Base, Stroller and Car Seat Combo, Baby Travel Gear, Techna/Black/Silver
Car Seat Min/Max Weight Limits
Stroller Min/Max Weight Limits
Car Seat Weight
9.6lbs (without base); Base is 7lbs
Car Seat Installation
LATCH with SureCinch or Seatbelt
Chicco travel system colors
Alternatives to the Chicco Viaro
#1 Britax B-Lively Travel System
First up is the Britax B-Lively Travel System. This system is very similar to the Viaro. They both have a three-wheel design, include a top-rated car seat with click-connect attachment, and are light and agile.
However, the Britax is more expensive than the Viaro. This is likely because the Britax car seat has a completely steel frame. Unfortunately, the Britax stroller is lacking in some areas. It doesn't have a parent or child tray nor a front-access storage basket.
The Britax is ideal for parents who want an ultra-safe car seat. This travel system is also available at Walmart & PishPoshBaby.
Similarities & Differences
Both strollers have a three-wheel design
Both strollers have a basket and lower storage basket (the Britax is not front-accessible)
The Britax is more expensive
The Britax car seat has a steel frame
The Britax lacks a parent tray and a child tray
BRITAX B-Lively Travel System with B-Safe 35 Infant Car Seat | One Hand Fold, Ashton
The Britax travel system is a stroller and car seat combo including the B-lively stroller, B-safe 35 infant car seat base and adapters
Surrounded in safety: 1 layer of side impact protection, steel frame and safe cell impact absorbing base
Convenient features: Lightweight stroller with one-hand quick fold, XL storage basket, ventilated UV 50+ canopy, and no re-thread infant car seat harness
#2 Graco FastAction Fold Sport Travel System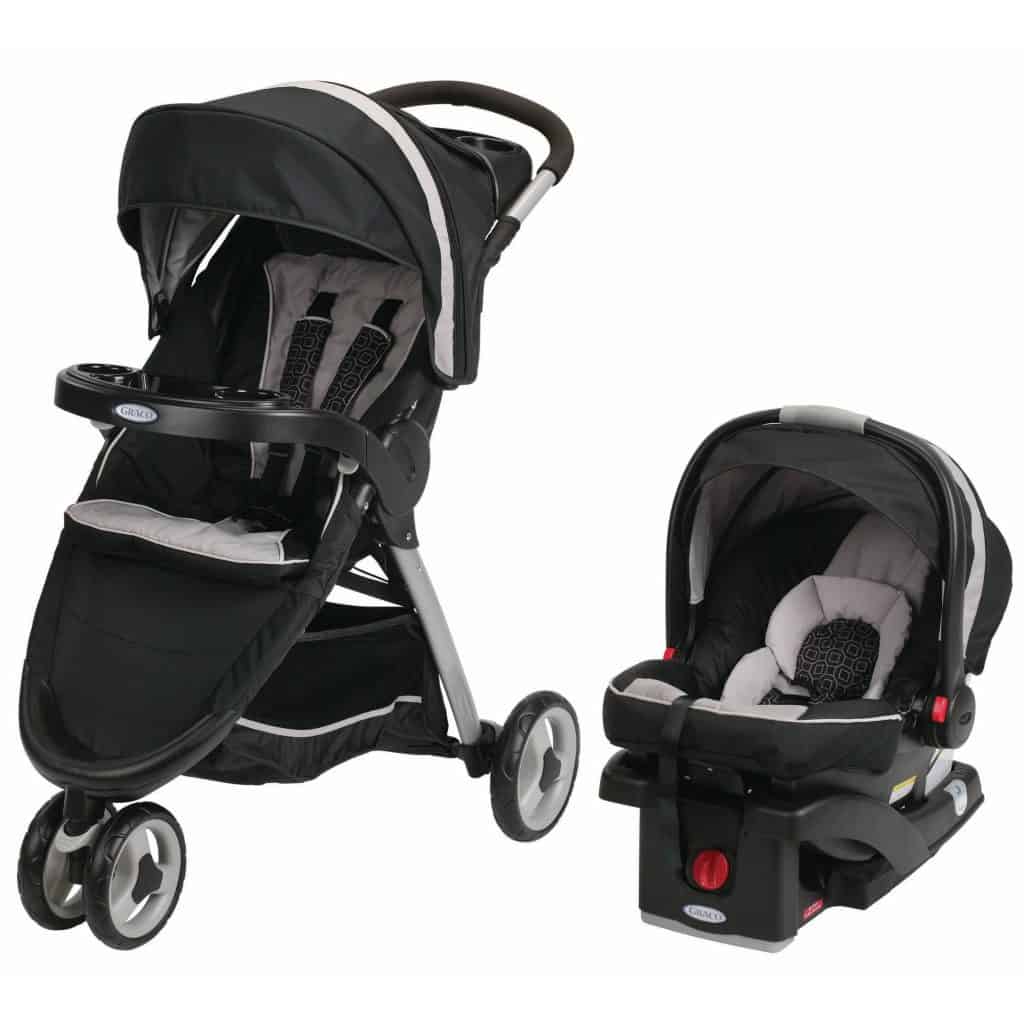 The Graco FastAction Fold Sport Travel System is another three-wheel stroller. Both strollers accommodate kids up to 50 pounds, though the Graco system is much heavier than the Viaro.
The Graco car seat can be used by children up to 35 pounds compared to Chicco's 30 pounds. Both strollers have a one-handed fast fold. Both systems strollers have a canopy, a reclining seat, a parent tray, and a child tray.
The Graco costs less than the Chicco though, and the Graco stroller basket is larger than the Viaro. The Graco is a better option for parents who want a more affordable travel system.
Similarities & Differences
Both have a three-wheel design
Both include parent & child trays
Both have one-handed fast action fold
The Graco cost less
The Graco has a larger storage basket
#3 Baby Jogger City Mini GT2 Travel System
Finally, we have the Baby Jogger City Mini GT2 Travel System This is a luxury sporty design travel system. It has many of the same features as the Viaro, like a canopy, a lower storage basket, and lower leg support. However, it has rubber air tires, an adjustable handlebar, a handbrake, and the calf support is adjustable.
The Baby Jogger car seat includes an anti-rebound bar and rapid lock base belt-tightening technology. The Baby Jogger is more costly than the Viaro.
The Baby Jogger is ideal for parents who want luxury features included in their travel system. You can find this travel system on Walmart & PishPoshBaby too apart from Amazon.
Similarities & Differences
Both strollers have a sporty design
Both strollers accommodate children up to 50 pounds
The Baby Jogger has more parent comfort features like a handbrake and adjustable handlebar
The Baby Jogger has more child comfort features, like adjustable calf support
The Baby Jogger is more expensive
A Great Travel System
The Viaro is a decently priced travel system. It includes a well-liked car seat that is very safe and accommodating to children weighing up to thirty pounds. The stroller is equally as safe and can hold a child weighing up to fifty pounds.
The stroller and car seat have a fair amount of comfort and convenience features, but can't quite be considered luxury level. However, if you are looking for an agile stroller that is safe and comfortable, plus an excellent car seat to go with it, you should check out the Chicco Viaro Travel System.
Do you think the Chicco Viaro's popularity is justified from our Chicco Viaro travel system review? Is there any feature you love about the travel system? Let us know in the comments – we'd love to hear from you!
—
Last update on 2022-06-28 / Affiliate links / Images from Amazon Product Advertising API