Are you an outdoorsy type of person? Do you wish to share your love for the outdoors with your little one? That's easy! Bring him along with you in a baby stroller when you're jogging, checking out different nature trails, or visiting the beach!
However, there's one problem you may encounter when you do—it would be difficult for you to control and maneuver a regular stroller through these terrains.
Lucky for you, there's a simple solution for this – 3-wheeled baby strollers.
But what are the benefits of a 3-wheeled baby stroller? And what is the best stroller with 3 wheels in the market?
We personally think that Joovy Zoom 360 Ultralight jogging stroller is the overall best 3 wheel stroller in the market among the 12 models we have reviewed, but of course, you should go through each stroller to understand the pros and cons before deciding on your perfect choice.
3-wheel Vs 4-wheel Strollers: What's the Difference?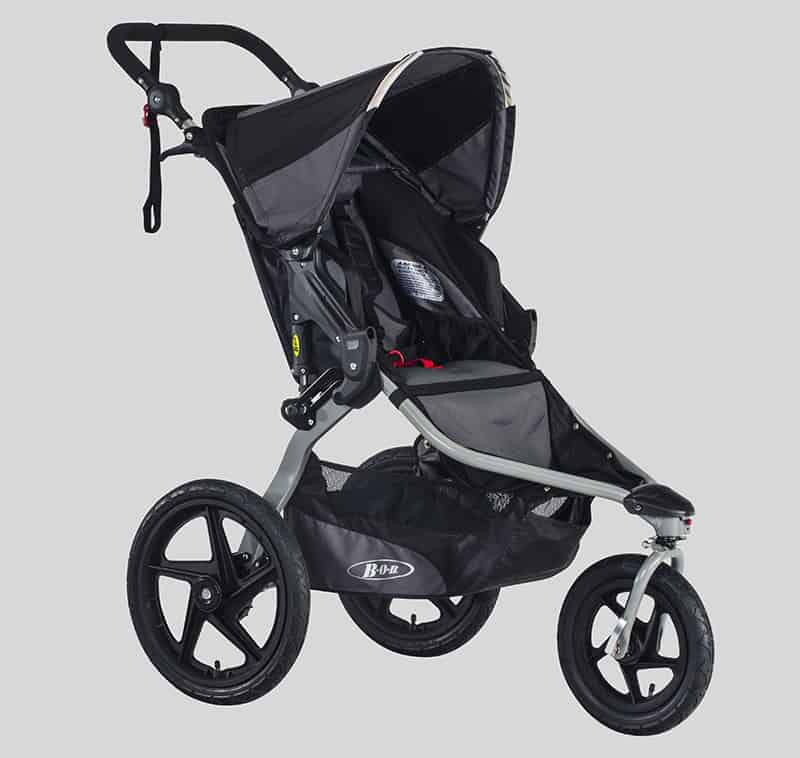 One commonly asked question among parents is which type of stroller is best – a three wheel stroller or one with 4 wheels? The argument on the best option did not just start today.
In fact, many parents seem to be under the impression that the more stroller wheels a baby stroller has, the more superior it is. This is not always the case. The amount of wheels a stroller has will directly have an influence on the maneuverability, operation and speed of the stroller.
Three wheel strollers were created for a few important reasons. To know the differences in terms of strength and weaknesses, here's a comparison table between the two:
Type of Stroller
Pros
Cons

3-wheel Stroller

Excellent maneuverability
All-terrain design
Perfect for walking on bumpy grounds and rough terrains Versatile as it can also be used in crowded places

Heavier (over 25 lbs)
Big and bulky
More expensive

4-wheel Stroller

Offers more stable and smoother ride
A lot more affordable
Lightweight (18 lbs to 28 lbs)
Sleeker and slimmer silhouette

Wide turns
Not suitable for crowded places
Wouldn't be safe to use on all types of terrains
To debunk the 'myth' and answer the question once and for all, on surface, it may seem that 4 wheeled strollers appear to be more stable compared to its competitor thanks to their additional wheel paired with lower center of gravity.
However, 3-wheeled strollers, say jogging strollers usually have much bigger and studier rear wheels which make up for the extra wheel on 4 wheeled strollers. As a result, they are far easier to maneuver and can be used across more types of terrains.
So what is the best condition to use a 3-wheel stroller? Considering the differences between the two, we can say that the 3-wheel stroller is an excellent option if you enjoy:
Jogging and hiking on nature trails a lot
Strolling with your baby on bumpy roads and rough grounds
Using stroller for beach sand strolling
Bringing your baby to malls and other crowded places
12 Best 3 Wheel Stroller Reviews
I will share with you my 12 top picks for the most performing three wheel strollers. Read on so you can determine which one would suit your needs best.
Editor's Choice
Joovy Zoom 360 Ultralight Jogging Stroller
Graco FastAction Fold Jogger Travel System
BOB Gear Revolution Flex 3.0 Jogging Stroller
Baby Trend Expedition Jogger Travel System
Thule Urban Glide 2 Jogging Stroller
Safety Features
Foot brakes, running leash, five-point harness
Air filled swiveling front wheel, child safety seat
Suspension system, reflective canopy and travel system ready
5-point safety harness and footrest reflector
5-point safety harness and twist hand brake
Storage
Lower basket, soft parent organizer
Storage basket and trays with cup holders
Covered compartment storage and parent tray with cup holders
Editor's Choice
Joovy Zoom 360 Ultralight Jogging Stroller
Safety Features
Foot brakes, running leash, five-point harness
Storage
Lower basket, soft parent organizer
Graco FastAction Fold Jogger Travel System
Safety Features
Air filled swiveling front wheel, child safety seat
Storage
Storage basket and trays with cup holders
BOB Gear Revolution Flex 3.0 Jogging Stroller
Safety Features
Suspension system, reflective canopy and travel system ready
Baby Trend Expedition Jogger Travel System
Safety Features
5-point safety harness and footrest reflector
Storage
Covered compartment storage and parent tray with cup holders
Thule Urban Glide 2 Jogging Stroller
Safety Features
5-point safety harness and twist hand brake
1. Graco FastAction Fold Jogger Travel System
The Graco FastAction Jogger Travel System's claim to fame is it's a crossover stroller. The 3-wheel baby stroller is designed to provide the comfort and convenience of a traditional stroller and the maneuverability of a jogger stroller.
They didn't lie. The stroller features a one-second and one-hand fold design that allows you to fold and store it instantly. The stroller weighs 38 lbs with a capacity range of 4 to 50 lbs. It's also suitable for babies and kids up to 32 inches. This is quite impressive as its maximum height capacity is double that of the other strollers.
Considered to be a jogging stroller, the Graco 3 wheel stroller has an air-filled tired with a swiveling front wheel, so you can use it even when you're jogging on uneven roads. The good news is it comes with a wheel lock system that makes it suitable for smooth roads.
Pros:
Comes with the Graco Click Connect car seat
Comes in two colors—black and red
Multi-position reclining seat
Self-stands when folded
Storage space options include a storage basket and trays with cup holders to store baby's water bottle
Cons:
Bulky wheels add to its already dense weight
Canopy is basic if not big enough for casual use
2. BOB Gear Revolution Flex 3.0 Jogging Stroller
The BOB Gear revolution Jogging Stroller promises to give you a calm ride. With its suspension system and air-filled tires, it can indeed live up to its promise.
As if that's not enough, they even incorporated a 360-degree swiveling front wheel that would undoubtedly aid in keeping the stroller stable despite how bumpy the roads are.
Your baby will love the infinite recline feature of this stroller as it will allow you to position the seat in an angle that's most comfortable for your baby. The ultra-padded compression seat will ensure that your child will make the ride less bumpy and much more comfortable.
On the other hand, the adjustable handlebar is the manufacturer's gift to you. With this feature, you adjust it to the height that would suit you the best.
Fret not on missing out if you have twins, as you can always go for its double stroller option of Bob Revolution Duallie.
Pros:
Available in two shades of black—graphite, and lunar
Travel-system ready
Water-resistant, UPF-protected, and reflective canopy
6 large storage pockets provide ample storage space
With peek and chat window
Cons:
Car seat adapters need to be purchased separately
Expensive
BOB Gear Revolution Flex 3.0 Jogging Stroller, Graphite Black
Smooth ride: Suspension system & air filled tires provide an ultra-smooth ride over any terrain
Perfect fit: Adjustable handlebar creates the perfect fit for parents of all heights; No-rethread harness design for easy height adjustments
Extra space: 6 storage pockets & extra-large cargo basket provide plenty of room for your gear; Includes a cell phone pocket at the handlebar
3. Baby Jogger Summit X3 Double Jogging Stroller
If you think you can't jog with your twins in tow, the Baby Jogger Summit X3 will prove you wrong! This twin double jogging stroller has a maximum combined weight capacity of 100 lbs and suitable for kids up to 23 inches.
Even though it's capacity is twice than that of a solo jogger stroller, it still has all the fantastic features you would find in solo strollers. Of course, it's equipped with air-filled tires and an all-wheel suspension system that works together to make a supposedly bumpy ride a lot smoother. If you have a third child, this stroller doesn't disappoint – just add on a glider board to turn it into a triple jogger!
What I love the most about double 3 wheel strollers like this one is their hand-operated rear brakes for easy access. Additionally, it has a wheel lock on the handlebar so you can easily lock the front swivel wheel in place with ease. Plus, I absolutely adore how it can be folded even with all stroller accessories still secured.
Pros:
UV 50+ Canopy
Seats recline to a near flat
Stroller folds even with accessories attached
Hand and foot-operated brakes
One-hand quick fold technology
Cons:
Not travel system-ready
Handlebar is not adjustable
4. Joovy Zoom 360 Ultralight Jogging Stroller
The Joovy Zoom 360 Ultralight jogging stroller is all about high maximum weight capacity and lightweight frame. This 25.7 lb stroller can accommodate babies weighing up to 75 lbs, thanks to its lightweight yet durable 6061 aircraft aluminum frame.
This product is recommended for babies 3 to 36 months old and is equipped with extra-large air-filled tires and shock-absorbing suspension designed to overcome and deliver a bump-less ride on all types of rough terrains.
With its swivel wheel and wheel locking system, the stroller works well on smooth and rough terrains. The stroller's straight through axle runs truer and straighter and is perfect for running on paved roads.
Pros:
Car seat adaptable
Lightweight mesh for reduced weight and better ventilation
Oversized canopy with window for the ultimate sun protection
Plenty of storage options – parent organizer with 2 cup holders, zippered pockets, sizeable easy-to-access basket, and in-seat mesh pockets
Already includes a pump
Folds compact and auto-locks when folded
Cons:
Not easy to fold
If your child is taller than 18 inches, you can't recline the seat
Joovy Zoom360 Ultralight Jogging Stroller Featuring High Child Seat, Shock-Absorbing Suspension, Extra-Large Air-Filled Tires, Parent Organizer, Air Pump, and Easy One-Hand Fold (Red)
HIGH RIDING SEAT so your child can take in the work around them
SHOCK ABSORBING SUSPENSION because the best jogger stroller can handle any terrain – and the Zoom360 handles all kinds of surfaces, like rickety old paths, bumpy beaches, and cobblestone walkways!
EXTRA-LARGE, AIR-FILLED TIRES handle every type of terrain. The locking and swiveling front tire increases stability and maneuverability, and the air pump is included so you can adjust tire pressure on the go!
5. Baby Trend Expedition Jogger Travel System
The Baby Trend Expedition 3 wheel stroller travel system grows with your baby as it's designed to accommodate babies from birth up to 50 pounds with a maximum height of 42 inches.
It also comes with a car seat that can be positioned rear-facing a suitable newborn, weighing 4 to 30 lbs and 30 inches. You would also love the 5-point harness system that you'll find in the Baby Trend built-in car seat.
For me, the feature that takes the cake is its large bicycle tires (16-inch rear and 12-inch front swivel wheels), which can roll on any type of surface without any issues. The front-wheel also locks so you can jog on paved roads safely.
If you have twins, you'll be happy to know that you can also enjoy this feature with the Baby Trend Expedition Double Jogger Stroller.
Pros:
Multi-position reclining seat
Comfortable padded seat
Covered compartment storage and parent tray with cup holders
Footrest reflectors for better low light visibility
Energy-absorbing foam on the car seat for side-impact head protection
Cons:
Car seat material tends to trap heat
Heavy, stroller weighs 20.6 pounds individually
Cup holder is too small
SALE
Baby Trend Expedition Jogger Travel System, Millennium Orange
Stroller is for a child from birth up to 50 pounds, Max height limit is 42" tall
Stroller has multi-position reclining padded seat with a 5-point harness and lightweight steel frame
16" rear and 12"front all terrain bicycle tires, with front swivel and locking wheel for easy jogging or strolling
6. Thule Urban Glide 2 Jogging Stroller
The Thule Urban Glide 2 Jogging Stroller is created with both the mother and the baby in mind.
The stroller showcases large 16-inch back wheels paired with an all-wheel suspension so both of you can enjoy a smooth and hassle-free ride. Add in the swivel front locking wheel, and you and your baby can indeed tackle any adventure, anytime!
This excellent model is designed to keep your baby safe as it has the most coveted 5-point harness. Another safety feature I adore is the twist hand brake that allows you to stop the stroller easily. This is located in the stroller's adjustable handlebar.
Precisely because of how amazing it performs as a3 wheel jogging stroller, it is involved in a never-ending battle for the spot of best jogging stroller with the above reviewed Bob Revolution – namely Thule Urban Glide vs Bob Revolution.
Pros:
Five colors to choose from
Big storage basket with zip-top cover
Passes through doorways that are 31.5 inch wide
One-hand folding mechanism and one-handed recline
Multi-position canopy with ventilation windows
Cons:
Expensive
Seat may not be deep enough for younger babies
7. Chicco Viaro Quick-Fold Stroller
The affordable Chicco Stroller is known for its quick-fold design. Under the seat, you can find a pull-strap and button which you can use to activate the stroller's one-hand fold mechanism. Another good news is the stroller also has a free-standing fold design, which would come handy if you always have your hands full—which is always, for sure!
With the stroller's swiveling front wheel, it's easy to maneuver and control. Paired with toe-tap rear brakes, you can easily put the stroller to a stop for a more convenient parking experience.
The stroller is recommended for babies less than 36 months old and weighing up to 50 lbs
Pros:
Big storage basket which you can access from the front and back
Works with all Chicco Fit2 and KeyFit infant car seats
Child and parent tray with two cup holders each
Padded handlebar for your comfort
Adjustable canopy
Multi-position reclining seat
Cons:
Seat is difficult to recline
Harness is a bit fussy to work with
8. Jeep Deluxe Patriot Open Trails Jogger
Your child's safety and peaceful ride—these are what the Jeep Deluxe Patriot Jogger is all about.
Let's start with the stroller's 5-point harness, which keeps your baby in place even when you pass through bumpy roads. The reflective five point safety harness improves the stroller's visibility at night or under low light conditions.
Additionally, its handlebar comes with a safety tether strap that you can attach to your wrist while you jog – making this one of the many options of jogging strollers that is considered safe for both you and your little one.
For a calm ride, the stroller comes with air-filled rubber tires designed to absorb bumps. The swivel front wheel is perfect for maneuvering in bumpy roads. If you want to increase its stability while walking or jogging, you have the option to lock the front wheel in place.
Pros:
Meets Disney Size requirements
Includes car seat adapter
Foam handlebar for your comfort
Parent tray comes with 2 cup holders and smartphone storage
3 stylish color options
Budget-friendly
Cons:
Canopy has no peekaboo window
The canopy is not big enough
SALE
Jeep Deluxe Patriot Open Trails Jogging Stroller by Delta Children, Charcoal Tracks
RECOMMENDED USE: Holds up to 50 lbs./ 42" | This jogging stroller accepts a number of popular infant car seats with a secure attachment to create your own travel system | Meets Disney size requirements
SMOOTH RIDE: Locking swivel-front wheel for stability when jogging and easy mobility while walking | Air filled rubber tires absorb bumps | Reclining seat allows kids to comfortably take a nap | Extendable canopy with UPF 50+ sun visor blocks rays
ABUNDANCE OF STORAGE: Undercarriage storage bin hold all your child's essentials | Parent tray with two cup holders and clear smart phone storage provides space for your travel necessities
9. BOB Gear Rambler Jogging Stroller
I've mentioned that the most common problem with 3-wheel strollers is they are bulky. The Bob Gear Rambler Stroller found a way to solve this by using compact air-filled tires so you're assured that it can fit your trunk. The back wheels are also easy to remove to minimize the stroller's footprint.
It's also made for your convenience as it features a no-rethread harness design for hassle-free height adjustments. Additionally, it has one-hand recline adjustments so you can recline your child's seat in the easiest way possible.
You also don't have to worry about your child's comfort since the seat of this product is fully padded. The great news is your baby can use this stroller from birth to 75 lbs!
Pros:
Large cargo basket for spacious underneath storage and secured storage space
Fully upright seat
Compatible with BOB car infant seats
Large UPF 50+ Canopy
Flip-flop-friendly parking brake
SALE
BOB Gear Rambler Jogging Stroller, Black
Smooth ride: Suspension system provides an ultra-smooth ride; Compact, air-filled tires save on trunk space
Perfect Fit: No-rethread harness design for easy height adjustments as your child grows
Extra space: Large lowboy cargo basket for spacious storage underneath the stroller seat
10. Britax B-Agile Lightweight Stroller
The Britax B-Agile Lightweight Stroller is designed for multitasking parents. It has the sought-after one-hand fold that allows you to quickly and conveniently fold the stroller.
The all-wheel suspension and front swivel wheel of the stroller is not just to provide a peaceful ride for your baby. It's also designed for easy maneuverability and one-hand operation. On the other hand, the stroller's click and design will let you attach the car seat to the stroller in an instant.
The stroller also features plenty of safety features. For one, it has linked parking brakes so you can lock in both wheels in just one step. Additionally, it has reflective harness straps to increase your visibility. This would be a handy feature to use the stroller especially if you love jogging or walking at night.
Pros:
Compatible with Britax Car infant seats
Highly affordable
Large expandable canopy with mesh window
Lightweight aluminum frame
Stylish appearance
11. Graco Aire3 Travel System
The Graco Aire3 Travel System is a 3-way stroller that allows rear-face seating. The stroller's on-the-go bassinet can be flipped up to see your baby while you're on the go. It comes with a multi-position seat that offers reclining positions and a cozy plus no-fuss ride for babies weighing 4 to 30 lbs.
The manufacturer promises nothing but convenience to parents. The stroller has a removable rest bar so you can easily take your baby out of the stroller.
It also folds in just one motion single-handedly so you can do other things while folding it. After all, multitasking is our forte, right?
Pros:
Carrying strap for added portability
Extra-large storage basket
Parent tray with cup holders and zippered storage
Large canopy with zippered extension
Already comes with a car seat
Cons:
Limited weight capacity
Buckling the stroller straps can be a tad tricky
12. Baby Jogger City Mini 2 Stroller
Lightweight and compact is the name of this Baby Jogger Stroller's game! Weighing only 18.8 lbs, this is most probably the lightest stroller in the list. Despite its small size, I've found this to be one of the most versatile 3-wheel strollers in the market, and I have plenty of good reasons to claim that.
For one, the stroller can accommodate babies between 1 month to 54 months. That's a wide age range for a stroller! Honestly, a stroller suitable for a 1-month old baby is difficult to find, so this is a big plus!
The stroller also prioritizes your baby's comfort. Its seat can be positioned to a near flat recline so your baby can lie comfortably on the stroller as you enjoy your favorite activities. The adjustable calf support will ensure that your baby's legs will be in a comfortable position.
The manufacturer's gift to us is its one-hand fold design, which allows you to store and stow it even if you're carrying your baby on your other hand.
That's not all. There's this one more thing you would love about this stroller—its price! Aside from being the most lightweight and compact, it's also one of the most affordable yet stroller accessories packed 3-wheel jogging strollers available today.
Pros:
Comes in 4 eye-catching colors
Auto locks when folded
Travel systems ready
Lots of available parent and baby accessories—pram glider, parent and child tray
Full coverage sun-protected canopy with windows
Cons:
Seat straps are not user-friendly
Limited storage options
How to Choose a 3-wheel Baby Stroller?
Interested in investing in a three wheel baby stroller but don't exactly know what to look out for? Fortunately yet unfortunately, there are plenty of options to choose from when it comes to the plethora of choice available in today's market .
To weed out the bad from the good ones, you would need to take into consideration a few essential factors. Here are some of them:
Build Quality
Though excessive stroller use has been found to have a negative impact on children's physical activity, [1] we as parents still want only the best for our babies during their few-year's newborn to toddler time using a stroller.
So, we turn to focusing on choosing what's best for our little ones in terms of the stroller build. The frame must be durable enough to accommodate your child's weight, especially if you're going for a stroller for big kids (you can refer to the stroller's maximum weight capacity to ensure this).
Additionally, there must not be any pointed or rough edges on any part of the stroller. The stroller's seat must be padded for your child's comfort. It must also have a large canopy for sun protection.
Wheel Type
3-wheel strollers have two types of wheels—foam-filled wheels and air-filled rubber tires. The good thing about foam-filled wheels is you don't need to pump air in it. Additionally, they won't get punctured.
On the other hand, air-filled strollers big wheels offer a more stable, smoother ride and are easier to navigate. [2]
With these differences in mind, foam-filled wheels are enough for strolling in town while air-filled ones are the wheels of choice for rougher terrains.
Wheel Locking System
A swivel front wheel is a nice feature to have for strolling on bumpier roads. However, it's not recommended for jogging on smooth terrains. That's why you should choose a stroller with a wheel locking system so you can keep the stroller in line when you're at the mall. [3]
Ensure that the wheel locking system is easy to access so you can lock the wheels in place hassle-free.
Brake Mechanism
If possible, choose a stroller with linked parking brakes. This means that the brake can already lock in two wheels. The brakes can be hand-operated or foot-operated. Most parents find hand-operated brakes to be more convenient.
Harnesses and Straps
The 5-point safety harness is the gold standard for the stroller's safety features. In addition to the safety harness type, you should also ensure that your stroller straps are padded for your baby's comfort. [4]
Compatibility with Car Seats
Three wheel strollers with attachable car seats are the ultimate travel systems. That's why you may want to look for a stroller option that is compatible with your baby's car seat. The only downside is that they are usually or rather, significantly more expensive than solely spending on a regular stroller.
Other Features
You should pay attention to other stroller features such as the storage, leg rests, adjustable handlebar, reclining seat and other useful stroller gears to avoid spending additional money purchasing items sold separately.
Or you can try out some DIY stroller hacks to actually make your own fun stroller gears including stroller connector, snack tray, buggy board, and more during parent-child bonding time at home!
Final Thoughts
Choosing the ideal 3 wheel stroller is less frustrating when you have all the necessary considerations, from stroller build, wheel type, 3 or 5 point safety harnesses, to personal preferences on features like handlebars and seat recline to suit you and your baby.
For us, our top pick is the Joovy Zoom 360 Ultralight Jogging Stroller because it has high maximum weight capacity along with all essential features—air-filled tires, suspension, wheel locking system, and storage! The best thing is it's affordable, which is a big plus for me!
Which one among the list did you think is the best overall though? Share with us your thoughts, and if you enjoy reading this article, spread the word to people who may benefit from this!
—
Last update on 2023-06-16 / Affiliate links / Images from Amazon Product Advertising API