Running while pushing a single child is easy. But can you imagine doing so while taking all your three kids to the park? If you are blessed with three babies, here is a solution for the lack of time, comfort, and simplicity of use: the best triple strollers for everyday runs!
Having three babies at a time is wonderful and fun, but it can be difficult to find the appropriate baby gear. That is why I created this guide to help you and many parents out there to find the best triple jogging stroller.
Taking triplets out for a walk without a suitable stroller can be near impossible, but with the practical and well-designed three seat jogging stroller, you can even run, take a walk or simply enjoy the fresh air with your family.
Read on to find out about our best triple jogging stroller review.
The Two Seating Modes of Jogging Strollers
You may have noticed that jogging strollers go by two different seating arrangements. To make things clear, there are two ways you can run with your triplets with a stroller.
Side-By-Side Three-Seat Jogging Stroller
The first option for you to choose is a side-by-side triple stroller seat. Opting for this model means that you will have your triples sitting next to each other in a horizontal position.
The advantage of this mode is that you can take your babies for a healthy walk while your triplets see and play with each other as you jog in the park. [1]
The con of this type of jogging stroller is that it takes a lot of space. You might end up blocking other joggers or runners with this big stroller.
Plus, running around the sharp corners can be hard with its side-by-side triple design.
Tandem Style Three-Seat Jogging Stroller
The second option is the bus-like stroller, also called the tandem style. The seats will be placed in a single line placement. For example, you will have your oldest child sitting at the most front, another one in the middle, and the youngest seated at the back – right in front of you!
The benefit of this mode is you will not conquer the walkway in the park, and it is easier to steer and maneuver.
The disadvantage of triple tandem strollers is that it might not be easy to see and entertain the child seated at the most front.
And, your baby might get bored easily because they can't see and play with its siblings being seated in tandem while you are jogging in the park! Do babies even get bored, you ask?
They certainly do! And you might have to learn how to tell when they're starting to get bored or what to do about it to avoid one, if not worse, three fussy babies in public. [2]
The Best Triple Jogging Stroller Review
So, here is the moment that you have been waiting for – to know the best triple jogging strollers that are available out there.
Without further ado, the following are my top triple stroller favorites! I choose them because they are durable, easy to handle, stylish, provides ultimate comfort for the little ones and sold at a reasonable price.
Best Overall
Valco Baby Tri Mode Duo X
Best Value for Money
Foundations Triple Sport, 3 Seat Stroller with Sun Canopy, 5 Point Harness Safety Restraint System, Foot Brake, Shock Absorbing All Terrain Tubeless Wheels (Lime Green)
Best for Twins & Toddlers
Joovy Big Caboose Graphite Triple Stroller, Stand on Tandem, Black
Best Overall
Valco Baby Tri Mode Duo X
Best Value for Money
Foundations Triple Sport, 3 Seat Stroller with Sun Canopy, 5 Point Harness Safety Restraint System, Foot Brake, Shock Absorbing All Terrain Tubeless Wheels (Lime Green)
Best for Twins & Toddlers
Joovy Big Caboose Graphite Triple Stroller, Stand on Tandem, Black
#1 Valco Baby Tri Mode Duo X – Best Overall
The Valco Baby Tri Mode Duo X stroller features an innovative solution for a growing family. It is a twin stroller, but has the option to expand and support up to three kids at once by adding a Joey seat. This three-seater jogging stroller offers comfort for all three children, and all of them are facing forward.
The seats on this stroller recline fully via one-touch control, which makes it great for infants.
Overall, the frame and the whole construction of the stroller seem premium quality. The handlebar is adjustable, which makes this double stroller great for partners of different heights.
All three seats are quite spacious, including the third seat.
The Duo X is good for running because it has three modes for the wheels and a convenient and efficient braking system. Full-swivel mode on the wheels is great for walking; the locked mode is for jogging, and 45-degree mode is for hilly terrains.
To lock the stroller in place, all you have to do is step on the foot brake, and the stroller will lock immediately. It's our best triple stroller for our triple jogging stroller review, thanks to its versatility!
Pros:
Versatile as it can switch modes to fit your needs
One touch control makes it easy to recline
Suitable for newborns
Spacious and comfortable seats
Suitable for all terrains
Compact
Cons:
No snack trays
Air-filled tires can go flat and require maintenance
The third Joey seat might block the view of the two other children
#2 Foundations Triple Sport 3-Seat Tandem Stroller – Best Value for the Money
The Triple Sport model by Foundations has a classical and narrow row design of the multiple-seat stroller. Each seat has a canopy and a five point harness system. Because the three seats don't recline fully, the stroller isn't suitable for newborns. The weight limit of each seat is 40 pounds, and the children are easy to get in and out.
The most positive thing about The Trio is its bus-like design. It is slim even after expanded, which makes it easy to push and steer – meaning that it won't take up the whole space of the walkway. The ergonomic and firm handles also make it easy to maneuver as you jog.
I also love how the wheels are of rubber materials. It absorbs shock efficiently compared to plastic wheels! Your children should be able to sit comfortably in their seats even on bumpy roads. This is our second favorite among the top triple strollers for jogging in the list.
Some of the downsides of this Trio Sports Jogger is that the storage pocket is quite limited. It does not provide a separate pouch for each seat.
Foundations Triple Sport 3-Seat Tandem Stroller features a rear brake you can set by foot or use a brake on the handle.
The stroller folds down quickly, but it needs a larger and wider trunk for transport, which can be an inconvenience. You can check out this stroller in detail from our Foundations triple tandem stroller review.
Pros:
Budget-friendly for a triple stroller
Foot-operated rear brake system
Adjustable canopy
Easy to assemble and compact when folded down
Comfortable for babies
Fits most doorways
Cons:
Heavy and can be difficult to maneuver
Not compatible with car seats
No separate storage for each seat
Does not support rear and forward facing mode
SALE
Foundations Triple Sport, 3 Seat Stroller with Sun Canopy, 5 Point Harness Safety Restraint System, Foot Brake, Shock Absorbing All Terrain Tubeless Wheels (Lime Green)
Triple Stroller – Foundations Sport 3 Seat stroller comfortably accommodates three children in separate reclining seats. The perfect portable stroller solution for daycares and home use. Take your little ones on trips to the playground, park, zoo, amusement parks, and other outdoor activities in this three child stroller. Storage bucket under back seat of tandem stroller allows for access to quick snacks, blankets and other infant necessities during excursions
Toddler Safety -- Each toddler seat is designed to keep your child safe with a 5 point black harness safety restraint system. The back of the walking stroller has a foot operated brake for rear wheels and easy stopping
Sun Protection -- Each row of the triplet stroller has a UV blocking sun canopy to protect children while they ride. Child umbrella stroller canopies easily fold to collapse when not needed
#3 Joovy Big Caboose Graphite Sit and Stand Triple Stroller – Best for Twins and Toddler
The Joovy stroller has two front-facing seats with one rear seat. Because of the specific seat placement, the Joovy Big Caboose Graphite Sit and Stand Triple Stroller is genuinely smaller than other triple joggers.
I also like that the stroller comes with front two seats are convertible to car seats, for children below 40 pounds of weight.
The rear seat is suitable for an older toddler, from 2.5 years.
The Joovy Big Caboose stroller is safe for jogging, as it has a convenient brake system, adjustable canopy, heavy duty construction, and five-point harness system. Its storage basket is also large enough to store all your kids' necessities while outdoors.
You can get the Joovy Big Caboose stroller in two colors – black and turquoise.
Lastly, I want to mention that the car seat adapters are included in the purchase and that the stroller has adjustable footrests and child trays.
Pros:
Easy to fold
Adjustable leg rests
Two recline positions
Narrow design
Adjustable canopy
4-wheel suspension for a safe jogging
Cons:
You can adjust the height of the handlebar
As the children gain weight, the stroller becomes difficult to move in different directions
Large storage basket might be difficult to access
Joovy Big Caboose Graphite Triple Stroller, Stand on Tandem, Black
Two front seats accommodate children 6+ months and up to 40 lbs, or from birth+ with included universal car seat adapters
Rear bench seat and standing platform accommodates a child from 2.5+ years and up to 45 lbs
Great for twins, twins + toddler, triplets, or three young children, max weight 125 lbs.
#4 Peg Perego Triplette Piroet Stroller – Honorable Mention
Another top baby jogger that I would like to include in this review is the efficient, spacious, and robust Peg Perego Triplette Piroet Stroller.
Peg Perego has a design with ultimate comfort in mind. Why do I say so? Because, if you have seen this stroller, you will notice each seat provides a large gap for the leg space, and not to mention the steering wheel that makes it easy to maneuver!
You can expect to use this triplet stroller for many years as your kids grow up. It has a tandem design. On the positive side, this stroller is suitable if your babies always quarrel with each other!
Your little ones will have their space, complete with a food rest and sun visor. There is even a loop on the hood for you to hang their soft toys.
As for the maneuvering performance, Peg Perego does not disappoint at all. The wheels are big. When you push the stroller while jogging, you can feel the smooth gliding.
It also feels soft when pushed on uneven surfaces, thanks to the installed suspension. The sturdy chassis and high-quality linen mean that the stroller will not wear or tear off easily.
However, this falls under the luxury stroller category (it's priced over $1,000…) and you may need to buy some accessories such as the toddler seat called Pop-Up seats that are sold separately if you aren't using the infant car seats. Well, it's called a limo of strollers for a reason.
Pros:
Wide leg space for each seat
You can adjust the position to a rear facing mode
Compatible with Primo Viaggio car seat
Each place offers four adjustable positions
Adjustable footrests offers ample leg space
Steering wheel provides effortless rides
Cons:
You will need to buy the Pop-Up seats for toddlers separately
Inconsistent quality control could result in the seats being flimsy and unstable
Expensive
No products found.
How to Choose the Best Triple Jogger Stroller?
It's especially hard to find and hunt for the best stroller according to your needs and budget – but it's even harder when you need a triple model for your babies. It would be helpful that you have in mind of what you're looking for specifically when choosing a model for you and your little ones.
Let's take a closer look at some aspects of 3 kid jogging strollers!
Stroller Size
Before you choose your triple jogger, make sure to check the size. Find out if it can fit through standard doors and how heavy it is. Also, think about your storage space, or the trunk of the car. Lastly, don't sacrifice comfort for compactness.
Weight capacity
Find out what is the overall weight extent of the stroller. Some strollers have a maximum weight extent of 125 pounds, while others have the maximum extent listed by each seat, for example, 3 x 45 pounds. 
If you have twins and an older toddler, make sure that the stroller will be able to support all your children at the same time as they grow.
Maneuverability
Only jogging strollers for 3 with fixed wheels are suitable for jogging. On the contrary, swivel wheels are suitable for transition from walking to jogging. [3]
Moreover, the handlebar height on the 3 seat jogging strollers needs to be adjustable so you and your partner can both comfortably maneuver the stroller.
Comfort
The padding should be soft and plush to ensure a snug and cozy fit for the babies. Foam liner will minimize the bumps during running on uneven terrain, making the ride comfortable and fun for your babies.
Also, make sure that the stroller seats recline to multiple positions.
Convenience Features
The canopy is a must-have when you are looking for a 3-child jogging stroller. It will protect the babies from sun rays, rain droplets, or any other outside factors that may expose your little ones to environmental risks. [4]
A convenient stroller organizer is handy, and you can store things for the babies, such as bottles, bibs, pacifiers, diapers, your phone, and a water bottle.
Storage & Foldability
Check if your triple running stroller is foldable and how much space it takes when folded. Because triple strollers need to accommodate three babies, they are bulkier than single and double strollers. If you travel a lot, check if the stroller fits your trunk when folded.
Some of The Best and Convenient Features to Have on A Triple Jogging Stroller (In My Opinion)
When selecting the best stroller for your three children, these are some of the features I consider greatly. They are very nice to have and make your evening exercise session in the park easy and smooth.
I prefer for the wheels to feature rubber tires and air-filled. It is softer compared to plastic wheels.
Each seat should come with its storage unit so that you triplet can store their favorite toys in their designated place.
The seat belt should feature a secure five-point harness. You will be jogging so it is best to have this complete harness to keep your children safe and tight to their seats.
Ideally, it should offer a compatible car seat. It makes your job easier. You should be able to remove the vehicle seat and install on the stroller within minutes.
It should not be too bulky when folded horizontally or vertically.
The seat should be able to switch from forward facing to rear seat facing.
For extra safety, make sure that there are easy-to-access brakes and suspensions.
Each seat should have its separate adjustable position and footrest.
You should be able to use a sun canopy or rain cover in case it is sunny or rainy during your jogging session.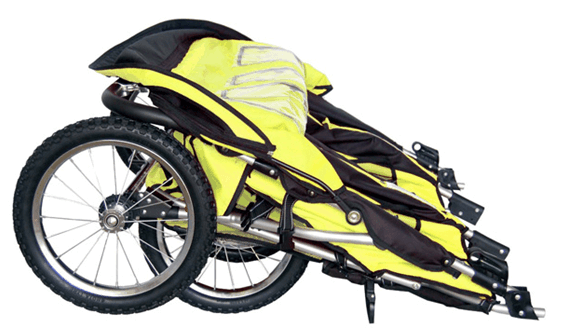 Here is an additional tip on how to run while pushing a baby jogger. This video shares practical advice on how to achieve a comfortable jogging session for both you and your triplets!
How Different Are the Triple Stroller with the Regular Baby Stroller?
Before you go ahead and purchase a triple jogging stroller for your triplets (lucky you!) or small children, let me share with you some of the differences between this model and the regular ones.
Firstly, you need to know that this kind of three-seat jogging strollers is bigger and heavier. You need to expect this, or else you will be disappointed when the packaging box arrives at your doorstep. Jogging strollers usually have larger wheels, which makes them better for rough terrains, but bulkier when folded.
Because of that, you should know that the triple stroller might not fit well into the trunk of your car. So, what you should do before buying it is to know the dimension of the stroller.
From there, you can estimate whether you can cram it into your car boot or not.
Also, I think it is best not to expect too much of variety for this model. The choices are somewhat limited compared to the options of single strollers.
Regarding the design, most top triple jogging strollers make use of air-filled tires. These wheels feel smoother on rough surfaces like a concrete walkway or pebbled paved way.
Another distinctive difference between a triple jogger stroller vs regular stroller is that, the jogging stroller usually comes with three wheels and a locking mechanism on the front wheels, while a regular stroller tends to feature four wheels and a locking mechanism on the rear wheels.
The Conclusion
The best triple jogging strollers I introduced above will let you enjoy the outdoor world together with your small kids. It allows you to connect with them while you are breaking sweats in the park.
By choosing one of the top baby joggers above, your triplets or three little children can enjoy sitting in the buggies and have a fun family time together during the summer.
Which one to choose? I'd say, go for the Valco Baby Tri Mode Duo X!
The Valco stroller offers the best from all worlds – it is easy to use (recline, fold, wash), it is compact when folded, and children still have enough space to ride comfortably. Air wheels might require maintenance but are great for simple maneuverability during morning and afternoon jogs.
If you enjoyed my triple jogging stroller guide, don't forget to like and share the article to help other busy moms find the proper gear for their growing families!
—
Last update on 2023-03-31 / Affiliate links / Images from Amazon Product Advertising API