Running while pushing a single child is easy. But can you imagine doing so while taking all your three kids to the park? In this case, the best stroller to use is, without a doubt, the three-seat baby stroller! In this best triple jogging stroller review, I will present to you the top five triple baby pushchairs. They are sturdy, stylish, ergonomic, and most importantly, excellent for pushing while running!
How Different Are the Triple Stroller with the Regular Baby Stroller?
Before you go ahead and purchase the best triple jogging stroller for your triplets (lucky you!) or small children, let me share with you some of the differences between this model and the regular ones.
Firstly, you need to know that this kind of three-seat jogging strollers is bigger and heavier. You need to expect this, or else you will be disappointed when the packaging box arrives at your doorstep.
Because of that, you should know that the triple stroller might not fit well into the trunk of your car. So, what you should do before buying it is to know the dimension of the stroller.
From there, you can estimate whether you can cram it into your car boot or not.
Also, I think it is best not to expect too much of variety for this model. The choices are somewhat limited compared to the options of single strollers.
Regarding the design, most top triple jogging strollers make use of air-filled tires. These wheels feel smoother on rough surfaces like a concrete walkway or pebbled paved way.
Alternative to Read More: Best Double Jogging Stroller Review if you have twins or Best Jogging Stroller Review.
Some of the Best and Convenient Features to Have on A Triple Jogging Stroller
When selecting the best triple jogging stroller for your three children, you should consider some of the following features. They are very nice to have and make your evening exercise session in the park easy and smooth.
I prefer for the wheels to feature rubber tires and air-filled. It is softer compared to plastic wheels.
Each seat should come with its storage unit so that you triplet can store their favorite toys in their designated place.
The seat belt should feature a secure 5-point harness. You will be jogging so it is best to have this complete harness to keep your children safe and tight to their seats.
Ideally, it should offer a compatible car seat. It makes your job easier. You should be able to remove the vehicle seat and install on the stroller within minutes.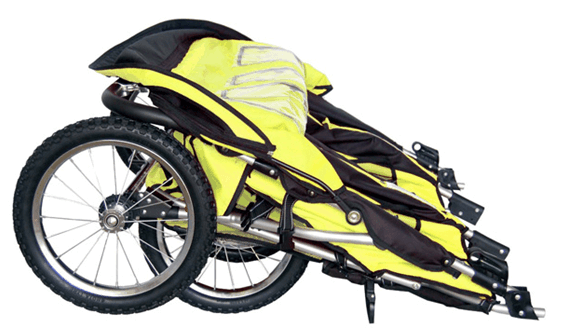 Source: Bestbabydollsstrollerreview.com
It should not be too bulky when folded horizontally or vertically.
The seat should be able to switch from forward facing to rear facing.
For extra safety, make sure that there are easy-to-access brakes and suspensions.
Each seat should have its separate adjustable position and foot rest.
You should be able to use a sun canopy or rain cover in case it is sunny or rainy during your jogging session
Here is an additional tip on how to run while pushing a baby jogger. This video shares practical advice on how to achieve a comfortable jogging session for both you and your triplets!
The Two Seating Modes of Jogging Strollers
I bet by now you have noticed that this type of stroller comes with two different seating arrangements.
Side-By-Side Three-Seat Jogging Stroller
Source: Tinytoestravel.com
The first option for you to choose is the side-by-side seat. So, you will have your triples sitting next to each other in a horizontal position.
The advantage of this mode is your triplets can see and play with each other as you jog in the park.
The con of this type of jogging stroller is that it takes a lot of space. You might end up blocking other joggers or runners with this big stroller.
Plus, running around the sharp corners can be hard with this side-by-side design.
Tandem Style Three-Seat Jogging Stroller
Source: Pinterest
The second option is the bus-like stroller, also called the tandem style. The seats will be placed in a single line placement. For example, you will have your oldest child sitting at the most front, another one in the middle, and the youngest seated at the back – right in front of you!
The benefit of this mode is you will not conquer the walkway in the park, and it is easier to steer and maneuver.
The disadvantage of this bus-like stroller is that it might not be easy to see and entertain the child seated at the most front.
And, your baby might get bored easily because they can't see and play with his siblings while you are jogging in the park!
The Best Triple Jogging Stroller Review
So, here is the moment that you have been waiting for – to know the best triple jogging strollers that are available out there.
Without further ado, the following are my top five favorites! I choose them because they are durable, easy to handle, stylish, provides ultimate comfort for the little ones and sold at reasonable price.
BeBeLove USA Triple Jogging Stroller
If security is your number one priority, then my top choice, BebeLove USA Triple Jogging Stroller, is the best option for you to consider.
Why? It is because this exclusive and robust baby jogger come with enhanced brakes installation. There are dual hand brakes that you can access quickly on the handles.
As if that is not enough, you can also use the parking brake and foot brake if you are parking the stroller on a hilly park.
Besides its excellent safety feature, I also like this BeBeLove due to its side-by-side design. It is ideal for bigger kids who love to interact with each other.
Or else, there is a chance for you kids to be bored and ask to go home after five minutes of jogging session!
The biggest positive point of this best triple jogging stroller has got to be its air-filled rubber tires. It promises a soft and stable gliding when you are jogging on a concrete paved way.
Many users have complimented that the front wheel, which does not pivot, to be stable. I recommend you to give it a try. Maybe it will become your favorite jogging stroller after trying it for the first time!
PROS
The steel tire rims are strong and sturdy
Complete brakes coverage – top and bottom
Ample of storage for each seat
Can fit into the car when folded
Have foot rests for the children
The unpivoted front wheels ensure easy and smooth steering
Easy to push and handle while running
Large and inflatable wheels provides soft gliding
CONS
The stroller, when expanded, can be too huge
It is heavy at 57 lbs!
The wheels lock can be a bit fragile
Expensive at $700
Foundations The Trio Sports Triple Tandem Stroller
Are you looking for a tandem style baby jogger? Foundations The Trio Sports Triple Tandem Stroller is also the best options available out there.
This brand is relatively cheaper than the premium BeBeLove stroller above. So, if you are on a tight budget, you might find this one more enticing.
The most positive thing about The Trio is its bus-like design. It is slimmer when expanded, which makes it very easy to push and steer. It does not take the whole space of the walkway.
The ergonomic and firm handles also make it easier for you to maneuver it as you jog.
I also love how the wheels are of rubber materials. It absorbs shock efficiently compared to plastic wheels! Your children should be able to sit comfortably in their seats even on bumpy roads.
Some of the downsides of this Trio Sports Jogger is that the storage pocket is quite limited. It does not provide a separate pouch for each seat.
PROS
It is slim and quite light to carry around
Soft gliding, thanks to the rubber tires
All seats are reclinable
Cheaper at about $400
Easy to navigate – ideal for both a stroll or a jog in the park
Easy to assemble and compact when folded down
CONS
Not compatible with car seats
No separate storage for each seat
Does not support rear and forward facing mode
No footrests for the children
Obaby Mercury Triple Stroller
Here is another best triple jogging stroller worthy for you to consider if you prefer to have a side-by-side design – Obaby Mercury Triple Stroller.
In my opinion, it is one of the ideal baby joggers for mothers who are always out and about with their small children. This brand is compact and lightweight.
It is also perfect for travels because it features an umbrella folding design. It does not take space. You can cram it into your car without having any issue.
Is it suitable for jogging? Yes, sure! Now, it might not be the best stroller to use for fast running, but if it is just a light jogging or relaxing evening stroll, you will find it very comfortable to push with your three triplets seating in their place.
The seats have soft and firm padding that ensure comfort and safety to your little ones.
Your kids will also enjoy their storage bag, rain cover, and sun canopy. It is, indeed, the perfect triplet stroller for any outdoor activities!
PROS
Each seat has multi-adjustable positions
The stroller looks expensive and stylish
All seats are reclinable
The front wheels swivel smoothly
Easy to fold and expand by using a clip system
Secure with 5-point harness and sturdy seat belts
CONS
The wheels are too small
Not ideal for speedy jogging
Quite tricky to maneuver due to its horizontal design
No footrests for the children
Kids Kargo Triple Buggies
The next triplet pushchair that I would like to recommend to you for fun and adventurous outdoor activity is the Kids Kargo Triple Buggies. Again, it is one of the cheapest options available in the market at just about $280.
Even though it comes with a low-price tag, the manufacturer does not compromise any of its safety and material qualities.
You can expect every important feature on this Kids Kargo Triplet Stroller. Firstly, you can adjust each seat per the needs of your children.
Since they will be seating next to each other, your triplet can play and chat as you walk or jog with the stroller.
Also, I love how it provides separate storage. You can toss your kid's milk bottles, soft toys, books or your belongings into them – very convenient, don't you think?
PROS
Your children can chat and play in this side-by-side stroller
Comes with 5-point harness
The cushions are easy to clean and wash, just use warm water and soap
Each seat operates independently
Comes with individual sun canopy
Provides free rain covers
CONS
No facing inward setting for smaller children
Wheels are too small – not ideal for speedy jogging
Wobbly gliding performance
No products found.
Peg Perego Triplette SW Stroller
Another top baby jogger that I would like to include into this Best Triple Jogging Stroller Review is the efficient, spacious, and robust Peg Perego Triplette SW Stroller.
Peg Perego has a design with ultimate comfort in mind. Why do I say so? Because, if you notice, each seat provides a large gap for the leg space.
You can expect to use this triplet stroller for many years as you kids grow up. It has a tandem design. On the positive side, this stroller is suitable if your babies always quarrel with each other!
Your little ones will have their space, complete with a food rest and sun visor. There is even a loop on the hood for you to hang their soft toys!
As for the maneuvering performance, Peg Perego does not disappoint at all! The wheels are big. When you push the stroller while jogging, you can feel the smooth gliding.
It also feels soft when pushed on uneven surfaces, thanks to the installed suspension. The sturdy chassis and high-quality linen mean that the stroller will not wear or tear off easily.
PROS
Wide leg space for each seat
You can adjust the position to a rear facing mode
Compatible with Primo Viaggio car seats
Each place offers four adjustable positions
The footrests are also adjustable
Comfortable for strolling and jogging
CONS
You need to buy each – base, frame, seats, storage – part separately
Some users complained that the seats could be too flimsy and not stable
The Conclusion
The best triple jogging strollers I introduced above will let you enjoy the outdoor world together with your small kids. It allows you to connect with them while you are breaking sweats in the park.
By choosing one of the top baby joggers above, your triplets or three little children can enjoy sitting in the buggies and have a fun family time together during the summer.
Which one to choose? Try my top choice which is the BeBeLove USA Triple Jogging Stroller.
The seats are sturdy and support comprehensive safety features, thanks to the 5-point seat belts, padding cushions, and sun canopy.
Plus, the steering performance is excellent, and the high-quality air-filled tires provide a smooth ride for your child, even on bumpy and rough surfaces.
With the individually adjustable seat, one of your little ones can choose to sit upright to enjoy the nature and weather.
The other two can decide to rest comfortably in the reclined positions to take a nap. I think both you and your children will enjoy using this top baby jogger!
Last update on 2020-12-02 / Affiliate links / Images from Amazon Product Advertising API