I looked everywhere for the best baby stroller that I would be comfortable putting my little one in. I needed one that is sturdy, breathable, portable, and would keep my baby completely safe when we're out.
After much sleuthing done, I decided to share my research and findings in this article today. With this Chicco Echo Stroller Review, you're already one step ahead of the game!
Presenting Chicco Echo Stroller
The Chicco Echo Stroller is a lightweight and compact stroller meant to provide comfort for baby and functionality for parents. Not only do you get some great style with the coloring, seat pad, and padded backrest, but you get practical factors too.
You can recline the seat with just one hand and leg rest that can move to two positions. With those features in place, you can be sure your baby has a comfortable ride!
If you're looking for a stroller that lets you walk easily and provides your child with safety all at once, this is the stroller for you. It may not be for more rugged terrains, however, so if you want a jogger, try to take a look at sturdier options like the ones in our Best Jogging Stroller Review.
Pros:
Only weighs 17 pounds, making it easy to load and unload for both parents
Even taller people can adjust the height of the handles so they can push it quickly
The straps allow room for some baby growth, so you can continue to use the stroller as your little one grows
The wheels are sturdy and move well during walks and rides
The color is so distinguishable that you'll never lose sight of your kiddo
Cons:
The umbrella doesn't necessarily protect kids from the sun as well as parents would like
Wheels have a tendency to squeak after some usage
Not everyone is a fan of the canopy
Chicco Echo Stroller- Jade, Black/Green
4‐Position reclining seat with adjustable leg support
Rear canopy panel provides added enclosure and zips off to allow air flow
Mesh storage basket with room for baby's things
CHICCO ECHO STROLLER REVIEW: Features and Benefits
Before you grab the Chicco Echo Stroller, you're probably wondering about specific features that will help you. Let's take a look at your options when it comes to the Chicco.
1. Baby's Comfort
This stroller is ideal for your baby just because there's so much adjustability. The seat reclines into four positions so your child can sit in whatever position they find most comfortable, reducing their fussiness and giving them some space to grow. Your baby will even have the added benefit of airflow coming through when you're walking around thanks to the rear canopy panel, giving them the fresh air they need while still keeping them safe.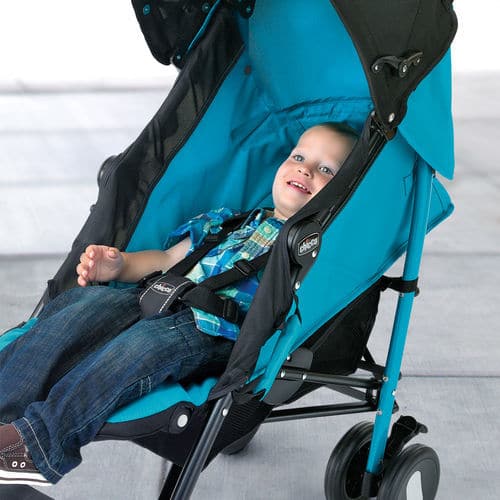 2. Storage
I can't tell you how hard it is to carry all of my things and baby's things all at once when I've got to go out. That's why I love the mesh storage basket and Chicco stroller bag for all of the baby's things. It saves some space and takes the weight off of my back!
3. Weight
For a stroller that is easy to carry around and function with, you can't get much better than one that only weighs 17 pounds! A light stroller like this is simple to push around, and can even hold all of your items without making it difficult to move.
4. Purpose
This may not be a jogging stroller necessarily, but it's sturdy enough to keep your baby safe on every day strolls. It's both lightweight and compact, making it perfect for trips out and simple to transfer to your car and back.
5. Carry Handle
One of the best things about this stroller is that it includes a carry handle that you can use to carry it around on the go. This is especially significant when it comes to traveling with your stroller so you don't have to struggle with a crying baby when you're on the move.
6. Travel and Storage
Thanks to the size of this stroller, it's easy to go with. When you're done for the day too, the compact nature of this stroller makes it easy to store as well. Keep it around for years if you have some time between babies since it doesn't take up that much space!
7. Handles
One thing Moms and Dads love especially are the handles on this stroller. Many parents who are taller have a hard time pushing around strollers, but that's not the case here. With the Chicco Echo, they can push comfortably without hitting their shins or leaning down and straining their back.
8. Fussy Baby Help
Speaking of the handles, there's even some space between them and the seat back, allowing the seatback to recline. This may not seem too important, but if your baby sleeps better while they lean back or relaxes a little easier, this is indispensable.
9. Long Lasting
One thing parents need is a stroller that can grow with their child, or still be used if you have another baby some time down the road. This stroller is perfect for both of those purposes, as it's able to grow as your child grows thanks to the high adjustability.
It supports a broad range of weights too with a Chicco Echo Stroller weight limit of 40 pounds. One mom even said she can still push her six-year-old around in it without a problem!
10. Durability
It's so light but so sturdy that you can continue to use this stroller for years with multiple babies. If you are planning on having more cuties down the line, this is exactly the type of stroller you should consider. The wheels last a long while too, so you shouldn't experience any problems when it comes to pushing this stroller even in places that aren't completely smooth.
Related: Best Chicco Strollers
11. Multiple Kids
I've already told you that older children can use this stroller as well as babies, but just the fact that many age groups can fit in this stroller makes it beyond valuable. From babies who are only six months old to kids as old as six, you can continue to use this stroller. Not only will this save you time looking at models for older kids, but it'll save you money in the end too.
12. Safety Features
One of the best safety features is the five point harness with the padded shoulder straps. Your child will remain firmly in place while they're inside, and if you do have to stop suddenly or if they are a little squirmy, the straps won't harm them at all. There's, of course, a wheel brake included too if you need to stop suddenly, with wheels that swivel to give you the most amount of movement possible.
13. Easy Cleaning
It's fairly easy to practice regular upkeep of this stroller. You can't remove the canopy piece, but to clean it off, just wipe it down routinely. This will ensure that your stroller remains in tip-top shape for both yours and your baby's benefit.
14. Maintenance
This stroller only needs some light lubricant if you hear squeaking, and some routine checks of wheels and other moving parts. Just ensure everything is free from dust, dirt, or sand, and that the stroller is stored in a dry place to prevent any friction that might bother you.
15. Easy Assembly
The last thing you want is to buy a stroller that takes you hours on end to put together before you can use it. It's great that this stroller fits together so easily then, and since it assembles quickly, you can always remove pieces later on to be sure all the dirt and sand is free.
There are even easy to read instructions that will show you precisely what you need to do to get everything together, and how to strap in your baby safely if you're still learning.
16. Budget
With a stroller as good as this one, you might not even be thinking about price, but for those of you on a budget, there's not a better option. This stroller includes so many great features and comes at an incredible price to boot.
Extra Features
As a parent, you want to make your day out with baby as enjoyable as possible Chicco Echo is made just for you too then, with attachable features. This includes simple things like a Chicco cup holder, to fit actual cups or to drop your phone into for easy access. Just attach as the instructions say!
It's also wonderful that you get so many color options. The colors are bright and easy to see too, so if it's dark out or if you're worried about ever losing sight of your stroller, you can easily see whatever color you pick out.
Social Proof
Most of us can't just trust the company when we buy a stroller because it's our baby's safety at stake, but that's why I scoured the internet for reviews. To my joy, most of them were extremely positive! People love how durable this stroller is, while still being light enough to cart around for the entire day. Not only that, but it folds easily to store and to take with you, and has lots of room for your child to grow. Especially if you're planning on more kids or want to use this stroller for years to come, this is certainly a well-liked option.
CHICCO ECHO STROLLER REVIEW: What are the Alternatives?
You might not be entirely convinced of the Chicco Echo, and if you're not, I took a look at a few other strollers that you might prefer.
Chicco Bravo Stroller
The Chicco Bravo is made by the same company, but with a few extra features, definitely ends up at a much higher price. This may not be the stroller for you budget-savvy parents, although it's perfect for easy carrying, and can transform into a frame carrier so you can move your baby without waking them.
It does recline like the Echo though and has great safety features like rear brakes too along with extra features like a storage tray and cup holder. When it comes to your comfort, this might be just the stroller for you thanks to the one-hand fold and auto-positioning wheels.
Similarities
Easy folding
Reclining seat for your baby
Height adjustable handle for taller parents
Rear brakes and cup holder
Spacious storage and adjustable harness
Differences
Transforms into a frame carrier for you to move your baby without waking them
Includes a parent tray for more of your items
You can access the basket from the front or back
When it comes to a stroller that's convenient and easy to use, this might be your best option to pick out. Not only does it provide stability and security, but it transforms into a carrier to move your baby without hassle, so take a look!
Chicco Bravo Quick-Fold Stroller, Ombra
Innovative fold/carry handle for a one-hand, free-standing quick fold
Accepts all Chicco KeyFit and Fit2 car seats with included adapter (car seat sold separately)
Detachable seat/canopy leave behind a lightweight frame stroller
Chicco Viaro Stroller
The aluminum frame in the Viaro and three wheel design provide you with maneuverability that's hard to pass up, but what makes this stroller different from the Echo is that it accepts all KeyFit car seats.
If you want to transfer your baby then, all you have to do is click them in! It does have a seat that reclines to multiple positions like the Echo though, with an adjustable canopy meant to keep baby completely sheltered.
Similarities
Includes a child tray and cup holders
The reclining seat is perfect for your baby's comfort
It's lightweight and can be carried around with ease
Easy to move and still durable enough for the outdoors
Differences
You can fold it up for a free-standing fold with one hand
The price is higher but not too high that a budgeter can't buy it
The front wheel suspension provides you with a smoother ride
If you're looking for a stroller that keeps your baby safe and provides lots of stability, the three wheels on this stroller are something to consider! The Viaro could be the perfect stroller for you and your family.
Chicco Capri Lightweight Stroller
I was surprised to find a Chicco stroller even lower in price than the Echo, but the Capri is perfect for those of you on a budget! It's even lighter at 11 pounds, making it easy for you to lift and transfer from place to place.
There are two reclining positions your baby will have, and a compact fold that will let you store and travel without too much fuss. There's even front wheel suspension for a smooth ride, allowing you to use even this small style stroller on rougher terrains when you go out.
Similarities
Includes a basket to keep necessities close
Folds up simply to carry around
There are less reclining positions, but it still does recline
Same padded five point harness for complete safety
Differences
Includes front wheel suspension for improved stability
Lighter than the Echo
Comes with a stroller carry bag just for you!
The Capri is a great option for those of you looking for a budget-savvy option that's still stable and easy to handle. It might just be a great alternative when you're looking for a lightweight and easy-to-handle stroller.
Chicco Echo Stroller- Jade, Black/Green
4‐Position reclining seat with adjustable leg support
Rear canopy panel provides added enclosure and zips off to allow air flow
Mesh storage basket with room for baby's things
5 Things to consider before buying A STROLLER
With so many strollers on the market today, which one do you buy? It can be overwhelming, so let's go through a few factors to narrow down your choices.
1. Budget
Work out your budget first so you know exactly what you can spend. This way, you won't stray when you're surrounded by choices. Just a little bit of money can still get you a lot if you're budgeting and looking for affordable stroller options!
2. Purpose
What will you be using your stroller for? If you're walking lots with your baby or planning to go out jogging, you need a stroller that will be suitable for all types of terrain. Look for sturdier models with a more solid build or a model with adjustable wheels for easy running. O
n the other hand, lighter umbrella strollers are easier to fold and carry if you're not too outdoorsy.
3. Weight
Of course, find a stroller that you won't struggle with. It's even important to consider one that will be light enough even with all your bags hanging off!
4. Steering and Handles
Make sure you can steer your stroller easily, even in tight spaces. You should be able to walk normally with it without smacking your shins on it! Also, take a look at the handles, and check to see if they're adjustable if both parents are planning on using it.
5. Safety
Of course there are more factors to consider, like if the stroller collapses, how much space it takes up, and if you can handle it, but one of the most important things is the safety. Even if safety standards are mandatory, make sure your stroller has the usual restraints, tether straps, and a parking brake.
Conclusion
Lots of moms and dads out there have a hard time picking out a stroller that's safe, stable, easy to use, and comfortable for their baby too. It can be tough to find just the right option, but the Chicco Echo may just be the one stroller to solve all of your problems.
It's lightweight and easy to move around for both moms and dads, all while providing your baby with the stability and comfort they need for a good time out. Your only question now should be where to buy Chicco strollers, no matter what type you'd prefer.
If you want a stroller that fits your budget and keeps baby safe too, this stroller may be just the model you need.
Thanks for reading this Chicco Echo stroller review! For more, do also check out my Chicco Urban Stroller review if you are looking for a great alternative.
—
Last update on 2022-06-28 / Affiliate links / Images from Amazon Product Advertising API