There are a couple of ways to make your baby shower stand out – good atmosphere, happy mom-to-be and the most delicious baby shower cupcakes! Baby shower desserts always amuse me, so it is time to gather up some sweet inspiration to celebrate the joyous occasion. 
I collected the unique baby shower cake and baby shower cupcake ideas, but good luck choosing only one idea (because I couldn't)! 
Top 21 Baby Shower Cupcake Ideas
#1 Dino Cupcakes
The cupcakes in the dinosaurs theme like the one by Apieceofcakeparty.com are one of the cutest baby boy shower cupcake ideas. It is actually quite easy to make, you can purchase Dinosaurus toppers and wrappers and use them as simple decoration if you are in a hurry.
#2 Strawberry Cupcakes
Strawberries are probably the most versatile baby shower cupcakes decorations. On the plus side, everyone loves fresh strawberries, my favorite combo is strawberries with cream cheese frosting from Bethcakes.com.  You can use them for baby boy or girl shower parties in May and June for the most delicious cupcakes!
Read also: Christmas Baby Shower Ideas
#3 Gender Reveal Cupcakes
If you skipped the gender reveal event for some reason, you can order gender reveal baby shower cupcakes or make them yourself following the recipe from Loveinmyoven.com. The surprise frosting inside will reveal the gender – the typical blue for baby boy, pink for baby girl! With some colorful sprinkles as decor, it is the most delicious way to share your baby's gender with your friends and family.
#4 Magical Unicorn Cupcakes
Unicorn baby shower cupcakes for girls are cute, delicious and a sweet way to welcome the upcoming baby girl. The multi-colored frosting and the golden or silver corn give the cupcakes from Cookpad.com an enchanting look.
#5 Flower Cupcakes for Spring Shower
If you are carrying a girl, baby shower cup cakes offer unlimited ways to play with piped frostings and sugar decorations. Flowers are my favorite way to decorate cupcakes in the spring. The Wilton.com floral cupcakes might take you more time to prep, but they are definitely worth your effort!
#6 Baby Cupcakes
Does anything say, Welcome Baby! more than baby shaped cakes and cupcakes? If you don't know the gender of your baby, these little baby cupcakes can be an excellent unisex baby shower cakes replacement. Bakingmad.com has an excellent, easy to follow recipe for these baked cupcakes.
#7 Rainbow Cupcakes 
If you want to serve something moist and fluffy, rainbow baby shower cupcakes might be a perfect idea! They look sweet and taste delicious with vanilla buttercream! The colorful frosting can light up any baby welcoming event! Find the complete recipe from Thedomesticrebel.com
#8 Baby-Themed Cupcakes
For a baby shower, you have an endless array of details and motifs. If you are expecting a girl, you can choose the pink and grey color combo, to keep the cupcakes as elegant as possible. Elephant details, little baby stroller, pacifier and other cute motifs will spruce up every baby shower! Ask around to see if the local pastry shop can make these baby shower cupcakes!
#9 Enchanted Baby Shower Cupcakes 
The next idea from Funcakes.com will be magnificent if you can arrange a baby shower outdoors. Order botanical-themed cupcakes with green frosting and leaves details. You can mix them with green macaroons and popsicles! 
#10 Ballerina Cupcakes
If your little girl is quite an active one in your belly, why not serve ballerina cupcakes for your baby shower? You can choose whatever flavors you prefer, fruit or white chocolate, and pick the decoration in pink with white pearls! You can follow the Natasha's Kitchen recipe for the best vanilla cupcakes and find the available toppers in the local decor shop.
#11 Crazy Panda Cupcakes
If you love coconut in your party cupcakes, pick crazy panda cupcakes for your baby shower. It can serve as a unisex baby shower dessert idea and taste amazing, even as a snack for toddlers! Use chocolate candy for eyes and nose and half of the cookie for panda ears! Thesimple-sweetlife.com has an excellent recipe for panda cupcakes with mini Oreos.
#12 Salted Caramel Cupcakes
If you want to play safe when planning snacks for your baby shower guests, you can pick caramel cupcakes from Chocolatewithgrace.com. Even the pickiest guest will enjoy the lovely combination of rich caramel and salt that has become a popular flavor over the years. The cupcakes are easy to decorate with a pretzel and a pinch of kosher salt!
#13 Pumpkin Face Cupcake
Parents who are throwing baby welcoming parties in autumn can use pumpkins as inspiration. You will need an orange cookie color and green licorice twists, candies for eyes and nose and follow the instructions on Bettycrocker.com! 
#14 Fruit Salad Cupcakes
Sweet cupcakes with chunks of fruit are delicious and refreshing, excellent for a summer baby shower. They are also easy to make and you can use various fruit combinations with blueberries, kiwi, chopped strawberries, mango, cherry, etc, similar to how you can mix around fruits when making popsicles. Check Thepurplepumpkinblog.co.uk to get more ideas for fruit cupcakes.
#15 Candyland Cupcakes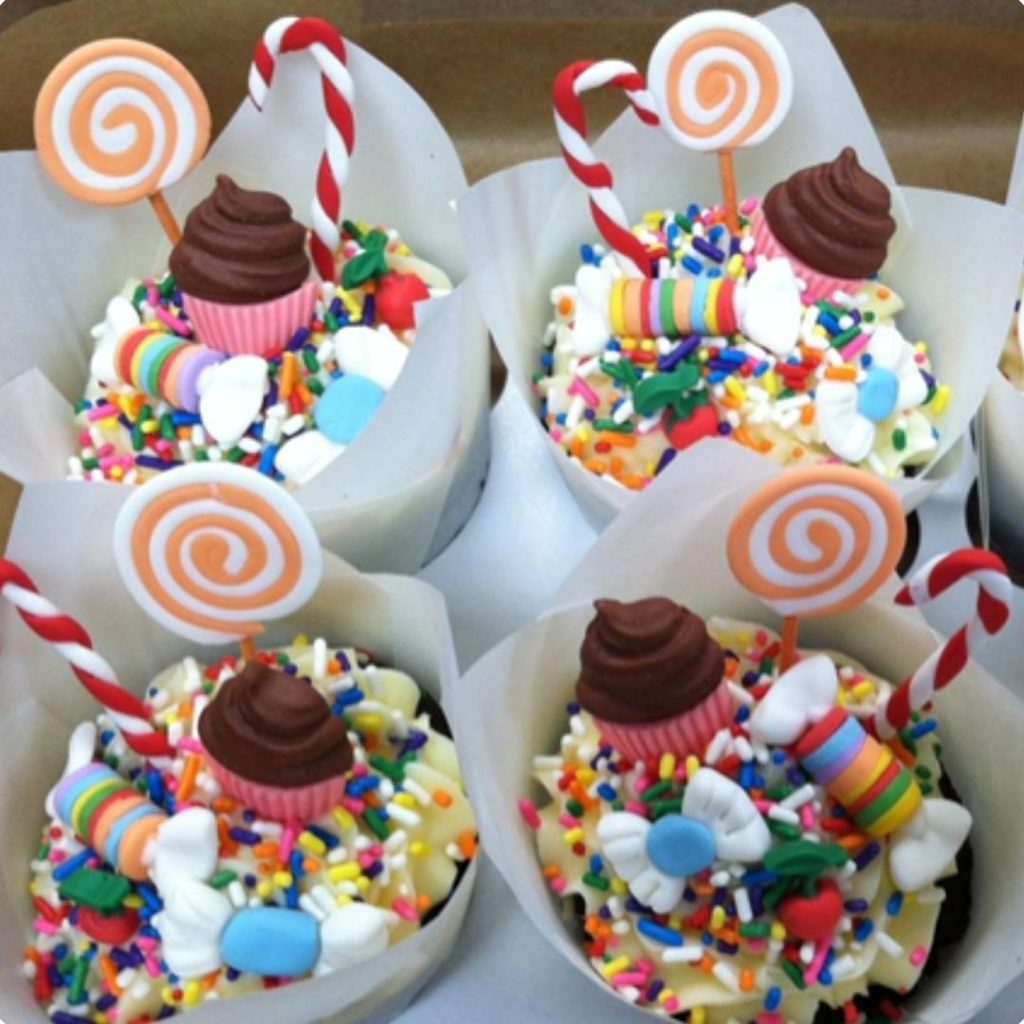 For people whose guests don't think about calories, candy cupcakes are an excellent idea to cheer the party up and make something memorable. Coat vanilla-cream cupcakes with colorful candies and sprinkles, lollipops and fondant decoration.
#16 Dreamy Cotton Candy Cupcakes
Do you love cotton candy? If you answered yes, you can serve cotton candy cupcakes for the baby shower and make everyone happy despite their age! A mini cotton candy placed on a lollipop stick is a treat on its own, and beautiful cupcake decoration. Cookingclassy.com offers a great recipe alongside useful tips for this cotton candy treat.
#17 Little Owl Baby Shower Cupcakes
The little owls on top of cupcakes with pink Swiss meringue buttercream taste sweet and look totally adorable to eat! The mini owls are made from chocolate, so they are edible, too! Use the BBCGoodFood.com recipe as a base and get creative with decor. 
#18 Sweet Monkey Cupcakes
Chocolate crumbs, cookies and chocolate topping is a combo that never fails. If you want to spruce things up, decorate your cupcakes as little monkeys and make everybody on your baby shower smile! Follow the tips from Persnicketyplates.com for the best results.
#19 Jungle Baby Shower Cupcakes
If monkey baby shower cupcake isn't enough for you, gather up the whole jungle crowd and serve lovely cupcakes shaped and decorated like animals from the jungle! You'll need a lot of food colors and a bit of imagination to make the best baby shower ever. Find the complete recipe at BHG.com.
#20 Crying Baby Shower Cupcake
All babies cry, so try to prepare for months of crying with cute little crying baby cupcakes. These fondant cupcakes are attractive, fun and delicious, and they also make for adorable party favors! You can also mix crying baby faces with smiling baby faces to make the dessert plate more interesting!
#21 Cartoon Themed Cupcakes
Get familiar with the current most popular cartoon characters with the cutest baby cartoon-themed cupcakes! It is an easy way to dress up simple cupcakes by adding a little cake topper. You can use Peppa Pig, Disney princesses if you are hosting a Disney themed baby shower, or whatever cartoon characters you prefer.
Top 21 Cake Ideas for Baby Showers
#1 Baby Cake
If you are looking for cute ideas for a baby shower cake, you won't regret ordering a baby-shaped cake! It is a lovely way to welcome the upcoming baby, whatever the gender is! The easiest way to decorate it is with fondant, or if you are skilled enough, play with frosting! 
#2 Baby Angel 
Babies are a blessing from angels, so why not express your gratitude with an elegant and sophisticated, baby angel cake? It is a perfect baby shower cakes design that can be used for both girls and boys. This cake design is also meaningful for a baptism event.
#3 Teddy Bears and Balloons Cake
Cute and lovely, vanilla frosting cake with teddy bears and balloons can be an excellent unisex baby shower cake. It is also one of the best ways to welcome the boy and girl twins! On a white fondant, all colors you pick for balloons look spectacular!
#4 It's a Boy!
A figure of a little boy peeping out from a blue box and similar design variations are charming baby shower cakes for boys. With this particular design, you can mix two flavors – one for the box, for example, red velvet cake, and the other one for the lid – cider cake! Or, you can choose cheesecake mousse filling, similar to Piece-a-cake.com.
#5 Minimalist Baby Shower Cake
Parents who prefer simplicity can pick a simple white cake with a couple of baby-related decor figures, such as pacifiers, baby shoes, bibs, and other cute nursery related details. 
#6 Stylish Suit Cake
If you are expecting a baby boy, the suit-shaped cake is adorable! The bow, the shirt buttons, the suspenders are a nice way to welcome your little gentleman! This two-tiered cake is also great for parties with lots of guests! 
#7 Elegant Floral Cake
If you want to skip all baby details and have a grown-up baby shower decorated cake, pick a simple cake with flowers. You can add a suitable Welcome baby caption and customize the filling according to your preferences.
#8 Twinkle, Twinkle Little Star
Twinkle, twinkle little star is one of the best writings for a baptism cake and a baby shower cake! You can customize the second part of the writing or keep the original lyrics and turn the cake into a gender reveal cake.  
#9 Celebration in the Woods Cake
The beautiful pastel cake with wooden animal figures is my favorite non fondant baby shower cakes idea. The cake is moist, refreshing, and looks cute, perfect for an upcoming fairy! You can put the fox, Bambi, rabbits, dears, or hedgehog figures to make the cake unique yet tasteful to the eyes!
#10 Wizard Baby Cake
A true Harry Potter fan will include the wizarding world theme into its baby shower! After all, who wouldn't want to get a little baby, a future member of the Gryffindor family? A golden snitch and a letter from Hogwarts are enough to make the cake magical!
The Thebakemore.blogspot.co shares the complete recipe with instructions on how to make this astonishing baby shower cake!
#11 Baby Steps Cake
A simple round cake with colorful baby steps, candies and ready-made white icing can be a last-minute solution for a baby shower cake. The cake will look subtle and is easy to pair with other baby shower decorations! If you take the recipe from Taste.com.au, you'll see how simple to make this cute cake is!
#12 Let's Explore the World Together!
The world cake is excellent for adventurous parents who plan to take their upcoming baby on multiple trips once a baby grows up! It is also a charming way to shout out – Welcome to the World! The baby figure on the top is a matter of personal preference.
#13 Fun Sheet Cake
The best baby shower sheet cakes ideas include a simple design and a uniquely witty caption, such as the one in the picture above. My favorite is vanilla cake with whipped buttercream! So simple and so delicious!
#14 Lovely Stork Cake
Storks have always been associated with upcoming babies, which makes them great cake ideas for baby showers. You can customize the icing color and keep the rest of the decoration to a minimum, so a stork can be the star of the show.
#15 Moon and Stars Cake
The moon and stars are a classical baby theme that most people associate with lullabies and sweet babies! Add a lovely teddy bear on top and you've got yourself the cutest baby shower cake ever! 
#16 Rubber Duck Cake
Once the baby comes, rubber duck toys will become your everyday life! You can use them as an inspiration for your baby shower cake.
Some people use actual rubber ducks for cake decoration, and others may decide to have edible ducks on top! One user from Reddit shares her recipe for this lovely rubber ducky cake! 
#17 Teddy Family
If your family is getting richer for a new member, you can present it on the lovely teddy bear family cake. Each member can have its figure on the cake, and a little cub can represent the upcoming baby! 
#18 Elephant on Cake 
Baby shower cake ideas with animals are always fun and attractive. Most people prefer elephants for the decoration for baby showers, nursery and other baby-related items. It is because elephants make the best moms in nature!
#19 Cuteness Overload Cat Cake
Cats aren't that common on baby showers cakes but are perfect if you are looking for a unique baby shower cake for a girl. You can play with color combinations, or stick to the standard white and pink icing as a safe bet!
#20 Life's A Circus Cake
Life is just like a circus – entertaining, unpredictable and scary sometimes! Honor the magic of life by picking a circus-shaped baby shower cake! You can add an interesting caption for a unique finishing touch! 
#21 Fit For A Princess (or Prince)
The princess theme for a baby girl baby shower will never go out of style! The details, such as swans, crowns and jewels will make the cake worthy of a true princess! If you want to make a boy version fit for a handsome prince, consider using motifs like horses and and a princely crown.
Conclusion
Did you enjoy the list? Which idea is your favorite? I cannot decide between animal-themed cake decors and the simple ones!
Whichever cake you choose, you can share it with us on Pinterest @babyjourney0183! I will love to hear from you!
If you have any questions about baby shower games or desserts, please ask me in the comment section!
—