Many first-time parents are surprised to learn just how much newborns sleep – up to 16 hours a day! Naturally, you want to give them a comfortable and safe sleeping space, and the most crucial element is choosing the best crib mattress.
Don't worry if you're not sure what type of mattress is best for baby, because I wasn't either! However, after extensive research, I became quite an expert on the best baby crib mattresses, and I can't wait to share what I've learned with you.
Your complete guide to the best baby bed mattresses starts right now:
Here's more on how to find the best mattresses for babies.
Types of Crib Mattresses
Although crib mattresses all look fairly similar, they have a variety of important differences that influence comfort, safety, and more. Here's a rundown on the main types of recommended crib mattresses:
Standard vs. Mini Crib
A standard crib is 27.24" wide by 51 5/8" long. That measurement is a standard established by the federal government (I'll explain the details below). If your nursery has space, a standard crib is usually recommended for two reasons:
Most mattresses fit a standard size crib.
They're appropriately sized for infants and toddlers.
You can also find mini-cribs, which are any cribs smaller than the standard size. Many mini-cribs are around 38" by 24", but you'll find options both larger and smaller. However, regardless of length and width, mini-cribs always have the same height as a standard crib, so little ones won't climb out any sooner.
Dual-Firm Mattresses
Also called a dual-sided mattress, these mattresses have a different level of firmness on each side. One is ultra-firm for newborns, while the other has a small layer of cushioning, making it appropriate for toddlers.
Double-firm mattresses are a bit more expensive than traditional crib mattresses. However, they're often cheaper than buying two mattresses, one for infants and another for toddlers. In many cases, I've found that a high-quality dual-firm mattress is the most cost-effective option.
Organic
An organic mattress is one made without synthetic materials or chemical treatments. Look for a mattress that's been certified as organic. GreenGuard is a major third-party organization that certifies a variety of products as free from toxic chemicals.
Waterproof
Accidents will almost certainly occur, so you want a mattress capable of protecting against liquids or mess like vomit. While most mattresses aren't waterproof themselves, what you want instead is one with a waterproof cover, such as a cover made from vinyl or latex.
Make sure the cover's zipper or other type of fastener is on the back or side of the mattress, so it can't scratch against the baby's skin.
The 10 Best Crib Mattresses
You'll find an abundance of crib mattresses options, and I know how overwhelming that can feel to sort through. To help you save time, and find the perfect mattress for your baby, here are ten quick crib mattress reviews featuring my faves:
1. Best Crib Mattress Overall: Newton Waterproof Crib Mattress
My top recommendation is the Newton Waterproof Crib Mattress, which combines comfort, firmness, and durability. It utilizes one-of-a-kind Breathe-Thru Technology that promotes robust airflow while also helping to reduce the risk of CO2 rebreathing and suffocation.
It's a dual-firm mattress built with Newton's patented Wovenaire core. The infant side has two layers of breathable spacer fabric, while the toddler side features a waterproof barrier to protect against nighttime accidents.
Pros:
Pad adds 3/8" of air circulation to help keep the surface cool.
It helps reduce the risk of suffocation and CO2 rebreathing
Dual-firm design suitable for both infants and toddlers
Greenguard Gold Certified for low emissions
Contains no latex, glue, springs, or allergens
Cons:
Only the toddler side has special waterproofing
Slightly rounded corners can potentially compromise fit
2. Best Mini Crib Mattress: Alma Mini Crib Mattress
If you're looking for an option that's smaller than a standard crib, check out the dual-firm Alma Mini Crib Mattress. Although it has a compact size, it retains top-of-the-line breathability with a Bundle Fiber core and organic cotton cover.
This crib pairs well with the Alma Mini Crib, which has four lockable wheels that allow for secure portability. It's able to slide through standard doorways, making it an excellent option to bring with you around the house.
Pros:
A smaller footprint helps save space
Cotton cover is soft and breathable
Supported by Bundle Fiber core
It fits precisely into the Alma Mini Crib
Non-toxic and chemical-free
Cons:
Memory side not appropriate for infants
Non-traditional size does limit crib options
3. Best Dual-Sided Crib Mattress: Serta Perfect Start
Save yourself the hassle of buying a second mattress with Serta's Perfect Start. It's made with a fiber core similar to a Sealy crib mattress. With a different level of firmness for each side, you can use it for newborns then flip it over for toddlers.
Both sides have a vinyl cover for reliable waterproof. The cover also allows for easy cleaning, which is important in a dual-firm, because ideally you'll use it for a fairly long time.
Pros:
It has a standard size of 27.5" (W) by 52" (L) by 6" (H)
Dual-firm provides targeted support for both newborns and toddlers
Both sides protected by waterproof vinyl cover
Non-toxic construction with GreenGuard Gold Certification
Includes a seven-year limited warranty
Cons:
The mattress can potentially sink in the middle over time
The cover could benefit from increased durability
4. Best Hypoallergenic Mattress: Eco Classic III
While all the mattresses on this list do a solid job protecting your baby from allergens, if you're looking for a bit extra in the hypoallergenic department, check out the Eco Classic III. It's made with a certified organic cotton cover, CertiPUR certified safe foam, and a plant-oil-based eco-foam infusion.
Beyond its allergen-reducing properties, it's also a well-made dual-firm mattress. It's 51.6" long by 27.25" wide with a thickness of 6". Inverted seams and a built-in waterproof backing increase total durability to help ensure you can use the mattress throughout the toddler years.
Pros:
Dual-firm mattress with durable construction
Environmentally-friendly and CertiPUR-US certified
Cotton cover is certified organic and ultra-soft
Standard size with rectangular corners allow for a precise fit
US-based Colgate Mattress has 65 years of mattress-making experience
Cons:
It might have a slight chemical smell initially
Stitching could use strengthening in spots
5. Most Comfortable: Moonlight Slumber Little Dreamer
Many comfortable baby mattresses use some type of fitted sheet, but if you're for something without a sheet, I often recommend the Little Dreamer from Moonlight Slumber. It's protected by a medical-grade stretch knit encasement, which stays in place and feels soft against your baby's skin.
It's also an excellent option to help protect against germs. The smooth surface and inverted stitching provide no crevices for bacterial buildup. This design also allows for easy cleanup.
Pros:
Most comfortable non-fitted-sheet option
It fits any standard mini crib (38" by 24" by 5")
Dual-firm mattress designed with two layers of foam
Resists bacterial buildup
Encased by medical-grade stretch knit
Cons:
Not the option if you want a mattress with a fitted cover
Difficult to fit into a mini crib
6. Best Organic Crib Mattress: Naturepedic Organic Cotton Classic
Naturepedic's Organic Cotton Classic is my go-to organic recommendation. It's hygienic and non-toxic with an organic cotton fabric and fill. Equally important is what you won't find: vinyl, glues, pesticides, polyurethane foam, and other hazards.
The dual-firm mattress is covered by an organic cotton cover with seamless edges. The cover is waterproof and easy to clean.
Pros:
It's made from all-natural, organic components
150 innerspring coils provide firm support
It contains no harmful chemicals
Waterproof and easy to clean
Dual-firmness for extended use
Cons:
Cotton more likely than foam to potentially shift shape over time
Height of six inches might be too tall for some cribs
7. Best Breathable Crib Mattress: Bundle of Dreams Eco-Air
While all of the mattresses I'm recommending here are breathable, if your baby has any respiratory issues, or you just want extra peace of mind, I recommend the Bundle of Dreams Eco-Air.
It's made with organic cotton and Bundle Fiber to allow for a clear, steady flow of air. Bundle Fiber is an organic material with no toxic emissions, off-gassing, or polyethylene components.
Pros:
Firm but breathable
All-organic cotton cover
Interior made with non-toxic Bundle Fiber
Removable cover is easy to keep clean
Standard size with square corners
Cons:
Not as waterproof as a vinyl cover
Indentation can form in the middle over time
8. Best Waterproof: Lullaby Earth Healthy Support Crib Mattress
A waterproof cover is a must, and while all the mattresses on this list excel here, I give a slight edge to Lullaby Earth's Healthy Support Crib Mattress. It's built around a patented WaveSupport core that helps keep the surface cool and dry.
Additionally, the smooth surface helps prevent germs. Keeping the surface clean, even after an accident, is simple and requires only a damp cloth.
Pros:
Excellent waterproof construction
Lightweight but firm WaveSupport core
Free from toxic chemicals, including flame retardants
The mattress surface is easy to clean
Made with organic cotton
Cons:
Might develop lumps over time
It might not last long into the toddler years
9. Most Certified: Graco Dual-Sided Premium Crib Mattress
Multiple certifications help ensure quality manufacturing and give you peace of mind about longevity. Graco's Dual-Sided Premium Crib Mattress is certified by CertiPUR-US, GreenGuard, and JPMA. It's also a 2020 Women's Choice Award winner.
It's a dual-firm, standard-sized mattress with a 100% polyester cover. You can unzip the cover and throw it in the washing machine for easy cleaning.
Pros:
Dual-sided for extended use
Multiple certifications
100% polyester cover
The cover is machine washable
It contains no phosphates or toxins
Cons:
You can't put the cover in the dryer
Edges of the mattress might be uneven
10. Best Value: Babyletto Pure Core Crib Mattress
Babyletto's Pure Core Crib Mattress is one of the best rated crib mattresses, but it doesn't cost a fortune. It's a firm, dual-sided mattress with a quilted face and vinyl, waterproof backing.
It's a standard size mattress made from food-grade polyethylene. The seamless sheet has inverted seams for a smooth, soft surface.
Pros:
Firm, durable polyester core
Dual-sided for infants and toddlers
Quilted face with organic cotton cover
Square corners ensure a snug, secure fit
Waterproof, vinyl backing keeps liquids on the surface
Cons:
The cover's zipper tends to stick
It doesn't wick away moisture effectively
How to Choose the Best Crib Mattress
When it was time to set up my first crib, I didn't have a clue about what to look for in a mattress. All I really knew was that I wanted my baby to sleep comfortably in the crib and stay safe. I ended up conducting a ton of research, and here's what I recommend:
Size
The Consumer Product Safety Commission's recommended dimensions for standard mattresses are 27.24" wide by 51 5/8" long. It can be either 4.5" or 6" thick. Either is fine – just make sure the mattress platform remains low enough to prevent the baby from grabbing the crib's top rail.
Mattress Firmness
When I'd first started researching the best crib mattresses, I was surprised by their firmness. Babies have different needs than adult sleepers. The American Academy of Pediatrics recommends infants sleep on firm surfaces until they're able to sit, roll, or pull themselves to a standing position (which is usually between nine and 12 months).
If you press into the mattress, and a visual impression remains when you pull your hand away, it's probably too soft. Firm mattresses help reduce instances of SIDS and suffocation.
Corner
Crib mattresses have either squared or rounded corners. Squared corners are the most common option and typically what I recommend. They fit without leaving any gaps between the mattress edge and the crib wall.
Most experts recommend the two-finger rule. If your index and middle fingers both fit between the mattress and crib, then it's too small.
Certification
Look for the following certifications, which help signify the best baby mattresses.
GreenGuard – Certification means the mattress has low chemical emissions.
CertiPUR-US – Certification signals the memory foams are non-toxic.
MADE SAFE – This certification helps ensure the mattress contains no harmful chemicals
Global Organic Textile Standard – A worldwide certification standard for organic fabrics
While certification alone isn't enough to ensure a quality product, it's certainly a positive sign.
Guidelines to Crib Mattress Safety
I frequently felt afraid I was doing the wrong thing, but crib mattress safety is far more straightforward than many people think, so there's no need to worry.
The Consumer Product Safety Commission says Bare is Best. That means no pillows, blankets, stuffed toys, or similar. They all pose a suffocation risk.
Proper fit also plays a key role. If you can fit two fingers anywhere between the crib and the mattress, the mattress is too small.
Always use the correct side of a dual-mattress. The toddler side can be too soft for newborns. Likewise, the infant side can be uncomfortably firm for toddlers.
Watch the height. Make sure the baby can't pull herself up to the railing. It's more common with a 6" mattress than a 4.5". However, the potential exists for both.
Avoid used mattresses. Using a new mattress is the only way to ensure the surface is hygienic.
Of course, mattress safety is one component of overall safe sleeping. Make sure the crib is properly assembled, free from defects or damage, and away from any potential choking hazards such as cords.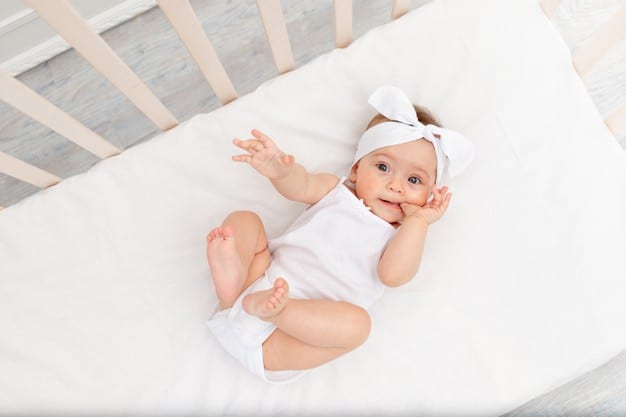 Best Crib Mattress FAQs
Here are quick answers to common questions about the top rated crib mattresses.
Is a Foam or Coil Mattress Better for My Baby?
What is the best crib mattress for babies? Generally, most baby sleep experts recommend coil mattresses over foam. Coils create a more breathable surface, which is safe and maintains a cooler temperature. The flexible surface of an all-foam mattress can increase the risk of suffocation.
However, some of the best memory foam crib mattresses incorporate an innerspring base, combining comfort with support.
How Much Should I Spend on a Crib Mattress?
Prices vary, but generally, the best crib mattress for newborns are priced in the low to mid-hundreds. You can find some cheaper options, between $60 and $100 or so, but you want to make sure it's well-made. If you want a top-of-the-line innerspring, you might have to spend $300 or more.
No matter how much you can save, you never want to use a second-hand mattress. Only a new one guarantees structural integrity and safe levels of cleanliness.
Also, check out dual-firm mattresses, as they might be the most cost-effective option. Spending a bit more today for a durable dual-firm might end up saving you money in the long run because you won't have to buy a new toddler mattress.
Should I Buy a Breathable Crib Mattress?
Yes, a breathable mattress helps ensure the comfort and safety of your sleeping baby. Breathability refers to the airflow the mattress allows. You want as much mattress breathability as possible to help reduce the risk of suffocation and keep the surface cool.
Does a Crib Need Two Mattresses?
Not necessarily, but babies do need two different levels of firmness depending on their age. Newborn babies need an extremely firm mattress. When they're old enough to roll, sit and pull themselves up, you can switch their infant mattress to a slightly softer (but still fairly firm) toddler mattress.
Typically, the switch occurs around nine to 12 months. You can buy two mattresses, one for infants and another for toddlers. Another option is a dual-firm mattress, which flips from the best infant mattress to the best toddler crib mattress.
Are Crib Mattresses and Twin Mattresses the Same Size?
No, but this is a fairly common source of confusion. A standard crib can't convert into a twin bed. However, some mini-cribs do change into toddler beds, daybeds, or even twin beds. They're typically referred to as 2-in-1, 3-in-1, and 4-in-1 cribs. (The numbers only refer to the different transformations but otherwise have no standardization.)
Conclusion
While all of these top-rated crib mattresses have amazing features to offer, my number one recommendation is the Newton Waterproof Crib Mattress.
Many others excel in some areas but fall just a bit short in others, and while that degree of specialization is useful in some cases, the Newton is the best all-around choice for most parents.
It provides firm support but still allows for easy airflow, so your baby's body is fully supported, and they have a reduced risk of accidental suffocation.
The right sleep surface plays an important role in healthy physical, mental and emotional development. Fortunately, using the guide above, you can rest easy knowing that your baby is sleeping comfortably and safely on the best crib mattress for their needs.
Do you have a favorite crib mattress that you go by? Share with us in the comments!
—
Last update on 2021-05-13 / Affiliate links / Images from Amazon Product Advertising API