A Montessori Must-Have
As a mom of children who attend a Montessori school, I have fallen in love with Montessori shelves. From the first time I set foot in their classroom, I wondered what were these kids shelves that were open and available for little ones to explore and play? It turns out, the best Montessori shelves can be a wonderful addition to not only classrooms but at-home playrooms too!
Are you intrigued yet? Then this article is for you! We will first talk about what a Montessori shelf is and why it can be so great. Then, we will line up a few of our favorites along with a helpful comparison and a "how to choose guide". Hopefully, leading you to the perfect Montessori storage shelf for your space!
Why Choose Montessori Toy Storage?
Montessori learning and play is very child-led and strongly encourages independence in children. Therefore, everything in a child's classroom or playroom should be easily accessible and at their level.
Enter Montessori toy storage. These simple and streamlined shelves have one very important feature. They are low. This keeps all the children's toys and tools where they can see and reach them. They can browse, select, play, and clean up with minimal assistance from adults. All of this accessibility increases their independence, confidence, and abilities to complete life skills as outlined by the Montessori method.
As a teacher or a parent, all of the above qualities are wonderful things for toddlers learning and play. It keeps kids from coming to you every time they want something new off of a high shelf.
However, these low shelves for toys aren't suitable for all families or situations. Keep safety in mind. You don't want dangerous items, like choking hazards, within your child's reach. The age of your child determines what can be left on the shelves.
It is always important to monitor children when they are playing. Not only to watch that they're safely engaging with objects on the shelves but also that they are not climbing them. If you have a baby who loves to explore with their mouth or a curious toddler who likes to climb, a Montessori low shelf may not be the best furniture for your playroom just yet.
A Brief Comparison of The Top 5 Montessori Toddler Shelves We Love
Best Overall
Lovevery The Montessori Playshelf
Best Multi-Use
KidKraft Wooden Bookcase Storage with Reading Nook
Best for Books
Montessori Toddler Bookshelf by WoodandRoomUA
Best Aesthetic and Design
KroftStudio Montessori Shelving Unit
Best Modular
Sklejkove Modular Montessori Shelf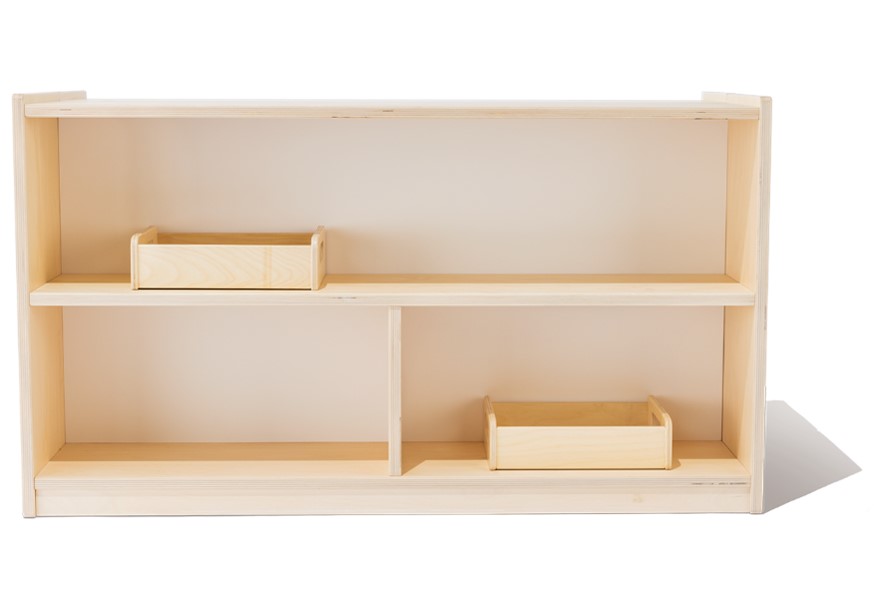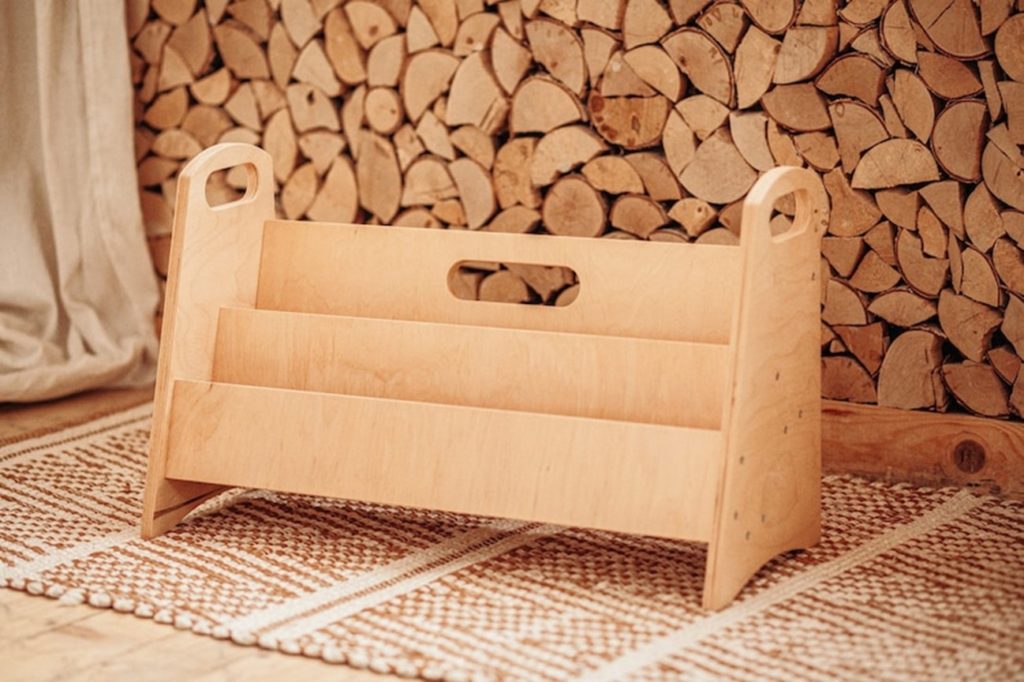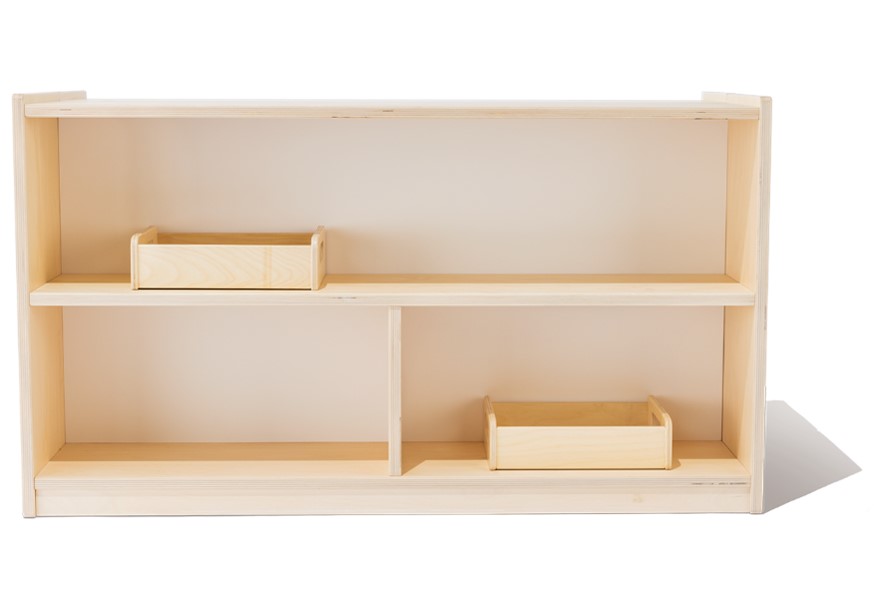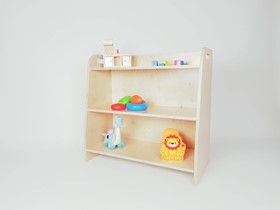 Dimensions
23.2 x 14.8 x 9.8 (small)
Number of Shelves
2 shelves, 6 compartments
Distinguishing Features
Hidden under-lid storage, includes two trays and two boxes
Cushioned seat for reading or play, multiple shelves of varying size
Tiered c for multiple books, can be personalized with name
Minimalist & contemporary design, open on all sides
Vertical design, small footprint
Best Overall
Lovevery The Montessori Playshelf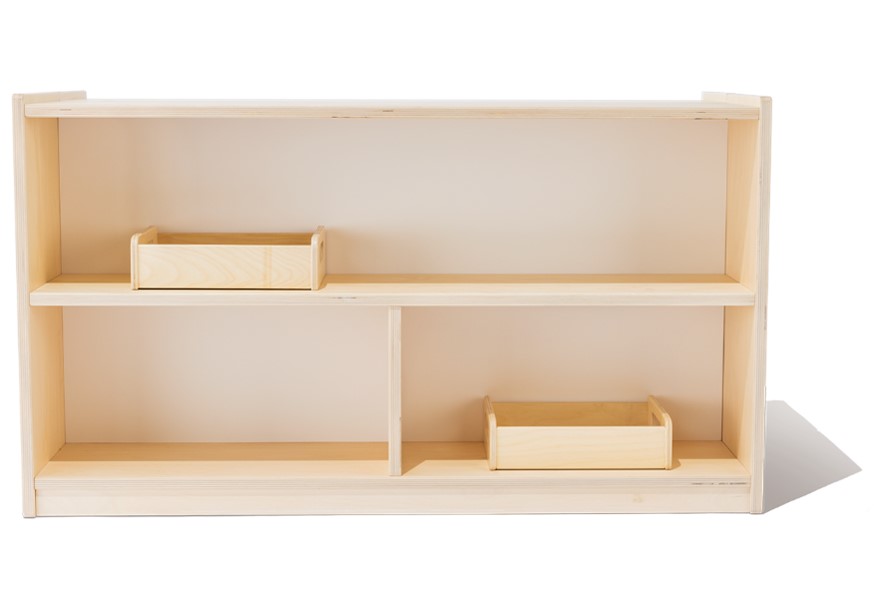 Distinguishing Features
Hidden under-lid storage, includes two trays and two boxes
Best Multi-Use
KidKraft Wooden Bookcase Storage with Reading Nook
Number of Shelves
2 shelves, 6 compartments
Distinguishing Features
Cushioned seat for reading or play, multiple shelves of varying size
Best for Books
Montessori Toddler Bookshelf by WoodandRoomUA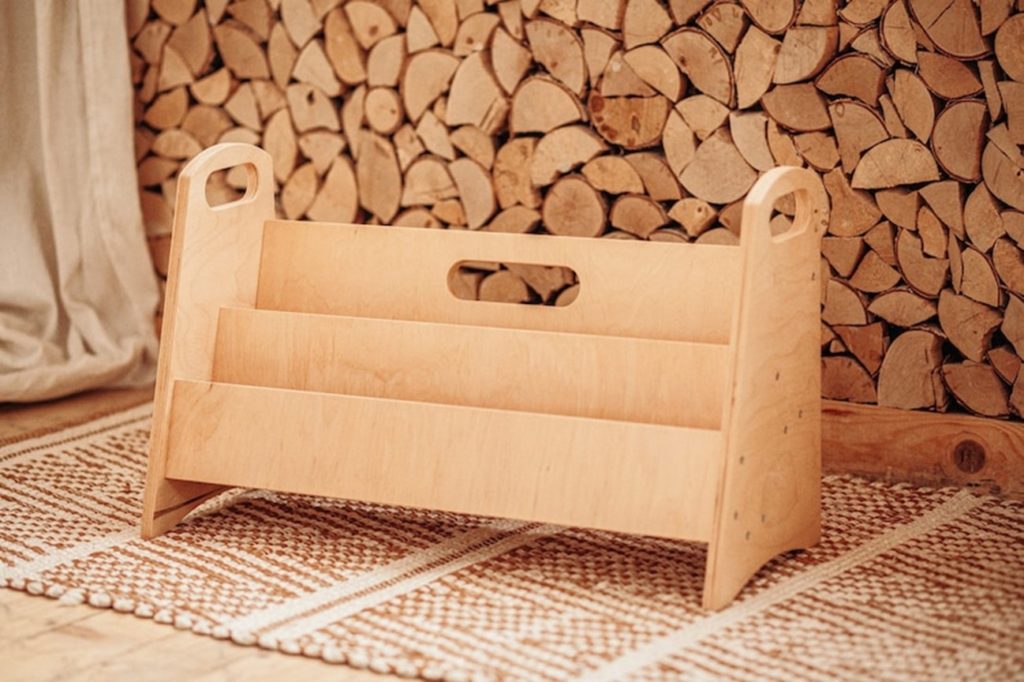 Dimensions
23.2 x 14.8 x 9.8 (small)
Distinguishing Features
Tiered c for multiple books, can be personalized with name
Best Aesthetic and Design
KroftStudio Montessori Shelving Unit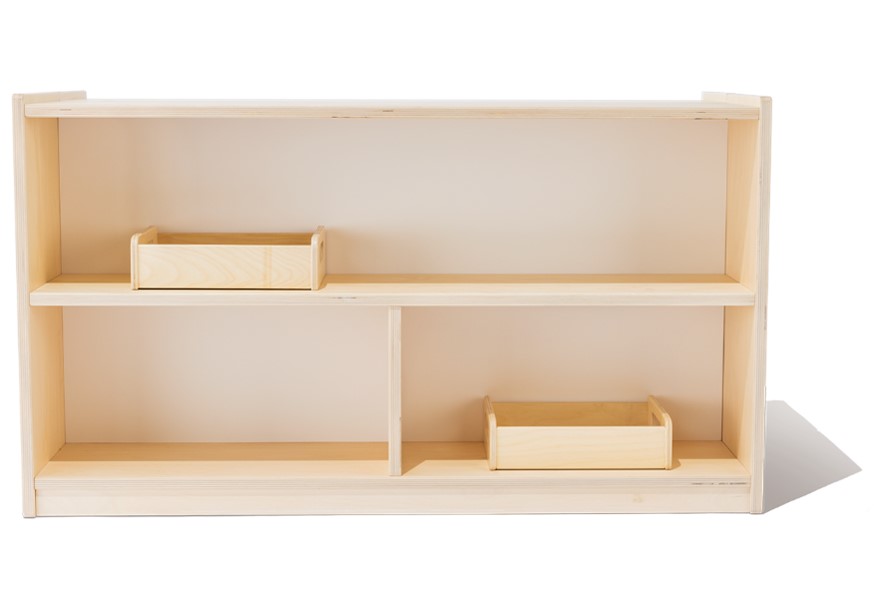 Distinguishing Features
Minimalist & contemporary design, open on all sides
Best Modular
Sklejkove Modular Montessori Shelf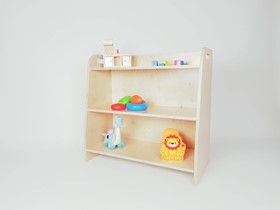 Distinguishing Features
Vertical design, small footprint
11 Of Our Favorite Handpicked Montessori Shelves
#1 Lovevery The Montessori Playshelf – Best for Storage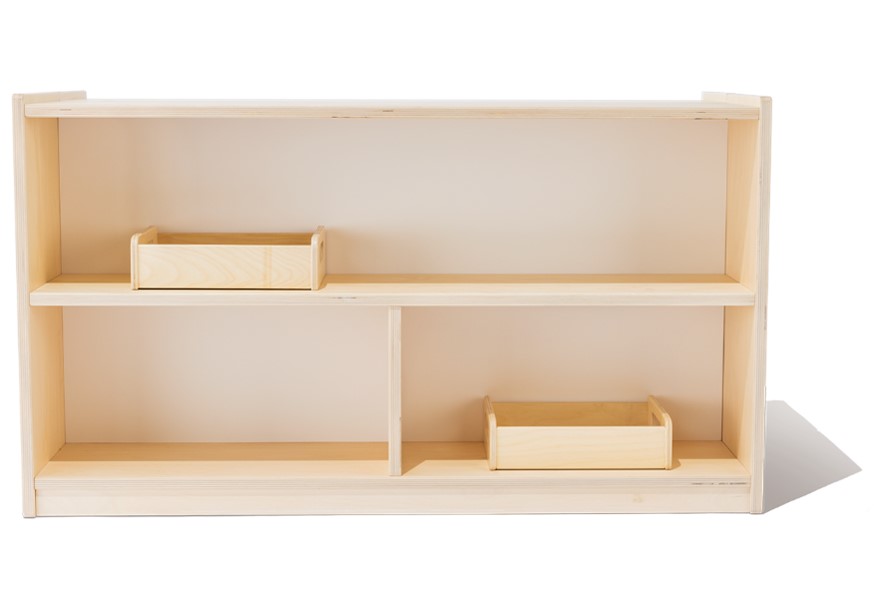 Lovevery is known for its Montessori-inspired toys, and their play shelf is no exception! This open toy shelf is constructed from beautiful birchwood. The material is both attractive to look at and very sturdy. Its 2-in-1 Montessori cabinet design is also pretty impressive.
It has three shelves on the front, two lower shelves, and one long upper shelf, at child-level of course. However, the top of the shelf lifts open to reveal inner storage. This makes it simple to rotate Montessori toys for your infant or store more mature toys away for later. Plus, we love that it comes with two boxes and two bins, ideal for storing things like Lovevery blocks!
Pros:
Has shelves and hide-away storage
Comes with two wooden trays and two boxes
Soft-close lid technology is safe for little fingers
41" x 23" x 20.5" size is perfect for most spaces
Modern design
Cons:
No adjustable shelves
Natural birch isn't resistant to stains
2-in-1 shelf makes for simple toy rotation and storage of up to 6 Play Kits
Montessori-inspired design
Includes 2 Wooden Trays and 2 Storage Bins
100% FSC-certified Baltic birch
#2 ECR4Kids Birch Shelf – Best for Bulky Items
Simple and straightforward, the ECR4Kids Birch Shelf is a great spot to set your kiddo's toys. Its large shelves can hold items that are tall, long, or awkwardly shaped. They're also perfect for use with boxes, trays, or baskets.
We love that you can choose this shelf either with or without the back, in case you plan on using this toy wall shelf against a wall or want toys to be accessible from both sides. Its durable veneered birch resists rot, stains, and is easy to clean. It's also GREENGUARD Gold certified for health and safety.
Pros:
Minimalist design
Large open shelves make it versatile
Lacquer finish is stain and scratch-resistant
Includes optional rolling casters for mobility
Cons:
Wheels cannot lock
Shelf heights are not adjustable
SALE
ECR4Kids - ELR-0450 Birch 2 Shelf Storage Cabinet with Back, Wood Book Shelf Organizer/Toy Storage for Kids, Natural
Mobile Storage Cabinet: Versatile 2-tier shelving unit for storing and organizing teacher supplies, wooden toys, books, STEAM activities, and more in a kindergarten, homeschool, or bedroom
Easy to Reach: Perfect height for children to self-help; introducing organizational skills at a young age helps kids logically handle information, prioritize activities, and build self-esteem
Durable Finish: A clear lacquer is applied using a multi-step process highlighting the natural features and grain of the wood making each piece truly unique; designed to withstand daily wear and tear
We really like how large and open the HiddenYearsCo Infant Montessori Shelf is. There is plenty of room to store all your Montessori toys, even large things like the Lovevery The Play Gym when not in use.
You can choose from Oak or Baltic Birch to tailor its appearance; either is durable and strong. The finish can be modified as well. Overall, it's a beautiful yet functional Montessori toy shelf.
Pros:
Customizable materials and finish
Very spacious
Handmade for superior quality
No exposed hardware for safety
Cons:
Only has one shelf
No back
This item was created for our sweet daughter as an infant, and we have loved watching her put it to use in every stage.
Dimensions: 36" L x 15.5" H x 11.25" W
This item is available for local, assembled pick-up as well–see additional listing.
Ships unassembled; phillips head screwdriver required for assembly.
#4 Jonti-Craft Low Single Mobile Shelving Unit – Best for Compartmentalized Storage
If you're looking for mobile Montessori shelving consider the Jonti-Craft Shelving Unit. It has five different compartments for toys with three smaller shelf areas and two larger spots on the upper shelf. Its low height is excellent for keeping kids' toys within reach and letting them play on the top surface.
Rounded edges and corners are the ultimate in safety. The dowel pin construction keeps it rigid without the use of dangerous metal hardware. It includes rubber wheels and casters for easy moving!
Pros:
Five different storage areas
Includes non-marking rubber wheels
Ultraviolet acrylic coating is kid-resistant
Rounded corners and edges
Cons:
Back panel is see-through acrylic and not wood
Not ideal for longer or larger items due to compartments
Jonti-Craft 0392JCPL Low Single Mobile Storage Unit, See-Thru Back
KYDZSafe edges - Each and every one of our edges and corners are rounded to a minimum of a 1 inch radius, allowing children to play safely without getting hurt by sharp edges and corners.
KYDZStrong construction - at Jonti-Craft, we employ dowel-pin construction. This technique is stronger than the dado joints used by other companies and prevents weakening at the joint, where most stress occurs and extends lifetime by 50%.
KYDZTuff finish - It's an ultravoilet acrylic coating that's as tough as the finish on bowling lanes and is enviromentally friendly too! It's an ultra-durable finish that resists yellowing and extra-strong resistance for daily wear.
#5 KidKraft Wooden Bookcase Storage with Reading Nook – Best Multi-Use
How cool is the KidKraft Wooden Bookcase Storage with Reading Nook? Not only does it include six storage cubbies, but it also has a cushioned reading nook in the center.
You can keep all your toys and books low for your little one while offering them a cozy spot to read and play. Available in a variety of colors, this Montessori bookshelf makes an attractive addition to any room.
Pros:
Includes cushion seat
Six compartments of various sizes
Available in three colors
Easy to assemble
Cons:
Made of composite wooden materials
Compartments are quite small
SALE
#6 KroftStudio Montessori Shelving Unit – Best Aesthetic
The KroftStudio Montessori wooden shelves are quite minimalist, which can be a wonderful thing! This Montessori play shelf offers lots of room for objects and toy storage while also giving your child unimpeded access.
Plus, their simple design easily meshes with the decor in any room of your home. They're low enough even for toddlers and made from kid-safe durable White Ash. Once your children outgrow their toy shelf, you can easily turn this into a grown up furniture.
Pros:
Modern design
Made with all-natural materials
Very low height
Open design allows for storage of bulky or awkwardly shaped items
Cons:
Corners are not rounded
No back or kickplate
Handcrafted with solid premium grade white ash. Made the old fashioned way with glue and joinery, this shelving unit ships full assembled and ready for use.
Dimensions: 60″ wide x 16″ high x 11-1/4″ deep
Shelf Depth: 10″
White Ash Natural Finish: Oil/Wax
Black: Water based Lacquer
Vintage: Stain with Water based Lacquer top coat
#7 Montessori Toddler Bookshelf by WoodandRoomUA – Best for Books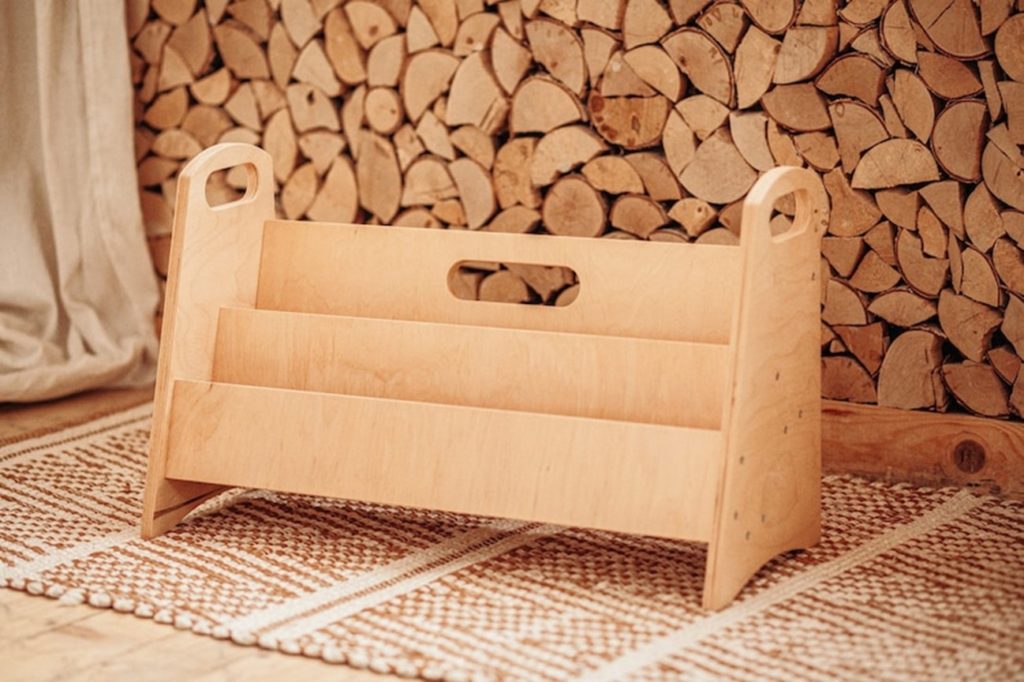 Need a Montessori bookcase? The WoodandRoomUA Montessori book rack displays all your little one's favorite texts easily and beautifully. Tiered shelves hold books of various sizes and keep them accessible in terms of reaching and seeing.
Made of birch plywood, it's pretty strong. You can also add customization to the front for a special and unique touch!
Pros:
Displays books in a convenient but compact manner
Available in two sizes
Can be personalized
Lightweight and easy to assemble
Cons:
Only for use with books
Upper shelves might be hard for small children to reach
This wooden Bookcase will help you to organize children's space conveniently and compactly. It designed so that the child can fully use the furniture.
Conforms to the Montessori method – the child can easily use the books himself.
New ideas for children's games and activities
Stylish simple design for your play room
#8 SapiensChild Montessori Organization Shelf – Best Compact Option
This small Montessori shelf by SapiensChild is delightful! It's compact but very functional, with three low shelves. This petite unit is so low it would work as a Montessori infant shelf, letting your baby crawl up or sit next to it and play.
It's made of lovely light Maple plywood and white melamine. If your playroom is on the smaller side, this sturdy and strong little Montessori toy organizer would be a great fit!
Pros:
Compact size is good for small spaces
Very low height suitable for a variety of ages
Three shelves with adjustable heights
Available for personalization
Cons:
No backboard
Hardware is exposed and not hidden
This shelf is made from sturdy and child-safe materials that are made to last.
GREAT FOR YOU
– A great solution for SMALL SPACES.
– Always keep an ORGANIZED space.
– STYLISH DESIGN will bring harmony inside your home.
GREAT FOR YOUR CHILD
– INDEPENDENCE for your child to use what they are interested in.
– EMPOWERS your child to learn about the sense of order
– Develop CLASSIFICATION skills.
Ideal for toddlers aged 12 months old to 4 years old.
#9 Unique Montessori Shelf by MyIvyAndHope – Best for Unimpeded Access
Toys and art supplies are amazingly accessible with this Unique Montessori Shelf by MyIvyAndHope. Open on all sides, these wooden Montessori shelves provide unprecedented access. You can store items on the two lower shelves and use the top as well.
Made of birch plywood it is light, durable, and stylish. Its contemporary design is excellent for a Montessori nursery, playroom or even your living room! We also appreciate that it is handmade with eco-friendly materials.
Pros:
Open on all sides
Long shelves are great for a variety of items
Lightweight but strong
Modern, contemporary design
Cons:
No backboard or sides, toys may fall off easily
No wheels for transport
Our child-sized shelf can be easily used by the child himself, which helps developing understanding of independence
Unique, simple design with modern touch that stays true to the Montessori method
Handmade from eco-friendly materials
Safe for children
#10 Montessori Mini Shelf by WoodjoyCollection – Best for Pairing with Other Storage
We adore that this Montessori Mini Shelf effortlessly fits in with your other storage options. It has all the signature features, like super sturdy wood construction and low open shelves. However, it pairs incredibly well with other Montessori storage ideas thanks to its mini size!
You can easily fit in a bookshelf or bench next to this cute little beech wood shelving unit.
Pros:
Three levels of shelves
Open on all sides
Compact for a small space
Deep shelves hold various sized items
Cons:
Lowest shelf is on the floor
No wheels for mobility
According Montessori philosophy, the furniture should be functional, tailored to the needs, interests and age of the child. The children should have easy access to their belongings.
They are also deep enough to contain even bigger toys and accessories supporting the child's development.
It is made from FSC certified beech massive wood frame and birch plywood shelves, painted with water based paint and lacquer.
We have 10 colors available, see on the attached photo the options.
#11 Sklejkove Modular Montessori Shelf – Best Modular Design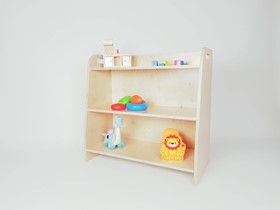 You can use the Sklejkove Modular Montessori Shelf or pair it with their bookshelf thanks to its amazing modular design. Built-in a vertical fashion, it has a small footprint while offering convenient storage. It is made to match other furniture in the Sklejkove seamlessly.
Use it with a natural finish on the baltic birch, or choose from four other fun colors. It's natural, eco-friendly, and handmade.
Pros:
Vertical design with a compact footprint
Three shelves with great height and depth
Available in four fun colors
No plywood or laminated melamine
Cons:
Tallest shelf might be hard to reach
Toys only accessible from front
Made from highest quality (B/BB) baltic birch plywood dedicated for toys, 100% hand made.
Kids are able to arrange their toys: take out, play, insert back, arrange and repet how many time they want.
Perfectly fits to our book case.
Dimensions:
height – 70cm, or 27 1/2 inch
width – 73cm, or 28 3/4 inch
depth – 35 cm or 13 3,4 inch
No visible conectors/ screws etc.
How Do I Choose A Montessori Shelf for My Child's Playroom or Nursery?
Here are a few things to think about before you purchase your perfect Montessori shelf, whether you're looking for a pricey handmade option or cheap Montessori shelves.
Purpose. Do you need to store toys, books, or maybe both? Check the dimensions of the Montessori shelf to see what will fit.
Child's Age. Younger kids may benefit from lower shelves. Older children can use taller shelves, or the top surface to play on. Think about what will be in reach for your little one depending on their age and stage.
Material Type and Safety. Make sure that all components of your shelf are non-toxic and child-safe. Check for things like rounded corners and hidden hardware to minimize accidents.
Shelf Style. Some parents love shelves that are open from all sides while others dislike that it allows toys to more easily fall off. Whether your shelf has a back and/or sides is a matter of personal preference!
Room Space. Thankfully, Montessori shelves come in all sizes and designs. Depending on your room you may need a compact or vertically arranged option. Some are more aesthetically pleasing in the case that your shelf will be in a common area.
Montessori Furniture Takeaway
There is a wide variety of Montessori shelves out there; each with the same goal of making toys easily accessible to your little one to foster independence and build confidence.
However, our favorite has to be the Lovevery The Montessori Playshelf for its durability, creative design, and contemporary look!
Do you have a favorite? We would love to know in the comments below, or share more ideas for Montessori bookcases. Hopefully, you found this useful in your search.
Last update on 2023-06-16 / Affiliate links / Images from Amazon Product Advertising API