The world of baby gear is vast. There are so many products such as baby play gyms, playpens and playards to keep your little one safe and keep you as a parent sane. One item you may not realize you need is a non-toxic play mat.
A baby play mat is a great clean, cozy, and safe space for your little one to crawl, roll, and explore. As it is supposed to be safe for babies, going for non-toxic play mats may require extensive research. The good news is, I have compiled a list of 12 top picks on the best non-toxic play mat for your baby so you can get to your play mat buying decision quicker.
The 12 Best Non-toxic Play Mat Quick Summary
Why Just a Blanket Won't Do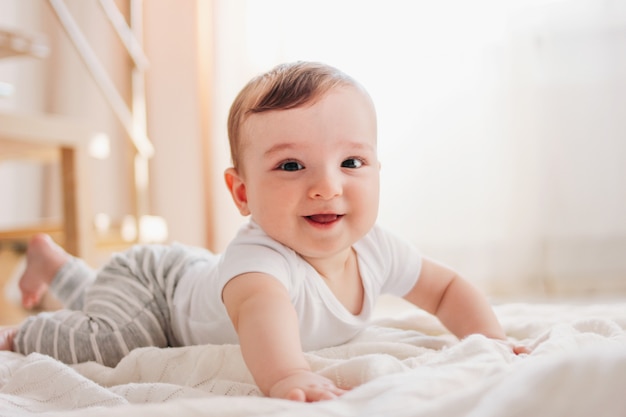 Baby play mats are just as their title alludes, a mat on which to place your baby for tummy time or play. Some can be used outdoors while other play mats can make hard wood floors more comfortable. They may feature alluring colors or cute patterns to attract your infant's attention.
When the surface on which you want to lay your baby is questionable, you may want to consider a non toxic baby play mat. Blankets may do the trick in a pinch, but a play mat is typically a much more baby-friendly option. Where a blanket may bunch and hold debris a play mat is firmer, washable, and sturdier.
Play is important for your little one, as kidshealth.org states, "Provide colorful toys of different textures, shapes, and sizes for your baby to hold and explore". Some play mats perform double duty by creating a clean space and providing colorful images for exploration. A play mat can be a great addition to your baby gear repertoire – I loved mine when visiting grandma's house!
Exploring Your Play Mat Options
With so many options how do you choose a baby play mat? Deciding on its most important features first can be helpful. Do you have a small space or can it be large? Do you want foam or cloth? Does it need to be portable? These are all good questions apart from making sure it's made out of non-toxic materials.
Size. Play mats can vary greatly in size. Some can resemble a simple mat that you can fold up and take with you. Others consist of large interlocking pieces that are made to be relatively stationary once constructed. Where you plan on using the play mat can help you determine what size you need.
Material. What the mat is made out of differs almost as much as size. The non-toxic play mat options can be anything from foam to fabric and many things in between. Some play mats are made to be sturdy while others are softer and more comfortable. Some are machine washable thanks to their fabric design while others are wipe clean only. You should think about where you want to use the mat and how often you will need to clean it.
Special Features. Some best non-toxic play mat on this list resembles a neutral colored rug or mat. Others have brightly colored patterns or fun animals. What style or features you want depends on if you plan to use the mat in your living room, opting for a less obtrusive design, or want it to complement your nursery decor with a colorful pattern.
Intended use. Play mats are typically used for playing, however, some can be conducive to naps. Additionally, foam mats may soften a hardwood floor for the baby while plastic-backed mats can protect against wet grass. Think about where, when, and why you may use the mat to further narrow down your choice.
You may be interested in: 15 Best Play Mats and Play Gyms for Babies
The 12 Perfectly Padded Non-toxic Play Mats for Your Baby
Once you have narrowed down the attributes of your perfect baby play mat, take a look at these examples. The following round up may help make your decision a bit easier!
1. Soft Padded Baby Play Mat by ULLENBOOM
If you are looking for a soft and cozy non-toxic mat then the ULLENBOOM Soft Padded Baby Play Mat May suit your needs. It is 100% cotton so it shouldn't irritate your baby's delicate skin. The plush design helps to pad hard surfaces. As a bonus, this non-toxic play mat features a cute woodland animal design!
Pros:
Machine washable and dryer safe
Handmade and very durable
Made with organic fabrics for sensitive skin
Cons:
Smooth cotton texture may slip easily on hardwood or tile floors
Because of plushness, it may not be ideal for napping
2. Wee Gallery, Explore Play Mat, Organic Cotton Muslin Mat for Baby
Another whimsical play mat is the Wee Gallery, Explore Play Mat, Organic Cotton Muslin Mat for Baby. This mat is made with organic cotton stuffed with a plush poly-fill. Your little one can comfortably roll or crawl on nearly any surface. All the materials are safe to be washed in the washing machine so you won't have to fret over spills or accidents.
Pros:
Cute design with woodland creatures on one side and cityscape on the other
Includes a drawstring bag for easy transport
Is a nice medium size measuring just over three feet in diameter
Cons:
The white background may get dirty easily
If the baby can roll, they may be able to roll off it quickly due to its size
Wee Gallery Explore Play Mat for Babies - Reversible Floor Mat for Tummy Time Made with Sustainable Materials - Padded Activity Mat for Infant Play - (40 Inches)
THOUGHTFULLY DESIGNED: Wee Gallery's infant playmat features a hand-illustrated woodland scene on one side and a neutral cityscape on the other. Measuring 40 inches in diameter, our play mat creates the perfect area for cushioned play.
BABY DEVELOPMENT SUPPORT: Featuring a reversible two-sided pattern with high contrast graphics, this aesthetic baby floor mat keeps your little one interested and visually stimulated. The ideal playtime setting for baby development!
THE PERFECT GIFT: This floor mat is the perfect baby shower gift or first birthday present for your child or grandchild. Our soft play mat for babies also comes in a keepsake drawstring bag with a tassel for easy storage and gifting.
3. W WelLifes Baby Play Mat
The W WelLifes Baby Play Mat also uses cotton material but it features something special as well. Its unique 3D air mesh helps to regulate temperature so you can use the mat year-round. The mesh backing will help to keep your baby warm on cold hardwood floors in the winter and keep them cool outdoors in the summer. Besides, the mesh backing adds a nice cushion and keeps the non-toxic baby mat breathable.
Pros:
A fun animal pattern for baby to discover
Mesh backing makes the mat somewhat non-slip
Safe for sensitive skin, 100% hypoallergenic
Cons:
Narrow in size means it may be easy for your baby to crawl or roll off
Not double-sided or reversible
Baby Folding Play Mat 3D Air Mesh Organic Cotton Animal World
Breathable sequential 3D-air Mesh construction keeps cool air in the summer and warm air in the winter. Well ventilated 3D Air mesh fabric is used for the back and it reinforce a sense of durability and cushioning. The front side is 100% Organic Cotton fabric .
Made with Organic Cotton Fabric Textiles Cover. Acquired the organic international certification such as GOTS (Global Textile Standard) organic farming certification.
The Baby play mat features a developmental playground of fun activities and discovery for baby, comfy 3D Air Mesh to keep baby and parent comfortable.
4. Mary Meyer Bestever Baby Mat
If your baby is at the age where they can sit and play then you may like the Mary Meyer Bestever Baby Mat. This mat is designed to resemble a cute and cuddly animal, and you have your choice of an elephant, a puppy, a giraffe, an owl, a lamb, a bear, or a bunny. The "belly" of the animal provides a comfy place to sit while your tot plays. Older children may also love snuggling up with this plush mat.
Pros:
Provides a comfortable and padded seat
Can be used by older children as a pillow
Large selection of animals
Cons:
Is not ideal for tummy time or back playtime due to elevated cushion design
Not very large measuring 31 x 23 inches
Fur may shed after washing
Mary Meyer Bestever Baby Mat, Lamb
Lamb Baby Mat floor mat for baby features premium soft white on white fabric, stitched eyes for total softness, and wide snuggly tummy
Measures approximately 31 x 23-inches
Features luxuriously soft fabric on top and a durable fabric bottom; machine wash delicate cycle, air dry
5. Moiré Baby A to Z Animal Learning Play Mat
Some little ones just go, go, go, and they may need an expansive play mat. The Moiré Baby A to Z Animal Learning Play Mat is extra-large, measuring just over six feet by slightly over four feet. Its large size is perfect to accommodate the alphabet with corresponding animals. Your active baby will love exploring on this fun play mat.
Pros:
Stain and water-resistant
One inch of padding keeps it comfortable on knees and bottoms
Machine washable
Cons:
Folds up but may be bulky to carry or transport
May shrink if placed in the dryer
6. Organic Designs – Organic Toddler Comforter
An extra comfy baby play mat is the Organic Designs – Organic Toddler Comforter. It has organic cotton fabric on one side and flannel backing on the other. The fill makes it very plush and comfortable, perfect for hard bare floors. The colorful letter pattern is engaging for little ones. This can be used as a cushy play mat or a cozy place for a supervised snooze.
Pros:
Large size, 54 x 40 inches
Can be used as a supervised nap space or as a play mat
Machine washable and dryer safe
Can be used as a comforter blanket by older children
Cons:
Not ideal for tummy time as it is so plush
More of a comforter than a play mat
7. Nook Sleep Lily Pad Playmat
A very versatile mat is the Nook Sleep Lily Pad Playmat. This circular mat has the perfect amount of padding to make tummy time, nap time, and even playtime comfortable. The one inch of plush is thanks to the non-toxic air spacer cushion covered by pebble texture organic fabric. The entire pad is water-resistant meaning you can easily wipe it clean or for set-in stains just toss it in the wash!
Pros:
Has attached handles so it can be folded and carried
Very soft
Breathable fabrics make it safer for tummy time
Cons:
A little heavy for transporting
Not very large, older babies can easily roll or crawl off
8. Toddleroo by North States 71″ x 71″ Folding ABC Play Mat
The Toddleroo by North States 71" x 71" Folding ABC Play Mat is a non-toxic foam play mat. It makes the perfect base to a six or eight paneled gated play yard. The PE foam is perfectly padded for crawlers, and better yet it is hypoallergenic and BPA free.
Pros:
Large size
A fun pattern featuring animals and letters
Foam is effortless to wipe clean
Water-resistant
Cons:
Folds up but is still bulky to transport
The foam may not be super durable and can be bitten by children
9. Parklon Folding Play Mat
Another awesome PE foam mat is the Parklon Folding Play Mat. This may have a unique design in that it consists of folding panels, making it easy to move despite its large size. At nearly a half-inch thick it provides protection against hard floors or rough outdoor terrain. The foam is also water-resistant so it is perfect for the outdoors or drooling little ones in the living room.
Pros:
Lightweight
Very durable
Choice of three cute patterns
Cons:
May be easily scratched or punctured by pets
The water-resistant coating may become slippery if wet
Parklon Folding Play Mat (78.7 x 55.1 x 0.4 inch) (Little Elephant)
LIGHTWEIGHT: This mat is made of PE, a lightweight foam material, making it easy to fold up for storage or carry on the go.
PORTABLE: Folds up into a convenient carrying case so you can take this mat to the park, beach or friend's house!
WATER-RESISTANT AND EASY TO CLEAN: Simply wipe up spills or clean up messes with a damp cloth.
10. Taf Toys North Pole 4 Seasons Baby Activity Mat
A mat that grows with your little one is the Taf Toys North Pole 4 Seasons Baby Activity Mat. It is a plush fabric mat that includes side panels that can be lowered and raised. When your baby is too young to do more than roll, you can leave the side panels raised, as they age lower the panels to form a mat. The play mat also includes a fun pattern with hide and seek crinkling flaps, rattles, and ribbons.
Pros:
Padded mat with extra soft fabric
Versatile and grows with your baby
Includes detachable sensory toys
Cons:
A baby may outgrow it quickly
Is not machine washable
Taf Toys North Pole Four Seasons Play Mat
FOR TWO DEVELOPMENTAL STAGES: Stage 1 (0-3m) Raised side panels create a safe and cosy environment for your baby. Stage 2 (3m+) Unfolded side panels creates a larger, extra padded play mat.
DETACHABLE COLOURFUL TOYS - Features two detachable, double sided, multi-sensory activity toys: Prince the Penguin toy with clear ring rattle and a rainbow baby-safe mirror with colourful ribbons. Beautiful illustrations of the 4 seasons promote parent-baby interaction.
FULL OF ACTIVITIES AND EXTRA PADDED - The mat includes two hide n' seek crinkling flaps. The play mat is extra padded and measures - 96 X 96cm, 37.8" X 37.8"
11. wander & roam Baby Play Mat
The wander & roam Baby Play Mat is constructed from a single piece of non-toxic foam, meaning you won't need to worry about cleaning in between the cracks or joints. It is large enough that your little one can use it for a while, measuring over four feet in diameter. This non-toxic play mat has the perfect amount of padding to make hard floors more comfortable and safer for your baby.
Pros:
Available in a 4.6ft diameter circle or a 6.5ft x 4.5ft rectangle.
Comes with Velcro straps so you can roll it up and transport it
Neutral patterns and colors complement any room in your home
Easy to wipe clean
Cons:
After rolling for storage it may be difficult to flatten
Not as heavy or sturdy as other foam mats
Sale
12. Baby Mushroom Baby Bello Organic Play Mat
If you want the ultimate protection for your baby on your hardwood or tile floors, you might want to consider the Baby Mushroom Baby Bello Organic Play Mat. This mat consists of an organic cotton cover, a water-resistant liner, and plush plant-based foam. All these components work together to make a comfy, durable, and non-toxic baby play mat. At nearly five feet by five feet, it is big enough for you to join in on tummy time.
Pros:
Made of hypoallergenic and eco-friendly materials
Cotton cover is machine washable
Rolls up so you can transport it easily
The clean and neutral look blends in well in any room
Cons:
If cover shrinks it may be difficult to use it with the mat
The cream color shows dirt and wear quickly
Which Play Mat Scores Top Points?
The perfect non-toxic play mat for you depends on a few factors. Size, material, and portability are all considerations. However, the one play mat that checks many parents' boxes is the wander & roam baby play mat.
The non-toxic BPA-free foam is ideal for sensitive skin while providing the best cushion for exploration and play. The play mat is large enough to be useful throughout many stages of your baby's development. The pattern choices for either the circle or square mat are sure to complement your decor no matter which room you use it in.
So which one is your top pick? Hope this guide helps!
——
Last update on 2021-10-19 / Affiliate links / Images from Amazon Product Advertising API