Bugaboo is one of the most reliable parental product manufacturers on the block, operating for more than 20 years. Very few names can match what this Dutch company has to offer.
From design to functionality and aesthetics to durability, Bugaboo checks all the boxes for being one of the best strollers in the market. We also like how Bugaboo has named its stroller series after animals.
After Bee, Cameleon, Ant, Donkey, and Fox, Bugaboo has introduced the Lynx stroller.
Like any other stroller by the company, Bugaboo Lynx boasts supreme design and quality. If you have already checked out the luxury stroller range of Bugaboo, you will find this stroller resembling Cameleon3 and sporting the most features of Fox 2.
However, what you get with Bugaboo Lynx Stroller is that it is the lightest among all the Bugaboo strollers and comparatively easy on the pocket.
If you want to buy a lightweight stroller and are mulling over options, continue reading this in-depth Bugaboo Lynx Stroller Review.
We will discuss and dissect all that you need to know before investing in a lightweight stroller in this Bugaboo review. The review will also touch upon a couple of Bugaboo Lynx alternatives you can consider.
Bugaboo Lynx Stroller: Pros & Cons
Pros:
Lightweight with an impressive weight capacity
Reversible seat with three reclining positions
Cheaper than other Bugaboo strollers
Can be folded in self-standing and compact configurations
Cons:
Doesn't feature suspension on all wheels
The under-seat basket doesn't have side pockets/organizer
You can purchase the Bugaboo Lynx from the official Bugaboo website, Amazon or PishPoshBaby.
Bugaboo Lynx Stroller Review : Frequently Asked Questions
Before we move to discuss the features and benefits of Bugaboo Lynx Stroller, have a look at some of the frequently asked questions from other Lynx reviews regarding this baby ride.
Who the Bugaboo Lynx Stroller Is for?
Bugaboo Lynx can be a perfect baby strolling option for all parents looking for something lightweight, compact in footprint, and also easy on the pocket. Parents living in multistory apartments and already exhausted with all the dragging of heavy strollers through the stairs may find Bugaboo Lynx a blessing.
What is the difference between Bugaboo Lynx and Fox?
Bugaboo Lynx is a budget variant of Fox strollers. Lynx and Fox strollers share multiple features. However, Bugaboo Fox stands apart with its all-wheel suspension that makes for a smoother ride.
Moreover, Fox's canopy features two peek-a-boo windows, and its basket is also larger and features side pockets. On the other hand, Bugaboo Lynx triumphs with its low price, lightweight, and slightly higher weight limit of the seat.
Can You Customize Bugaboo Lynx Stroller?
Yes, you can customize Bugaboo Lynx Stroller with various accessories. You can use it with a variety of baby car seats by different manufacturers such as Nuna, Cybex and Maxi Cosi.
You can also customize the Lynx stroller with a bassinet. Bugaboo also lets you turn Lynx into a stroller for two kids with its exclusive Bugaboo attachment called Comfort Wheeled Board.
Is Bugaboo Lynx Safe for Newborn?
Yes, Bugaboo Lynx is completely safe for newborns. Its seat features a 5-point harness to keep the baby in a secure position. Moreover, you can recline its seat to a full-flat position to make it an on-the-go sleeping bed for the baby or go for its bassinet option.
Bugaboo Lynx Stroller Review: Features & Benefits
As you can tell by the title of this review, this Bugaboo stroller's unique proposition is its lightweight body. However, Lynx Stroller is not just all about its featherweight body. The stroller boasts a host of other features and benefits as well.
Weight and Weight Limit
The equation of weight and weight limit in Bugaboo Lynx is impressive. The lightweight yet full-size Lynx stroller weighing 20.7 lbs can carry more than three times its Bugaboo stroller weight.
Its seat can accommodate a child up to 50 lbs. This means you don't have to worry if this lightweight stroller will be sturdy enough for your preschooler.
Overall, Bugaboo Lynx can carry 72 lbs, which is pretty good for a lightweight stroller.
Bugaboo has managed to offer such an impressive weight limit with its lightest stroller by using state-of-the-art aerospace-grade aluminum. This aluminum variant has a lighter density but exhibits sturdiness of any other strong alloy.
Maneuverability
Bugaboo has not just kept the weight of the Lynx stroller light. It has also designed it with a compact footprint to ensure that you can move it around with the utmost convenience. The narrow stride of Bugaboo Lynx comes in useful when you have to maneuver and move the stroller on crowded walkways.
Besides a streamlined footprint, some other features of the Lynx stroller also improve its maneuverability. For instance, its higher angled handlebar allows you to stroll it at any type of surface without straining your arms.
Moreover, you can maneuver the stroller through sharp corners and tight spaces with relative ease through its responsive one-handed steering.
We should mention here that the stroller's great maneuverability doesn't have any bearing on the quality of its ride. The stroller features large wheels with front suspension that guarantee that you can maneuver it on any type of terrain without compromising on your kid's comfort.
Seating Options
Bugaboo has packed all the required versatility in the Bugaboo Lynx seat, making it a great strolling option for different scenarios. The stroller seat features a 3-position recline.
You can seat the baby in an upright position if they like to peek around while strolling. The upright seating position is also great for on-the-go feeding.
If your baby is too small and takes naps all the time like any other healthy infant (babies younger than one year can sleep up to 16 hours a day), you can lay the seat flat for their nap.
This reclining seat can also move 180-degree on its base to provide it with both world-facing and parent-facing configuration.
The new large canopy featuring 50+ SP further improves the comfort of the Lynx seating. You can fully extend the canopy to protect your kid from harmful UV rays on sunny days. The canopy also features a peek-a-boo window on the top to continuously engage and check the kid when facing the front.
Foldability
Source: Bugaboo YouTube
Bugaboo has made Lynx stroller lightweight and highly maneuverable so you can move it around without a hassle, similar to another model, the Bugaboo Ant. It has further improved the mobility of the stroller by adding an impressive foldability feature to it. You can fold the stroller two ways, depending on your requirement.
One-piece self-standing fold
Two-piece compact fold
The folding process is also very simple. Just lift the side triggers, and the stroller collapses into its folded position.
Not only that but the folding ability of the stroller makes for hassle-free storage. The stroller's two-piece fold transforms it into a compact rectangular configuration without the seat.
This feature comes in handy for effortless small space storage, e.g., car trunk, under the restaurant table, etc.
Wheel Type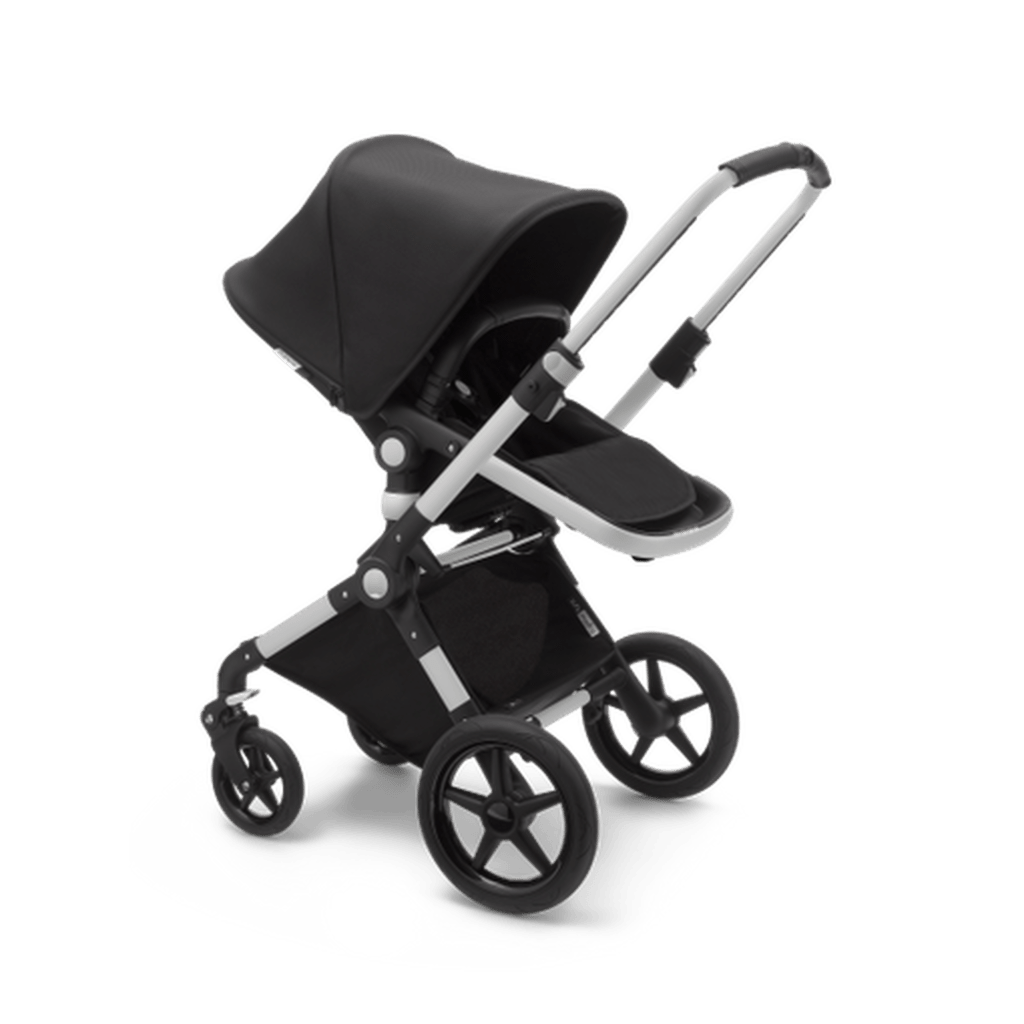 Bugaboo features 7-in front wheels and large 11.4-in rear wheels. The wheels feature a sturdy rim with a foam-filled rubber exterior.
The combination of larger rear wheels and front-wheel suspension allows you to move the stroller on every smooth or rough surface without balancing it. For instance, if you are strolling on uneven sidewalks and curbs, this wheel assembly will ensure that you can scale that tricky surface without exerting extra force.
Item Storage
The under-seat basket of the Lynx stroller also features good capacity. You can tuck in up to 22 lbs of baby essentials, toys, and groceries in the basket without overloading it. While the stroller does not offer side pockets, consider getting a parent organizer if you like storing other small items like car keys and phone that way.
Additional Features and Add-ons
You can further improve the functionality of the Bugaboo Lynx Stroller by using various add-ons. The Lynx stroller is compatible with a range of baby car seats of different manufacturers.
Apart from Bugaboo Turtle, you can also fit Maxi-Cosi car seats such as the Mico 30, Mico AP, Mico Max 30, Mico MAX Plus and Nuna Pipa car seat like the Nuna Pipa Lite in the Lynx stroller. You can also transform Lynx into a quintessential Bugaboo Travel System by adding a bassinet to it.
However, the most distinctive additional feature of Bugaboo Lynx Stroller is you can transform it into a ride for two kids. Bugaboo offers a wheeled board with a comfortable bicycle-like seat that you can connect to the rear axle of the stroller.
This add-on is great if you have an infant and a toddler at the same time. The infant can rest under the canopy while the toddler can enjoy a bicycle ride in the back.
Bugaboo Lynx Stroller Review: Alternatives
Do you want to explore more options similar to Bugaboo Lynx Stroller? You don't have to open another tab and search from scratch. We have researched and shortlisted three such alternatives for you.
Bugaboo Fox 2
Bugaboo Lynx vs. Bugaboo Fox 2
Canopy
A single peek-a-boo window
Canopy
A single peek-a-boo window
Bugaboo Fox 2 is one of the predecessors of Lynx. It offers more or less the same functionality. It is expensive than Lynx. However, the high price is justified by its all-wheel suspension and comparatively roomier basket size.
Find out more about Bugaboo Fox 2 from our Fox stroller review.
UPPAbaby Cruz V2
Bugaboo Lynx vs. UPPAbaby Cruz V2
If you are looking for a low-priced alternative to Bugaboo Lynx Stroller, you can consider the Cruz V2 by UPPAbaby. This stroller almost boasts the same features. For instance, it also has a seating capacity of 50 lbs and a single peek-a-boo window in the canopy.
Uppababy Cruz V2 is available on PishPoshbaby here. You can also read about UPPAbaby Cruz V2 here as we compared between the Cruz vs Vista.
Baby Jogger City Mini 2
Bugaboo Lynx vs. Baby Jogger City Mini 2
If the price and weight of the stroller are the two most pressing issues for you, you can mull over Baby Jogger City Mini 2 as Bugaboo Lynx's alternative.
This 3-wheel stroller is significantly cheaper and almost two pounds lighter than Bugaboo Lynx. Its most features are similar to that of Lynx; besides, it also has dedicated calf support for the baby.
However, the economical price tag of City Mini 2 means it is not as good as Bugaboo Lynx when it comes to luxury and durability.
You can get the Baby Jogger City Mini 2 from PishPoshBaby too.
Conclusion
If you like the luxurious Bugaboo strollers but don't want to break your bank to get one, Lynx could be a good option for you.
Besides the luxury and durability, Bugaboo Lynx is also great for all those parents who are fed up with dragging heavy and sprawling strollers to and from the house and through busy sidewalks.
We hope that the above Lynx review helps you find out every little detail about this Bugaboo stroller. If you have any thoughts or queries, do comment below!
—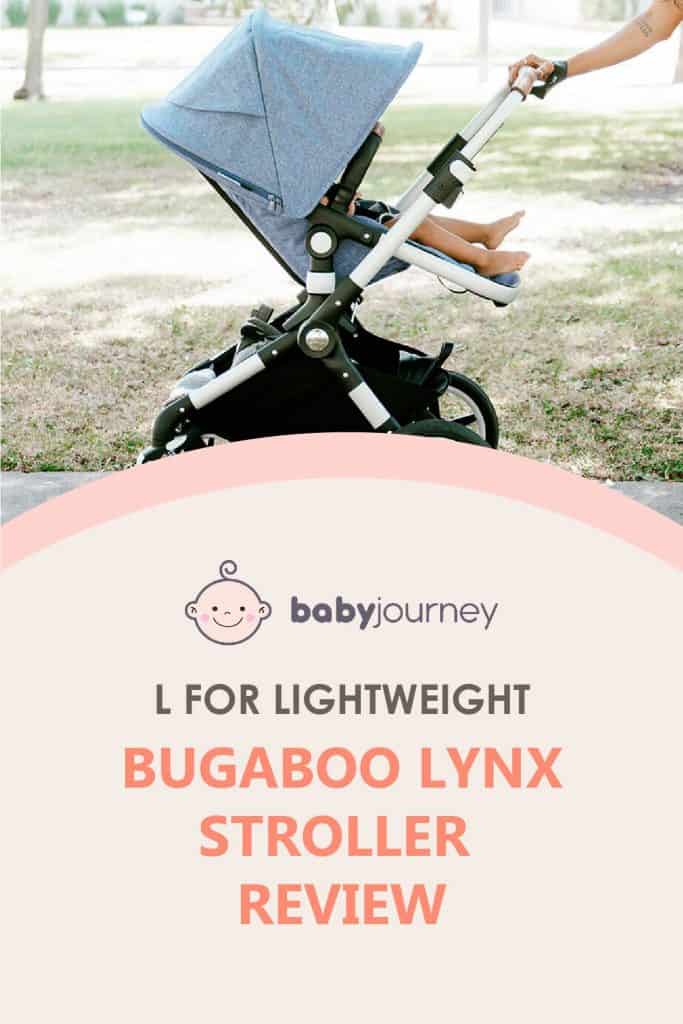 Last update on 2022-05-25 / Affiliate links / Images from Amazon Product Advertising API