A boy's baptism is an important milestone in his life. Friends and family frequently offer presents to mark the special occasion.
Cool baptism gifts for boys are a great way to remember the occasion and highlight how important that moment is for both the infant and the parents.
There are various options for what you can take as a gift, but anything thoughtful and personalized is treasured for a lifetime as a reminder of their childhood.
In this article, we outline some suggestions about what to get for a baptism gift, so keep reading to get to know more!
Related: Baby Baptism Gifts for Girls
Cool Baptism Gifts for Boys
A Bible
A timeless baptismal present for baby boys is a gorgeous, leather-bound Bible. It can even be customized with the child's name on it to serve as a sweet gesture that shows how supportive you are in the child's journey of faith.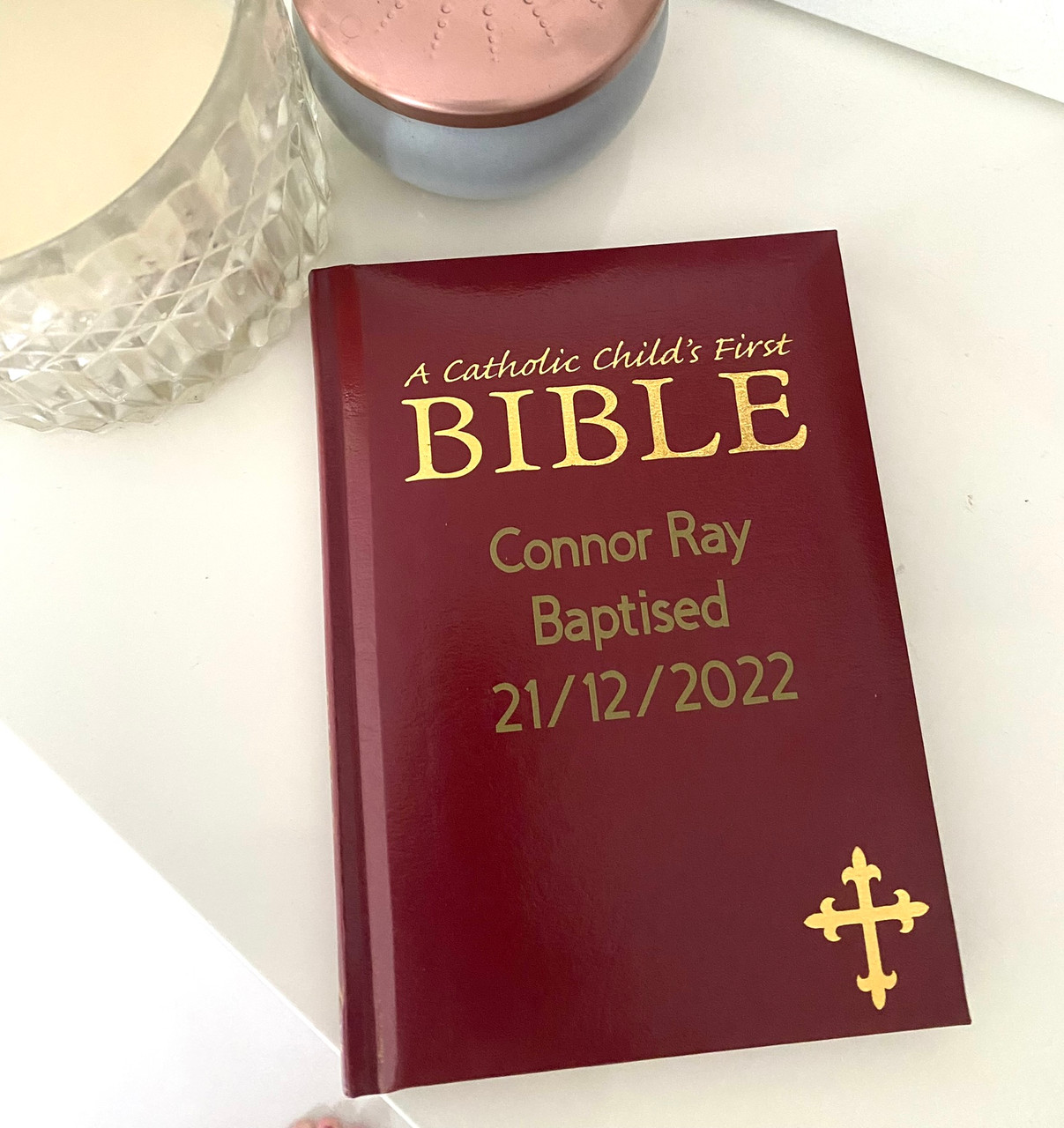 Cross Necklace
Among the customary baptismal presents is a crucifix necklace that comes in a variety of styles, ranging from straightforward and subtle to intricate and decorative. Once you gift it to a child, they will never forget their first-ever cross necklace.
Handprint Frame
We are a fan of this personalized hand-print kit from Amazon! The kit comes with a medium to put the handprint in, a frame, and everything else you need to create a memorable souvenir. The print paper also includes cute baptism wordings like 'Oh Lord, Teach These Little Hands to Pray' etc. What better way to gift something on baptism?
First-Ever Saving Bank
Saving money can be done at any age and a porcelain piggy bank makes it as simple as ever.
Every amount you save is helpful in the future, and using a fun piggy bank makes it easier for your kid to save their sum of money for their little wishes of personal spending, even as they grow older.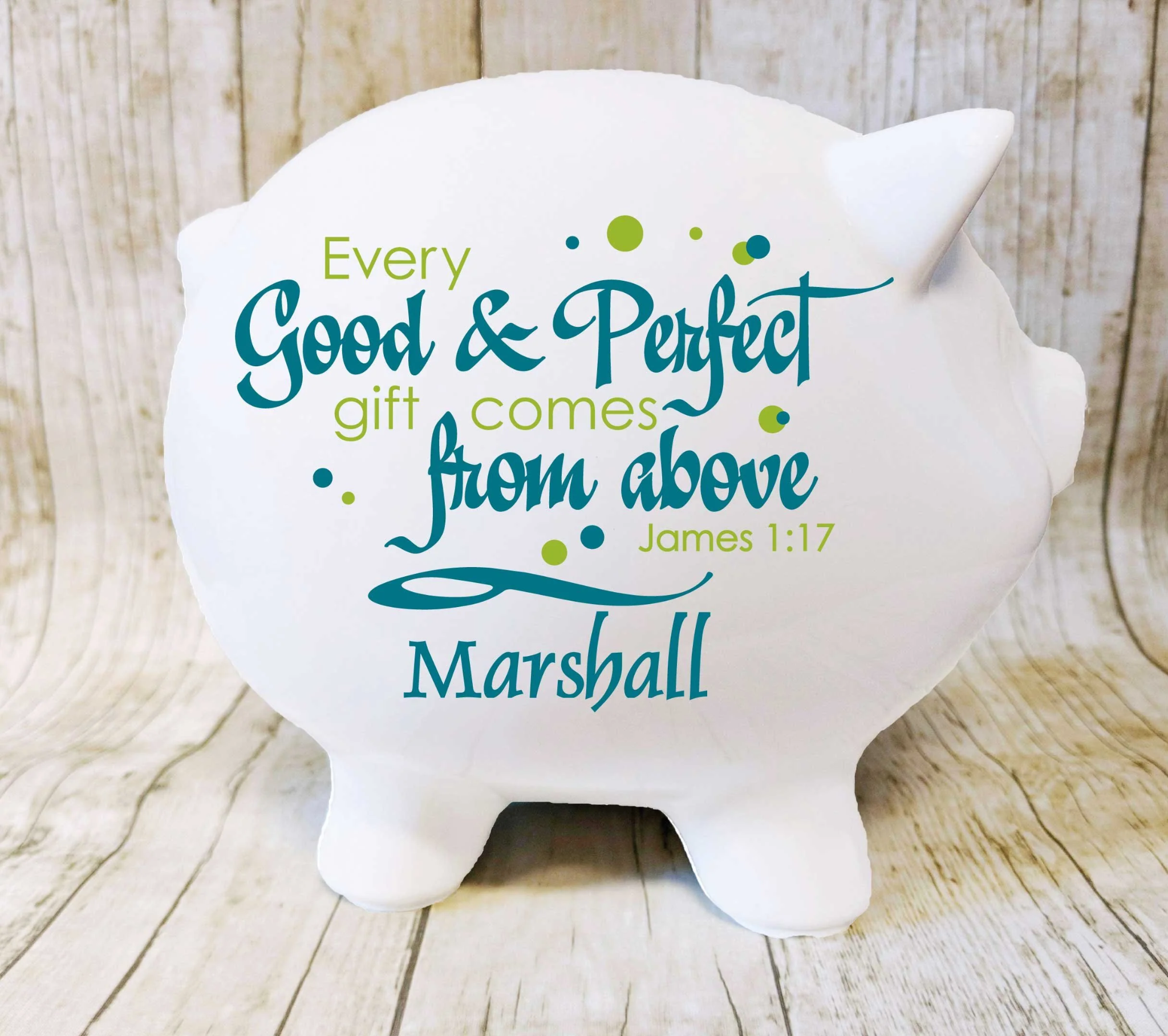 Picture Frame
It is a wonderful gesture to give a particular picture frame as a gift that recalls the baptism, which they can use to show off a snapshot of the occasion. You can imprint the frame with personal words of love to make it more personalized.
Cute Woollen Blanket
What would be more adorable and thoughtful than personalized blankets as cool baptism gifts for boy? You can hand-make it with the embroidery of your choice or buy one from the market.
Many also have cute baptism printing on them which elevates the thoughtfulness behind them.
Baby Onesie
A baby onesie is among the incredible baptism gift ideas for boys that also serve practical usage!
You can get one with charming printing appropriate for a baby's baptism and further elevate your gift by getting a Godchild onesie and proudly stating that you are the baby's Godparent! Imagine how adorable would they look in the tiny faithful onesie!
Handmade Ceramics
If you are an artsy person, you can't go wrong with creativity and love. A handmade ceramic with personalized engravings would be among the perfect baptism gift ideas.
Personal Keepsake Box
This keepsake box, which is personalized with a message from you, is the ideal size for storing the baby's first rosary and similar baptism souvenirs. It also ensures they always have a record of the baptism, if you include the baby's name and the baptism date.
As they get bigger, they can use the keepsake box for more intricate things or simply keep it as a cherished memory.
Chaplet for the Baby Boy
Undoubtedly, baptism is the ideal time to gift a chaplet to a baby. This chaplet has a fun boyish appearance, thanks to the light blue and pearl colors. Also, it is exceptionally special because of the guardian angel it has.
You can even go vintage for this special item, as receiving a special passed-down chaplet does sound very charming!
Canvas Print
We could not have come up with a more winning and well-rounded gift than a canvas print. With endless options for it, you can choose one with a special baptism printing or can even personalize your message on it.
Related: Baptism Card Message Ideas
Then, it can hang in the baby's nursery and eventually his room and be cherished for years to come.
Customized Children's Book
Personalized booklets are one way to make the child remember you during bedtime stories.
These make for considerate baptism presents, as they convey how much you care about the baby and your devotion to supporting them throughout their entire lives. You can also put your and the baby boy's name on it, and keep it handy whenever you babysit!
Personalized Pillow
A lovely printed pillow that captures the magic of your godchild's baptism, featuring all of their important "stats," surrounded by a sweet hand-drawn bunny is perfect for a godson to keep in their room.
Not only does the personalized print on the pillow display their full name and ceremony location, but it also serves as a cherished memento of their special day.
Nightlight Frame
A personalized nursery night light is the perfect way to demonstrate your dedication to the child, with their name and baptism date displayed in white on transparent acrylic. This night light features the classic "Now I Lay Me Down to Sleep" prayer, making it among the best baptism gifts.
For an added touch of sentimental value, you can even include a personalized ornament with the baby's name.
Cute Porcelain Figures
A ceramic figurine is a perfect way to capture the essence of a baby's baptism. This adorable keepsake features a baby boy dressed in their baptismal gown, holding a sign that reminds them of their special place in the world.
Nonetheless, it is a meaningful and sentimental gift that is sure to bring a smile to any baby's face.
Child's First Jewellery
If you're searching for a special baptism gift that will be cherished for years to come, consider a piece of jewelry. A lovely gold bangle, designed for infants, is a stunning choice that is both elegant and practical.
While the baby will eventually outgrow the bracelet, they can keep it as a precious reminder of their baptism day, or perhaps even pass it down to their children in the future.
Baptism-Related Stuffed Toys
Although Amazon has a collection of stuffed toys with baptism phrases inked on them, you can make your own!
You can buy a special favored toy for your godchild and engrave it with a personalized print containing words of love that the child will treasure forever. You never know, a personalized stuffed elephant might just become the very one the baby gets attached to!
Baptism Bibs
A lovely baptism bib comes in handy to keep the baby's outfit clean and stylish on their big day. Featuring a beautiful light blue embroidered cross and customizable details, it's a thoughtful and practical gift.
Hence, this baptism bib is a thoughtful and practical gift that is perfect for a baby's special day.
Baptism Gift Set
A simple baby boy baptism gift set can be a suitable choice as a gift, as it includes the essential items needed for this special event. Hence, it is a thoughtful gesture that recognizes the significance of the occasion and the godparents' role in the child's life.
Personalized Baptism Alphabet Block
Blocks are great personalized baptism gift options that grandparents are sure to love. You can buy them individually or in pairs, depending on the number of babies, and witness them transform into unique baptism gifts!
Engraved Personalized Cross Bracelet
When it comes to gifts for baptism boy, those featuring religious imagery are a popular choice. However, to make your gift stand out, you can add a unique touch to a traditional item like a cross bracelet by having a sweet message engraved on it.
This gives the gift a special meaning and takes it to the next level, making it more memorable for the recipient.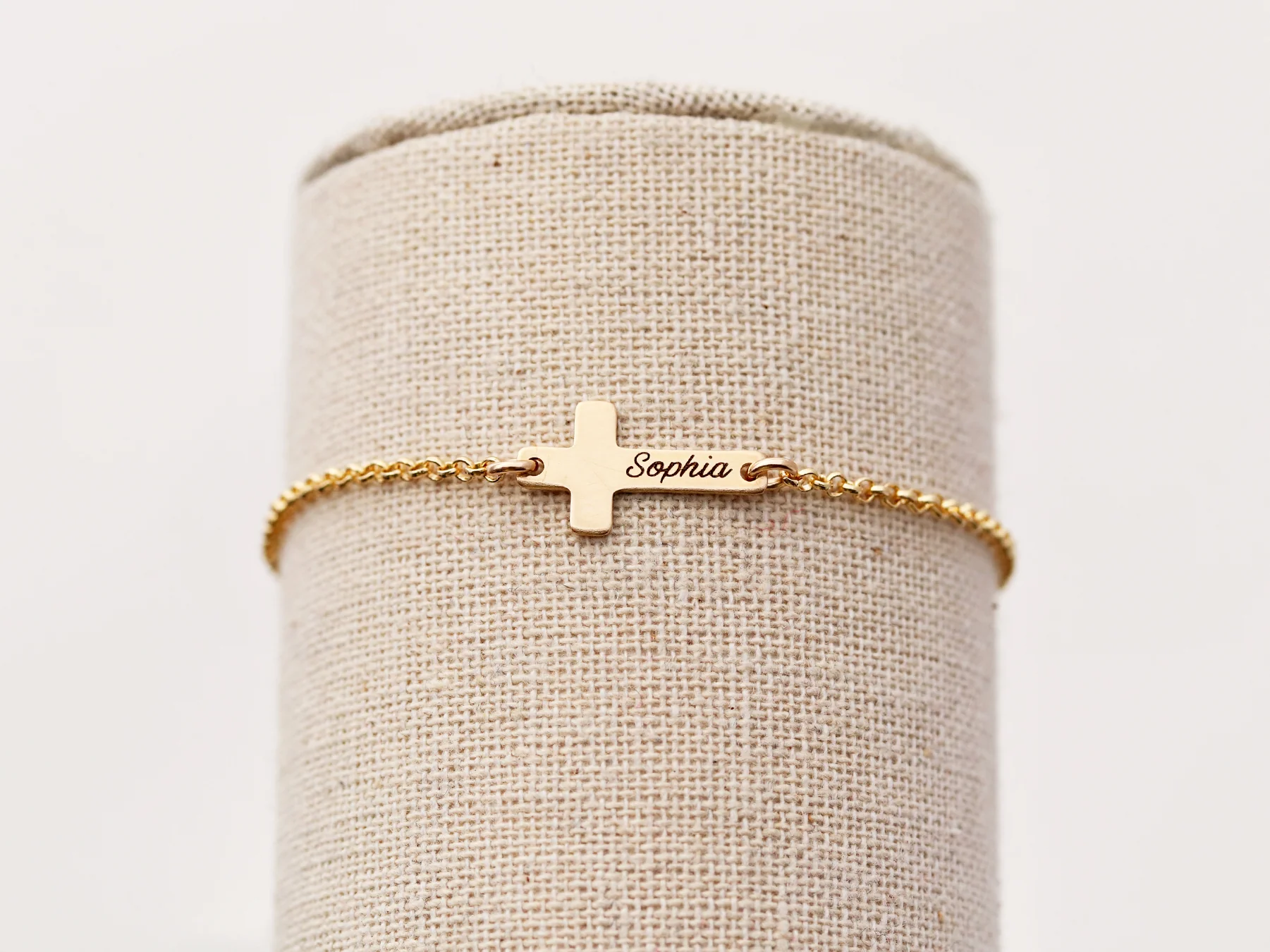 Rosary Beads
Rosary beads are a meaningful heirloom gift that can be treasured for generations to come. This classic and timeless present is among the ideal baby baptism gifts from godparents to bestow your godchild with a gift that will hold sentimental value throughout their life.
Snow Globes
You can surprise the baby with an adorable snow globe with whatever you desire in it. For a traditional baptism touch, opt for an angel snow globe with baptism phrases engraved on it.
And for non traditional baptism gifts, go for any of the child's interests that he can play with!
Baptism/Christening Suit
To make a baby boy's blessing ceremony stand out, consider gifting him a christening suit, which will not only add a special touch to the occasion but also serve as a practical present.
When selecting the suit, opt for a style that looks adorable in photographs, as it would make a lovely gift for your grandson.
Related: Baptism Photoshoot Ideas
Lamp Mobile
A lamp mobile makes an excellent gift for a baby boy's baptism, as it not only provides a source of light but also creates a calming atmosphere in the nursery.
The soft glow from the lamp soothes the baby and helps him drift off to sleep, making it a practical present for the baby's parents.
Baptism Shoes
Baptism shoes are among the best gifts for baptism, as they are both lovely and practical. They not only complete his outfit but also serve as treasured keepsakes for the family!
Cash
Gifting money for baptism is a practical and thoughtful option, as it allows the family to use the funds as they see fit for the baby's future.
The parents may choose to put the money towards the baby's education, savings, or even a special item they have had their eye on. While it may not be a traditional gift, it can be a meaningful one!
Summary
Baptisms are a special occasion for everyone involved, and finding unique and personalized baptism gifts is a great way to show your love and appreciation. While any gift is appreciated, choosing one that is both thoughtful and useful is always extra special.
Personalizing your christening gifts for boys with the baby's name, baptism date, or special message makes it even more memorable and cherished forever.
Remember, the best baptism gifts are the one that comes from the heart and show your love and support for the special baby on their baptism day!
In case you are interested in more of such content, feel free to follow us on Pinterest.