Coming up with balanced nutrition for your toddler isn't always an easy task. Sometimes, you don't have time or inspiration to prepare a well-balanced, nutritive meal that your baby will like.
Toddlers could be finicky sometimes, someday they might like some sort of food and refuse to even try it the other day. My daughter preferred colorful meals, so I tried to combine at least three colors on each plate.
Also, it might be helpful to know that well-balanced nutrition isn't focusing on one meal. Rather, think of it as a process and try to combine different ingredients on a weekly basis to fulfill the nutrition needs of your child.
So, let's hop right to the list of 20 healthy lunch ideas for toddlers.
20 Quick & Healthy Lunch Ideas for Toddlers
# 1 Hummus Sandwich
A sandwich is one of the most likable easy toddler lunch ideas from both children and parents. The majority of toddlers like it, and to make the best out of you, I recommend you to make a hummus sandwich.
You can use whole-grain crackers instead of the bread, pack them with hummus, and add veggies. Use carrots, cucumbers, or radishes to add some colors.
#2 Eggs as The Main Protein Source
If you don't have much time to prepare a toddler lunch, you can always serve hard-boiled eggs. To make it a more nutritious lunch for toddlers, slice veggies and serve everything well-spread in a lunch box.
In this example, you can mix avocado, crackers, baby carrots, and cherry tomatoes with hard-boiled eggs to create a nutritious and attractive lunch box for your toddler. Add on a yummy smoothie for even more protein power!
#3 Pesto Pasta
Mix up your toddler lunch menus and serve your child pesto pasta and salad. Use bought pesto sauce from the store to make a quick toddler lunch, if you have spare time, you can also cook one by yourself.
Don't forget to add a bit of color – such as cherry tomato and chicken slices, to fulfill the daily nutrition needs of your child.
#4 More Pasta!
Pasta with tomato sauce is an easy lunch for toddlers. Yet you'll need to add some fruits and veggies to create a well-rounded meal. Bananas and cucumbers are an excellent choice.
On the plus side, you don't have to cook especially for your child, all families will enjoy this meal. So, it is one of the most practical toddler lunch ideas!
#5 Colorful Lunch
Lettuce, tomato, bacon, pasta, olive oil, avocado – a recipe for colorful and healthy lunch for toddlers! You can add broccoli and bet that the crispy bacon will compensate for the broccoli taste!
Remember, when it comes to toddlers' meals, it's all about colors and presentation.
#6 Sweet Waffles
Make one day in the week a sweet-lunch day. You can start with whole-grain waffles with peanut butter and jelly. Make a simple green salad using lettuce and cucumbers, add cheese sticks, and clementines to make a plain, tasty and nutritious lunch for toddlers.
#7 Pinwheels
For all the little boys and girls there that are fascinated with cars and motorbikes, pinwheels lunch will be a suitable choice. You can easily make pinwheels using sandwich ingredients – ham, cream cheese, and tortillas. Roll them up and cut them in even slices!
Secure each pinwheel with a toothpick before serving, and remove the toothpick before the baby starts to eat.
#8 Rice balls
Rice is rich in potassium, magnesium, selenium, fiber, iron, zinc, folic acid, etc. Therefore, it is a useful ingredient in creating nutritious meal for toddler.
The trick to making your children eat it is to mix it with some small-sliced veggies and make balls. You can use a bit of butter to glue the rice and veggies together, add a little bit of soy sauce or teriyaki sauce to make the plain rice tasty!
#9 Stuffed Potato
Many toddlers refuse to eat tuna, but there is a trick to make them not even recognize they are eating it. Use baked potato and stuff it with a mixture of tuna, beans, tomato, zucchini, and carrots.
Tuna and potato go well together, and tomato and carrots are there for the vitamins and color, too.
For more fish recipes, read 10 Fish Recipes That Are Easy To Make.
#10 Broccoli The Superfood
Broccoli has numerous nutritious benefits, not only for baby but adult too, that's why it is always in the list of superfoods. Therefore, it should always be a guest on your toddler's plate.
However, most of the tots don't like broccoli, the safest way to ensure that your baby will eat the broccoli is to negotiate with them – offer chocolate if your child eats broccoli from the plate.
You can serve it steam with avocado sandwiches, clementines, and dark chocolate.
#11 Avocado and Bean Wrap
Wraps are a great way to include as many beneficial ingredients as possible. You can mix avocado, black bean, and cheese to make a super easy wrap for your kid's lunch. Just make sure to slice it on small bites!
#12 Asian Grilled Chicken
My daughter and I love this fresh and delicious salad, and it only takes me 20 minutes to prepare it. For this easy chicken recipe, you can use bought grilled chicken or rotisserie leftovers.
You will need lettuce, cabbage, carrots, shelled edamame, drained mandarin oranges, and one apple. You can garnish the salad with some Asian dressing and walnuts if your kid is older than two. Find the whole recipe here!
#13 Turkey with Avocado
You can use turkey or beef for this recipe and combine it with avocado chunks and sliced peppers. Add some shredded cheese and black beans, taco seasoning, and voila – you have a tasty and easy to make taco bowl! It is my daughter's favorite dish of all time!
#14 Pita Bread and Hummus with Veggies & Fruits
Cooking every day could be tiring and you don't always have to cook a meal for your toddler. Some days, you can mix and match the things you have in your fridge, such as carrots, strawberries, cucumbers, hummus, and pita bread. These readily available ingredients are healthy and easy to prepare.
You can replace strawberries with other fruit as well!
#15 Mac & Cheese
Try to find a toddler that doesn't love mac and cheese! Another combination for toddler's lunch idea could be using mac and cheese as the main dish, top up with some carrots and pomegranate seeds (or any fruit or vege could be found in your fridge) to make it more delicious and nutritious.
#16 Teddy Bear Peanut Butter Toast
Peanut butter on a toast is a classic meal for people of all ages. Get a little bit creative and your kid will beg for it every day! Use a banana slice to form the ears and blueberries to make the little's bear ear and nose. It makes an interesting way to mix up the ingredients used in the majority of sandwich ideas for toddlers.
#17 Pizza Day!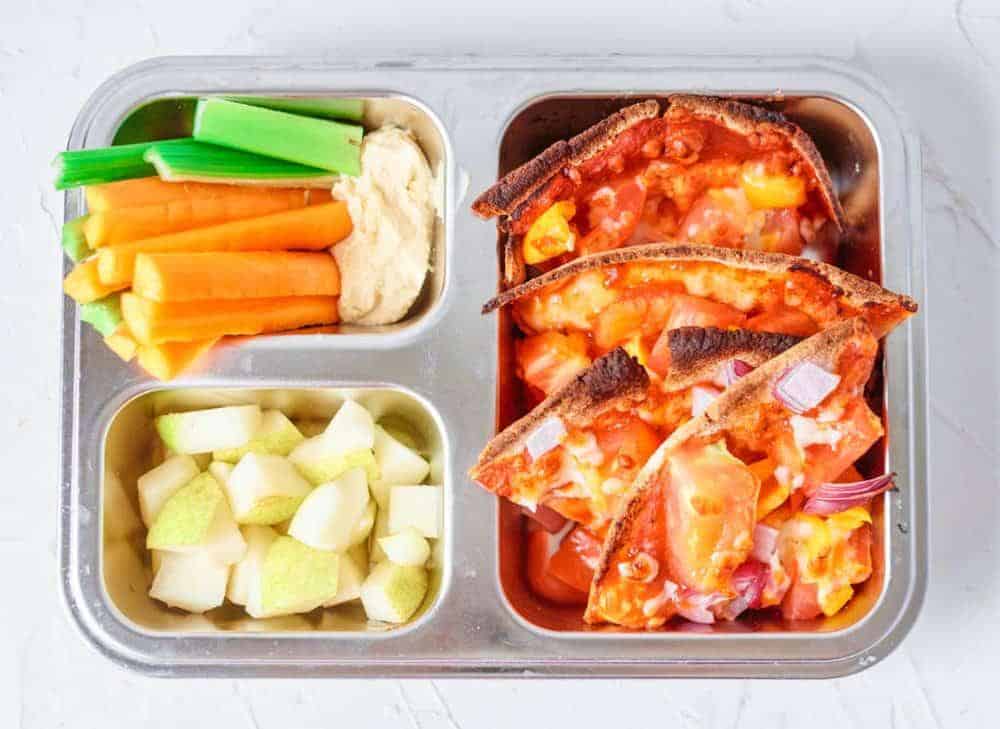 Cut small triangles of pita pizza and serve it with sliced carrots and/or celery sticks. You can add a bit of hummus on the side. Pear makes a great dessert with a pizza lunch.
#18 Lunch with Minions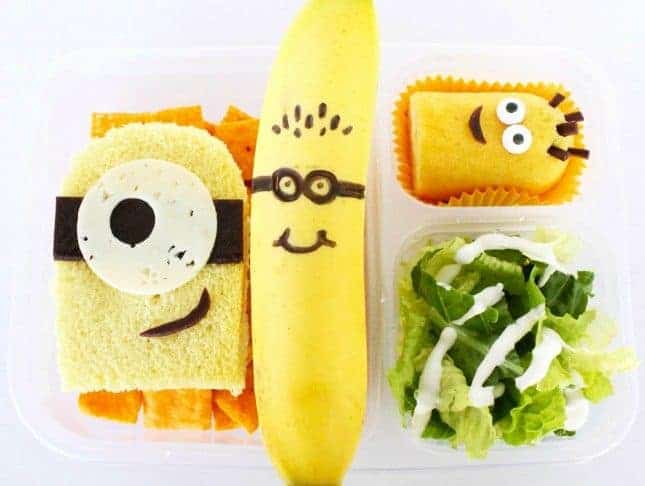 If you have a bit of spare time and you want to surprise your child with a fun lunch, you can play with garnish to create adorable looking lunch for your toddler. Draw eyes on the banana peel, make a cheddar cheese sandwich, and candy for eyes. To make the lunch suitable for toddlers, add some green salad on the side!
#19 Octopus for Lunch
Even though hotdogs aren't super healthy food, you can serve them for lunch once in a while. It is easy to cut them in an octopus shape, and you can add some healthy fruits for dessert. Any fruit will be suitable!
#20 Smiley Face for Lunch!
Another attractive healthy lunch idea for toddlers is to make a smiley face on the plate. You can use an English muffin and add veggies to create a smiley face. Besides, shredded carrots can serve for hair, while green sprouts are excellent for the mouth. Bean is great for the eyes and nose!
Conclusion
Did you enjoy my list? Some of my healthy lunch ideas for toddlers are super easy to make, super tasty and can be made for a whole family. Remember, always pop some colors on the plate to make a child eat various foods and to make the plate look more interesting.
What are your best toddlers lunch recipes? You can share your photos of food prep with me on Pinterest at @babyjourney0183. You can never have too much inspiration when it comes to food nutrition!
—