For most parents, myself included, multitasking is often the only way to accomplish your day-to-day caregiving tasks.
So, if you are caring for an infant, a wrap baby carrier can be a lifesaver. It offers you the freedom to run errands or get some light chores done while safely and comfortably wearing your baby. It is also a great way to nurture your parent-child bond in those early months.
In this Moby vs. Boba baby wrap review, we explore the features that each of these baby carriers has to offer to help you make a confident choice for your needs.
Comparing Moby VS. Boba Wrap Features At A Glance
Weight and Age  Recommendations
8 to 33 lbs; Newborns to 18 months
Birth to 35 lbs; Newborns/preemies to 18 months
Number of Wrapping Configurations
Material
Moby Classic - 100% cotton
Moby Evolution - 70% viscose, 30% cotton
Moby Flex - 100% polyester
95% French Terry cotton, 5% spandex
Color Options
9 colors, 5 print designs
11 colors, 3 patterned designs
Washing Instructions
Machine washable. Air dry or dry on lowest dryer setting.
Machine washable. Air dry or dry on lowest dryer setting.
Ease of Use
Challenging at first due to length. A wrapping manual and online tutorials are provided.
Challenging due to its length. Boba provides no-guess wrapping instructions.
Weight and Age  Recommendations
8 to 33 lbs; Newborns to 18 months
Number of Wrapping Configurations
Material
Moby Classic - 100% cotton
Moby Evolution - 70% viscose, 30% cotton
Moby Flex - 100% polyester
Color Options
9 colors, 5 print designs
Washing Instructions
Machine washable. Air dry or dry on lowest dryer setting.
Ease of Use
Challenging at first due to length. A wrapping manual and online tutorials are provided.
Weight and Age  Recommendations
Birth to 35 lbs; Newborns/preemies to 18 months
Number of Wrapping Configurations
Material
95% French Terry cotton, 5% spandex
Color Options
11 colors, 3 patterned designs
Washing Instructions
Machine washable. Air dry or dry on lowest dryer setting.
Ease of Use
Challenging due to its length. Boba provides no-guess wrapping instructions.
Moby Baby Wraps in Review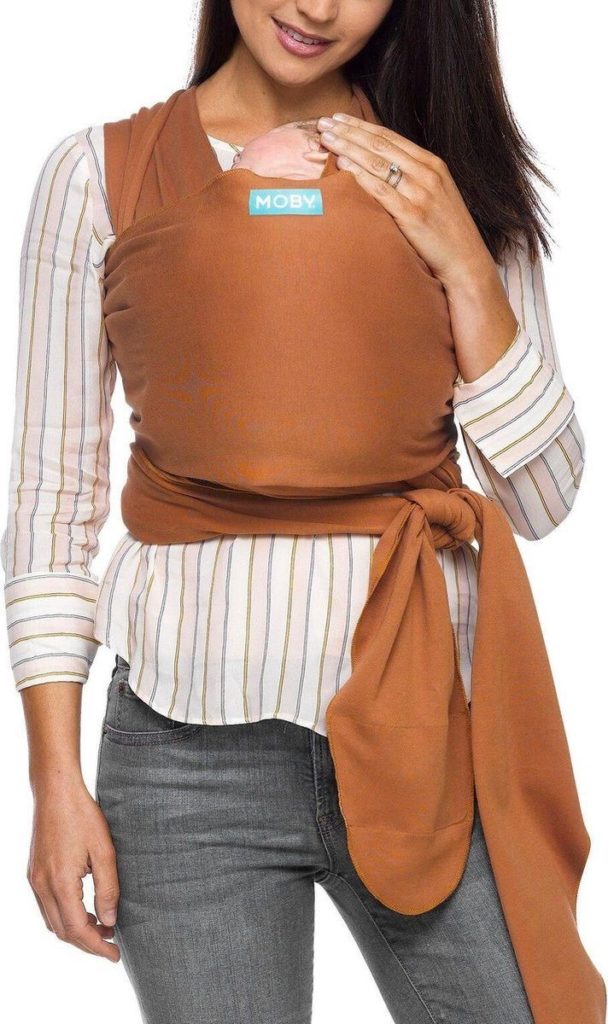 Moby offers 3 baby wrap versions: Classic, Evolution and Flex. Right from the first touch, their softness is a slice of bliss. However, while their general design is the same (a long piece of fabric), they are each made of different fabrics and are recommended for different preferences.
The Moby Classic baby wrap is made of 100% cotton and can be worn in inward, front, and hip carrying positions. It does not stretch and thus offers sturdy support. This would come in handy as your baby becomes heavier and possibly more playful. 100% cotton is also a great choice of fabric as it breathes fairly well and is less likely to flare up allergies compared to other fabrics.
The Moby Evolution also known as the Moby wrap bamboo would be a good alternative if you find the Classic to be too heavy for the summer months. It is made of 70% viscose and 30% cotton and is, therefore, lighter, more breathable, and offers some degree of stretch. You can wear it in inward, front, and hip carrying configurations.
On the other hand, if your days are filled with activity, the Moby Flex wrap may be a better fit for you. It is made of 100% polyester mesh material with even more breathability and is much lighter than the Classic and Evolution versions. It is designed to be worn for long durations in either the front and hip carrying configurations.
Pros:
Moby baby wraps all offer a fair degree of breathability
Parents have multiple Moby wrap versions to choose from based on their needs
Moby wraps can be worn in numerous configurations
The machine washable material makes Moby wraps easy to maintain
Cons:
It can be difficult to maneuver a Moby wrap without assistance
Moby wrap length can be cumbersome when moving around especially for caregivers with trimmer body or height frames
Moby wrap breastfeeding positions can be restrictive due to its non-stretch structured baby carrier material
Boba Baby Wrap in Review
The Boba wrap baby carrier is made of a blend of French Terry cotton and spandex. It is soft to the touch and feels like a warm hug after a long day. The spandex material makes the wrap slightly stretchy, unlike the Moby wrap baby carrier.
Nevertheless, the French Terry cotton ensures that your baby is well-secured and that the wrap does not stretch so much that it sags.
In terms of configuration, this wrap can be worn in inward and front-facing positions. The brand provides clear guidelines on how to use Boba wrap, hence making it easier to learn.
Notably, the tying configurations are well-researched and carefully designed for your comfort. So much so that Boba wraps are certified by the International Hip Dysplasia Institute as hip-healthy. [1]
On the flip side, the French Terry cotton and spandex blend is not very breathable. However, if you live in cooler climates, the Boba Serenity baby wrap comes highly recommended. It is identical to the original Boba wrap but it is made of 68% viscose, 25% cotton, and 5% spandex to make it lightweight, warm, soft, and stretchy.
Pros:
The stretch factor offers parents some degree of flexibility
You can use the wrap for newborn and preemie babies
Boba wrap positions and weight distribution are designed to offer comfort and preserve your hip health
Wraps of the Boba line are more affordable
Cons:
Poor fabric breathability can cause discomfort
The stretchiness of Boba wrap fabric can be challenging as your baby grows and gets more playful
With over 16 feet of fabric, it can be tricky to tie this wrap even with straightforward instructions
Similarities Between the Moby and Boba Wraps
The Moby vs Boba wrap battle pinpoints countless differences. However, they also share a few similarities such as:
A One-Size-Fits-All Design
Moby and Boba wraps each have a standard free-size design. This means that they can be worn by both moms and dads regardless of whether they are petite, mid, or plus-size. The best part about this is you would not need to buy multiple baby wrap carriers for different caregivers in your household.
User Manuals and Tutorials
It is important to tie a baby wrap correctly. It ensures your baby's safety and that both of you are comfortable. To this end, both Boba and Moby provide helpful learning resources to help you learn how to maneuver your baby wrap.
Moby baby wraps come with a user manual with instructions on how to wrap the Moby wrap for toddlers and infants. You can also find additional guides and how-to videos on Moby's online platforms.
Boba on the other hand, equally offers detailed instructions on how to tie Boba wrap. You can also get free online consultations on Moby or Boba wrap online platforms to help you find the right baby wrap.
Learn how to tie the Moby wrap here:
Trendy Designs
Let's face it, we are all a little vain and would like to wear our babies in style. Fortunately, Boba and Moby baby wrap manufacturers did not slack on the style front.
Boba wraps are available in a total of 11 colors with 3 patterned alternatives while Moby offers 9 colors and 5 patterned fabric options. Whichever brand you pick, rest assured that you will have multiple baby wrap styles to match your flair.
Boba Wrap vs Moby Wrap Design Differences
Analyzing the differences in features between the Boba vs Moby wraps could help you identify the best baby wearing wrap for you. So, let's get into it, shall we?
Size
The Moby baby wrap measures about 18 feet and would be a sound choice if you prefer more length for you or your growing baby's comfort. In contrast, if you are more comfortable with a manageable wrap length, the Boba wrap measures 16 feet and may be a better option.
Favorite Pick: Kids have a way of growing much faster than you anticipated. Therefore, the long length of Moby could become useful as your child grows. A quick nap in the comfy wraps is also possible if you can't get baby to sleep in the crib as they grow to become clingy!
Weight Limits
The Boba wrap can be used from birth up until your baby weighs 35 pounds while Moby baby wraps are recommended for babies weighing 8 to 33 pounds.
Favorite Pick: Boba wrap weight limits are more accommodating and allow you to use the wrap longer than the Moby baby wrap.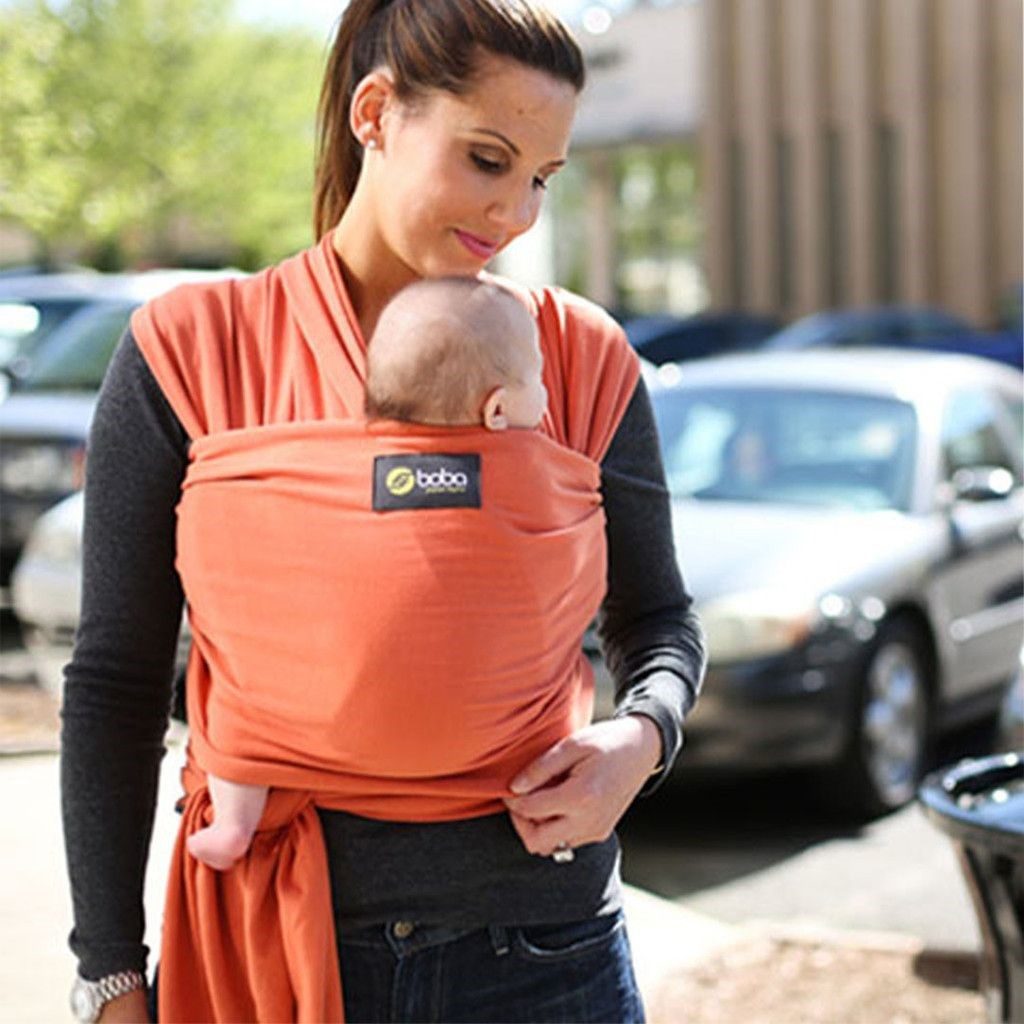 Fabric
The 3 variations of the Moby wraps are made of different fabrics. They provide different levels of breathability and are recommended for different lifestyles. Boba also offers products with 2 different fabric combinations. However, unlike the Moby wrap, Boba wraps are made of less breathable material.
Favorite Pick: Moby products win this round because breathable fabrics provide better comfort.
Stretching
For the longest time, I remained biased towards baby slings and wraps with sturdy fabrics because their stability felt safer for me. Moby wraps cater to this concern as they are made of non-stretch fabrics.
Boba wraps, on the other hand, are made of fabric combinations that include spandex. As a result, they can stretch slightly without sagging. The stretch factor makes nursing in Boba wrap easy as you can reposition your baby into more comfortable angles without having to adjust the entire wrap.
Favorite Pick: Boba wrap wins my vote as its fabric combinations accomplish a great balance between stability and flexibility.
Baby Wrap Configurations
Depending on the type that you choose, Moby products enable you to wear your baby facing inward, forward, or in the hip carrying position.
On the other hand, if you choose a Boba baby carrier, you can only wear your baby either inward or front-facing. While two positions may sound restrictive, they are researched and recommended to support you and your baby's hip and posture wellness. [2]
Favorite Pick: Boba wraps take the cup on this one. Moby hip hold positions may seem like a convenient option to have but they are not medically recommended Especially given that you may have residual hip pain from your hip bones bearing the weight of your pregnancy. [3]
Ease of Use
The Moby wraps are longer and can be worn in 3 different configurations. This can make them harder to maneuver compared to the shorter Boba wraps that only have 2 straightforward wearing configurations.
Favorite Pick: Boba wrap baby carrier wins this round because they would be more convenient for day-to-day use.
Is Babywearing Worth the Hustle?
Babywearing is one among many other ways to carry your baby or keep them close as you move around. You could get them a stroller, a baby bouncer, or even a mobile playpen. However, none of these options offer the distinct benefits of a baby wrap carrier.
Let us delve into the benefits in more detail.
Less fussy baby- baby wraps offer you more flexibility and access than other baby-carrying methods. At airports, events, or even restaurants, baby gear can be very tasking to get around with. Your little one may also get quite fussy due to the noise and all the new faces in such surroundings. Wrapping them to your bosom could provide them with emotional comfort.
Tip: Aim for an easy-to-wear baby wrap that makes it easy to get up and go.
Nursing comfort- breastfeeding in public can be quite a challenge. While there is absolutely nothing wrong with feeding your baby, it is also perfectly fine if you prefer some discretion. Be it you choose breastfeeding or pumping, a breastfeeding-friendly baby wrap could come in handy for this. Especially for babies in the newborn stage who tend to fuss during breastfeeding and need to be fed rather frequently.[4]
Easier transition- babies tend to demand more of your attention and bonding at various stages of their development. Milestones such as teething or weaning all present different levels of distress for them. Medical research indicates that close contact sessions where you embrace your baby(as you would in a baby wrap) could help them cope with such transitions better.
Bonding- babywearing is not only beneficial for your baby. Studies indicate that parents also benefit from such bonding sessions. [5] They may be exactly what you need to boost your serotonin levels after a long workday or even on the days when parenting feels overwhelming.
Frequently Asked Questions About Baby Wraps and Babywearing
At What Age Can You Start Using Baby Wraps?
You can begin using wraps as early as during the newborn stage.
Take Kangaroo care, for instance. It is recommended for preemies or a newborn baby and entails parents/caregivers sharing sessions of skin-to-skin contact with their babies to boost their wellness. A Boba infant wrap would be ideal for such sessions as it would hold the baby in place and keep both of you warm.
However, it is extremely important that you use a baby wrap that is recommended for your baby's weight and age limits. Ignoring this factor would compromise your baby's safety.
Can You Wear Your Baby Too Much?
Babies thrive on parental attention and affection and more so in the infant stage. Wearing them would, therefore, be blissful even if you do it frequently and for long durations.
It would, nevertheless, be remiss to leave out some important caveats. As you wear your baby, ensure that both of you are comfortable – the baby wrap should not be too tight nor should it fully restrict your baby's movement.
Try and pace your babywearing as well, your back and neck muscles are not oblivious to the weight you will be carrying around your body.
Is it Bad to Hold Your Baby While They Sleep?
It is advisable that you only hold your baby for brief naps or for the short interlude between them falling asleep in your arms and you transferring them to their crib.
Holding them any longer could present major risks including suffocation by your clothing or the baby wrap material which could lead to SIDS. Consequently, the American Academy of Pediatrics recommends that you let your baby sleep in a crib with a firm baby crib mattress and no clutter. [6]
Is Babywearing an Ideal Substitute For Tummy Time?
Yes. Babywearing in a comfortable baby wrap allows your baby to exercise the same muscles that they would through other methods of tummy time. Still, consider alternating the two as couch or floor tummy time allows your baby to move around more.
Which is Better: A Baby Wrap or a Carrier?
Baby carrier vs wrap vs sling is an age-old debate among parents. The truth is, each of these methods has its upsides and downsides. Nevertheless, if you have to choose between a baby carrier, a sling, and babywearing, consider babywearing. Not only is it convenient but its benefits are well-documented and have stood the test of time.
Final Thoughts
The Moby and Boba wraps both address crucial parenting needs. Still, if I had to choose between them, I would lean towards the Boba wrap baby carrier. I am impressed by its flexibility, its higher weight limits, and hip-friendly babywearing positions.
That said, the Moby baby wrap is a solid baby wrap option. If you reckon it would be better for your needs, then by all means, get one for yourself!
Let's keep this Boba vs Moby wrap conversation going in the comment section. I would certainly like to hear your thoughts and answer any questions you might have.
Until the next one, keep learning, nurturing, and loving.
—
Last update on 2023-06-16 / Affiliate links / Images from Amazon Product Advertising API