The topic of Montessori vs play based gets tossed around quite a bit in parenting groups concerning young children. Sometimes parents want to know which is better if you're trying to emulate a preschool setting at home.
Other times many parents want to know which will properly prepare their child for a more formal learning environment. It can undoubtedly be hard to decide which early childhood education approach to take if you don't fully understand how play-based learning vs Montessori program is alike and different. 
But don't worry, we've got you covered! We will dive into detail discussing the similarities and differences of play-based vs Montessori learning process to help you make an informed decision for your little one. 
Understanding Play-based Learning vs Montessori Learning Style
It might come as a surprise to some parents that learning styles can come into play (pun intended) at such a young age. However, you'll soon begin to notice that many preschools advertise specific learning styles.
We're going to talk about Montessori vs play based preschool and we'll begin by taking an in-depth look at each educational journey. 
Montessori Based Learning 
Montessori based learning owes its inception to Maria Montessori, a pioneering female Italian doctor. In the early 1900s, she began researching and teaching her new approach to human development as it pertains to learning and the classroom known as the Montessori method. She was particularly interested in preschool-aged children and how they learn.
Since the first Montessori school opened in Canada in 1912, today there have been over twenty thousand Montessori schools and preschools created around the world. You have probably seen a sign for one and thought, what is a Montessori daycare?  
Maria and therefore Montessori schools, believe that play is a child's version of "work". This is the main difference between Montessori and daycare. Through play kids learn both social and cognitive skills. In Montessori philosophy, the "work" that a child can choose for themselves in a classroom is centered around the children's interests.
Most times they choose their own "work" and for an uninterrupted period of time, they engage with the activity at their own pace. This form of child-directed, active, and individualized learning is believed to increase a child's confidence, independence, self-regulation, and self-discipline. Of course, a Montessori teacher is there to guide, monitor, and track children; while it may be teacher-directed, teachers do not take an authoritarian role.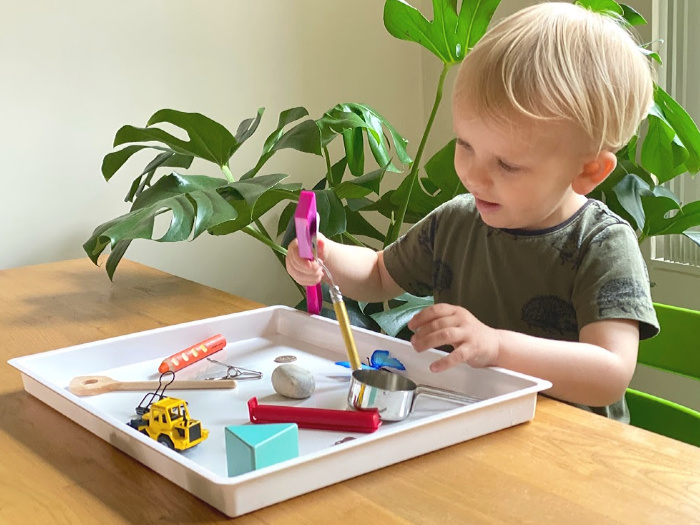 Montessori Activities and Setting
Are you left wondering how is Montessori different from just playing? The Montessori approach to play is not just periods of play-time. Instead, it is structured in terms of activities.
Montessori activities commonly pertain to five learning goals: math, language, culture, practical life, and sensorial. The "works" are carefully chosen to teach these things. When younger children in Montessori preschools have time to play, the time is usually unlimited or open-ended while the work available is more structured. 
An example of these types of works are pouring and scooping, dressing frames, number rod addition, tower building, and animal classification. They are all hands-on and require the Montessori children to direct themselves through the activity instead of having a teacher lead them. 
What would a Montessori kindergarten or Montessori playgroup look like? Montessori environments tend to be calm and child-centered. They often won't have a lot of loud colors, busy posters, characters, or distractions. In a Pre-K Montessori, everything is usually at child level and thoughtful materials and resources are placed around the nursery room, sometimes separated by sections (like a math section, a life skills section, etc.). Most of these materials are made of natural products and resemble real-life objects. Though it's important to note that these life-skill objects differ from pretend play.
Students in Montessori preschools typically are taught in small groups. The groups can be composed of children of varying ages. The teachers understand the developmental stages and facilitate group and individual learning appropriately in these multi-age classrooms but this is usually true of daycares too if you're debating on Montessori vs daycare.
With Montessori play and learn you may find children working at a table, sitting on the floor, or standing at a sensory bin. One of the biggest differences you'll notice when it comes to Montessori vs traditional preschool is that children often have a choice of what to do, where to do it, and how long to do it.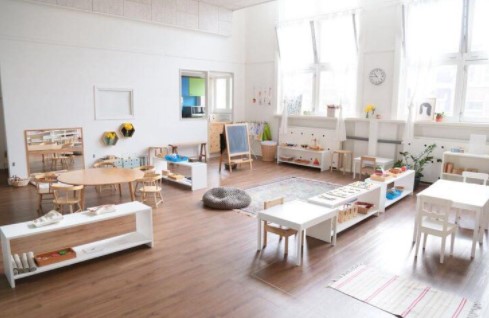 Advantages and Disadvantages of Montessori Classroom Learning 
Montessori childcare is hugely child-centered, which can be awesome. However, it isn't ideal for all children. Here are some of the drawbacks and benefits of Montessori education. 
Advantages:
Allows children to move at their own pace instead of having to sit and listen to a teacher
Usually a calm and soothing environment
Promotes self-regulation and discipline
Can help build social skills in reserved children while offering a lot of alone time
See's each child as an individual
Teaches a lot of life skills and critical thinking skills with emphasis on character education
Disadvantages:
Doesn't emulate most formal schools that don't allow self-direct and self-paced learning, making it hard for some kids to transition
Not ideal for highly social children due to its often small student community and ample time spent on individual work/play 
Looking at Montessori vs regular preschool, Montessori can be more costly. So you'll need to decide is Montessori preschool worth it
Play-Based Learning 
We're willing to bet you're still wondering, is Montessori play-based learning? Let's take a deeper look at play-based daycare. Play-based is like Montessori program, in that children learn through play, but it is different.
Play-based is more structured in terms of time, with children alternating between free play and teacher-guided learning activities. Play-based traditional preschool is less structured in terms of the kind of play. Children can play with dolls, build with blocks, and other socio-dramatic types of things instead of more developed, purposeful types of play meant to teach concrete skills. Play-based skills also tend to allow more imaginative play than Montessori. 
Why so much play? Well, play-based schools believe that children learn through play. They can learn creativity, social skills, problem solving, negotiation, cognitive skills, cooperation, self-reflection, and much more through play-based activities. 
Play-based Activities and Setting
The classroom setting usually will have centers, like a dress-up area and a nature area. It allows posters, characters, loud colors, and bright designs; not only focusing on natural materials. Though much of the day at a play-based school is spent playing at different centers, there is some formal instruction or educational lessons.
Oftentimes this will occur in a group and though a teacher will facilitate it will still largely be student-led. A play-based program is usually highly interactive and not very formal, using hands-on tasks instead of repetition or rote memory. 
Like Montessori classrooms, play is important in these traditional preschools. However, the type of play varies with play-based schools giving children more "free" playtime and encouraging pretend and dramatic play. There is less emphasis on academics in play-based preschools as well as fewer manipulatives, and defined, thoughtful, concrete materials. 
Advantages and Disadvantages of Play-Based Preschool Learning
Play-based learning suits some kids very well, but other children may find the environment challenging. 
Advantages:
Lets your kid be a kid and play with others, not putting too much emphasis on academics at a young age 
Promotes imagination and creativity through creative play
Builds social skills 
An inviting environment for most kids
Hands-on and child-centered 
Disadvantages:
The loose structure can be hard for children who thrive on routine and structure
Can make the transition to formal school difficult because of the open-ended playtime and lack of structure
The environment can be too busy and loud for some children
How To Know If Montessori Method Is Right For Your Child, or If Play-based Approach Is The Better Option for Young Children
It can be a lot to think about, deciding is Montessori good for your little one, or should you consider a play-based daycare. Starting with a tour can help. Touring the school can let you see what a typical classroom and day might look like. You should be able to meet with the teacher, see the materials, and observe how the children interact with each other and the classroom.
You may decide your child is outgoing, busy, and would thrive in a play-based center. Or, possibly, that your child is more reserved, task-oriented, and would benefit from a Montessori class. 
Further reading: How to Play With A Newborn
If you're deciding what approach to take at home, look closely at the materials and the way in which they are used. Does your child like to be imaginative, play pretend, and use their creativity? Or, do they love goal-oriented work? This may direct you to the best solution concerning playful learning and Montessori education. 
Don't just choose a school based on the philosophy as each approach can have awesome schools and not-so-great schools. Take a look at reviews, talk to other parents, and try to gauge the quality of the relationship between educators, students, and parents when you go for a visit. What you want is to have a nurturing environment for your child's early learning.
Safety and practicality play a role too. Make sure the school is accredited, clean, safe, and organized. Additionally, be sure that the cost is affordable, the drive isn't too far, and that your schedules align. 
Though the two approaches are very similar, most schools will not offer a combined approach. It is either one or the other. However, parents wishing to recreate these approaches at home will likely have more freedom to use a combination of the two. 
Creating Play-based vs Montessori Environments At Home 
If you wish to create a play-based or Montessori environment at home, here are some easy ways to do so! 
Play-based Environment
You probably already have most of what you need to have a play-based environment at home! Play-based consists of activities your child likes to do with no objective, end-goal, or time constraints. You don't need to have an agenda; let your child choose something and then allow them unstructured time to enjoy doing it! 
Here are a few examples:
Dress up
Building with blocks
Finger painting
Sensory bins
Outside exploration 
Remember, you're not trying to teach academics or have your child achieve something. Instead, you're letting them learn and explore their world through play. 
Montessori Playroom
A Montessori playroom will often take a bit more setup. Here are a few tips:
Keep everything organized. It should have a bin, a spot on a Montessori shelf, or a drawer and always return to its assigned space 
Everything should be easily accessible to your kid and at child-level
This includes drinks and snacks as children should be able to choose when to eat or drink 
Keep the environment calm and soothing 
Fill the space with engaging, Montessori designed "works" and rotate them as you see fit (usually every few weeks) 
Looking for toys and furniture to fill the play space? Here are some of our favorite Montessori items from Lovevery:
Montessori Play Shelf
Montessori Block Set
Key Features:
• Perfect for children ages 18 to 48+ months
• 70 solid wood pieces in a rainbow of 18 different hues
• Arrives in a wooden storage box that converts into a pull car
• Blocks are made of sustainably harvested FSC-certified wood
• Water-based paint and finishes
• Drawstring cotton bag for flexible storage
The Helper Play Kit for Life Skills Works
The Problem Solver Kit for Sorting, Stacking, and Classification Works
Play-based vs Montessori Learning Approach FAQs
Is Montessori play-based learning?
While the two are very similar, they are not the same. Montessori method places a greater emphasis on play with a purpose; its works are designed to teach a specific skill. Play-based learning has no agenda and is open-ended. 
Is Montessori preschool worth it or should my child go for play-based preschool?
If you're weighing play-based daycare vs Montessori school, the choice totally depends on your child and which is best for them. Tour the schools, talk with teachers and parents and think about how your child would react to each environment and approach. 
What type of child is Montessori good for?
Montessori classrooms are generally good for many types of children. Though, if you notice that your child thrives on structure and routine, it may be a little too open-ended for them. On the contrary, it may help your little one to practice self-direction and regulation.  
What is the difference between play-based learning and free play?
Play-based learning is guided by the teacher or adults. Children can play open-endedly and choose what to play, but usually, materials are laid out or specific centers are opened. Free play is when the child has complete freedom to play whatever they want. 
Is play-based learning effective?
It can be very effective for some. Helping them to build social and cognitive skills like problem-solving, negotiation, and creativity. 
What age is best to start Montessori programs or play-based learning?
Most Montessori and play-based approaches start around 2-3 years of age and continue through preschool. 
Play-Based Preschool vs Montessori, Which To Choose?
While we can't decide for you, we hope this guide has provided you with some insight into the two different approaches. A wide variety of children do well with each philosophy and the best choice for your family comes down to your child's personality, learning style, and whichever school is more practical.
My children have all gone to a Montessori school and greatly enjoyed their time there! Have your children attended either a Montessori or play-based school? We would love to hear about it in the comments! 
—